Founded in 2011 by Jessica Alba, The Honest Company is an American consumer goods company that has come under fire for ineffective sunscreen and a boatload of other problems covered by CNN.
Famous for selling "nontoxic, eco-friendly products" to parents of young children, the unprofitable company's sale talks with Unilever fell through in 2017.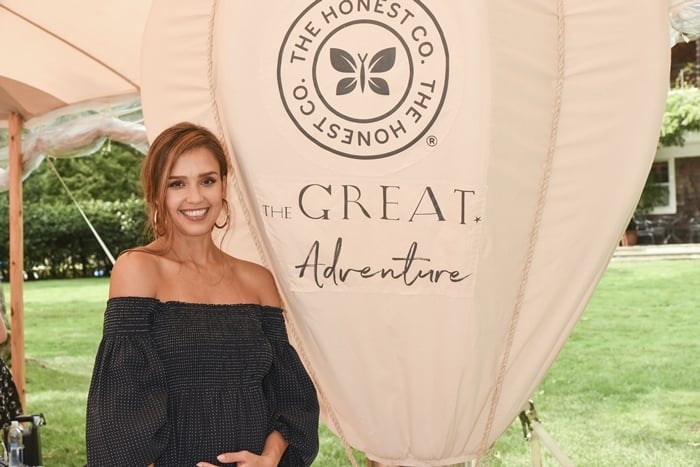 Founder of The Honest Company and Honest Beauty Jessica Alba attends as the Honest Company and The GREAT. celebrate The GREAT Adventure on August 5, 2017, in East Hampton, New York
According to Vox, Honest laid off 80 people and overhauled its entire executive team. The Honest Company got a fresh round of funding from private equity firm L Catterton in 2018.
"With our strategic shift from e-commerce to omnichannel brand underway, this is the perfect time to welcome Nick Vlahos as the new CEO of The Honest Company," said Alba, Honest Company board chairperson, in a prepared statement. "Nick shares our mission of building a modern brand with ethical standards, trust, and transparency at the forefront."
What percentage of The Honest Company does Jessica Alba own?
In May 2015, Forbes reported that Jessica Alba owns between 15% and 20% of the company, which means her ownership at the time was worth around $200 million.
The valuation of the company has fallen from as high as $1.7 billion in August 2015 to less than $1 billion. After several rounds of funding by new investors, it's not known how much of the company Alba owns. However, it's safe to say that her net worth was much higher in 2015 than it is today.
In April 2020, The Honest Company "donated 3 million diapers, 20,000 wipes" and "20,000 personal-care products" to families in need during the coronavirus pandemic.
Jessica promotes her Honest product line and gives Stephen Colbert a new hairstyle in September 2016
"We've donated 3 million diapers, 20,000 wipes, 20,000 personal care products," said Alba while calling into The Tonight Show's at-home edition. "That is the No. 1 need for families right now who are living in poverty but also families who are out of work."
"I've gotten a lot of people reaching out to me on Instagram thanking me because where their diapers and wipes and shampoo and hand sanitizer is gone at the stores, they can go to our website and they're getting subscriptions of our products, our cleaning products, everything, and they can just get it," she added.
"And we have a very rigorous way that we deliver to people and make sure that the workers are safe."
In November 2015, it looked like everything was just peachy between Honest's owner Jessica Alba and her husband Cash Warren.
The lovebirds — who had just passed their seven-year itch — headed to a park with their daughters, playing on the swings and tossing a ball around.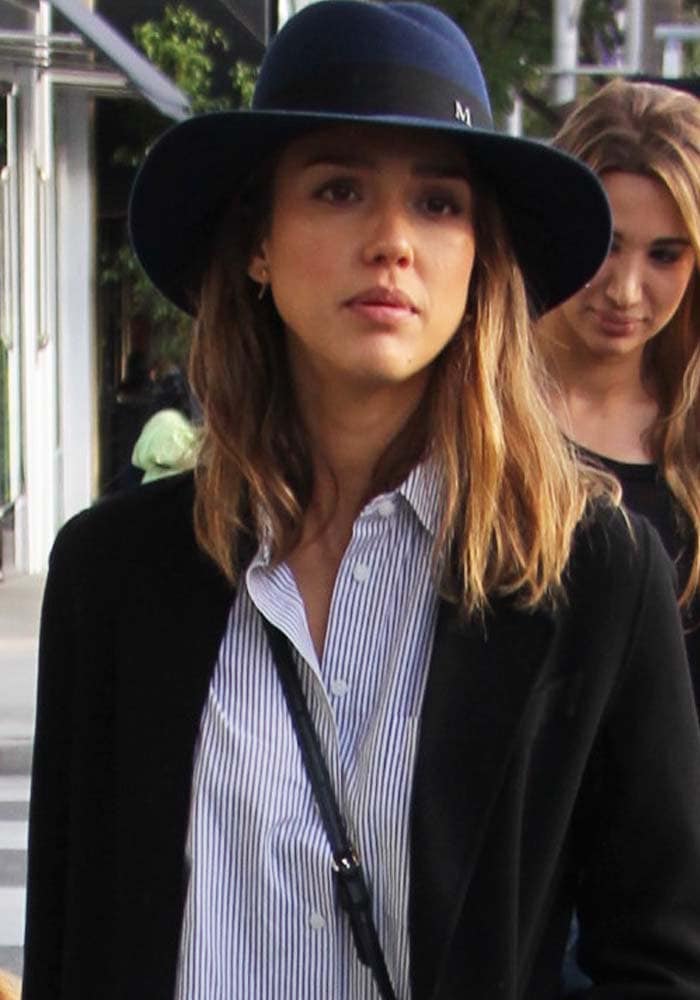 Jessica Alba covers her hair with a hat during a shopping outing in Beverly Hills on November 28, 2015
Earlier that day, Jessica was seen taking her daughters to lunch and a short shopping trip in Beverly Hills.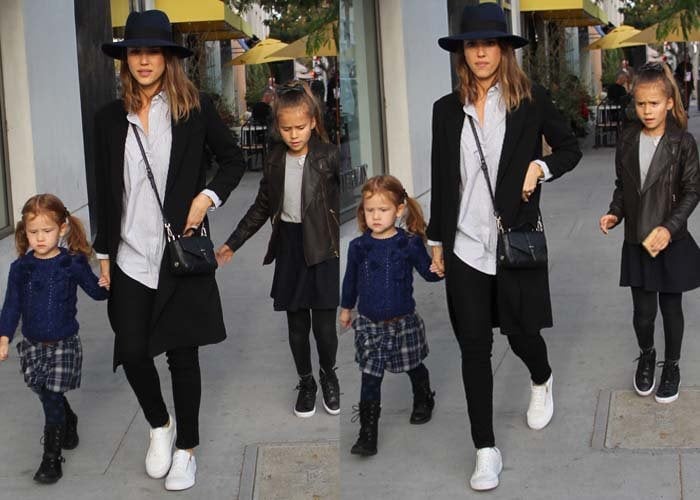 Jessica Alba goes shopping with daughters Honor and Haven in Beverly Hills
The actress-turned-entrepreneur seemed a bit agitated, pointing out to the paparazzi that her children were not public figures.
Despite the cameras, she tried to act as normal as she could around Haven and Honor, asking them about things like playing with friends.
Jessica Alba's feet in Vans sneakers
Jessica wore a buttondown top with jeans from Paige and a coat from Joseph. She styled her outfit with a hat from Maison, a tiny black purse from Tory Burch, and a pair of "Old School" zip sneakers from Vans.
After the outing, Cash posted a cute photo of the mother-and-daughter tandem playing on the swings.
Jessica Alba takes her daughters Honor and Haven for a playdate at the park
"When your big girl tells you she doesn't want to be pushed on the swings anymore…and then immediately starts hanging upside down like a champ! I miss the weekend already," he captioned it.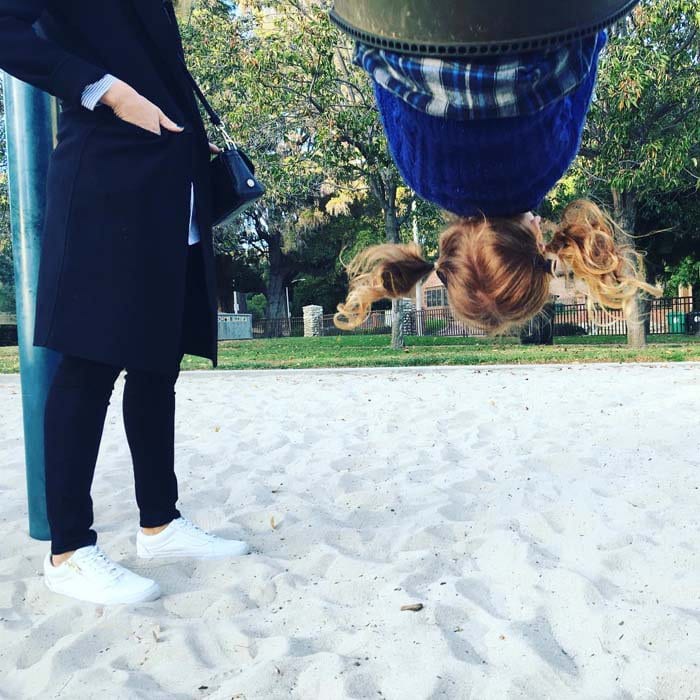 Cash Warren shares a picture from his family's outing to the park
Grab Jessica's ultra-stylish but casual sneakers from Vans by heading over to Nordstrom or Zappos.
Vans "Old School" Zip Sneaker in True White/Gold, $75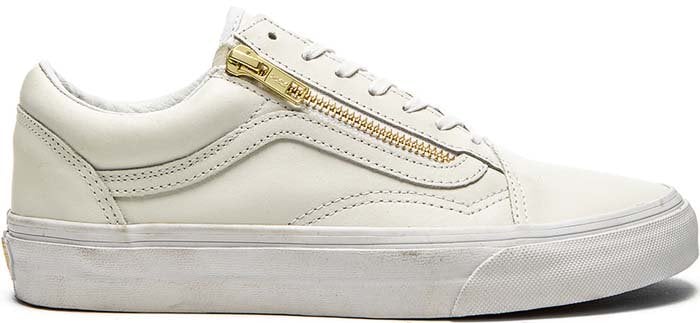 Credit: Cash Warren's Instagram / WENN / Rob Rich