Having described her family as being a "very conservative family – a traditional, Catholic, Latin American family," Jessica Alba was born in Pomona, California, to Catherine Louisa (née Jensen) and Mark David Alba.
Her father's parents were born in California as the children of Mexican immigrants. Mark David Alba is an ex-US Air Force serviceman.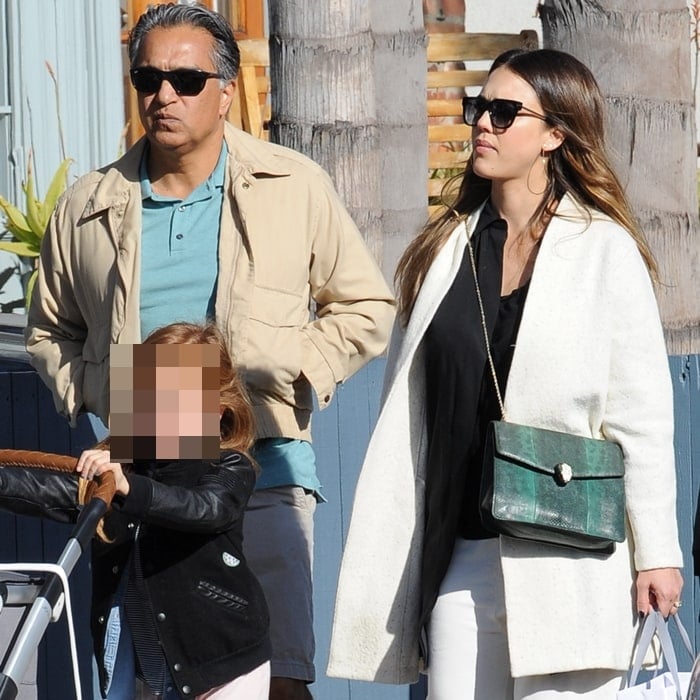 Jessica Alba and her Mexican-American father Mark David Alba in Venice Beach on February 18, 2018
In October 2019, Jessica Alba shared her ethnic pride in an essay published on Popsugar.
Growing up in California in my grandmother's house, surrounded by tías, tíos, and all my cousins, I always felt a deep connection to my Mexican-American roots. Every generation of my father's family has had incredibly different experiences that reflect much about American history. It humbles me to think of how much change we have seen in such a short time.
Her mother, who is the owner of a real estate agency, has Danish, Welsh, German, English, and French ancestry.
Jessica Alba's mother Catherine Jensen is of Danish, Welsh, German, English, and French ancestry
Being mixed race, Jessica's exotic face has negatively impacted her professional and personal life.
"They couldn't figure out my ethnicity. I would always go out for 'exotic,'" Jessica told Popsugar in February 2017 about having trouble finding roles.
"They were like, 'You're not Latin enough to play a Latina, and you're not Caucasian enough to play the leading lady, so you're going to be the 'exotic' one.' Whatever that was."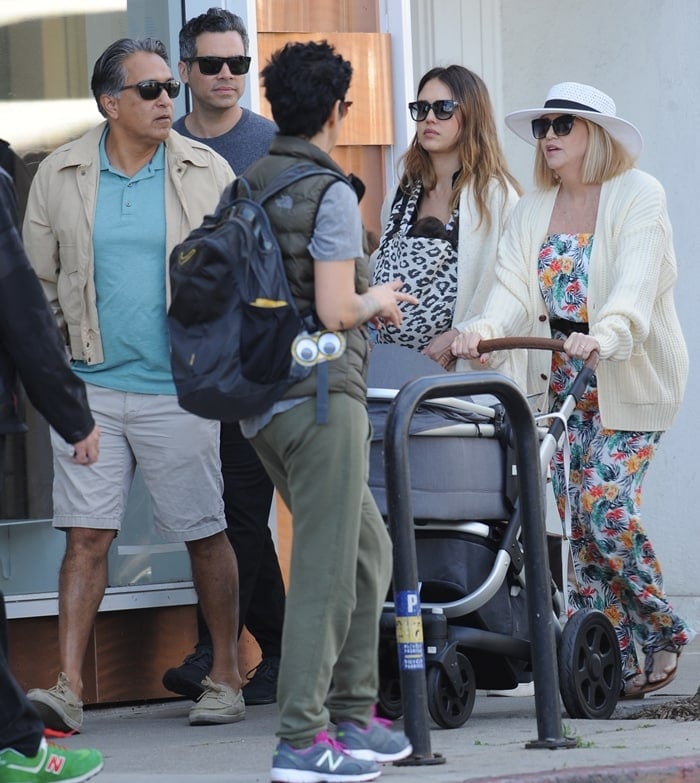 Jessica Alba with her parents and her husband Cash Warren, whose ethnicity is African-American, English, Irish, Scottish, German, and Welsh
"That was kind of a weird thing to wrestle with because I never had to look at myself that way or stick myself in a bucket. So I was more determined to be a leading lady to show that girls can look like me, and we can be leading ladies," she added.
Appearing on the documentary television series Finding Your Roots in 2014, Alba's genetic ancestry was shown to be primarily European. Her Mexican-American father's ethnicity is primarily Spanish with traces of Indigenous Mexican/Mayan and Sephardi Jewish.
"I've always felt closer to being a Latina than anything else because I grew up with my dad's family, who are Mexican American. I never really identified any other way," the actress told Glamour in September 2014 about the importance of her Latin identity.
In November 2015, The Honest Company founder rocked a chic and monochrome outfit as she left her cousin's birthday celebration held at the French restaurant Petrossian in West Hollywood.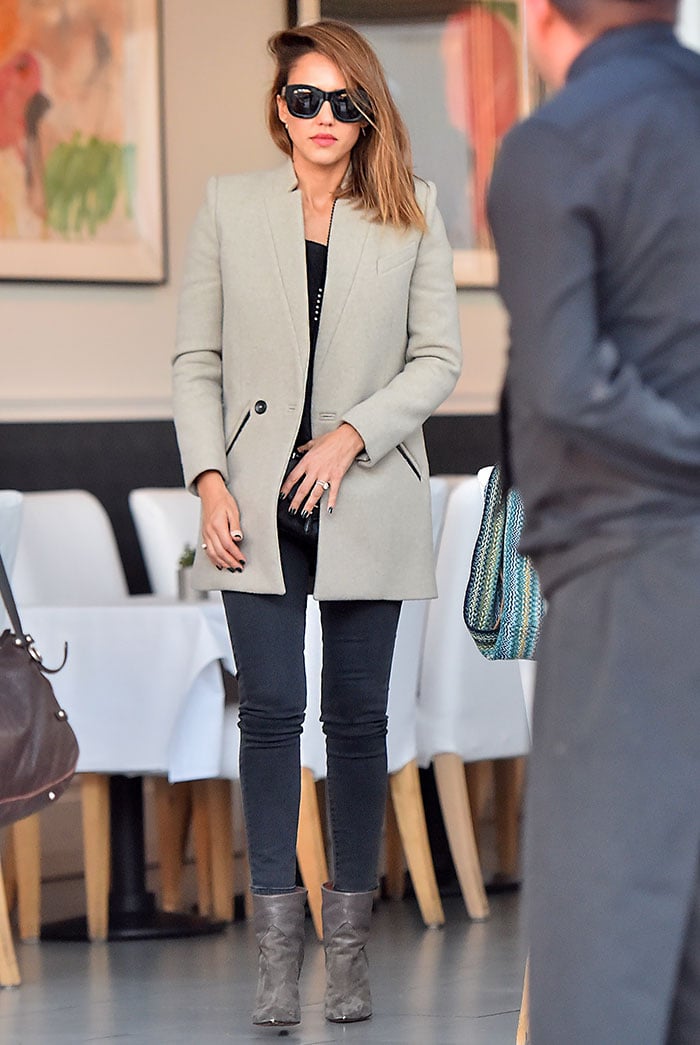 Jessica Alba wears her brown hair down as she leaves Petrossian in West Hollywood, California on November 29, 2015
The "Sin City" actress looked smart and chic in a beige Stella McCartney blazer that she wore with black skinny jeans and a black blouse.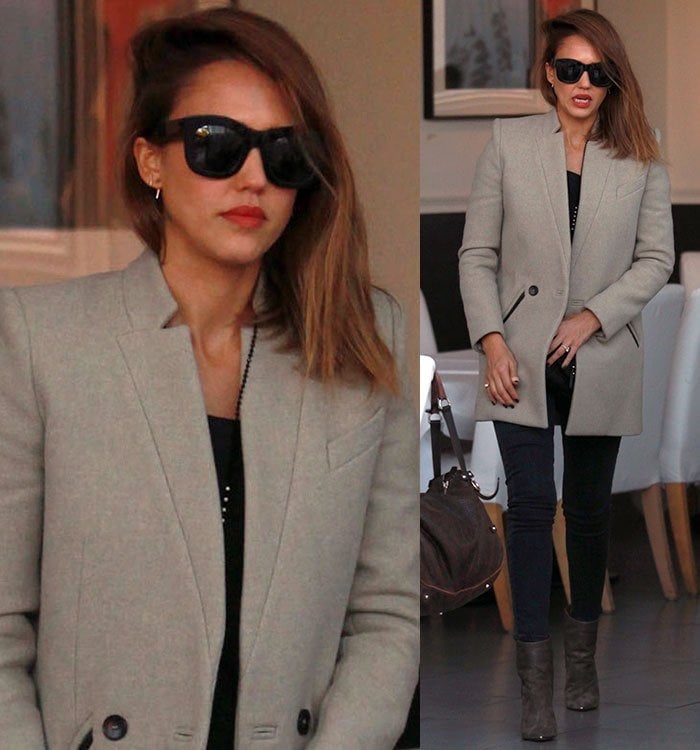 Jessica Alba leaves a French restaurant in a Stella McCartney blazer
She styled her outfit with a pair of gray boots, oversized black sunnies, a Tory Burch satchel, and a long tassel necklace from Zacasha made of glass crystals, freshwater pearls, and white beads.
Jessica Alba wears a Stella McCartney blazer over top of skinny jeans and a black blouse for a birthday celebration
She simply wore her brown tresses down with a deep side part and sported red lipstick.
Jessica Alba's husband Cash Warren leaves a birthday celebration in West Hollywood
Cash Warren, Jessica's husband of seven years, also attended the celebration and was seen leaving the venue in a separate car.
Jessica Alba's feet in Iro booties
Jessica's chic boots are the "Daithy" booties from Iro.
These suede boots feature pointed toes with polished metal trim and smooth leather panels that extend over the 4-inch sculpted cone heels.
These boots are already sold out, but you can buy a similar style at Farfetch and Shopbop.
Black Iro Studded Karlie Boots, $1,021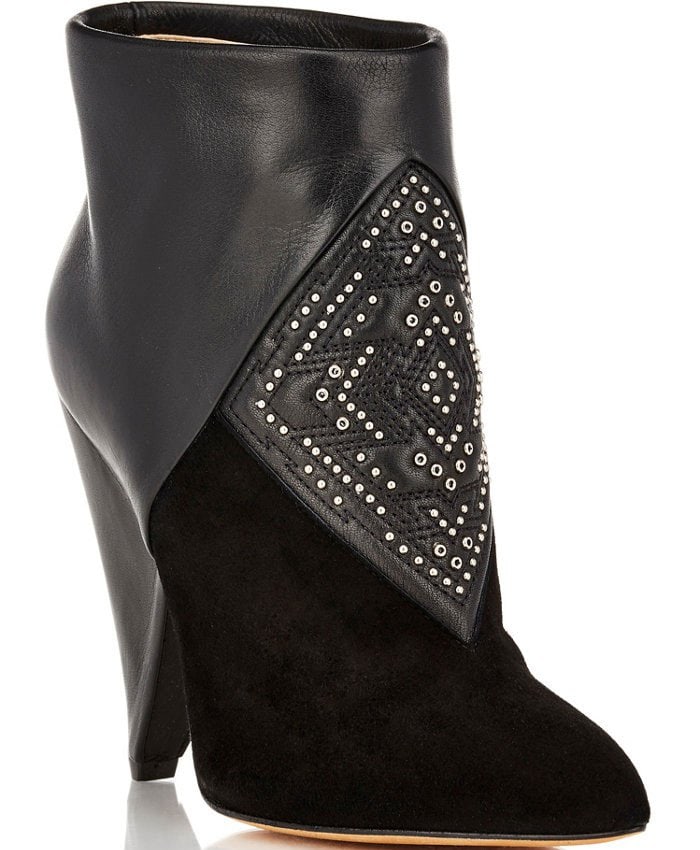 Credit: WENN