In her wellness book, Gracefully You: How To Live Your Best Life Every Day, Jenna Dewan opens up about her split from Channing Tatum after 8 years of marriage. Available on Amazon, the book was published in October 2019.
Pregnant Jenna Dewan wears a Rachel Pally floral-print long-sleeve jersey caftan dress and Ancient Greek Sandals Eleftheria braided leather sandals in Los Angeles on January 15, 2020
"I'd come to realize the dynamic I was in wasn't serving me nor was it serving my daughter. First and foremost, I had to accept the realization this isn't working and had moved into hurting. The public saw Channing and I in this idealized romanticized light. This made things difficult for me because I like being as honest and real as I can," Jenna reveals as the reason she and Channing Tatum split up.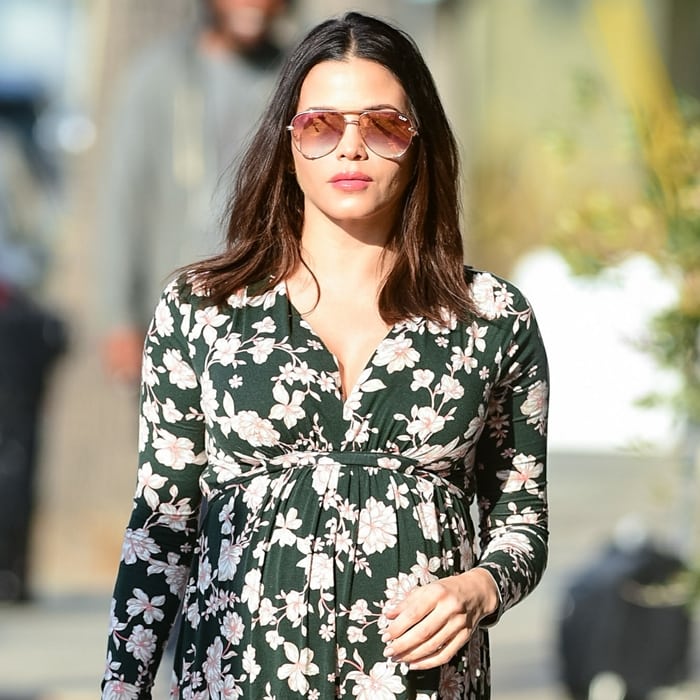 Jenna Dewan reveals why she broke up with Channing Tatum in her book Gracefully You: How to Live Your Best Life Every Day
"People are like, 'How do you get through this?' I didn't run away from my feelings. I let myself cry. I let myself grieve," Dewan told Cosmpolitan in an interview for the magazine's January 2019 issue.
"This is one of those situations where I will see the light. The dawn is coming."
"I'm obviously super aware that people know me, they know Channing, they know us together," she added. "We'd been a beloved couple for a long time."
"I do believe in love still, but I also believe it begins with really digging deep and learning how to love yourself," said Dewan, who shares her daughter Everly with Tatum.
"And then I think you sort of transmute that out to attract the right partner. I think that people who are meant to be sort of find each other."
In November 2015, Jenna Dewan Tatum looked gorgeous as she stopped by the set of "Extra" for an interview with Mario Lopez.
Jenna Dewan Tatum wears her hair down as she arrives for an interview on "Extra" with host Mario Lopez November 30, 2015, at Universal Studios in Los Angeles
The then 34-year-old actress, who plays the role of Lois Lane's sister in the new CBS series "Supergirl," was the epitome of daytime chic in a Monique Lhuillier Fall 2015 ensemble.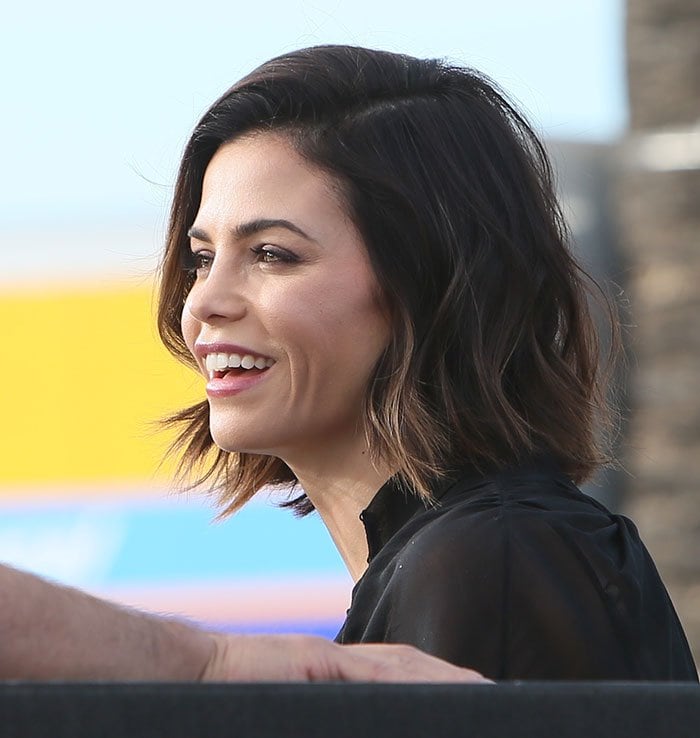 Jenna Dewan-Tatum smiles broadly as she arrives on the set of "Extra"
Jenna's black silk chiffon blouse featured button detailing around the collar and billowing sleeves. Its sheer design showed off a solid black tank top underneath.
Jenna Dewan Tatum wears a Monique Lhuillier fall 2015 ensemble on the set of "Extra"
The actress wore the blouse tucked into a black-and-cobalt skirt that featured a floral camo jacquard pattern on the top half, and a guipure overlay on the bottom half.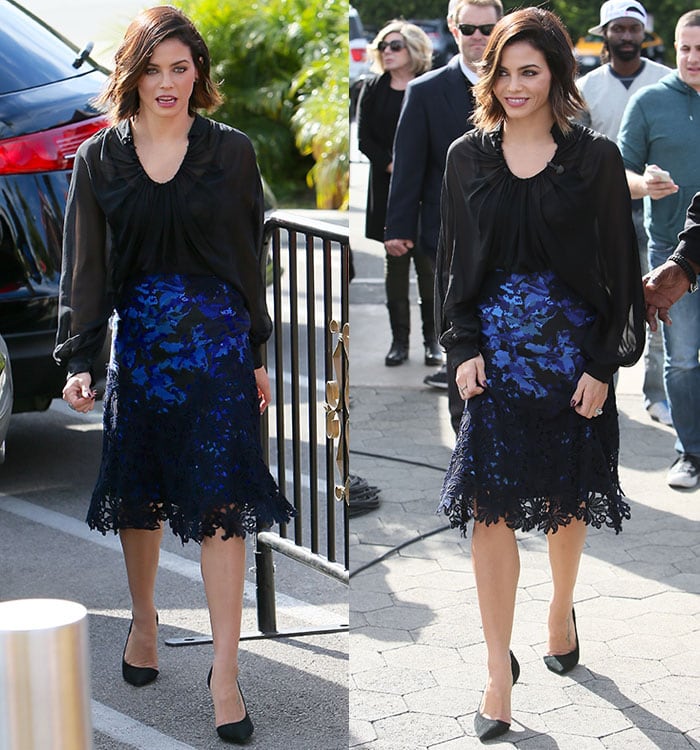 Jenna Dewan-Tatum shows off her shorter hairstyle as she arrives for an interview with Mario Lopez
She kept her jewelry to a minimum but made sure to put her best accessory — her infectious smile — on full display.
Jenna Dewan-Tatum smiles and waves to fans
The American Horror Story actress added a hint of edge to the look by rocking a short bob and sporting gorgeous makeup that featured kohl-rimmed eyes and pink lips.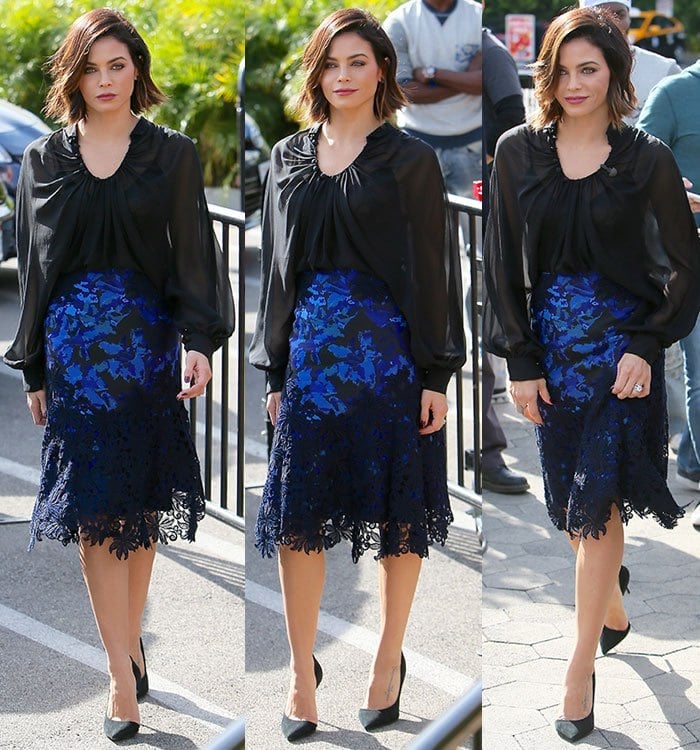 Jenna Dewan-Tatum wears a black-and-cobalt Monique Lhuillier ensemble
Jenna rounded out her look with a pair of half d'Orsay black suede pumps with pointed toes and about 4-inch heels.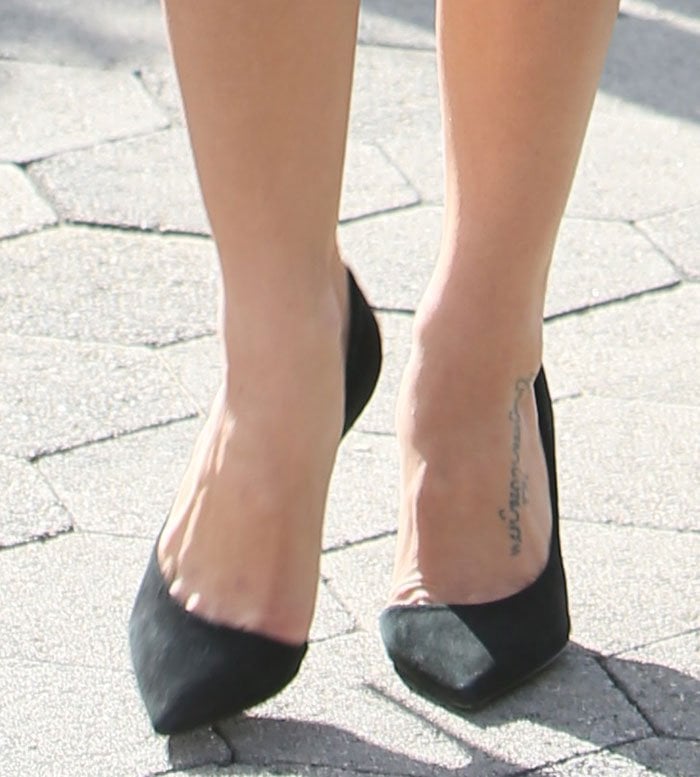 Jenna Dewan-Tatum's foot tattoo shows in a pair of black pumps
Amid plastic surgery rumors, she showed off her "side by side" foot tattoo.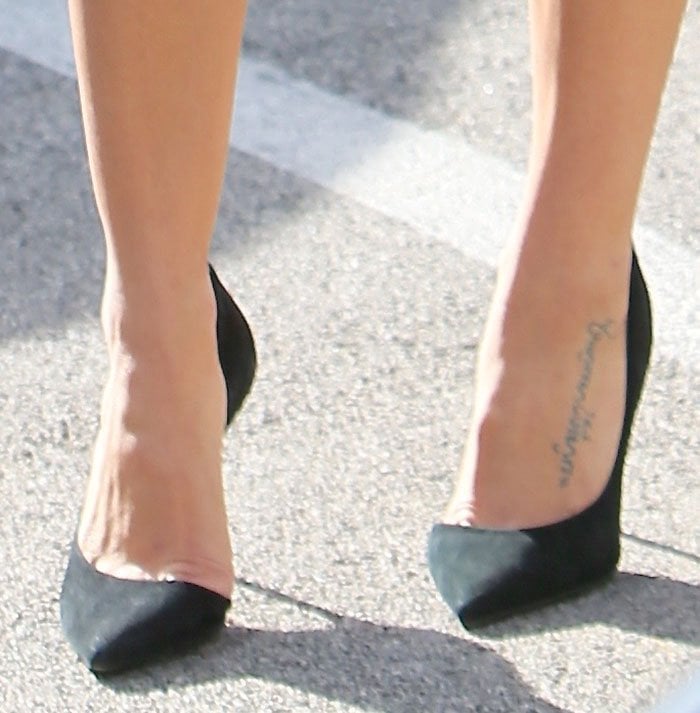 Jenna Dewan-Tatum's sexy feet in half d'Orsay black suede pumps
You can check out some similar styles at Nordstrom and Saks Fifth Avenue.
Gianvito Rossi Suede Half-d'Orsay Pumps, $745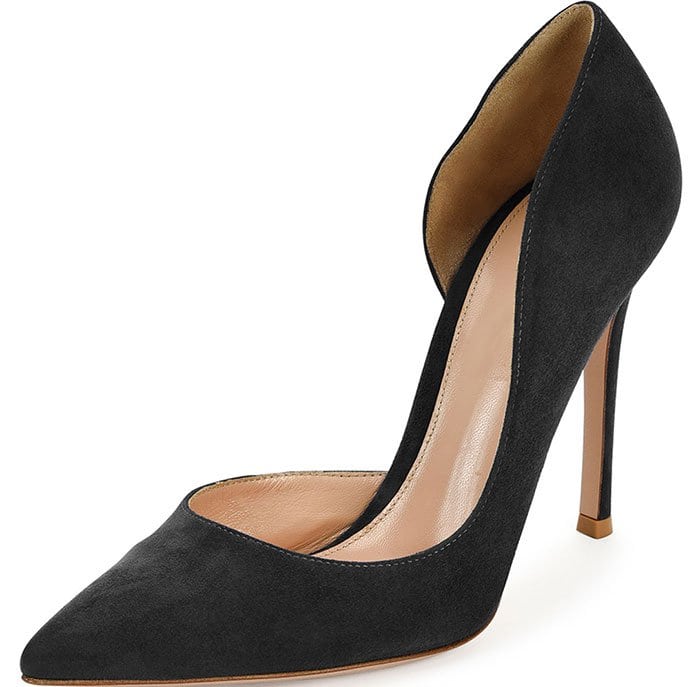 Tom Ford Suede Half d'Orsay Pumps, $890
Christian Louboutin "Iriza" Half d'Orsay Pumps, $675
Credit: Michael Wright / WENN / Instar