Jason Statham is a 54-year-old actor and model who will turn 55 on July 26, 2022. His first role was in 1998 in the movie Lock, Stock and Two Smoking Barrels where he played a con artist. His career took off from there.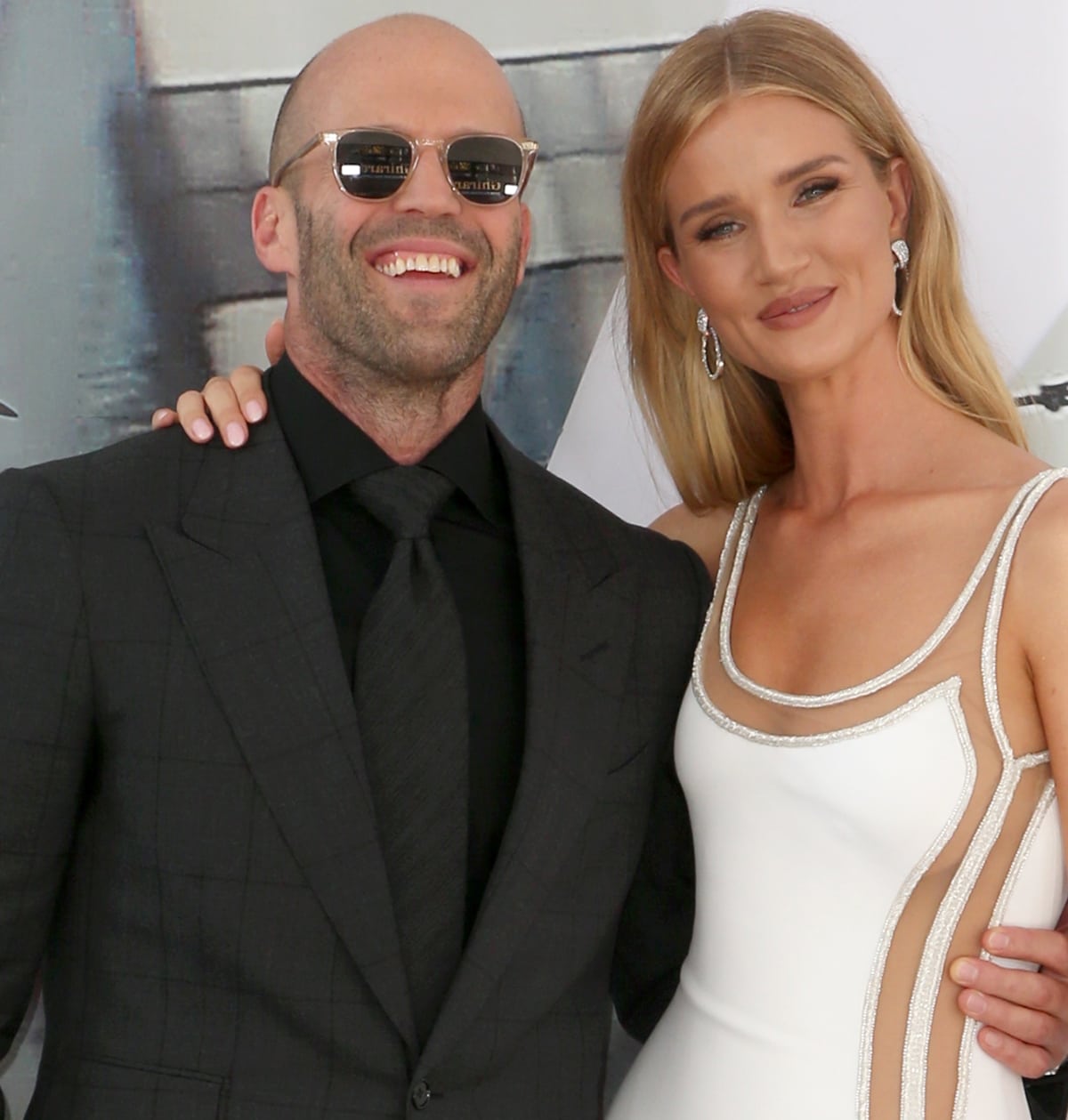 Rosie Huntington-Whiteley and Jason Statham met in 2010 while filming Transformers: Dark of the Moon (Credit: FayesVision / WENN)
He has since starred in popular movies like the Fast & Furious franchise, The Meg, The Mechanic, The Expendables, Spy, and more.
Best known for his high-profile action movie franchises, the English actor has appeared with costars like Dwayne "The Rock" Johnson, Melissa McCarthy, Vin Diesel, Sylvester Stallone, Paul Walker, Bruce Willis, Michelle Rodriguez, Terry Crews, and plenty of others.
Jason has nearly 30 million followers on Instagram, and although he doesn't have a Twitter account, he does have multiple fan pages, including one with almost 400,000 followers. He has a net worth of about 90 million dollars.
Jet Li as Gabriel Yulaw and Jason Statham as Evan Funsch in the 2001 American science fiction action film The One (Credit: Universal Pictures / WENN)
20 years younger than him, Rosie Huntington Whiteley is a 34-year-old model and actress who will turn 35 on April 18, 2022. She was previously a Victoria's Secret "Angel" and acted in Transformers: Dark of the Moon and Mad Max: Fury Road.
The lingerie model started modeling when she was only 16 years old. She's even had a book written about her called Ten Times Rosie (available on Amazon) and she has been on the cover of GQ, British Vogue, and Elle. The English beauty has a net worth of about 30 million dollars.
Height Difference
A lot of men and women are overly concerned with height differences when it comes to their significant other. Although it doesn't seem to be a problem when it comes to Jason Statham and Rosie Huntington Whiteley.
Jason Statham is slightly shorter than his girlfriend Rosie Huntington Whiteley (Credit: Adriana M. Barraza / WENN)
He stands at about 5'8" tall and she is about 5'9" tall. So, even though she's only an inch taller, some people might have an issue with their partner being even 1 inch taller than them, or even more if they wear heels.
How they met and more about their relationship
Jason and Rosie have been together for roughly 11 years and engaged for 5 of them. Here is a timeline of their relationship:
2009 – Met at a party
2010 – Fell in love while Rosie was filming Transformers: Dark of the Moon
2011 – Red carpet debut together
2016 – Got engaged
2017 – Announced they were expecting their first child
June 24, 2017 – Their first son, Jack Oscar Statham, was born
2021 – Announced they were expecting their second child
Some people wonder why the couple has been engaged for so long without tying the knot. However, in an interview in 2018 with Extra, Rosie stated, "I think the time will come. We've been so focused on our work for so long, and Jack came along. We definitely talk about it, we're looking forward to that time, it's also not a huge priority for us, we're so happy. I think it will be fun to do it when the baby's grown up a bit and he can be involved in the wedding." So obviously, there's no rush for the happy couple.
Where are they now?
Jason and Rosie's son Jack is now 4 years old, and they are expecting their second child this year.
They also decided to move back to the UK. Jason acted in a movie called Operation Fortune: Ruse De Guerre that just released on January 21, 2022. Rosie is transitioning into more of a business role than modeling.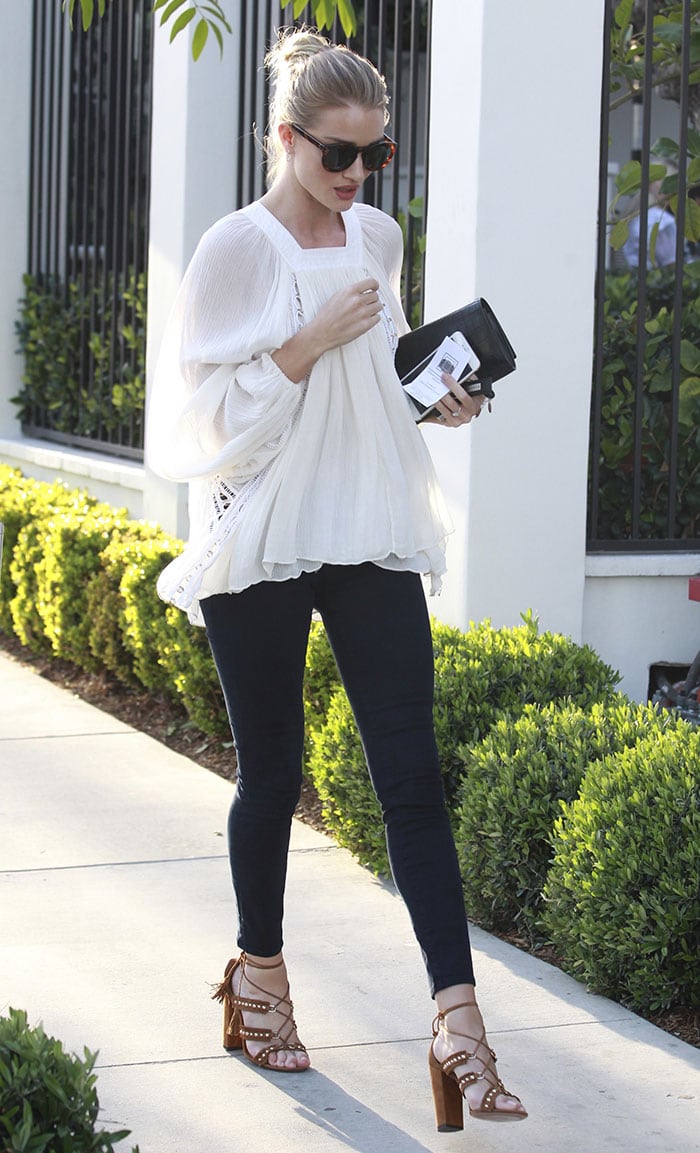 Rosie Huntington-Whiteley wears her hair up as she arrives at Gracias Madre in Beverly Hills for lunch on March 30, 2016 (Credit: WENN)
In April 2016, America's biggest music and arts festival Coachella 2016 was just around the corner, and Rosie Huntington-Whiteley looked every bit the bohemian superstar as she stepped out for a lunch date with her fellow models Lily Aldridge and Behati Prinsloo at Gracias Madre in West Hollywood.
The then 28-year-old English model wore a floaty white semi-sheer top by Chloe, which featured a square neckline and laced-chain details.
She teamed the peasant-style top with ultra skinny jeans by Paige Denim to highlight her endlessly slim legs.
Rosie Huntington-Whiteley lunches with fellow models Lily Aldridge and Behati Prinsloo (Credit: WENN)
Rosie kept her accessories simple with a pair of Anita Ko earrings and, of course, her diamond engagement ring by Neil Lane.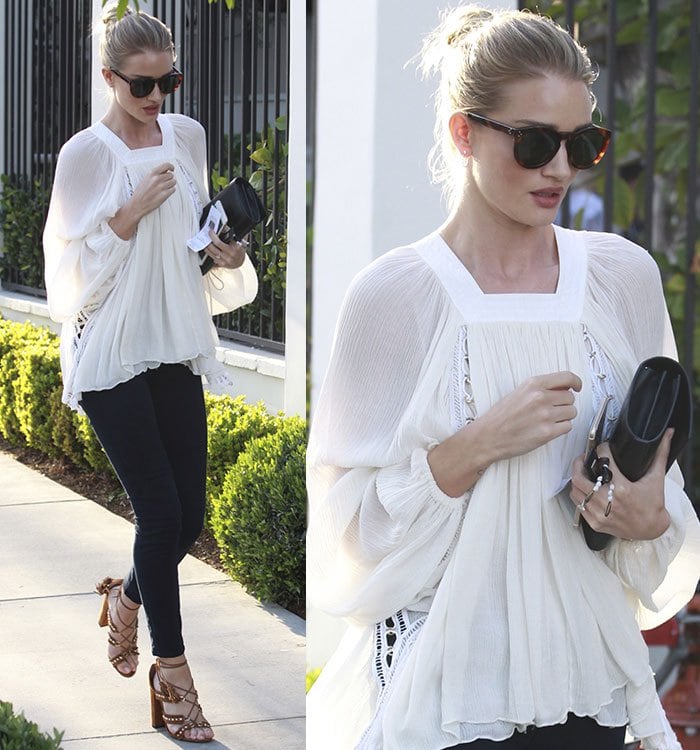 Rosie Huntington-Whiteley wears a Chloe peasant blouse while out at lunch (Credit: WENN)
She carried a black Saint Laurent purse and boosted her already statuesque height with a pair of strappy brown sandals.
Rosie kept the look casual by pulling her hair up into a chic bun and wearing minimal makeup, including pink blush and lipstick. She hid her eyes behind a pair of tortoise-frame Celine sunglasses.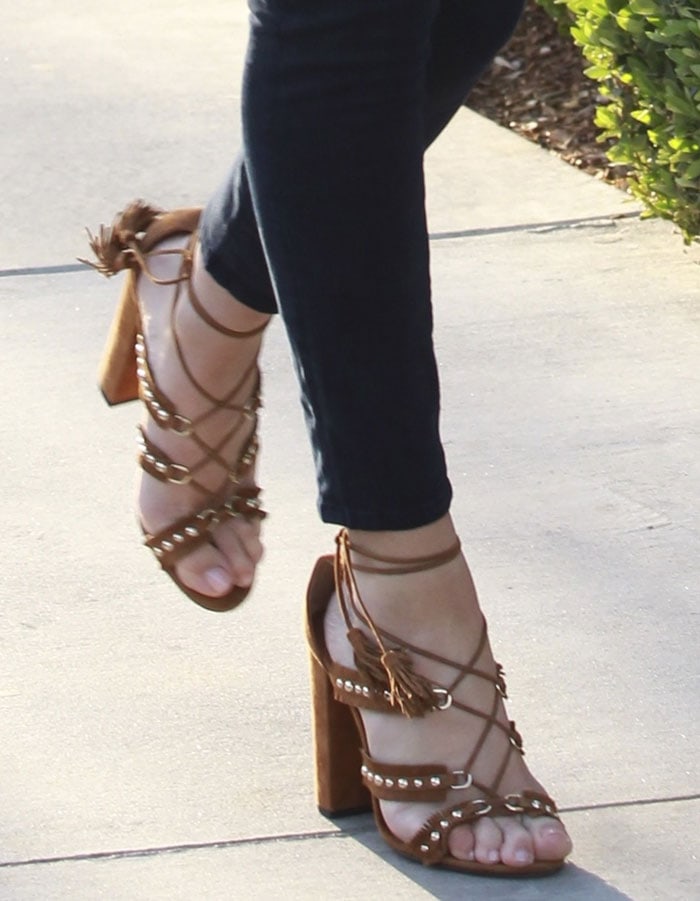 Rosie Huntington-Whiteley's feet in leather Aquazzura sandals (Credit: WENN)
To enhance the boho aesthetic of her outfit, Rosie complemented her look with a pair of Aquazzura "Tulum" sandals.
These cognac suede sandals feature caged uppers with gold-tone studs, fringe trims, ankle-wrap fastenings with tassel ends, and about 4.2-inch block heels.
You can purchase these sandals on Amazon and Net-a-Porter.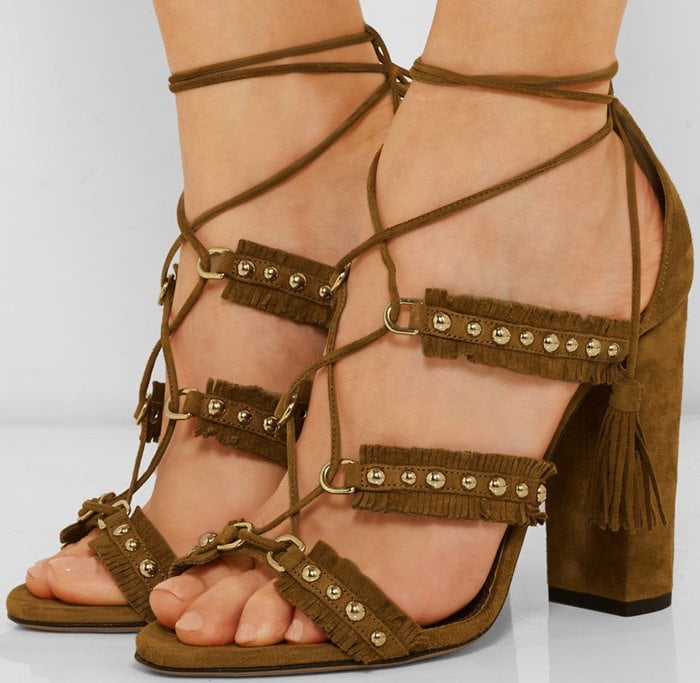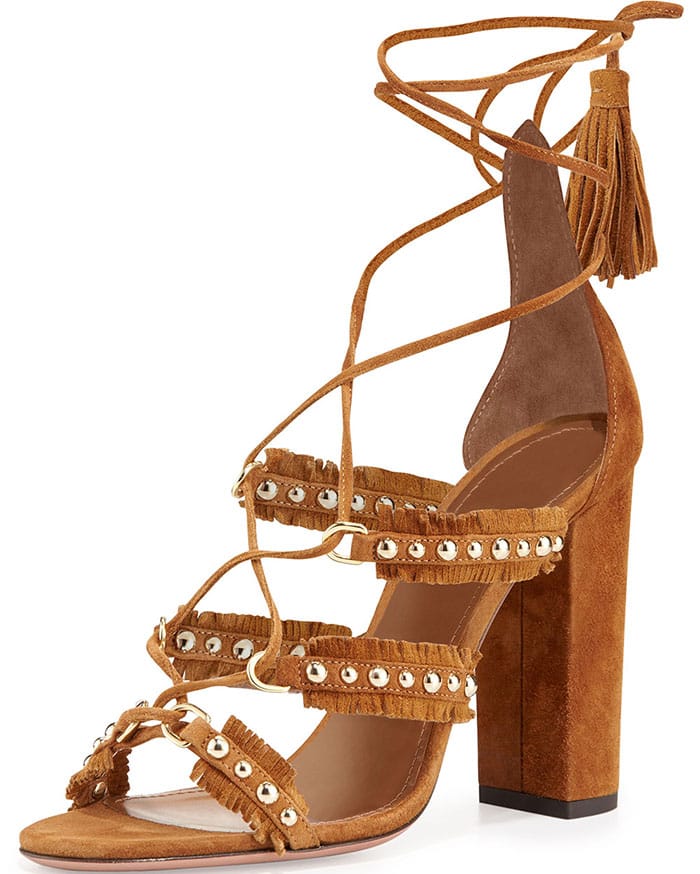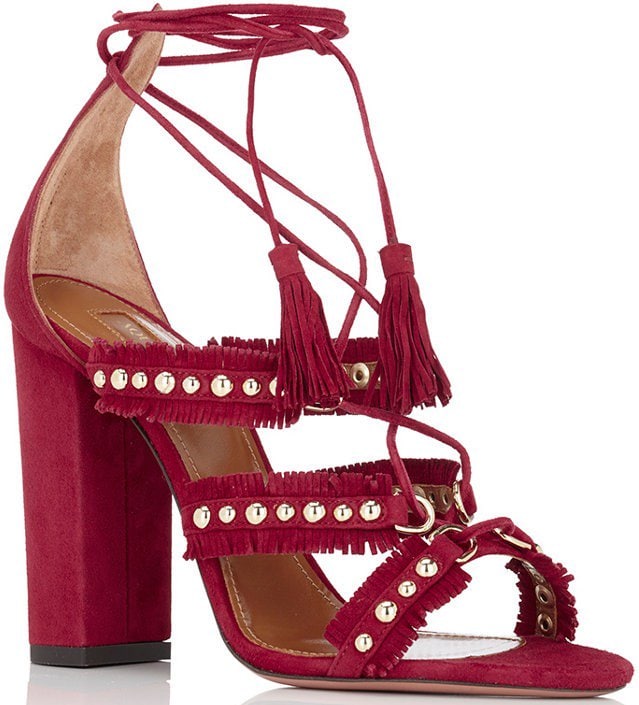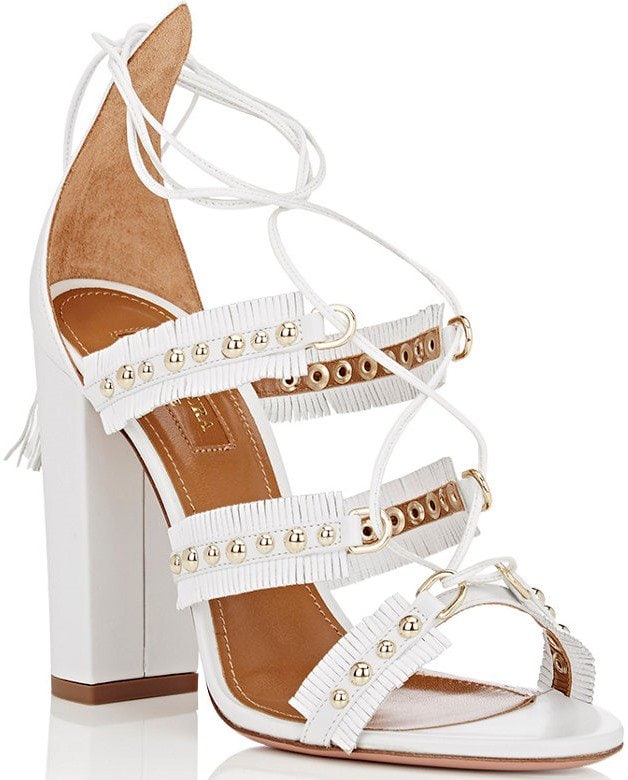 Aquazzura "Tulum" Fringed Suede Sandals, $895