Jessica Marie Alba is an American actress and entrepreneur born April 28, 1981.
She is well known for her role in the television series Dark Angel (2000-2003) and she has since appeared in several films such as Honey (2003), Fantastic Four (2005), Sin City (2005), Rise of the Silver Surfer (2007), The Eye (2008) and Little Fockers (2010).
Of mixed ethnicity, she is the co-founder of The Honest Company, which is a sustainable consumer goods company that sells baby, personal, and household products.
Is Jessica Alba a billionaire?
Because she co-founded a billion-dollar company, a common question is whether or not Jessica Alba is a billionaire.
Currently, Jessica Alba is not a billionaire. Alba has a very successful company and film career that brings in millions every year, but not quite enough to push her into billionaire status.
Before we get into how Jessica Alba made her money, let's look at her career and personal life thus far.
How did Jessica Alba become famous?
At only 13 years old, Jessica began her acting career in the movie Camp Nowhere (1994). That same year she starred in The Secret World of Alex Mack, an American television series that ran on Nickelodeon from 1994-1998.
Her career began to take off in 1999 when was cast to star in the famous television series Dark Angel. She remained on the series for 2 years, and even received a Golden Globe Nomination!
Jessica Alba as bartender Honey Daniels in Honey, a 2003 American dance film
Her next major role was in the dance movie Honey (2003), which propelled her to A-list status in Hollywood.
She starred in several feature films from that point forward and became an in-demand actress for a wide range of film genres including action, comedy, and romance.
Some of Jessica's key Hollywood roles over the years have included Good Luck Chuck (2007), The Eye (2008), Valentine's Day (2010), and Mechanic: Resurrection (2016).
Jessica has graced the front cover of huge publications such as Men's Health, Vanity Fair, and FHM.
Early Life
Jessica Marie Alba, 39, was born in Pomona, California, to Catherine Louisa (née Jensen) and Mark David Alba. Jessica moved around the United States quite often as a child.
Jessica Alba and her mother Catherine Louisa (née Jensen), who has Danish, Welsh, German, English, and French ancestry
Her father had a career in the Air Force, which resulted in them relocating several times to Biloxi, Mississippi, and Del Rio, Texas, before returning to her birthplace in California.
Personal Life
Alba is currently married to film producer Cash Warren and together they have three children: Honor Marie (born June 2008), Haven Garner (Born August 2011), and Hayes (Born December 2017).
How did Cash Warren meet Jessica Alba?
Alba met her husband while filming Fantastic Four in 2004. Prior to meeting Cash, who was working as a production assistant, she was engaged to actor Michael Weatherly, who later ended up marrying Dr. Bojana Jankovic, an award-winning physician.
Before meeting Alba, Michael Weatherly was married to his Loving/The City co-star Amelia Heinle.
Pictured at the 2001 Los Angeles premiere of Lara Croft: Tomb Raider on June 11, 2001, Jessica Alba shows off her engagement ring that Michael Weatherly gave her
"Actors are pulled in so many different directions that unless you both are absolutely into it through thick and thin and completely sure about each other, it's just hard. I've decided I'll never date an actor again," Jessica told Cosmopolitan in August 2005.
"The first week we kind of got together, he gave me a note and signed it with a dollar sign, because his name is Cash. It just said 'I really, really like you.' And that was exactly how I felt at the time. Really, really liking him too much… I was already in love with him. And I hated it because it was terrifying that I cared about him so much right away and I already wanted him to be around forever," Jessica said about meeting Cash Warren.
Jessica Alba and Cash Warren met on the set of The Fantastic Four
The pair were married in Los Angeles four years later in May 2008.
The first pictures of her first-born daughter, Honor Marie, appeared in the July 2008 issue of OK! magazine, and reportedly earned Alba US$1.5 million! Not a bad paycheque for a family photo.
Why is Jessica Alba rich?
Jessica Alba has certainly done well for herself over the years. She has starred in numerous million-dollar films, earned big pay-days through various endorsements, and co-founded The Honest Company.
The successful actress/businesswoman is living a very luxurious life in California, and here's how she did it.
Actress
Alba has had many successful acting gigs, in both television and film. Though there are no official statistics on her income from each movie, we know that she was paid millions for many of her roles.
Her highest-grossing film was Fantastic Four – this movie to date has grossed over $155 million. We can assume that Jessica Alba walked away with millions from her part in the film and is still making money from it today.
Jessica Alba as Susan Storm / Invisible Woman in Fantastic Four: Rise of the Silver Surfer, a 2007 American superhero film
Beyond that, she has starred in several other high-grossing films, such as Little Fockers (lifetime gross of $148 million), Rise of the Silver Surfer (lifetime gross of $289 million), Valentines Day (lifetime gross of $110 million), and Sin City (lifetime gross of $74 million).
Though we don't know the exact amount she was paid for these films, we know it was in the millions and has played a significant role in her high net worth.
Producer
Jessica Alba is not only successful in front of the camera, but also behind it. She has credits as both a producer and a cinematographer for very successful movies and documentaries.
Her resume boasts production credits in the television series L.A'S Finest (2019). She not only starred in the show but worked behind the scenes producing the series.
Alba also worked on a documentary about Fantastic Four, taking both a cinematography credit and a production credit for her work
Celebrity Ambassador and Endorsement Deals
Celebrities often supplement their income with some pretty incredible endorsement deals.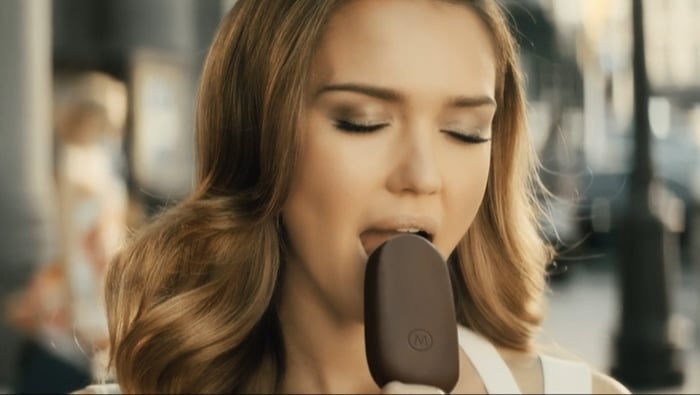 Jessica Alba in a campaign for Magnum ice cream
Alba is no stranger to this and she has made millions working with huge companies like Revlon, Campari, L'Oréal, Lamborghini, Braun, and Magnum.
Author
Jessica Alba has shared her wealth of knowledge on living a healthy, non-toxic lifestyle with her audience, penning her first book "The Honest Life" in 2013. You can order a copy at Amazon.
The book was a huge success and even made the New York Times' best-seller list. We don't know what she took away financially from this book, but we know she did very, very well based on the outstanding sales, landing her a spot on the revered NY Times Best Seller list.
Entrepreneur
While Jessica Alba has made millions through her acting career, the real money-maker is her business. In 2011, The Honest Company was founded by Jessica Alba alongside CEO Brian Lee, COO Sean Kane, and chief product officer Christopher Gavigan.
This well-timed start-up has brought in hundreds of millions, and the company itself was at one-time valued at over a billion dollars. The Honest Company sells personal and household products that are clean, sustainable, and non-toxic.
The Honest Company founder Jessica Alba with her daughters Haven Garner Warren and Honor Marie Warren
Starting as a subscription service, it now has a wide catalog of over 100 products including baby products, cleaning supplies, formula, and supplements.
This joint venture landed Jessica on Forbes's Richest Self-Made Women list and America's Richest Entrepreneurs Under 40 list in 2016 – an impressive stat for this mom of 3!
Currently, Jessica owns a 20 percent stake in the company, and her net worth has increased significantly as a result of her part in this successful start-up.
"I founded The Honest Company on this idea: Everything that touches you and your family–everything in your home – needs to be nontoxic, needs to be effective and beautiful to look at, and needs to be affordable," Alba told Inc.
Jessica Alba promotes her 'Honest' product line during an appearance on ABC's Live with Kelly and Ryan
The company once valued at $1.7 billion (2015) dipped slightly below the 1 billion mark after a deal with Unilever fell through. However, Alba's company is still putting out new products and has plans to go global.
Jessica Alba's Net Worth
Jessica Alba's net worth is currently estimated at $200 million. She isn't quite a billionaire, but with the projected growth of The Honest Company in years to come, she just might make it there.
In 2016, when The Honest Company was worth $1.7 billion, Alba's net worth was estimated at $340 million – a huge sum lost once the 'unicorn' company fell in value.
Despite this, she really is living the good life, and her millionaire status proves sufficient by the looks of things! She lives in a luxury $10 million home in Los Angeles, with her husband and 3 children.
Her family home was featured in Architectural Digest, and the view alone will take your breath away!
Jessica Alba and her children show off their gorgeous home
Jessica Alba's success may have started in the film industry, but her net worth is largely attributed to her very successful step into entrepreneurship.
Whoever said you can't wear floral prints during winter season clearly hasn't seen Jessica Alba's street style. In December 2013, the then 32-year old mother of two decked herself in a cute floral sweater for a day of work and pleasure.
Jessica Alba wears sexy black stockings with a Tart Collections Evangeline vegan leather skirt
One of the things that make Jessica special, fashion-wise, is her experimental take on styling. The "Some Kind of Beautiful" actress is not afraid to try different looks.
From luxe outfits to boho ensembles, you name it and she has worn it. So it isn't at all surprising to see her sporting the preppy chic style.
Jessica Alba leaving Toscana Brentwood restaurant to attend a meeting in California on December 13, 2013
This may be her quirkiest outfit yet. On anyone else, this might have been downright tacky but on Jessica, the ensemble is cute.
Jessica Alba's knee-high boots
Not one to stay safe on the accessories, Jessica took it up a notch with a square satchel bag, round sunnies, and knee-high boots.
The sweatshirt tied the quirkiness all together. Her adorable floral sweatshirt with baroque and floral print details is from MinkPink.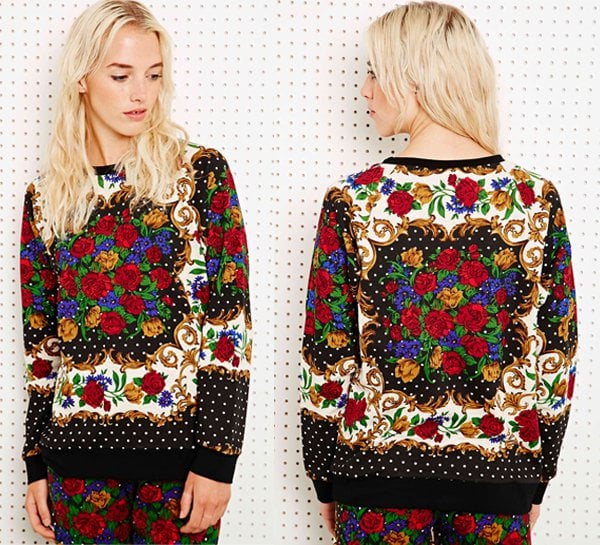 MinkPink Polka Dot Sweatshirt in Floral, £65.00
Just because it is winter doesn't mean you can't enjoy wearing a good floral sweater. In fact, we insist on wearing it!
Floral is an unexpected print in this tartan-loving season. Here are some alternatives from Nordstrom and Shopbop:
1. Free People Magic Rose Pullover, $148.00
An impressionist rose adds a pop of color to a cozy Free People sweater
2. Candela Leo Sweater, $595.00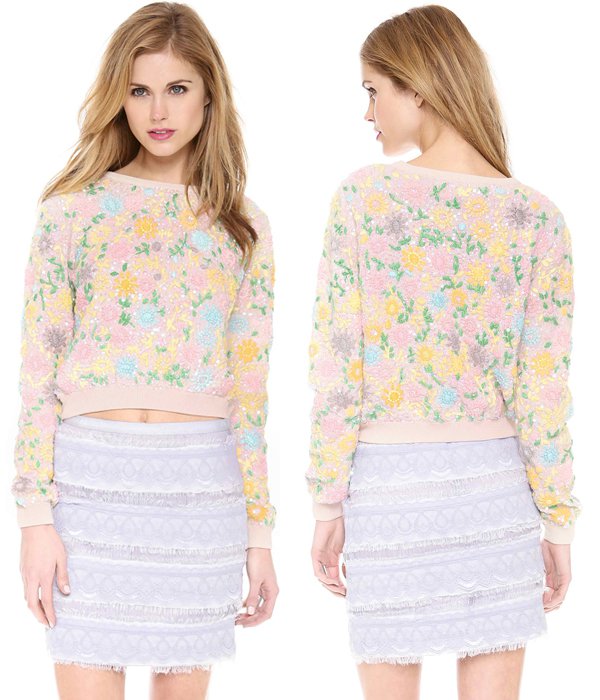 Yarn embroidery mixes with iridescent sequins on a cropped Candela sweater
3. Topshop Susan Floral Knit Sweater, $90.00
Inky black florals bloom in stark relief against the creamy background of this woolly crewneck pullover
4. Tory Burch Kerstin Print Sweater, $325.00
Beautiful screen-printed flowers front a soft mixed-media sweater knit with allover ribbing in back
5. Alexander McQueen Patchwork Floral-Print Sweater, $1,045.00
A three-quarter-sleeve crewneck sweater makes a romantic statement thanks to a lavish floral print
If you want an outfit that will put an end to your boring winter ensembles, try copying Jessica's preppy look!
Credit: WENN / Rob Rich