Jessica Alba was spotted making her way back to her ride after dinner at London's hottest celebrity hangout The Chiltern Firehouse at the end of last month in London, England.
The 37-year-old American actress and The Honest Company founder looked chic in a white drawstring shirt dress ($243 at Farfetch) and black Jade platform sandals from Kenzo as she enjoyed a night out on the town. Earlier that day, it was announced that the 'Bad Boys' spinoff 'L.A.'s Finest', starring Jessica Alba and Gabrielle Union, is going to be Charter Communications' first scripted series.
"We are here to kick ass and take names!!! LA's Finest has been officially picked up by Charter Communications— marking their first major series order for Spectrum. @gabunion and I are coming at you guys hot with 13 episodes in 2019. It's going down," Jessica wrote on Instagram after the announcement was made.
Jessica Alba makes her way back to her car after dinner at celeb hot spot The Chiltern Firehouse in London, England, on June 26, 2018
Jessica Alba rocking an offbeat white shirt dress from quirky French fashion house Kenzo
Jessica Alba enjoying a night out on the town in black platform sandals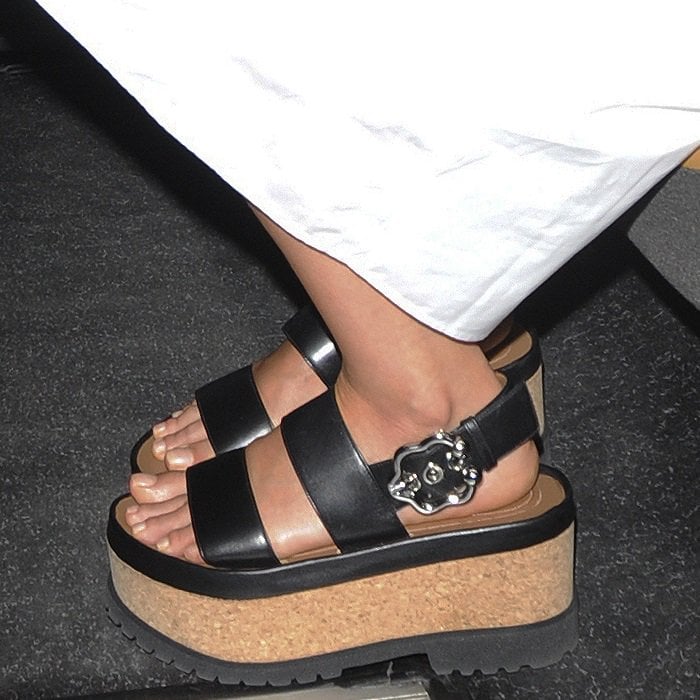 Jessica Alba showing off her feet in Kenzo Jade platform sandals
Kenzo drawstring shirt dress, $243 at Farfetch
Expertly crafted from fine cotton, the dress features a concealed front button fastening, short sleeves, a mid length, a pleated skirt and a drawstring waist.
Credit: WENN