One of the greatest challenges that any brand will face is surviving the loss of its founder. The founder – or Creative Director – has influence over every aspect of the brand.
Some have come to define the most recognizable brands in the world. Tom Ford at Gucci, Karl Lagerfeld at Chanel, and Alexander McQueen at Givenchy.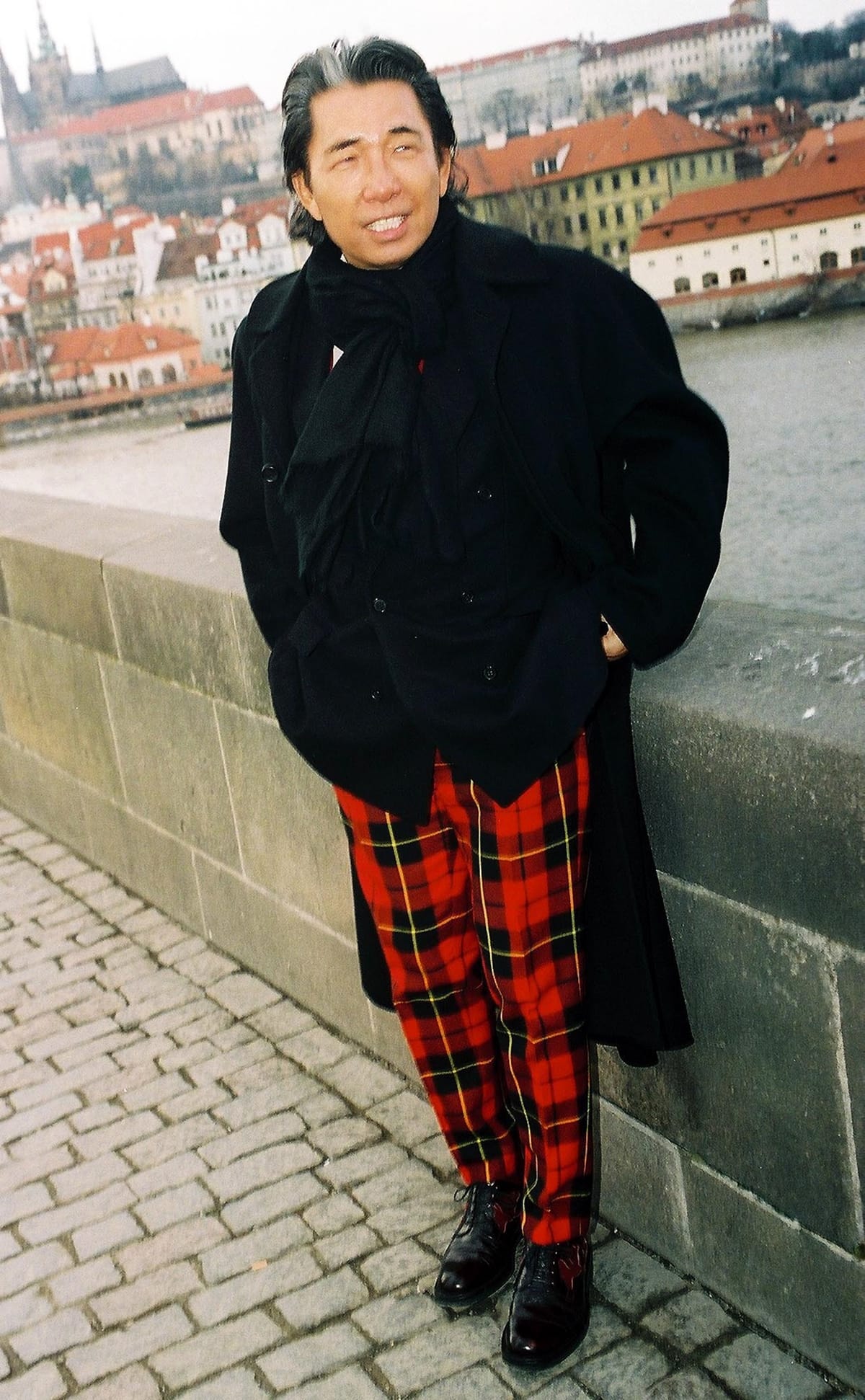 Japanese fashion designer Kenzo Takada founded French luxury fashion house Kenzo in 1970 (Credit: WENN)
Kenzo has become the latest brand to lose its founder. Kenzo Takada, the founder of Kenzo, passed away in 2020 unexpectedly due to COVID-19.
He was synonymous with his bright color schemes and jungle-inspired prints. Kenzo created almost 8,000 designs during his career and launched his eponymous brand in the 1970s.
We're looking at how Kenzo has remained popular in the year since the loss of its founder and whether we can call Kenzo a luxury brand.
What is Kenzo?
Kenzo has been a leader within the fashion industry for almost half a century. The brand is known for its infusion of positive energy through borderless fashion and the art of being daring.
María Laura Espido Freire, Margaret Qualley, and Maisie Williams wearing dresses and shoes by Kenzo (Credit: Jonathan Rebboah / News Pictures / WENN / Sean Thorton)
Their design celebrates cultural diversity and nature. Although with a Japanese designer at its head, Kenzo was founded in Paris in 1970 with the launch of the brand's first boutique in Galerie Vivienne.
The brand was originally known as 'Jungle Jap' before changing its name to Kenzo.
Since its founding, Kenzo has cultivated and reinterpreted modernity with its signature design elements – refined colors, sophisticated creativity, and a mixture of prints. Kenzo – at its heart – is a brand of impertinence and optimism.
The colorful runway show for the Kenzo x H&M collaboration at Pier 36 on October 19, 2016, in New York City (Credit: Ivan Nikolov / WENN)
The word 'Kenzo' makes "the wise one" in Japanese, a fitting choice for a brand that has led the way in the world of streetwear.
Kenzo Takada was described as a "great talent" by Yves Saint Laurent and almost universally acclaimed as one of the 'it' designers of the Parisian fashion scene.
Where Kenzo Products are Made
While Kenzo was founded in Paris, it's one of the few French brands that doesn't manufacture exclusively within Europe.
Most Parisian brands play heavily on the 'Made in Paris' label. Kenzo's products are made throughout the world, which largely contributes to its more attainable price point.
Kenzo's classic tiger T-shirt was made in Portugal and the striped cotton sweater featuring Kenzo's signature tiger-head embroidery was made in Turkey
Kenzo is considered to be an entry-level luxury brand with price points that are more achievable than other European brands, such as Ferragamo or Chloe.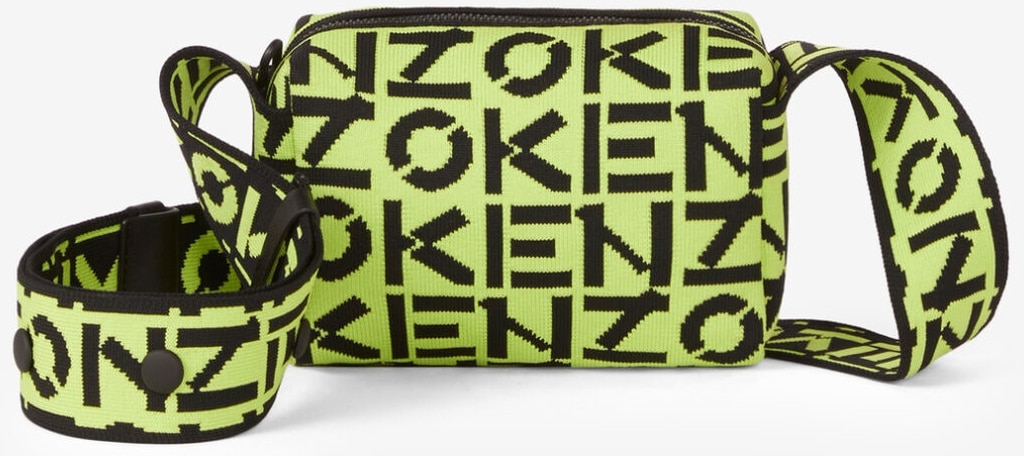 Kenzo's popular Skuba small crossbody bag is manufactured in China
The brand appears to use several different manufactures and warehouses for their products.
While their shoes are typically made in Vietnam and their clothing in Italy, Portugal, and Turkey, Kenzo is part of a growing trend of brands making their bags in China.
Is Kenzo a Luxury Brand?
There's much debate about whether you would class Kenzo as being a luxury brand. Although it doesn't have the same allure – or price tag – as Hermès or Dior, Kenzo would be classed as a luxury brand.
It's owned by the conglomerate LVMH and is largely seen as one of the most attainable luxury brands in LVMH's portfolio.
How Kenzo Has Remained Popular
Kenzo has had a strong following since its launch in the 1970s. The brand is largely considered as creating designs that were widely copied and influential across the fashion industry.
Perhaps the best way to look at the popularity of Kenzo is the success of its 2016 collaboration with H&M.
Bethann Hardison, Jean-Paul Goude, Iman, Chloe Sevigny, Humberto Leon, and Carol Lim attend the KENZO x H&M Launch Event held at Pier 36 on October 19, 2016, in New York City (Credit: Ivan Nikolov / WENN)
The popularity behind Kenzo – which remains today – comes from the fact it has brought an Asian influence on European fashion. Kenzo's tiger emblem is amongst the most recognizable within the fashion industry.
Although a Parisian brand, Kenzo stands out against the traditional streamlined and understated fashion of the capital by focusing on a less-serious aesthetic.
Their over-the-top runway shows are known for being amongst the wittiest of fashion week with an international outlook to their show.
Kenzo has remained popular without its founder for over two decades. He left Kenzo in 1999 after it was acquired by LVMH, although he continued to support his legendary brand through a number of creative roles.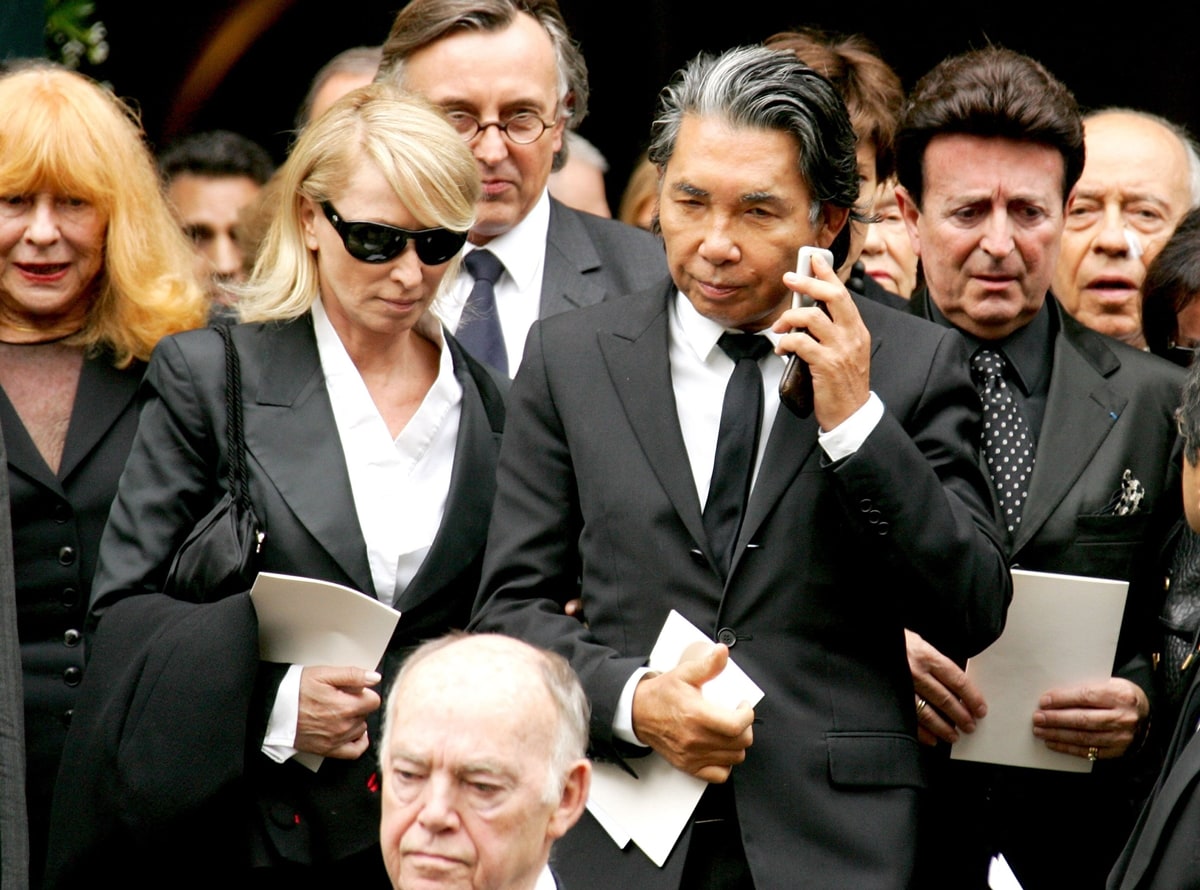 Kenzo Takada attends Yves Saint Laurent's funeral at the Saint Roch Church in Paris, France on June 5, 2008 (Credit: WENN)
Kenzo has had several Creative Directors since their founder stood down with Felipe Oliveira Baptista taking the reins in March 2019.
The fact that Kenzo has remained popular since its debut in the 1970s is a testimony to its ability to stay ahead of the curve, jumping to the front of streetwear before its explosion in recent years.
You only have to look at the celebrity following of Kenzo to understand its popularity. Michelle Obama even stepped out in a Kenzo dress during her time as First Lady.
Portuguese fashion designer Felipe Oliveira Baptista joined Kenzo as creative director in 2019 and showed his debut collection for the brand in 2020 (Credit: FashionPPS / WENN)
How has Kenzo remained popular? It's because the brand's ethos has always been to look to the future, stay ahead of the curve, and embrace modernity with a spectrum of colors.