Whether you love them or hate them, wedge shoes are one of the most popular styles on the market.
These shoes are synonymous with spring and summer, with every woman owning at least one pair of wedge shoes over their lifetime.
Gwyneth Paltrow, Alicia Vikander, Elle Fanning, Kate Hudson, and Angelina Jolie wear different styles of wedge shoes (Credit: FayesVision / Sean Thorton / Daniel Deme / WENN)
Wedge shoes come in every shape and size, from sneakers to boots and everything in between.
Our guide gives you a full rundown of everything you need to know about wedge shoes and the most comfortable wedge shoes for women.
Are heels and wedges the same thing?
No, they are not. Wedge shoes are characterized by their distinctive sole, made out of one piece of rubber material that also acts as the heel.
Wedges have continuous, solid outsoles that are elevated at the back, while heels have the elevated back part separated from the sole underneath the toes
The design originated in ancient Greece, with wedge shoes being worn as a status symbol. They were typically worn as part of stage plays to help the audience identify which characters were of a higher status.
Actors wore platform shoes to help differentiate between tragic and comedy characters, with the latter wearing plain socks.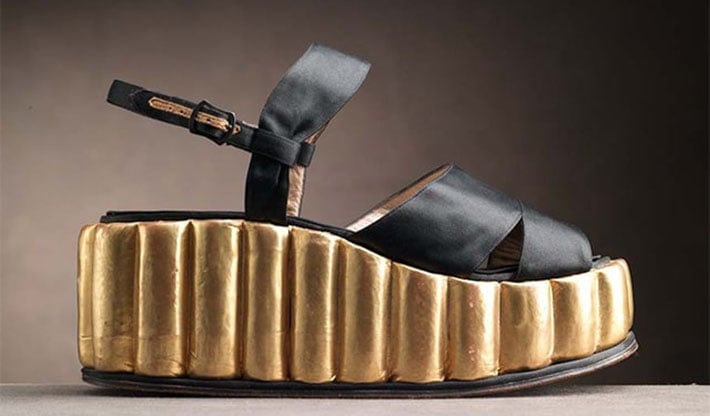 This satin sandal with sculpted kidskin-covered cork platform is just one of the first few wedge shoes designed by Salvatore Ferragamo in the 1940s
Our modern version of wedge shoes for women was made popular by the Italian brand Salvatore Ferragamo.
The designer brought the silhouette back to the Italian market in the 1930s, with the shoes continuing to evolve through the 1990s.
It's not just women who have popular worn wedge shoes. During the 1970s, men's wedge boots – known as 'wedgies' – became mainstream, with a low wedge heel.
Duchess of Cambridge, Kate Middleton, has a penchant for wedge shoes (Credit: Phil Lewis / WENN)
Although these shoes have a vintage feel, they're still popular.
One celebrity famous for their love of wedge shoes is the Duchess of Cambridge, who has several go-to pairs she wears every spring and summer.
Are wedges more comfortable than heels?
You could be forgiven for thinking wedge shoes were just like heels. The main difference between the two is the soles.
Wedge shoes have a solid outsole with a tapered flat toe that gives you an elevated high.
This silhouette typically makes wedge shoes more comfortable and easier to walk in than their traditional high-heel counterparts.
By comparison, stilettos have a heel that sits separately from the sole of the shoe.
Even though there are distinctive differences between wedge shoes and high heels, you'll often find them grouped when shopping.
We're increasingly seeing wedge shoes take on new silhouettes, particularly with sneaker styles.
What are the Benefits of Wedge Shoes?
You might be wondering what makes wedge shoes so special. Not only are they more comfortable to wear than traditional heels, but they also have several health benefits.
The wedge sole gives you extra arch support and can reduce the likelihood of ankle and foot problems.
Wedges can be a game-changer for your closet if you have knee or ankle issues.
You can still enjoy the benefits of a few extra inches in height without worrying about spraining your ankle or straining your knee.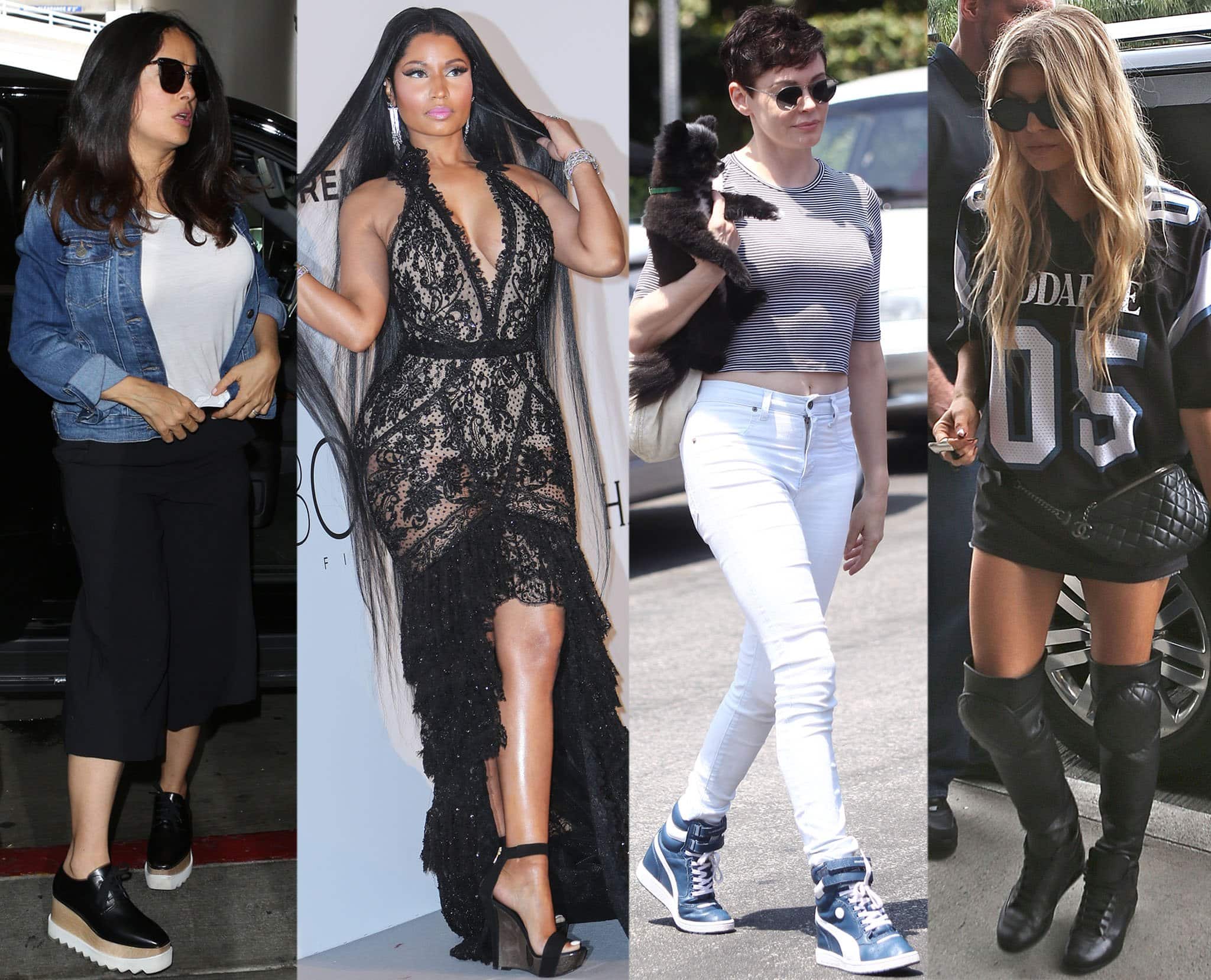 Salma Hayek, Nicki Minaj, Rose McGowan, and Fergie add a few inches with comfy wedges (Credit: John Rainford / WENN)
Like any shoe that gives you extra height, wedge shoes help to elongate the appearance of your body and can improve your posture by making you stand taller.
Choosing a pair of wedge shoes in a neutral tone can help make your legs look longer by creating a streamlined silhouette.
The Most Popular Types of Wedge Shoes
While wedges can come in and out of style every year, their general silhouette is timeless.
What makes them wedge shoes is their sole.
While more styles are hitting the market every year, there are three prominent styles that you want to add to your closet.
1. Wedge Sandals
These are the most popular styles and the earliest modern silhouettes of the shoe.
Cork wedge shoes are the most recognizable in today's fashion industry.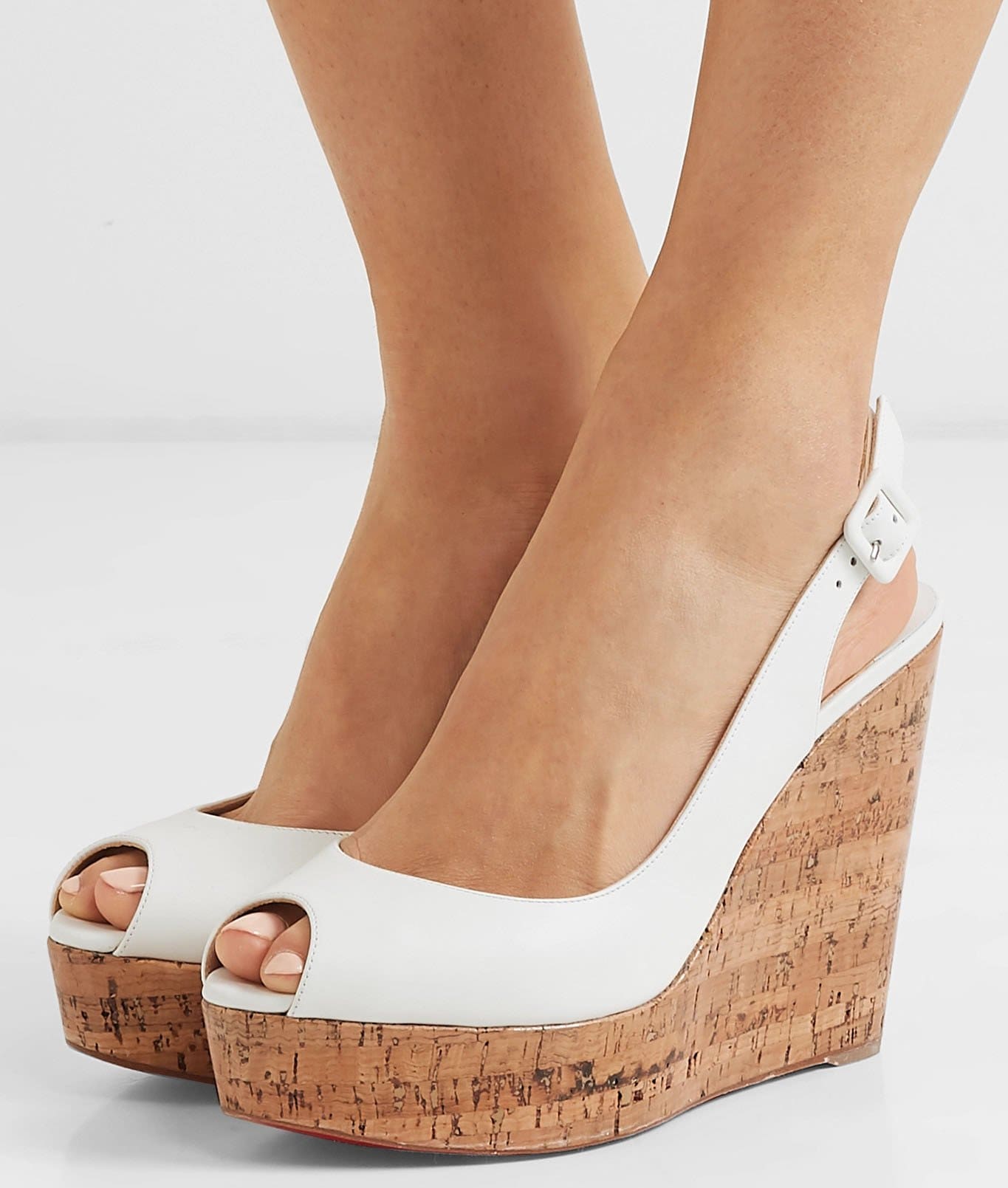 Cork wedge sandals are the most common style of wedge shoes and most prevalent during spring and summer
They first appeared on the scene in the 1950s, thanks to Salvatore Ferragamo, who utilized cork due to the economic sanctions in place against Italy.
When he could no longer pay the inflated prices for steel to make traditional heels, he began experimenting with Sardinian cork to make soles and heels. The cork was glued to the shoe as one piece, connecting the heel and sole.
2. Wedge Boots
This style gives you the practicality of the traditional shoe with the added comfort of the wedge sole.
If you have always wanted to wear knee-high boots but are scared of a block heel, these shoes are the perfect alternative.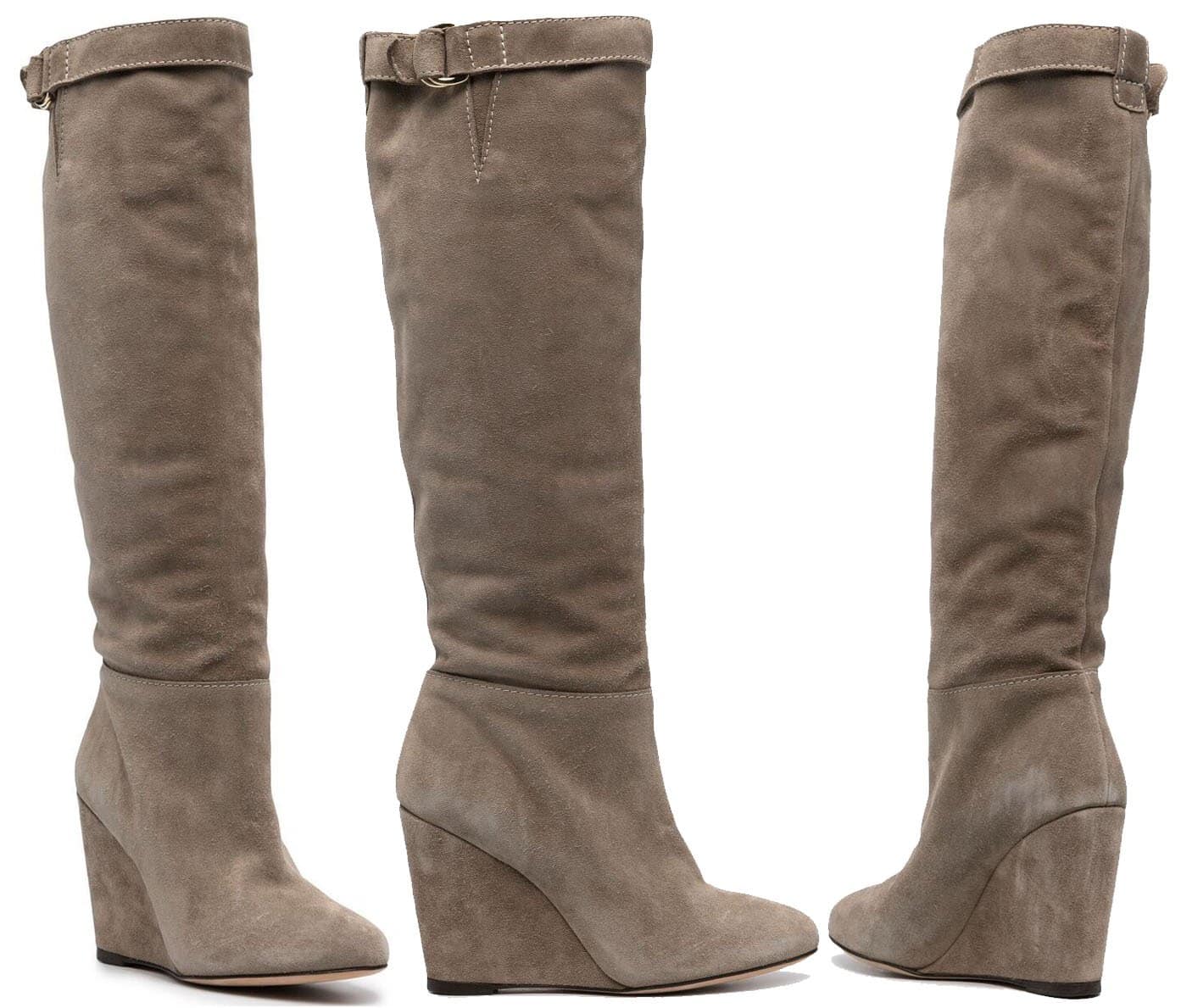 A pair of wedge boots should give a chic and comfy finish to any winter outfit
They also prove that wedge shoes are not just for spring and summer.
You can find wedge boots of all heights and shaft styles, from rubber ankle boots to over-the-knee suede boots.
3. Wedge Sneakers
These shoes are the latest style to hit the market.
With the industry prioritizing comfort, it's no surprise that our favorite sneakers have had a makeover.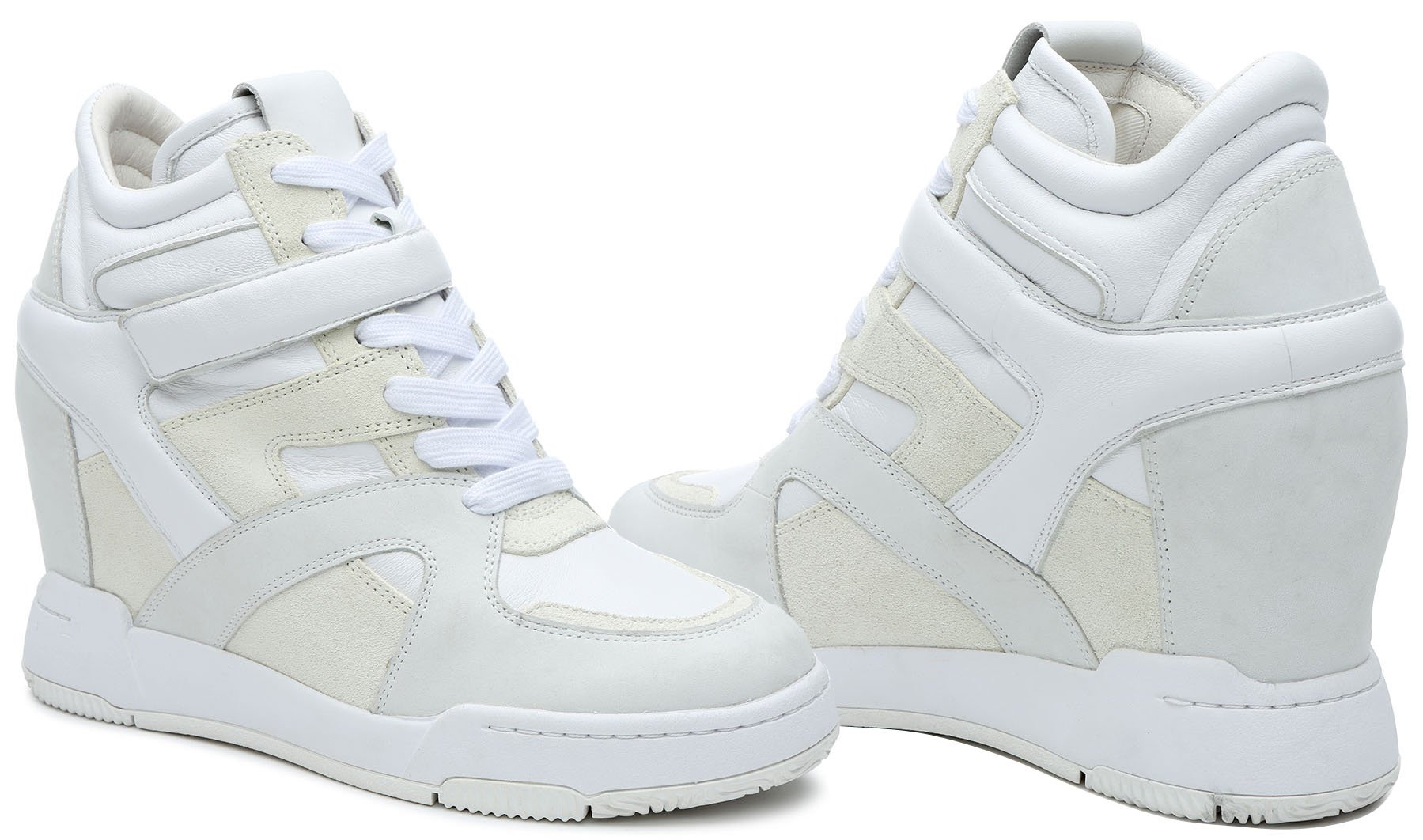 Give off a cool-girl vibe with '90s-style wedge sneakers
Wedge sneakers are unique as you enjoy the usual comfort of these shoes but with the benefits and versatility of a few extra inches in height.
Wedge sneakers first appeared in the 1990s, when they frequently appeared in music videos by the likes of Spice Girls and other pop groups at the time.