This shoe style has been around for centuries and remains one of the most popular shoes today. Oxfords originated in the UK and became very popular at Oxford University in 1800 before making their way to the US.
Celebrities such as Diane Kruger and Rita Ora have shown us how to look stylish and on-trend even while dressing down.
There are plenty of options for grown-up versions of oxfords that will perk up any outfit and make you look charming and sophisticated.
3 Characteristics of Oxford Shoes
There are certain defining features of an Oxford shoe. Traditionally speaking, they must have all three elements to be classified as an oxford.
Foremost among these is their closed lace system. Additionally, these shoes typically extend just below the ankle. Lastly, a defining trait is their low heel, distinguishing them during the early 1800s.
Sam Edelman's Rishel woven Oxford is perfect with jeans (Credit: Sam Edelman)
Oxford shoes often come in two primary toe cap styles: cap toe and plain toe. A cap toe features a stitched or perforated toe cap design, while a plain toe has a smooth, uninterrupted vamp without any additional decorative elements.
Although initially a men's shoe (and still is), they are also a popular women's shoe. Women now have the option of traditional-looking oxfords and more modern interpretations of the classic shoe.
Fluffy pompoms trim the laces of a menswear-inspired oxford from Sam Edelman for a look that's both street-chic and sophisticated (Credit: Sam Edelman)
Women's Oxford shoes are a great addition to a casual look or a comfortable alternative to heels when wearing office attire. They are incredibly versatile, stylish, and comfortable!
You can find hundreds of Oxford shoes on Nordstrom and Zappos.
Brooklyn Decker's Love Affair With Oxfords Continues
Sometimes, a girl just wants to be comfortable. So, we totally understand Brooklyn Decker's sartorial choice of a puffy-sleeved off-shoulder top, shorts, and low-heeled oxfords to the premiere of her new Netflix series, Grace and Frankie, at the Regal Cinemas L.A. Live.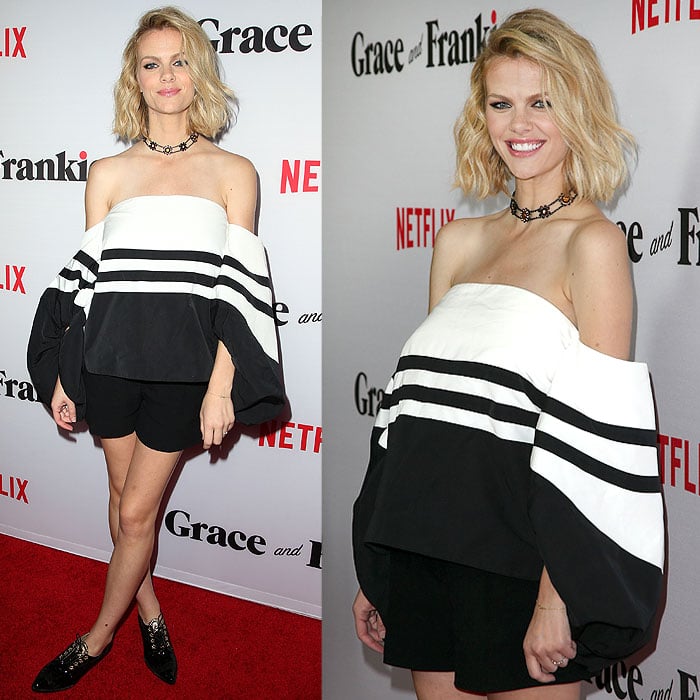 Brooklyn Decker at the premiere of the new Netflix series "Grace and Frankie" held at the Regal Cinemas L.A. Live in Los Angeles, California, on April 29, 2015 (Credit: FayesVision / WENN)
However, in the unforgiving world of Hollywood fashion critique, a casually dressed outfit like Brooklyn's, with its loose, roomy, and concealing elements, often invites a wave of criticism.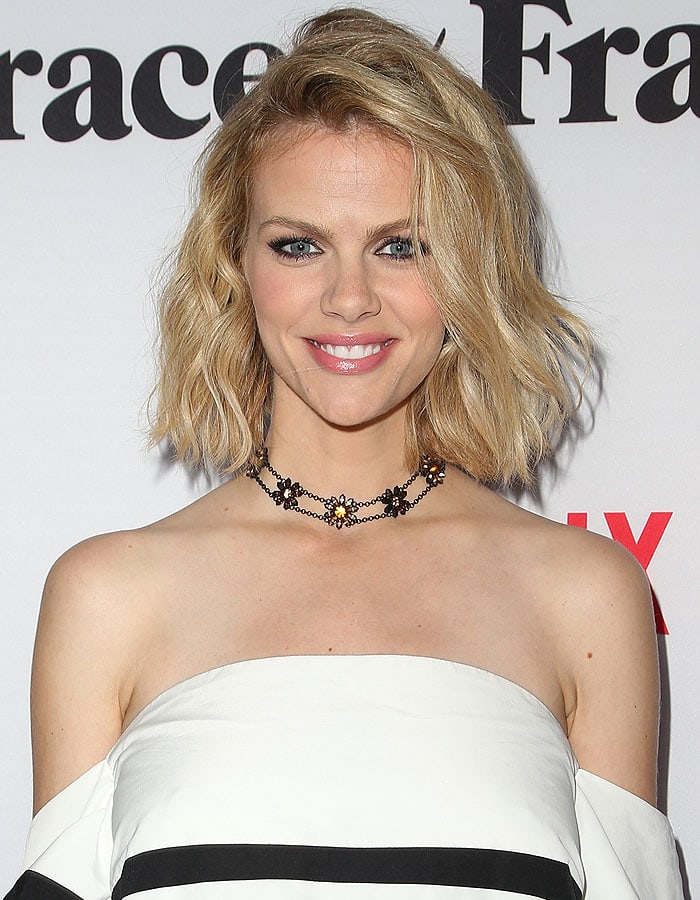 Brooklyn Decker wearing a flower chain choker necklace (Credit: FayesVision / WENN)
The then-28-year-old Sports Illustrated model got people asking what baby bump she might be hiding underneath her black-and-white striped peasant top. Brooklyn must be thinking, "Seriously, pregnancy speculation straight away?"
Brooklyn Decker's bishop-sleeve off-shoulder top threatened to fall off her slender frame (Credit: FayesVision / WENN)
Hiding a pregnancy or not, our issue with the top is that it looks like it's barely hanging on to Brooklyn and is seemingly threatening to cause a wardrobe malfunction at any moment. Is that her hand holding one of the sleeves in one of the pictures?
Brooklyn Decker welcomed her first child with husband, tennis pro Andy Roddick, on September 30, 2015. In other words, she was clearly pregnant when attending the Grace and Frankie premiere.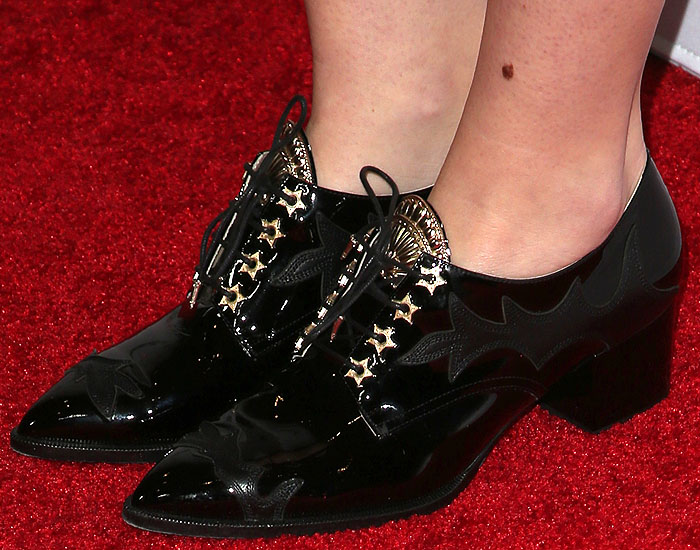 Brooklyn Decker's black patent oxfords with cowboy-inspired applique, gold tongue trim, and gold star eyelets (Credit: FayesVision / WENN)
Brooklyn Decker is a known fan of Oxford shoes and has worn the shoe style on numerous red carpet occasions.
While we're out trying to get an ID on Brooklyn's shoes, check out our summer Oxford picks in fun metallic colors below.
1. Markus Lupfer Hologram Oxfords, $430 / 2. Rollie Derby Punch Metallic Oxfords, $110 / 3. Matt Bernson "Gimlet" Oxfords, $199 / 4. Meandher "Jimmy" Oxfords, $445