Famous for incredible boobs, in February 2013 Brooklyn Decker attended the Vanity Fair and Juicy Couture Celebration of the 2013 Vanities Calendar in Hollywood.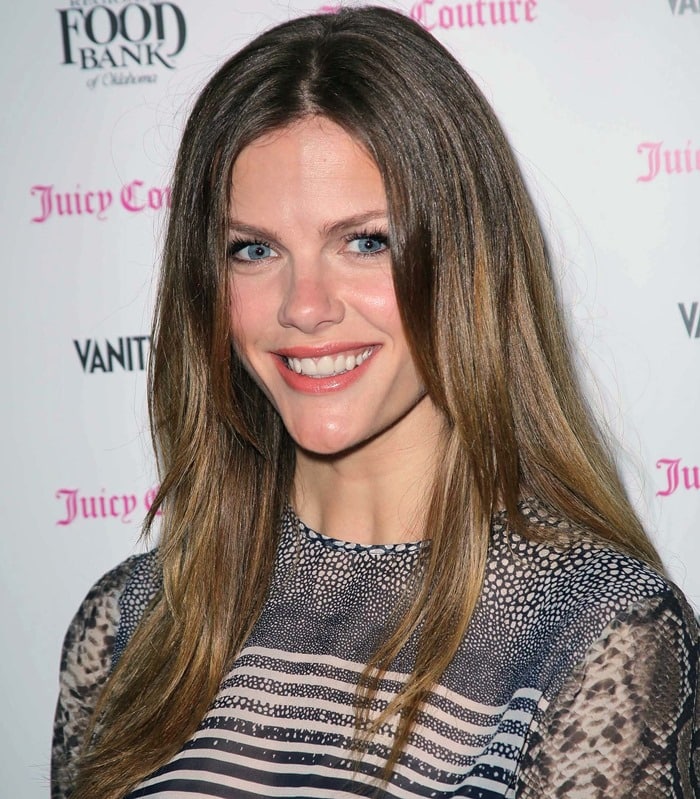 Brooklyn Decker wears her hair down at the Vanity Fair And Juicy Couture Celebration Of The 2013 Vanities Calendar held on February 18, 2013, at Chateau Marmont in Los Angeles
Considering the fashion model was Miss October for the aforementioned calendar, we were not surprised to see that she showed up at the event, which was co-hosted by Olivia Munn.
2 years later, she gave birth to her first son, Hank Roddick. His little brother, Stevie Roddick, was born in 2017. The supermodel married U.S. tennis player Andy Roddick on April 17, 2009. They live with their children in Roddick's hometown of Austin, Texas.
Brooklyn Decker shows off the boobs that made her famous at the 2010 ESPY Awards
In February 2019, the Sports Illustrated Swimsuit Issue model responded to a fan who admitted to being "confused" by her "gangly" new look.
"For the umpteenth time — because people love to comment on my body (or lack thereof) my children sucked the life out of my body and left behind the bag of bones," said the "Battleship" actress.
"I don't know what else to tell you. I miss my boobs too — I don't even know what to call them now," Brooklyn Decker said on Twitter about how her boobs have changed after having children.
The then 22-year-old Brooklyn Decker attends the 2009 Whitney Contemporaries Art Party And Auction at Skylight on June 17, 2009, in New York City
According to Mayo Clinic, "breast-feeding doesn't negatively affect breast shape or volume." However, aging and smoking can contribute to sagging breasts.
Tired of people critiquing her boobs following the birth of her two children, Brooklyn Decker attends #BlogHer18 Creators Summit at Pier 17 on August 8, 2018, in New York City
While Brooklyn usually opts for super glam vibes, her outfit at the Chateau Marmont in Los Angeles was a miss. She wore a graphic silk chiffon outfit, which included a top and a skirt from Preen's Spring 2013 collection.
The outfit, which featured snake print, stripes, a neon panel at the skirt, and navy satin panels, was just unflattering.
Brooklyn Decker wears an unflattering Preen ensemble to her calendar release

At least her wedges, which are by Casadei for Prabal Gurung, elevated her outfit.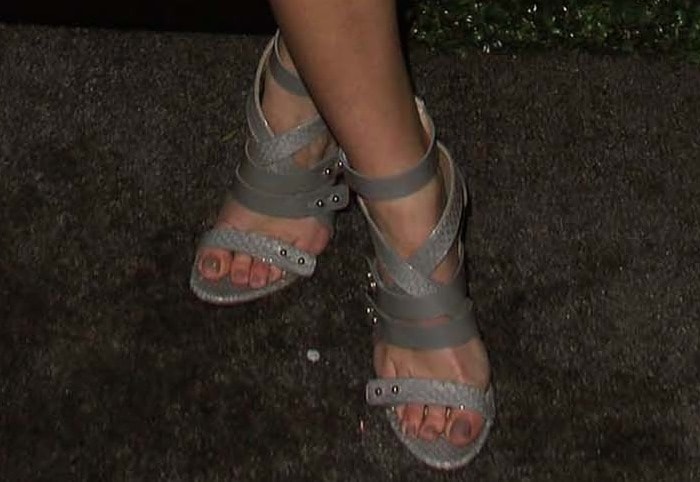 Brooklyn Decker's feet in Casadei for Prabal Gurung wedges
Her grey wedge sandals are from the Casadei for Prabal Gurung's Spring 2013 collection and feature a combination of snakeskin and patent with gold-tone studs.
In addition to the tough-chic strappy upper, they feature a sculptured plexiglass wedge heel that's about 4.7-inch high.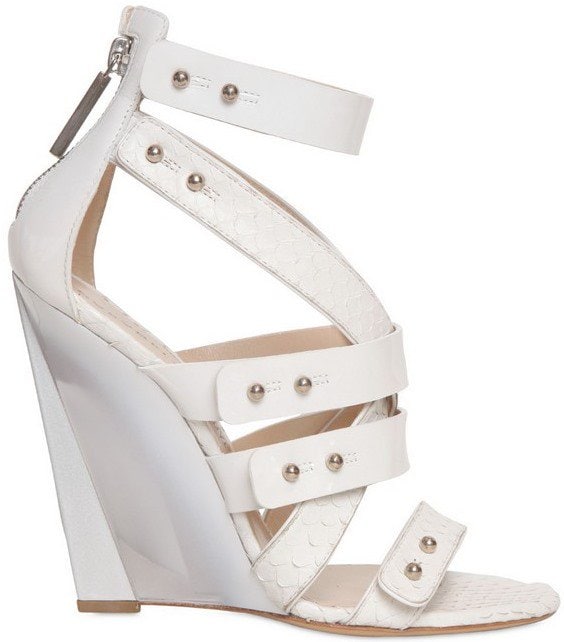 Casadei White 120mm Ayers Glossy Patent Blade Wedges
Love it? Here are its other color versions that can be ordered at Casadei.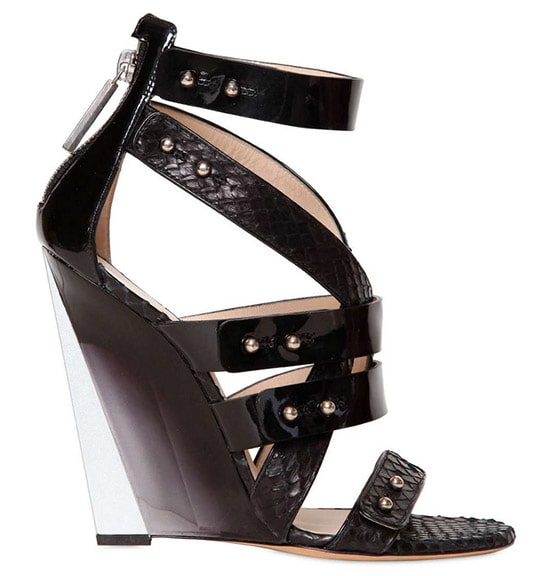 Casadei for Prabal Gurung Ayers Wedges in Black, $1,028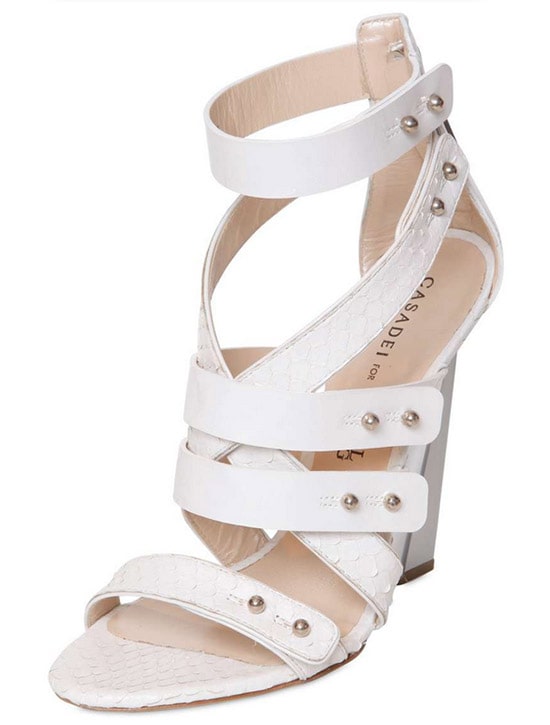 Casadei for Prabal Gurung Ayers Wedges in White, $1,028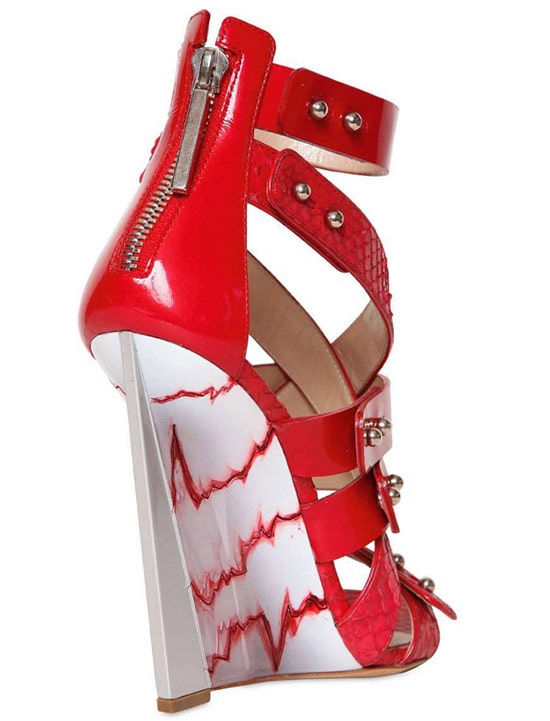 Casadei for Prabal Gurung Ayers Wedges in Red, $1,058
Credit: FayesVision / WENN / Tmobile