Aside from being considered an icon in the music industry, Taylor Swift is also regarded as one of today's icons in the style department. The 24-year-old singer has constantly been showcasing her impeccable taste in fashion with her very feminine style.
On Thursday, the country pop star wore a striped body-con dress by Topshop on her way to a studio in the Big Apple. The short dress looked great on her, flaunting her endless slim pins. It's a simple outfit, though. But Taylor glammed up with red lipstick and showed good styling with a blush pink Prada tote and a pair of oxford pumps.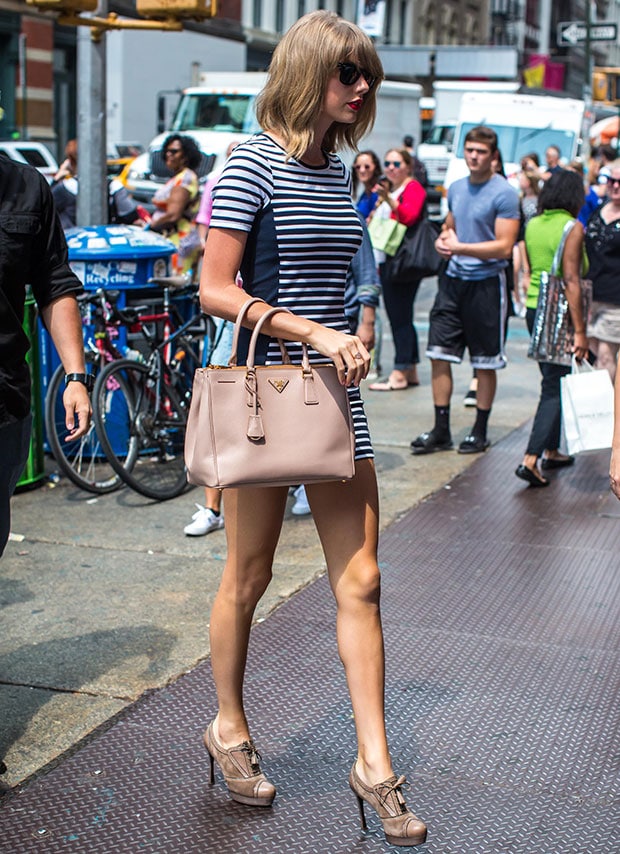 Taylor Swift heading to a studio in New York City on July 31, 2014
We have already seen a lot of heeled oxfords on Taylor. It's perhaps safe to say that she has a cabinet full of pairs of this style of shoes, which she usually wears with frocks. Well, they just never get old-fashioned!
Her recent brown oxford pumps were by Saint Laurent. Made of light brown suede with tooled leather trims throughout, they feature lace-up vamps with tasseled ends, 0.5 inch stacked platforms, and about 4.25 inch stacked heels.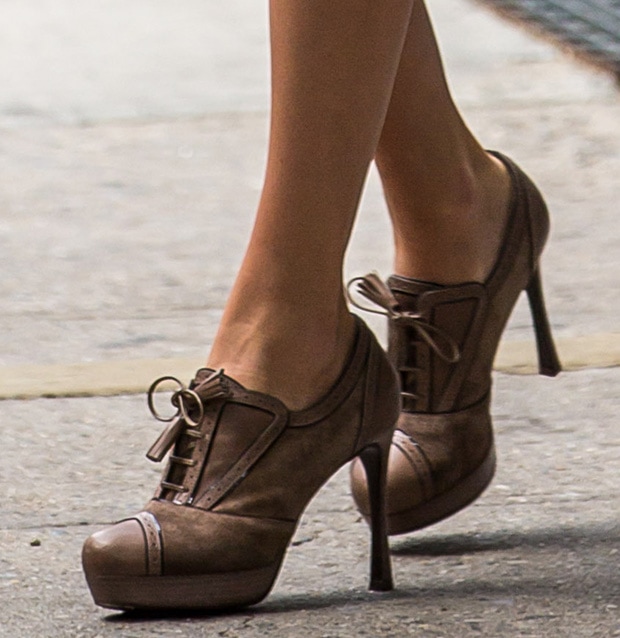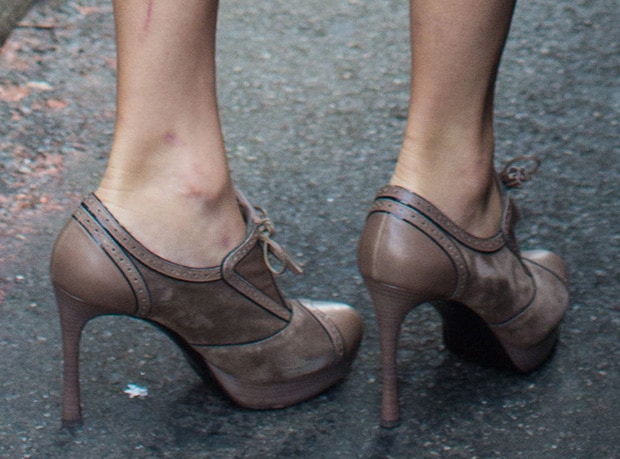 Taylor Swift wearing Saint Laurent oxford pumps
These Saint Laurent oxford pumps are now on sale at Bluefly.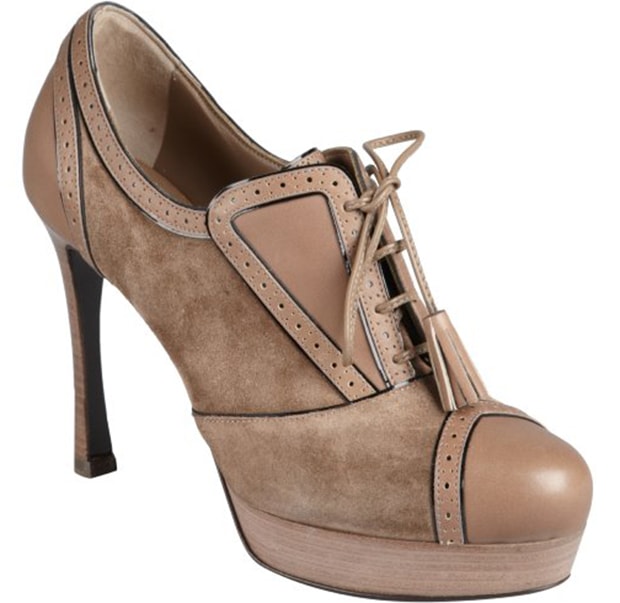 Saint Laurent Tasseled Lace-Up Tooled Oxford Pumps, $722.99 (before: $1,120)
The next day, Taylor Swift was seen enjoying the sunny weather in New York City as she was heading to Central Park while listening to music and indulging in sweet treats from Pinkberry. Wearing a Lucca Couture gingham-patterned collared dress and another pair of heeled oxfords, the "22" songstress looked very relaxed but still stylish. Her messily tied-up hair and barely there makeup were the finishing touches to her casual look.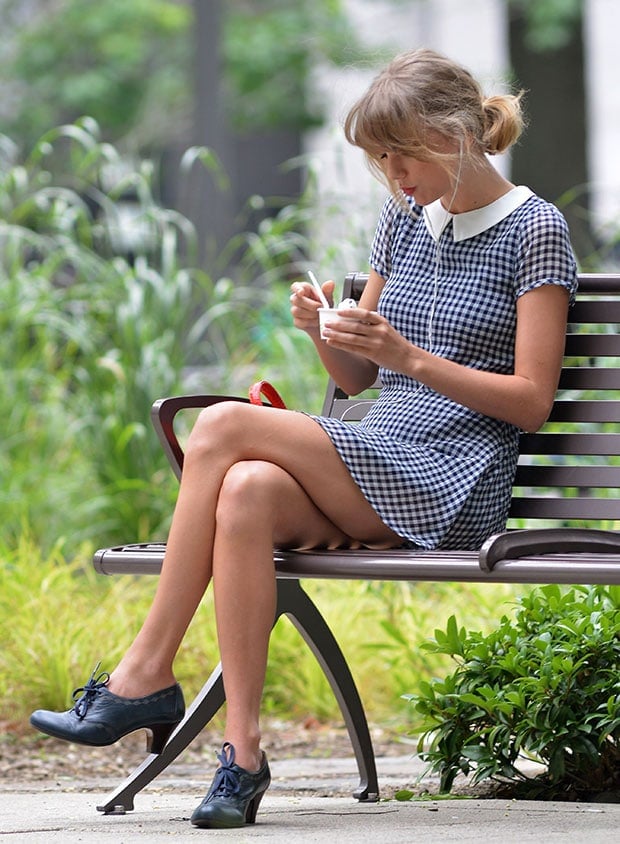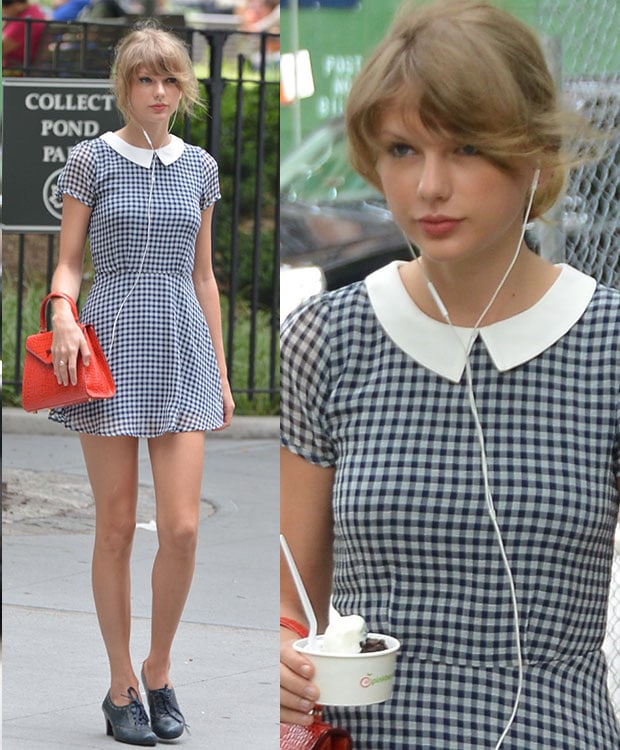 Taylor Swift at Central Park in New York City on August 1, 2014
These heeled oxfords seem to be in blue and feature a diamond pattern and brown wooden heels. Can you ID them?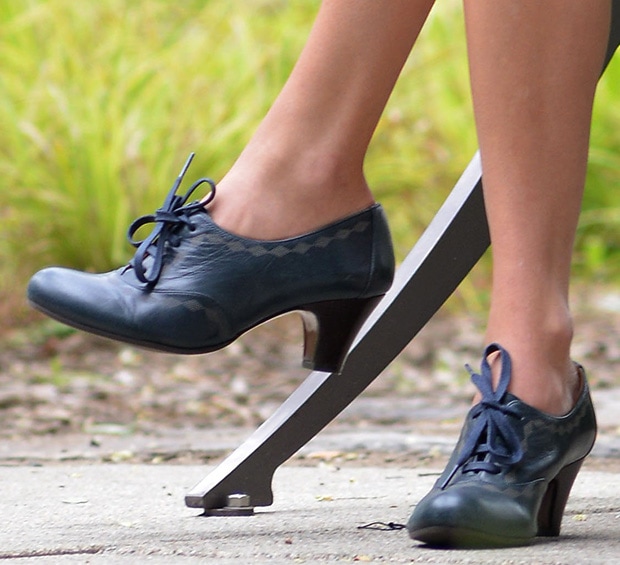 Taylor Swift wearing heeled oxfords
Credit: TNYF/WENN