Oxford shoes are a style you can wear almost anywhere. They'll take you from a day at the office to a night out at a theatre. They're an alternative to ballet flats and sneakers, giving your outfit a vintage-inspired and masculine twist.
You can look for styling inspiration from celebrities like Taylor Swift, Sienna Miller, and Hilary Duff. We've spotted the humble Oxford shoe everywhere, from Starbucks runs to red carpet events.
Can You Wear Oxford Shoes with Socks?
You can wear Oxford shoes with or without socks. It's personal preference whether you wear your Oxford shoes with socks. Most men will wear black socks with their Oxford shoes, while most women will choose no-show socks.
Your hemline will typically determine whether you should wear socks with Oxford shoes. Ideally, you want to wear socks that match the color of your Oxford shoes for a seamless look.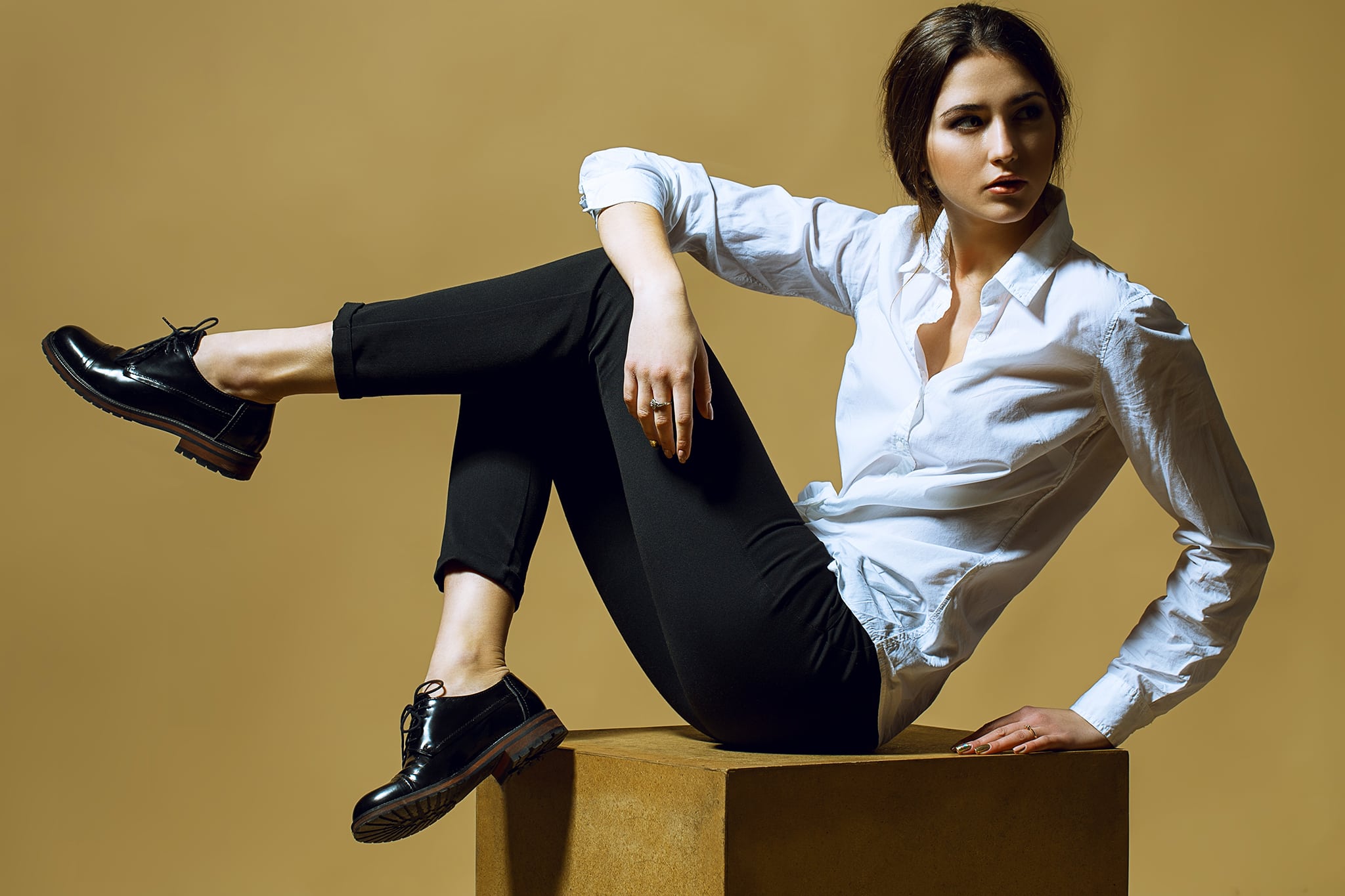 Women usually wear oxford shoes with no-show socks or ankle socks (Credit: Elaine Nadiv / Shutterstock)
Women will typically wear short ankle socks or no-show socks with their Oxford shoes, especially if wearing a dress or short skirt. Tights can give you the seamless look and add extra comfort.
If you're going for a vintage look, socks can add a quirky look. Celebrities like Diane Keaton are famous for wearing eccentric socks with Oxford shoes. Socks can be a way to add a contemporary feel to your classic Oxford shoes for women.
We're sharing a few of our favorite ways to style Oxford shoes for women:
1. Jeans and a blazer
Channel your inner Kendall Jenner with one of the supermodel's go-to looks. Pair your signature Oxford shoes with jeans, a crisp white shirt, and a chic blazer.
Choosing Oxfords instead of sneakers will give the outfit a more professional and elevated look.
1. Blazé Milano Zana Tomboy Houndstooth Blazer, $1,266 at Matches Fashion; 2. Abercrombie & Fitch '90s Oversized Button-Up Shirt, $59 at Zappos; 3. Miz Mooz Letty Oxford Flat, $139.95 at Nordstrom; 4. Frame Le Sylvie Cropped Jeans, $360 at Farfetch
2. Mini Dress
Most women who wear Oxford shoes with a mini dress go sockless or wear no-show socks. While sneakers and dresses are still in vogue, Oxford shoes can add a vintage feel to your outfit.
1. Rixo Brenda Floral Linen Minidress, $267 at Mytheresa; 2. Linea Paolo Moira Oxford Flat, $129.95 at Nordstrom; 3. Falke Soft Merino Tights, $70 at Zappos; 4. Alexander McQueen Knitted Skated Dress, $1,394 at Farfetch; 5. The Office of Angela Scott Mr. Evans Oxford, $525 at Nordstrom
Going sockless might be appealing in warmer weather, but don't ditch tights entirely. You can style Oxford shoes with nude or woolen tights when the temperatures start to drop. It's an easy way to take your favorite outfits seamlessly from one season to the next.
3. Leather trousers
Leather trousers are an alternative to jeans when styling Oxford shoes. If your Oxford shoes are made with suede, leather pants can create a contrasting moment. Style with an oversized shirt for a laidback look.
1. arch4 New Bonnie Cashmere Shirt, $895 at Saks Fifth Avenue; 2. Uma | Raquel Davidowicz Silicio Leather Pants, $1,701 at Farfetch; 3. The Office of Angela Scott Mr. Smith Stripe Oxford, $525 at Nordstrom
4. A Little Black Dress
Oxford shoes can be as Parisian as ballet flats – if you know how to style them. One of our favorite ways to style Oxford shoes for women is with a little black dress.
Choose Oxford shoes that offer a subtle contrast with your dress and go sock-less. Add classic jewelry, and you're set for a night out with your girlfriends.
1. JOOSTRICOT Point-Collar Ribbed Lurex-Jersey Mini Dress, $495 at Matches Fashion; 2. Capezio Overture Oxfords, $12.21 to $83.30 at Amazon; 3. Ermanno Firenze Shirt Dress, $555 at Farfetch; 4. Cole Haan The Go-To Arden Oxford, $63.75 to $150.91 at Amazon
Oxford shoes are a transitional style that will carry you through every season. Style them with a knitted dress for work or keep it casual with jeans and a t-shirt. No closet is complete without a trusty pair of Oxford shoes.