In November 2014, Jennifer Aniston, who has a foot tattoo honoring her beloved pooch, Norman, attended the UK premiere of her latest film, Horrible Bosses 2, in which she reprises her role as a raunchy dentist.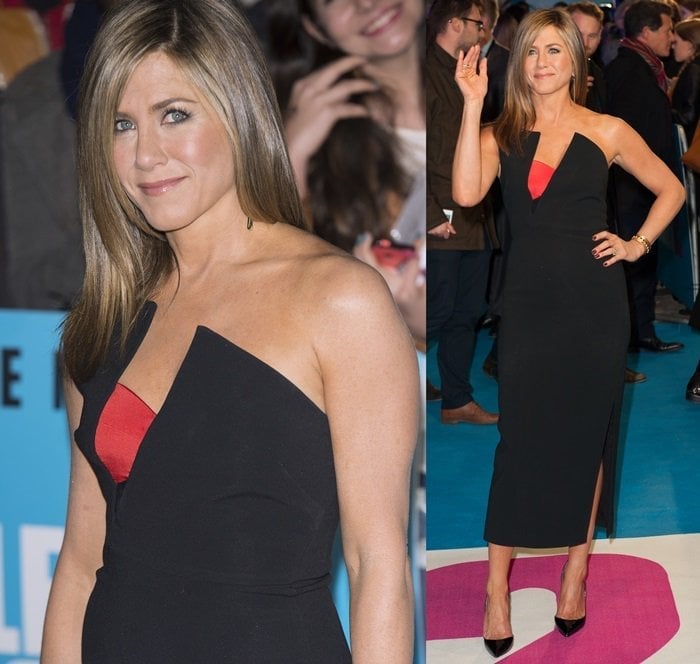 Jennifer Aniston wears a little black dress at the UK premiere of Horrible Bosses 2 at the Odeon West End in London, England, on November 12, 2014
Her 15-year-old corgi-terrier mix passed away in May 2011. "Men come and go but there really is no relationship like the one you have with a dog," she said in an interview.
"And then they don't live as long as they should. You have to say goodbye way too soon. It's just so sad. It makes me so sad. But their love is unconditional and I love that."
Jennifer Aniston's Antonio Berardi dress with a sculptural neckline featuring a red bustier
It was no surprise that Jennifer went with her style staple, the LBD, for the event. But the Antonio Berardi frock she wore was not your average little black dress, featuring a sculptural neckline that revealed a red bustier.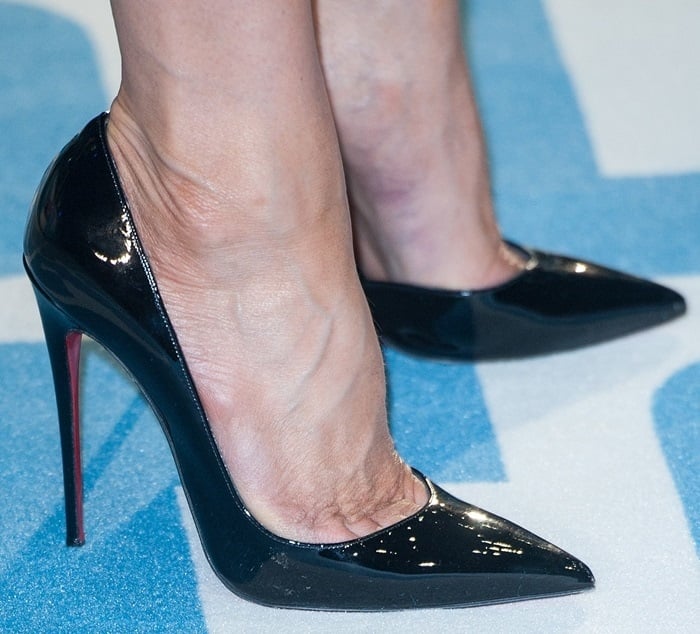 Jennifer Aniston shows off her sexy feet in Christian Louboutin pumps
Jen completed the ensemble with "Iriza" pumps from Christian Louboutin, a gold cuff, and drop earrings. Aniston paid tribute to her dog by having his name Norman inked in cursive on the inside of her right foot.
"My Norman just passed away about a month ago. And I remember thinking I had never walked through having to lose a pet. So just the idea of it," she shared in a June 2011 interview with James Lipton during a taping of Inside the Actors Studio.
Jennifer Aniston's corgi-terrier mix dog Norman is walked on the film set of 'The Baster' in New York City on March 30, 2009
"And Norman was getting up there at the time, so, again, easy access." Asked what her favorite word was, she answered "Norman."
A tribute to her deceased dog, Jennifer Aniston has got a tattoo in bold ink on her right foot side that reads Norman
"Iriza" is a popular style among celebrities probably because it's classic and versatile. You can order a pair at Mytheresa and Nordstrom.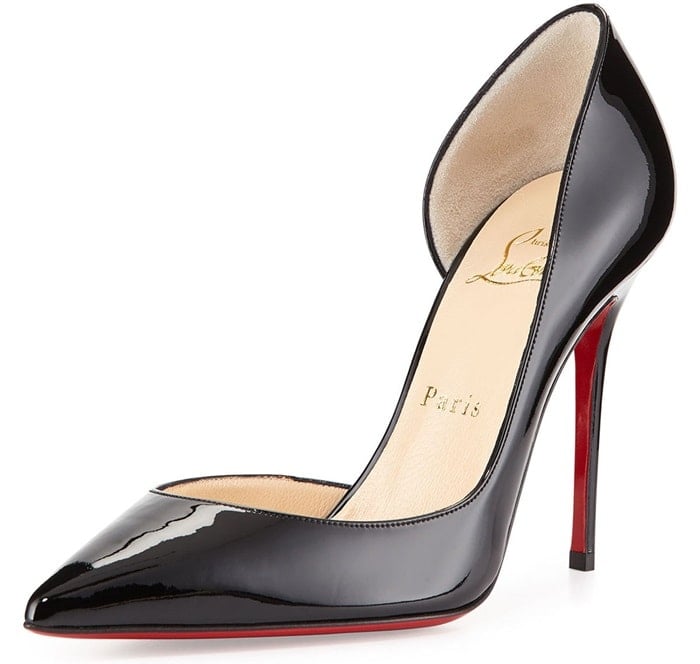 Christian Louboutin "Iriza" Pumps in Black Patent Leather, $675
Credit: Lexie Appleby / Future Image / Daniel Deme / WENN