In February 2016, one of Hollywood's most coveted actresses took a backseat for the night at the New York premiere of the American action-comedy film Zoolander 2.
Horrible Bosses actress Jennifer Aniston played second fiddle to her then-husband Justin Theroux, who plays the character Evil DJ in the stand-alone sequel to the 2001 film Zoolander.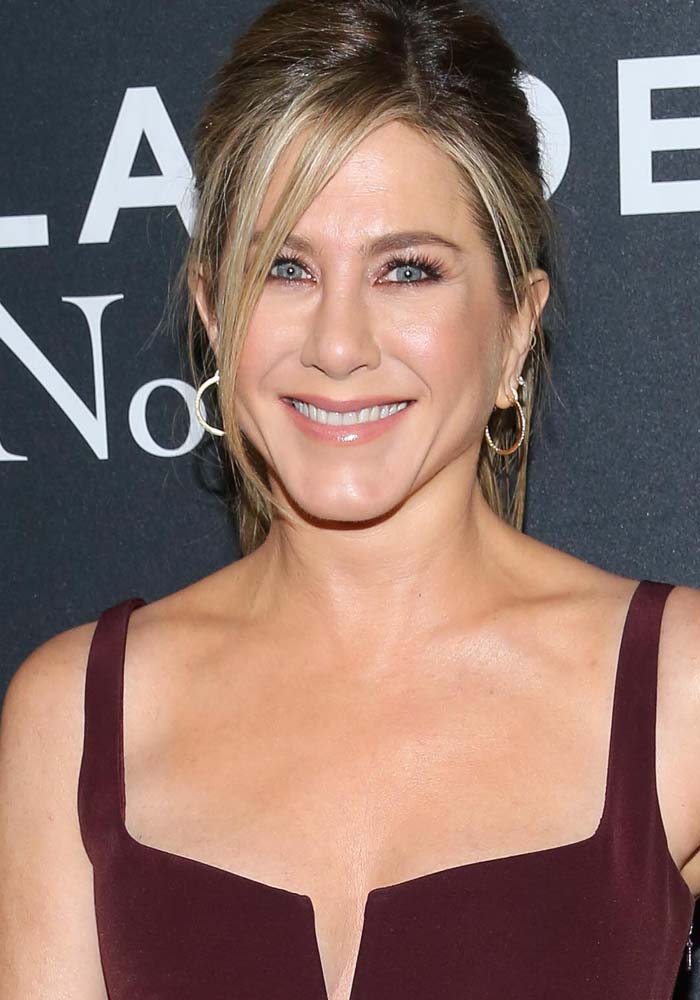 Jennifer Aniston wears her hair back at the New York premiere of "Zoolander No. 2" held on February 9, 2016 (Credit: Andres Otero / WENN)
Five years earlier, she starred as nymphomaniac dentist Dr. Julia Harris in the 2011 American black comedy film Horrible Bosses. She appeared alongside Jason Bateman, Jason "Ted Lasso" Sudekis, Jamie Foxx, Charlie Day, and Colin Farrell.
"Aniston's role isn't Aniston's fault. Playing a conniver whose voracious sexual appetite has turned her into a freak, Aniston is game. Yet the way this foil has been conceived she's not much fun. Horrible Bosses exists in the usual arrested-development Boys Town of early 21st century Hollywood comedy; there's no room for a witty or surprising female character in this town, only maniacal sluts or more easygoing ones," Michael Phillips wrote about Aniston's sex-crazed dentist role in The Los Angeles Times.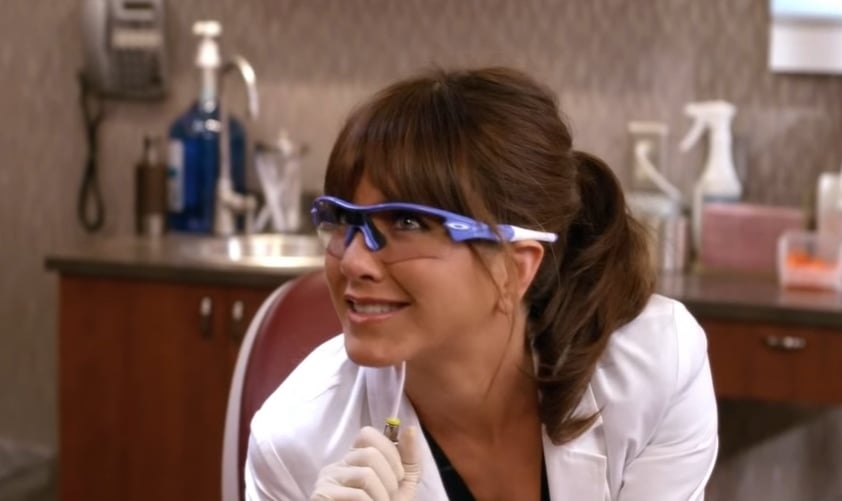 Jennifer Aniston plays a sexually carnivorous dentist in Horrible Bosses (Credit: Warner Bros. Pictures)
"It's a credit to the cast and, at their liveliest, to the writers that the results percolate in a way movies such as "The Hangover Part II" never did," he added.
Jennifer Aniston as Sexually Carnivorous Dentist
In the movie, Aniston's character attempts to blackmail her assistant (Charlie Day) into having an affair with her using photos she took of him while he was unconscious.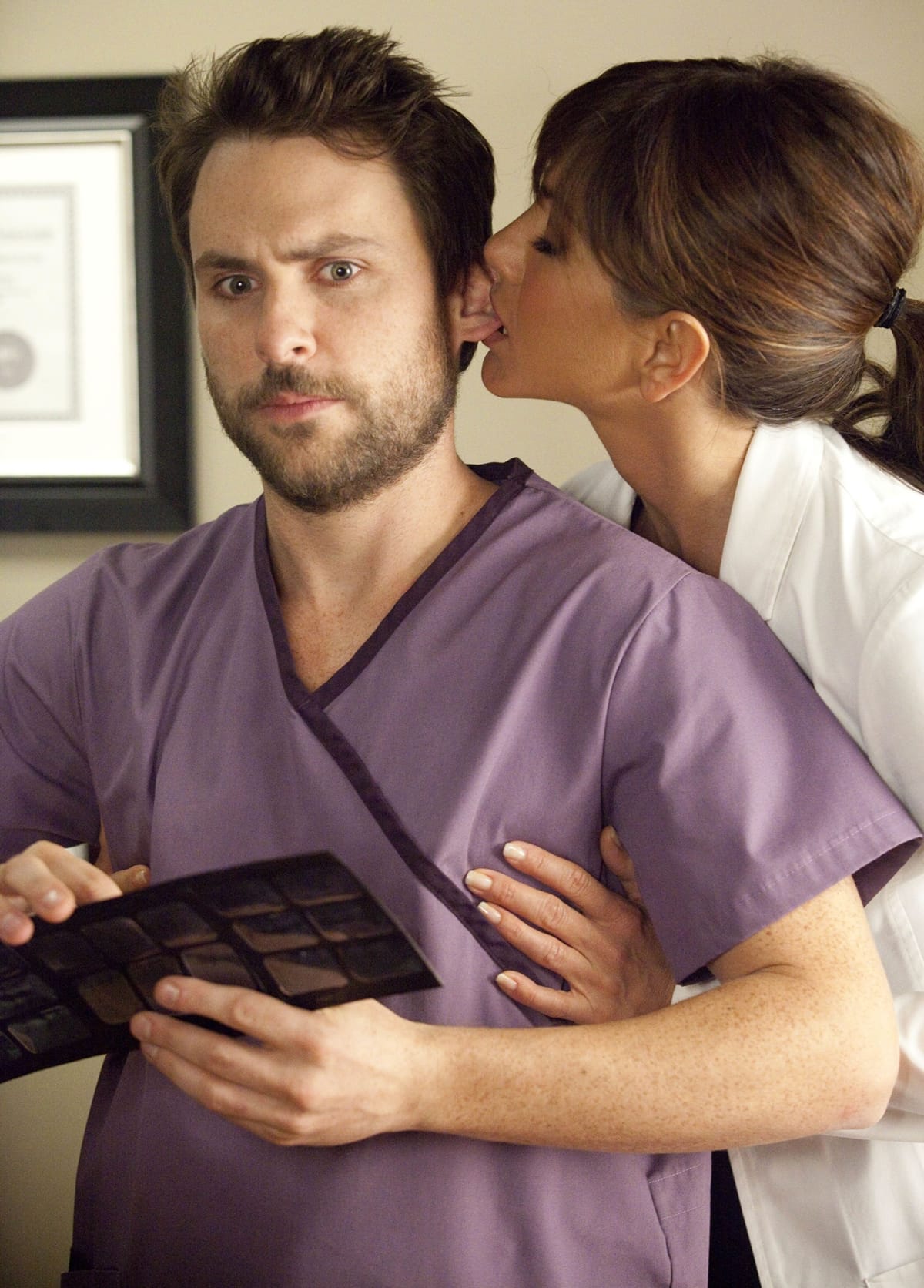 Charlie Day as Dale Arbus is sexually assaulted by Jennifer Aniston as Julia Harris in Horrible Bosses (Credit: Warner Bros. Pictures)
"It's like, you think it's so hysterical and great," she said about the scene in which she sexually assaults her assistant.
"But then comes the day when you actually have to straddle sweet Charlie Day with his pants down, and it's just that day, you're like, 'Oh God. I choose to do this, right?' Yes," Aniston added while promoting the film.
Why a Rape Scene Was Cut From Horrible Bosses 2
Aniston returned as the sexually predatory dentist in the sequel Horrible Bosses 2, which was released on November 26, 2014. The Friends actress visited Conan O'Brien's talk show in December 2014 to promote her new film.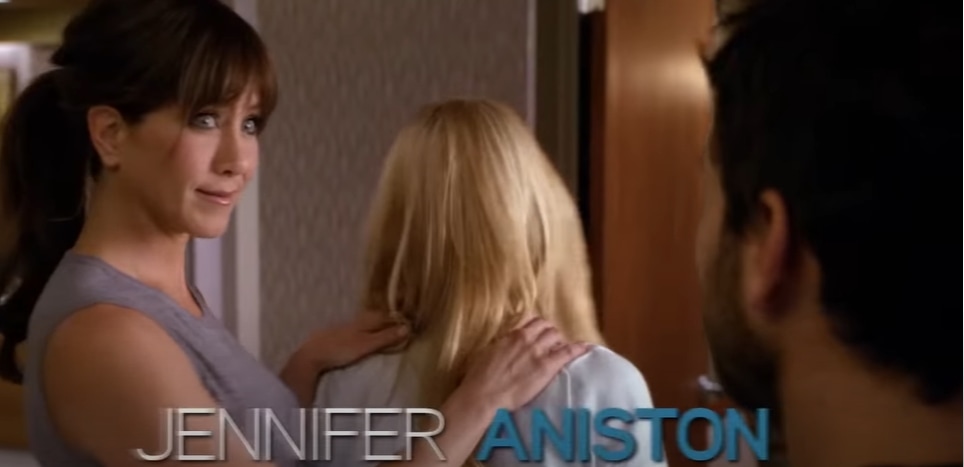 Jennifer Aniston wore a brown wig in Horrible Bosses to make her character a brunette (Credit: Warner Bros. Pictures)
In addition to discussing the penis ring necklace that Julia Harris wears in the movie, Aniston revealed that a controversial sex scene was cut from Horrible Bosses 2.
Jennifer Aniston as Dr. Julia Harris talks dirty with Charlie Day as Dale Arbus and hints at having had sex with him during his coma (Credit: Warner Bros. Pictures)
"It was kind of, not even mutual, you know? I'm not gonna say it," she stammered before describing the scene that many would consider rape. "Charlie Day's character is in a coma. And I exploit him whilst he's in a coma."
"Terrifying thing to shoot, by the way, because normally you have a partner with you to be like, 'God, this is hard, huh?' 'Yeah, this is hard'…you usually have someone there to support, but he's just laying there in a coma," she added about the controversial rape scene.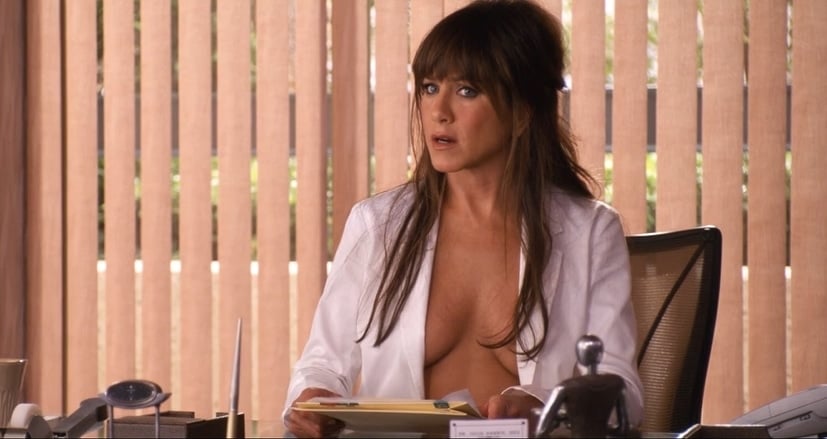 A rape scene with Jennifer Aniston was cut from Horrible Bosses 2 (Credit: Warner Bros. Pictures)
While the scene showing Anniston having sex with an unconscious hospital patient was cut from the movie, in her final scene in Horrible Bosses 2, Dr. Julia Harris hints at having raped Dale Arbus (Charlie Day) during his coma and promises to have sex with his wife as well.
Jennifer Aniston's Zoolander No. 2 Premiere Outfit
Theroux, and the rest of the "Zoolander No. 2" cast, put on a premiere that no one will ever forget, starting the night with a hilarious 10-minute fashion show.
Jennifer may not have been the center of attention for this event, but she still looked the part. The actress kept her look understated but classy in a wine-colored dress by Galvin.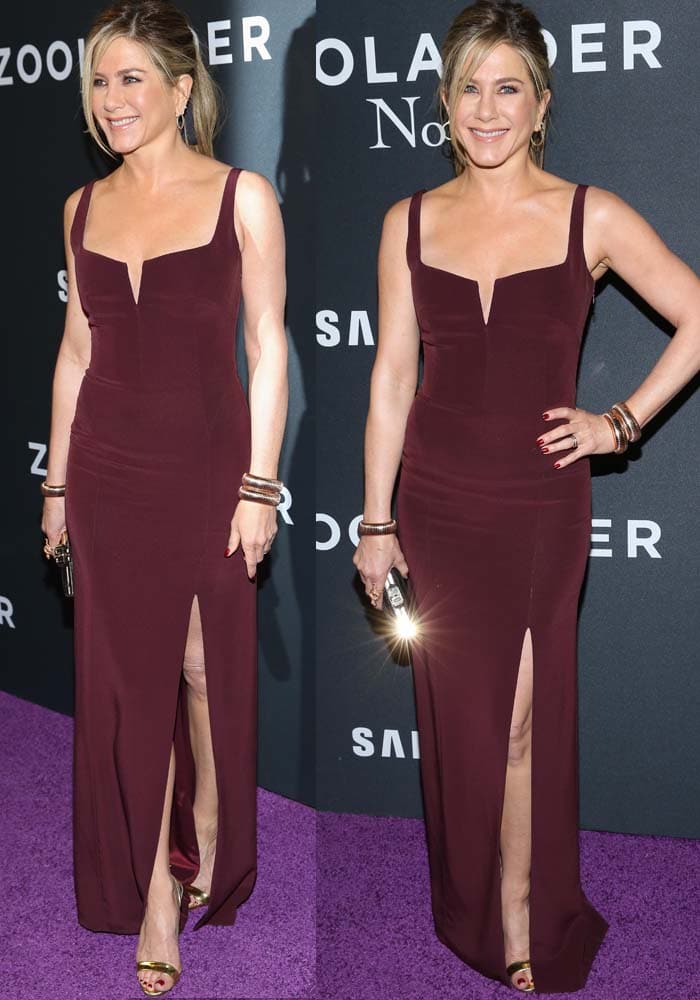 Jennifer Aniston wears a floor-length Galvin dress to the "Zoolander No. 2" premiere (Credit: Andres Otero / WENN)
The actress dressed up her outfit with a clutch from Judith Lieber, jewelry from Sidney Garber, and a pair of metallic slingback sandals by Giuseppe Zanotti.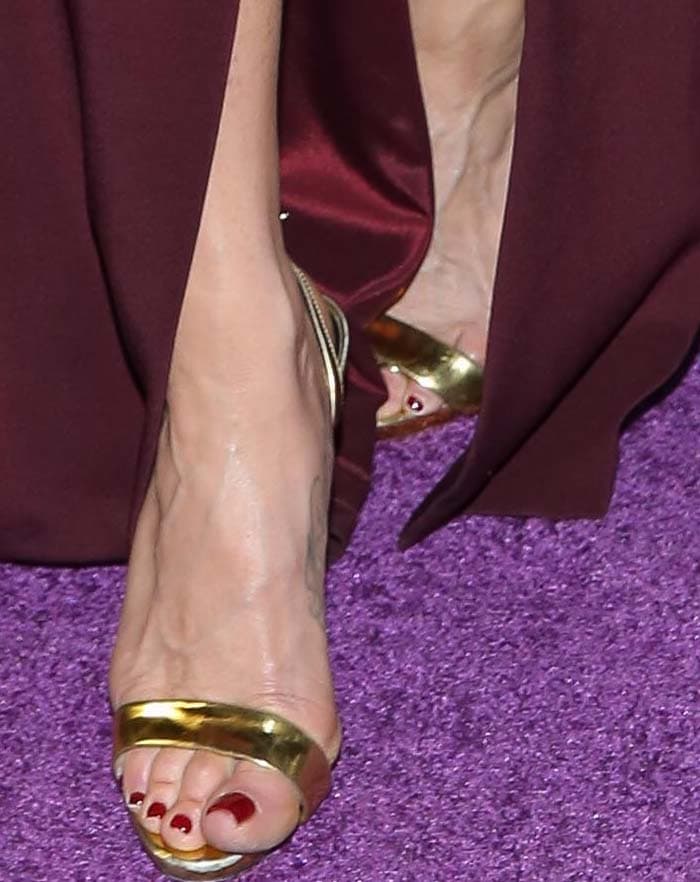 Jennifer Aniston's feet in gold Giuseppe Zanotti sandals (Credit: Andres Otero / WENN)
Vince Vaughn's ex-girlfriend kept her look young (does she ever look old, though?) by tying her hair into a messy ponytail with a ribbon.
Jennifer gave her husband's breakdancing skills a nod, saying that even though she missed his performance on the red carpet, she's seen it a lot in private.
Justin also talked a bit about his Valentine's Day plans with his lovely wife.
Jennifer Aniston poses with her husband Justin Theroux on the purple carpet (Credit: Andres Otero / WENN)
You can order Jennifer's gorgeous Giuseppe Zanotti shoes at Amazon and Farfetch.
Gold Giuseppe Zanotti Design Slingback Sandals, $470.40
Pink Giuseppe Zanotti Design Slingback Sandals, $469.05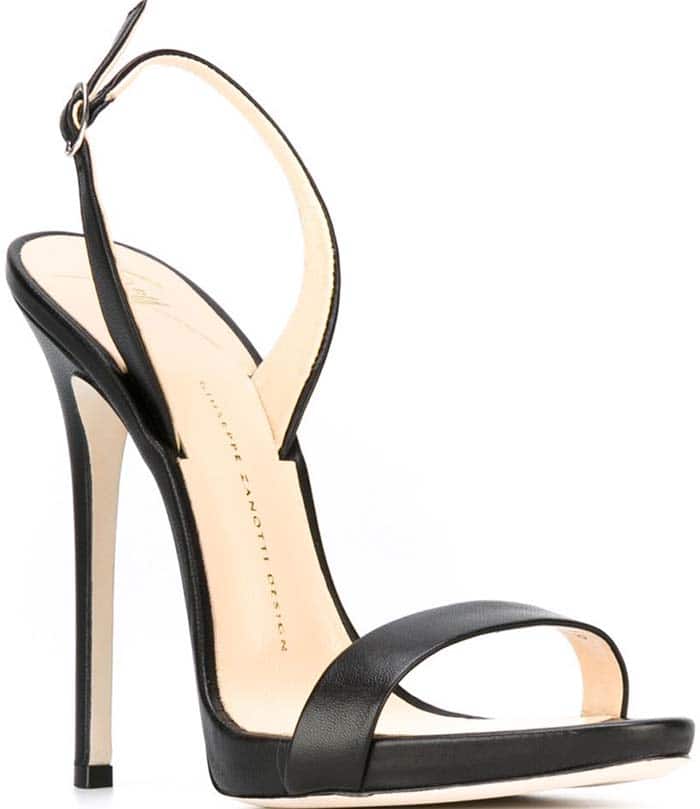 Black Giuseppe Zanotti Design Slingback Sandals, $469.05