With all of the rumors and scandals over the last ten years between celebrity Food Network chefs Giada De Laurentiis and Bobby Flay, there's a lot to unpack.
Did they have a romantic relationship together? Why were they on a seemingly romantic dinner date together in 2015? Why did they travel to Italy together in 2019?
Bobby Flay and Giada De Laurentiis attend the 39th Annual Daytime Emmy Awards at The Beverly Hilton Hotel on June 23, 2012, in Beverly Hills, California (Credit: Apega / WENN)
Before we take a look at what each Food Network star had to say about their rumored relationship, let's rewind things back to each chef's past relationships.
Giada's Dating History
Giada De Laurentiis has only prominently had one public relationship since her career as one of the Food Network's most popular chefs. De Laurentiis was married to Anthropologie fashion designer Todd Thompson for eleven years.
The couple met when De Laurentiis was in college at UCLA as an anthropology major (irony much?). They later married in 2003 and gave birth to their daughter Jade Marie De Laurentiis.
De Laurentiis and Thompson originally did not plan to have children; De Laurentiis even admits that she wanted to focus on her career instead.
Giada De Laurentiis and Todd Thompson married in 2003 and filed for divorce in December 2014 (Credit: FayesVision / WENN)
But when De Laurentiis became unexpectedly pregnant at thirty-seven years old, they decided to move forward with starting a family despite their worries about raising a child.
The couple revealed that they named their daughter after Giada herself since the word Giada is Italian for the word jade.
The couple was together for a total of twenty-five years, including their eleven-year marriage, before officially filing for divorce in 2014, which was finalized in 2015.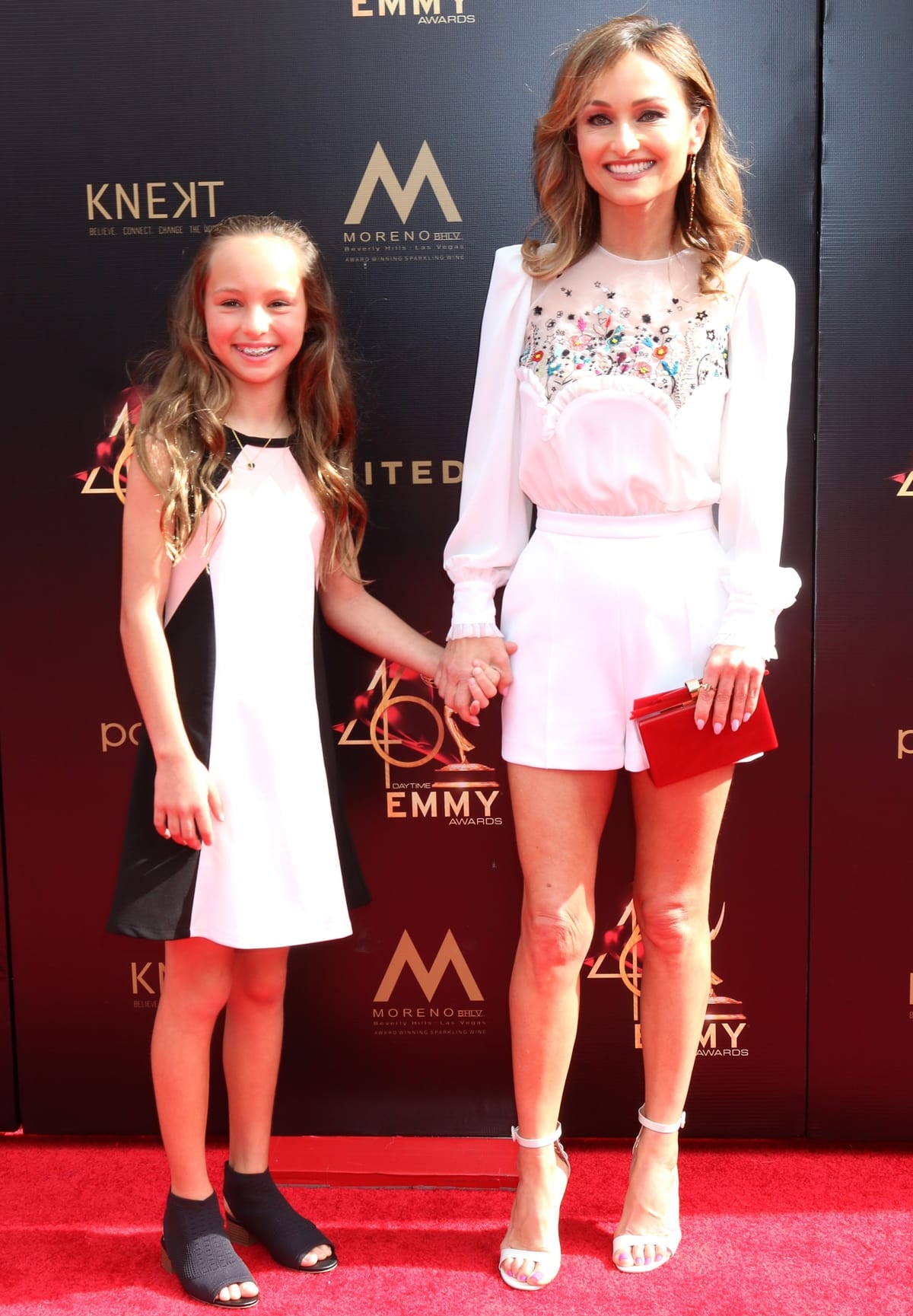 Jade Marie De Laurentiis Thompson and her mother Giada De Laurentiis at the 2019 Daytime Emmy Awards at Pasadena Convention Center on May 5, 2019, in Pasadena, California (Credit: Nicky Nelson / WENN)
Giada has spoken openly but indirectly about the end of her marriage. It is likely that the multiple scandals surrounding De Laurentiis about infidelity, as well as the immense success of De Laurentiis' career overshadowing Thompson's, may have played a role in the couple's divorce.
Giada De Laurentiis' net worth is 30 million dollars.
Did Giada Cheat on Her Husband?
In 2015, the Food Network star was slammed with infidelity rumors involving Matt Lauer of Today, singer John Mayer, and fellow Food Network star Bobby Flay.
However, Giada has clarified that she has not had a relationship with Matt Lauer, explaining that they are only long-time friends and co-workers but nothing romantic.
Regarding her alleged relationship with John Mayer, De Laurentiis told Redbook, "The John Mayer incident was completely unexpected. I was shocked" and explained that she had not even had contact with Mayer for years when the allegations started.
How Giada and Bobby Met
Amongst all of Giada's scandals around allegedly cheating on her husband, there are the most rumors surrounding De Laurentiis and chef Bobby Flay.
The two chefs first met in 2004 at a food expo in Philadelphia and reportedly became friends instantly. They were later paired as partners on an Iron Chef America special episode with fellow Food Network stars Rachael Ray and Mario Batali.
Giada and Bobby's Falling Out
After competing on Iron Chef America together and losing to Food Network chefs Rachael Ray and Mario Batali, De Laurentiis admits that they did not speak to each other for eight months.
At the time, neither chef made any public statement about not speaking. However, in 2018 De Laurentiis finally broke the silence on their 2006 feud on the podcast Beyond the Plate.
She said, "He didn't think it was any big deal that we lost. I did not talk to him for eight months' eight months! I did not. Nothing. Silence." However, the two friends resolved their feud privately, neither making a public statement about the reconciliation.
Are Giada and Bobby Dating?
Of all of the rumors surrounding De Laurentiis about who she has dated, there has been an overwhelming number about her suspicious relationship with chef Bobby Flay.
Not only do the pair display some effortless chemistry on screen, they both suspiciously announced their respective divorces in 2015.
De Laurentiis has stated multiple times over the years that they are simply good, long-time friends and have never had a romantic relationship together.
Giada De Laurentiis shows off her feet in high heel pumps at the opening of her first restaurant Giada in The Cromwell Hotel in Las Vegas on June 2, 2014 (Credit: Judy Eddy / WENN)
However, shortly after De Laurentiis' divorce was finalized, she was seen in NYC with Bobby Flay having a private dinner at Emilio's Ballato. The two Food Network stars were allegedly holding hands and appearing very close and cozy together during the dinner.
A staff member from Emilio's Ballato confirmed that the two stars did, in fact, have dinner together and even tipped them well.
Not only was this around the time of De Laurentiis' divorce, but De Laurentiis and Flay were also spending a lot of time filming together. De Laurentiis has continued to deny any romantic relationship with Flay.
Considering they've both been suspected of infidelity in their relationships, their night out and alleged low-key PDA warrants a raised eyebrow. On the other hand, maybe foodies around the world are simply wanting to see a Food Network storybook ending for the two chefs.
Bobby's Dating History
Much different from De Laurentiis' dating history, Bobby Flay has had multiple public relationships as well as multiple marriages. His first public relationship was his marriage to cook Debra Ponzek in 1991. They later divorced after only two years of marriage.
In 1994, Flay met American TV host Kate Connelly on the show Robin Leach Talking Food. The two hit it off quickly and married a year later in 1995.
The couple had their daughter, Sophie Flay, in 1996. Sophie Flay is Flay's only child in all of his marriages. Flay and Connelly later filed for divorce in 1998.
A community journalist for ABC7, Sophie Flay is the daughter of culinary icon Bobby Flay (Credit: Derrick Salters / WENN)
Flay was then introduced to actress Stephanie March in 2001 by her fellow Law and Order: SVU co-star Mariska Hargitay. The couple dated for four years before marrying in 2005.
This was Flay's longest marriage of the three, lasting ten years until their divorce in 2015. It is rumored that Flay and March divorced due to Flay allegedly cheating on March with three different women, including Mad Men actress January Jones.
Stephanie March and Bobby Flay were married on February 20, 2005, at St. Peter's Episcopal in New York City, and finalized their divorce on July 17, 2015 (Credit: Nikki Nelson / WENN)
Following his most recent divorce, Flay was publicly dating Canadian actress Helene Yorke. They met in 2017 when she appeared as a judge on his own Food Network show Beat Bobby Flay.
Flay confessed that shortly after the show, the two went on their first date and immediately hit it off together. The couple later broke up in 2019.
Bobby Flay and his girlfriend Helene Yorke attend the Cinema Society screening of "Cafe Society" at Paris Theatre on July 13, 2016, in New York City (Credit: Patricia Schlein / WENN)
Flay was interviewed by actress Fran Drescher on his show Beat Bobby Flay in 2019 regarding his relationship status while he was competing.
"I'm very single. She kicked me to the curb," Flay told Drescher in reference to his defunct relationship with Helene Yorke.
Who Is Bobby Flay's Girlfriend Christina Pérez?
Since then, Flay has since been quietly dating writer Christina Perez. Her identity was only revealed following an appearance alongside Flay at the Breeders' Cup World Championships in November 2021. They reportedly met earlier the same year through mutual friends.
View this post on Instagram
"She's so lovely. I'm really happy to have met her," chef Flay told People. "My life is so crazy hectic, and she's always the light at the end of the day for me."
In August 2022, Flay told ET that his 40-year-old writer girlfriend gets along well with his 26-year-old daughter. "They're going great. I'm a very, very lucky person," Bobby said about Sophie Flay and his Christina Perez.
"Christina, she's just a light in my life. She's so sweet. She's so smart. She just enhances everything that I'm able to participate in with her. I mean, she's fantastic," he added about his 17 years younger girlfriend.
View this post on Instagram
"I've done it a lot. I've practiced that a lot," Flay joked about the possibility of getting married once again. "For now, I like it exactly the way it is. I think Christina does too."
A writer who studied fashion illustration and design at the Fashion Institute of Technology and liberal arts at the New School for General Studies in New York City, Bobby Flay's girlfriend Christina Perez shares her name with the American actress, television personality, writer, and TV judge Cristina Perez.
Where Giada and Bobby Are Now
The two Food Network chefs remain good friends and most recently collaborated on a new Food Network show together called Bobby and Giada in Italy.
The show was a four-episode special that revolved around the two chefs learning about traditional Italian cooking in Italy.
It was reported that the show was, in fact, Bobby Flay's idea. Filming for the show began in 2019, before the pandemic but did not air until 2021.
Who is Giada's New Boyfriend?
After De Laurentiis' divorce from fashion designer Todd Thompson in 2015, she was shortly after linked with TV producer Shane Farley.
The two first met in 2013 through work when Farley was hired to work on the production of a talk show starring Giada De Laurentiis and Bobby Flay. The show fell through, and production was stopped.
The couple did not keep in touch after her show with Flay was canceled until they reconnected in 2015. De Laurentiis admits that she was single for a year and a half after her divorce from Thompson.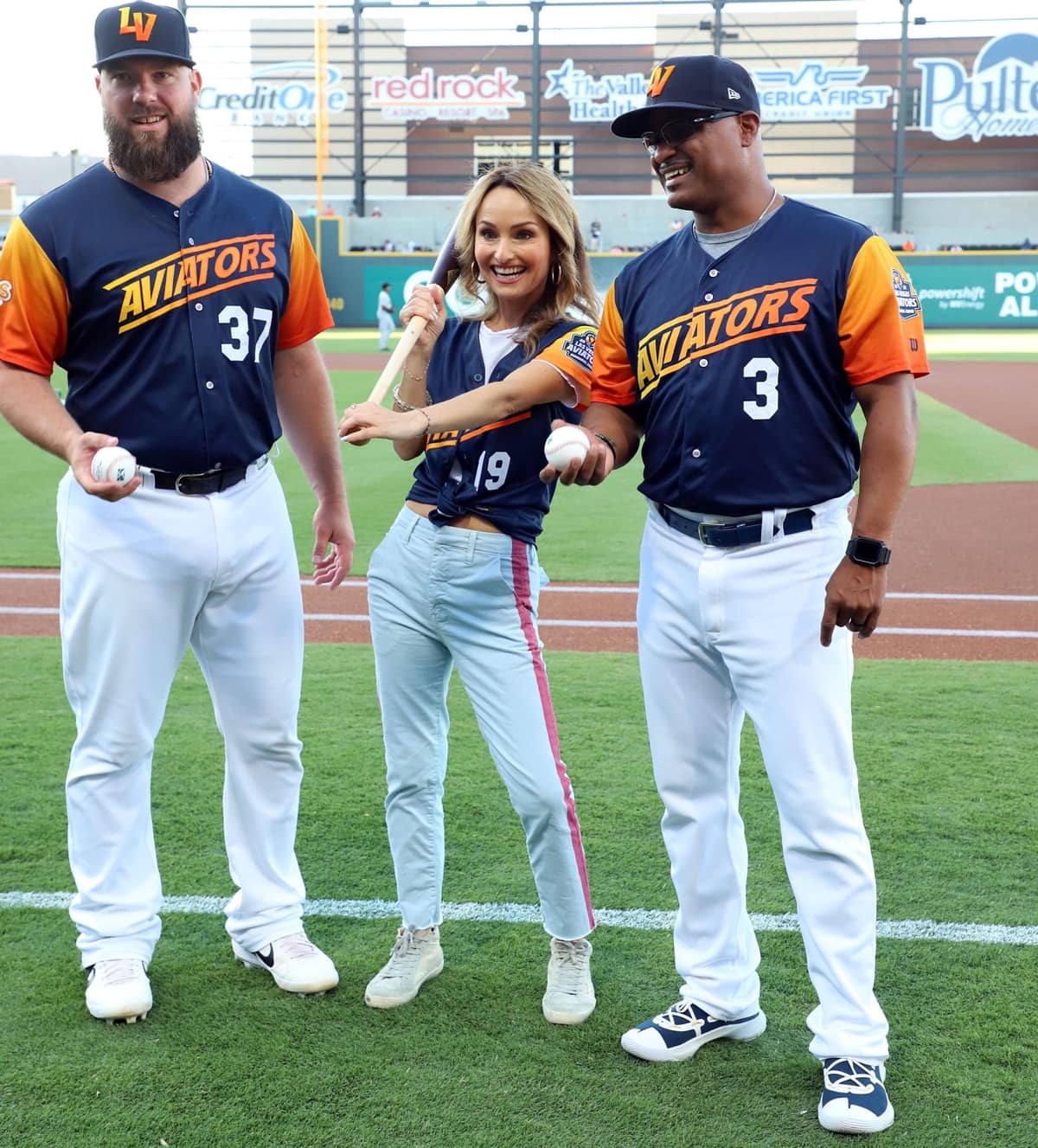 Catcher Cameron Rupp, chef Giada De Laurentiis, and Eric Martins of the Aviators pose on the field during her celebrity chef appearance at Las Vegas Ballpark on July 13, 2019, in Las Vegas, Nevada (Credit: DJDM / WENN)
She tells People, "After I got divorced, I spent about a year and a half alone, not dating, just figuring things out. I had been with Jade's dad for 25 years. I didn't know what it meant to not be married."
But after reconnecting in 2015, the two reportedly immediately clicked and fell in love right away. De Laurentiis and Farley have both been very open about their feelings for each other.
They spoke about each other in an interview with People. De Laurentiis stated, "Shane's a lot of fun. He's very spontaneous and loves to laugh. It's one of my favorite things about our relationship."
View this post on Instagram
Farley also told the magazine, "Giada is one of the most positive people I have ever met. She's warm and absolutely beautiful—what you see on the outside is there on the inside as well".
Farley is an award-winning television producer. One of his more notable works was his work with Food Network chef Rachael Ray on her self-titled talk show Rachael Ray, which aired for six years.
The show was nominated for multiple Emmys, including snagging two Emmy wins. Farly was later a cameraman for his girlfriend Giada De Laurentiis' six-episode special show Giada at Home 2.0, a cooking show that revolved around the food that Giada cooked with her family during the COVID pandemic.
Giada De Laurentiis wears shoe size 6 (US) and loves showing off her feet in high heels (Credit: WENN)
This show was entirely created by Giada De Laurentiis herself as well as filmed in her actual house. De Laurentiis was open about the intimate production of this show, even admitting that it was shot entirely on four iPhones by her boyfriend Shane Farley!
She posted on her blog Giadzy, "If you've ever wondered exactly what it's like day by day in my home, this show is it! There was a lot of cooking yes, but also pranks, bloopers, and some cooking blunders along the way. I thought it would be fun to offer my Giadzy readers a behind-the-scenes look at just what went into shooting my new Food Network show at home- and let's just say, I have more respect for content creators now more than ever before!"
This was the first time that De Laurentiis did everything by herself, including her hair and makeup, alongside her daughter Jade and boyfriend Shane Farley. Farley was even a guest on one of the episodes of Giada at Home 2.0.
Shane Farley Caught Cheating with Giada De Laurentiis?
De Laurentiis and Farley's relationship was not without scandal, however. Though De Laurentiis had already filed for divorce with her ex-husband and was awaiting the finalization of the papers, Farley was also going through his own separation and divorce with his at-the-time wife, personal trainer Jennifer Giamo.
Looking at De Laurentiis and Farley's relationship timeline, Farley was still legally married to Jennifer Giamo but was in the process of filing for divorce when he began dating De Laurentiis.
View this post on Instagram
Upon hearing about the new relationship between De Laurentiis and Faley, ex-wife Jennifer Giamo was reportedly "devastated."
"Jen's been reaching out to all Shane's acquaintances through Facebook. She's trying to see if Shane started dating Giada while she was still with him," a source told Page Six regarding Giamo's reaction to her ex-husband moving on so quickly.
It was reported that Giamo found out about the relationship between her ex-husband and the celebrity chef through tabloids and pop culture news outlets when De Laurentiis revealed that she was seeing someone new.
Where is Everyone Today?
The Food Network chef Giada De Laurentiis is still dating TV producer Shane Farley as of 2022. In 2021, she starred in a commercial for Hyundai Motor Company for their Hyundai Tucson.
During the summer of 2022, Giada De Laurentiis explored Italy with her 50-year-old boyfriend Shane Farley and her 13-year-old daughter Jade, and other family members.
View this post on Instagram
De Laurentiis' ex-husband Todd Thompson has been linked with Elite fashion model and fashion enthusiast Heather Lacombe since October 2017. The couple was later confirmed as dating and are still together now.
Meanwhile, fellow Food Network chef Bobby Flay, whose net worth is 60 million, signed a new three-year deal with Food Network and Discovery in October 2021.
Bobby and Sophie on the Coast, a show featuring Flay and his daughter, Sophie, side-by-side in the kitchen, premiered on the Food Network in August 2022.
Chef Bobby Flay attends the grand opening of KAOS Dayclub & Nightclub at Palms Casino Resort on April 5, 2019, in Las Vegas, Nevada (Credit: Judy Eddy / WENN)
Off-screen, Flay has been cozying up with a girlfriend, Christina Perez. The pair have been seen on Instagram making one of the Perez family's traditional dishes, with Bobby lending his culinary expertise, of course!
Season 31 of Beat Bobby Flay, his American cooking competition show on the Food Network, started airing on August 4, 2022.
Apart from his hit Food Network show, chef Bobby Flay also launched his own line of cat food called Made By Nacho in 2021.
The line of high-quality food made with a carefully organized diet was developed with his veterinarian consultant Dr. Katja Lang.