Sometimes, we all need a good laugh. And what better way to achieve that than watching a classic comedy film?
While Pineapple Express was only released back in 2008, it has quickly managed to earn its spot in the modern comedy film canon as a bonafide classic.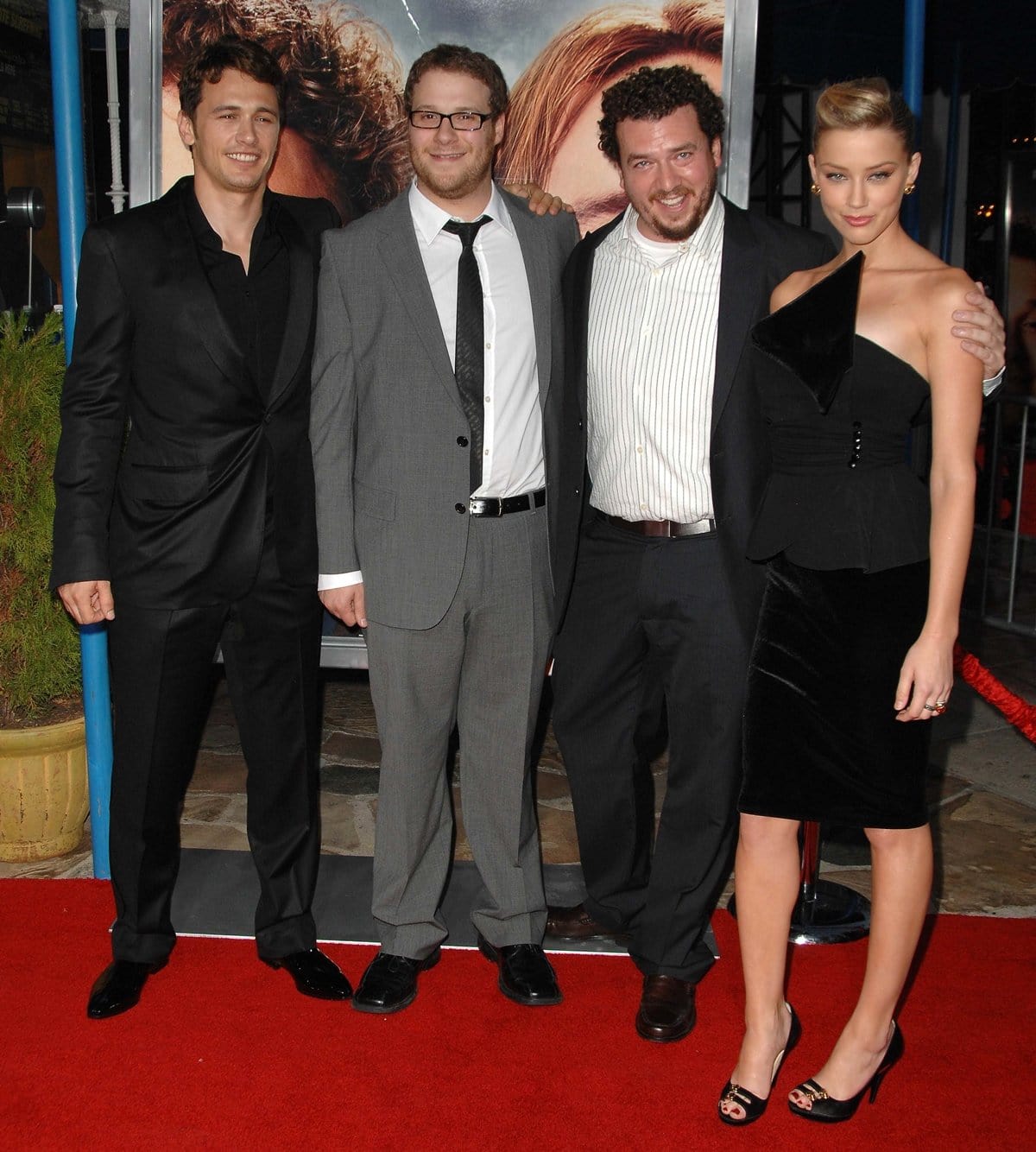 James Franco, Seth Rogen, Danny McBride, and Amber Heard attend the "Pineapple Express" Los Angeles Premiere on July 31, 2008, in Westwood (Credit: Scott Kirkland / INFphoto)
Looking at the cast and writers of the film, it's no wonder why. Starring Seth Rogen, James Franco, and Danny McBride (with a story penned by Judd Apatow, Seth Rogen, and Evan Goldberg), Pineapple Express had all the makings of a cult-comedy goldmine from the get-go.
Audiences immediately resonated with the irreverent stoner-comedy, as evidenced by its overall box office gross of $102.4 million against a budget of $26 million.
With a cast as talented as the one that Pineapple Express enjoyed, it's easy to forget some of the actors and actresses who played supporting roles in the film as well. Bill Hader, James Remar, and Bobby Lee are also featured in the film in minor roles.
Seth Rogen as Dale Denton, James Franco as Saul Silver, and Danny McBride as Red in the 2008 American stoner comedy film Pineapple Express (Credit: Sony Pictures Releasing)
But did you know that Amber Heard was also in the film? In this article, we'll be looking at Amber Heard's role in Pineapple Express and how her role was almost played by Olivia Thirlby.
Who Does Amber Heard Play in Pineapple Express?
In Pineapple Express, Amber Heard plays the role of Angie Anderson, Dale's (Seth Rogen) 18-year-old high-school girlfriend. When the movie was released on August 6, 2008, Amber Heard was 22 years old.
Angie is a young and attractive woman, although somewhat irresponsible, as she meets Dale while trying to score some weed for her (now ex) boyfriend.
Amber Heard portrayed Dale's 18-year-old girlfriend Angie Anderson in Pineapple Express (Credit: Sony Pictures Releasing)
Amber Heard plays the role well, as Angie is a naïve high schooler who doesn't quite know what she wants in her relationship with Dale.
There is a clear age and maturity gap between the two characters in the film, and this gap is explored through Dale's lack of focus in life, which includes his relationship with someone who clearly isn't at the same point of life as he.
How Was Amber Heard Cast as Angie in Pineapple Express?
Although Amber Heard was well on her way to being a Hollywood actress in 2008, she hadn't landed many major roles before being cast as Angie in Pineapple Express.
Before Pineapple Express, Amber Heard started out with small supporting roles in television series, including The O.C. (2005), The Mountain (2004), and Jack & Bobby (2004), while also performing in a minor role as Maria in the football film Friday Night Lights (2004).
Adam Powell as Dylan and Amber Heard as Mandy Lane in the 2006 American slasher film All the Boys Love Mandy Lane (Credit: RADiUS-TWC)
She followed up that debut film role with supporting roles in Drop Dead Sexy (2005), North Country (2005), and Alpha Dog (2006).
However, her most prominent role prior to Pineapple Express was easily her role as Greta Matthews in Hidden Palms, a short-lived CW television series.
In Hidden Palms, Greta was one of the main characters, acting as the love interest for the protagonist Cliff Wiatt (played by Michael Cassidy).
Michael Cassidy as Cliff Wiatt and Amber Heard as Greta Matthews in the American teen drama television series Hidden Palms (Credit: Lionsgate Television)
Heard's consistent work in television and Hollywood undoubtedly lead to her being noticed by the casting directors of Pineapple Express, who opted to cast her in the role of Angie Anderson when Amber Heard was 22 years old.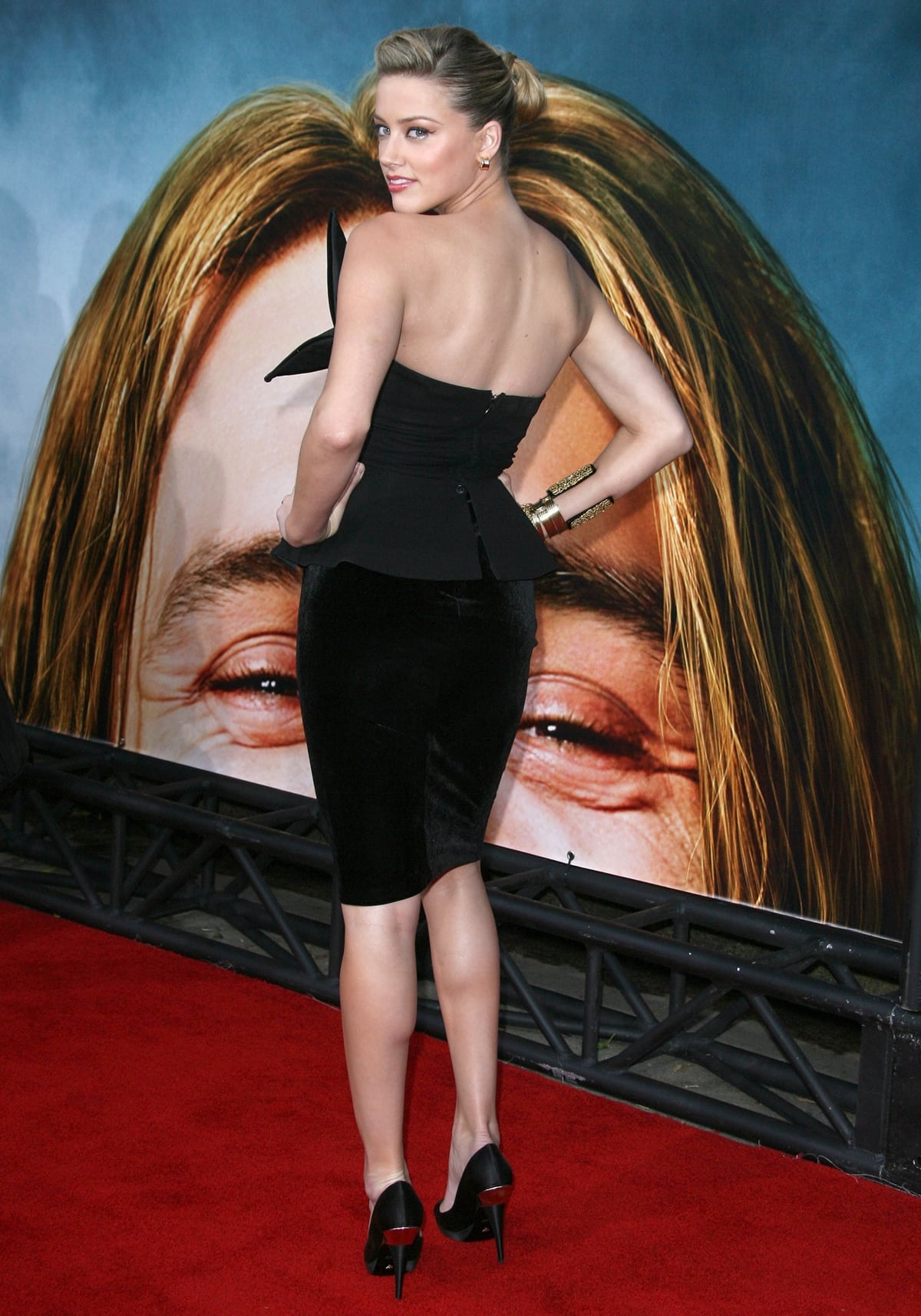 Amber Heard was 22 years old when she attended the premiere of Pineapple Express in a sexy backless dress with matching pumps (Credit: Andy Fossum / Startraksphoto)
However, the only issue was that the role of Angie Anderson was already given to Olivia Thirlby.
Why Was Olivia Thirlby replaced by Amber Heard in Pineapple Express?
A much different actress than Amber Heard, Olivia Thirlby was initially cast in the role of Angie Anderson when the film went through its initial casting phases in pre-production.
Thirlby was a young, 21-year-old actress at the time who had, up to that point, appeared in minor roles in the film United 93 (2006) and in the television show Kidnapped (2007).
Olivia Thirlby was replaced by Amber Heard in Pineapple Express (Credit: Tinseltown / Shutterstock / Ovidiu Hrubaru)
Thirlby's most prominent role before being cast in Pineapple Express was in the cult-classic indie film Juno (2007), where she played the character of Leah, a close friend of Juno MacGuff (famously played by Ellen Page, later known as Elliot Page).
In Juno, Leah is a supportive friend of Juno, with an immature but sincere way of helping Juno with her surprise pregnancy.
With experience portraying a slightly immature teenager under her belt, it's easy to see why the casting directors of Pineapple Express opted to cast her for the role of Angie Anderson.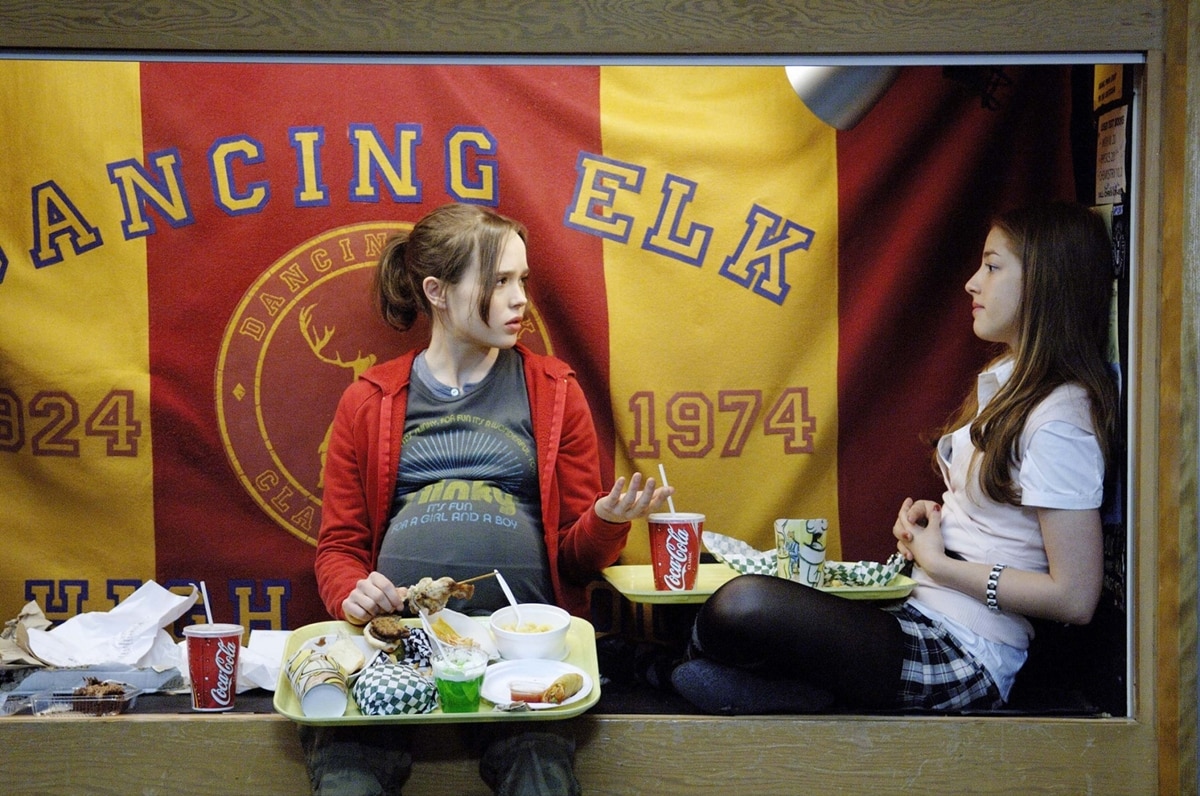 Elliot (Ellen) Page as Juno MacGuff and Olivia Thirlby as Leah in the 2007 American coming-of-age comedy-drama film Juno (Credit: Fox Searchlight Pictures)
Olivia landed the role of Anderson and was even rehearsing the role with co-stars Seth Rogen and James Franco before she was suddenly re-cast by Amber Heard.
Speaking about the experience, Olivia remarked in a 2008 interview, "I'd been rehearsing with them for a little while. They called me up and were like, "Actually, we're going to recast your role. I still have no idea why, and I'm not sure anybody knew why. It's just a decision that came down from on high."
Obviously, the decision was a letdown for Thirlby, who was excited to play the role in Pineapple Express.
"I was really disappointed because I love Judd Apatow and I love Seth Rogen and I'm a huge fan of their comedy," said Thirlby.
Olivia Thirlby wears a navy jumpsuit with French Kande earrings at the premiere of Showtime's "The L Word: Generation Q" at the Regal LA Live on December 2, 2019, in Los Angeles, California (Credit: Ovidiu Hrubaru / Shutterstock)
Reportedly the decision came from Seth Rogen himself. While rehearsing for the film, he envisioned a different direction for the role of Angie Anderson.
In a 2008 interview with OK! Magazine, Rogen remarked: "We realized we hadn't thought it through well enough, and if we went a different direction, it could've been a stronger comedic choice."
Despite the unfortunate turn of events of Thirlby, Rogen was still complimentary of the actress, adding that Thirlby is "…great. I'd love to work with her again, she's awesome."
Was Amber Heard's Casting Over Olivia Thirlby a Good Choice?
Although it was a shame for Thirlby, we can't say we disagree with Seth Rogen's decision here. For the role of Angie Anderson, it's clear that a ditzy, attractive blonde like Amber Heard was the better choice.
While we love Olivia Thirlby in Juno and some of the other roles she's landed since Pineapple Express, we think she doesn't quite have the same level of naiveté that Amber Heard managed to channel while playing the role of Angie Anderson.
Amber Heard was the perfect choice to play the naive high school girlfriend to Seth Rogen's character Dale Denton in Pineapple Express (Credit: Sony Pictures Releasing)
When it's all said and done, Pineapple Express turned out to be a great modern classic of comedy, so it's hard to argue with Seth Rogen's wisdom in recasting the role with Amber Heard.
Despite Amber's recent transgressions with Johnny Depp, we think she did a great job portraying Angie Anderson in this film!
Amber Heard flaunts her legs in black Jimmy Choo Anouk pumps paired with a Tome Spring 2015 dress (Credit: WENN)
After spending the night out with the rest of the cast of Magic Mike XXL in the summer of 2015, Amber Heard made her way back to her hotel in London.
Amber Heard, in a sheer lace dress, arrives back at the 5-star Claridge's hotel in London on June 29, 2015 (Credit: WENN)
The actress looked nice, but her Tome Spring 2015 outfit made us do a double take.
Was she wearing a skirt over a sheer dress? Yep, it sure looked like the then 29-year-old actress had a black wrap skirt layered over her sheer chantilly-lace dress.
While we're not entirely certain about the look, it's quite interesting. Rather than a slip dress or a skirt worn under that sheer dress, the overskirt is a fresh idea.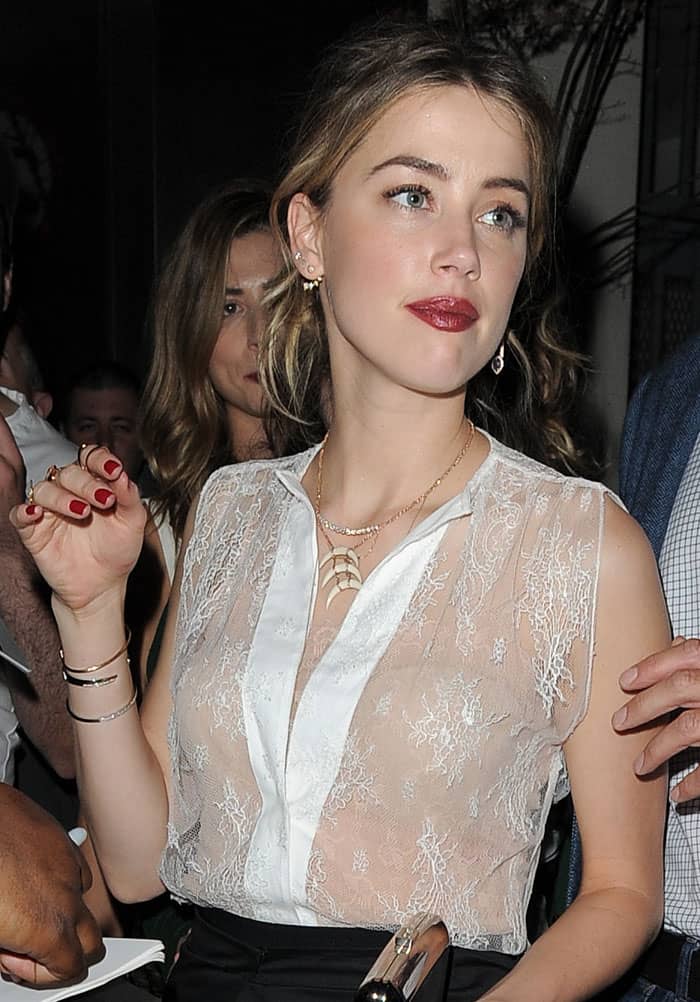 Amber Heard shows off her jewelry by Anita Ko and Jacquie Aiche (Credit: WENN)