No matter where you look, the drama surrounding Johnny Depp and Amber Heard seems top of mind in the public conscience.
From videos of their courtroom kerfuffle to clips of them from the years they were together, the public seemingly cannot get enough of this messy couple.
While their marital issues are the most popular buzz surrounding them, why doesn't anyone discuss the films they worked on together?
Johnny Depp and Amber Heard in a Stella McCartney dress styled with Boucheron jewelry attend the premiere of The Rum Diary on November 8, 2011, at Cinema Gaumont Marignan in Paris, France (Credit: INFphoto)
Amber and Johnny met on the set of their first film, entitled The Rum Diary, released in 2011. This meeting would eventually set off their torrid relationship, which is currently all over the news and the internet.
But enough about their current issues. Let's look at the two films they worked on together, how they were cast in them, the poor critical reception of both of the films, and any other fun trivia we can manage to find on these two star-crossed lovers. Let's dive in.
The Fateful Meeting of These Two Lovers
Johnny Depp got his start in Hollywood in an interesting manner, as he hailed from the small town of Owensboro, Kentucky before relocating to Hollywood with his sights set on a career in rock music.
Eventually, Depp would stumble into the acting world through a chance meeting with Nicolas Cage, a friend of his then-wife Lori Ann Allison.
Depp was struggling as a musician, and Cage suggested that he meet with his agent, which kickstarted his career in acting.
Depp would land a small role in the film A Nightmare on Elm Street when he was 21 years old and followed that role up with a lead role in 21 Jump Street when he was 22.
Heather Langenkamp as Nancy Thompson and Johnny Depp as Glen Lantz in the 1984 American supernatural slasher film A Nightmare on Elm Street (Credit: New Line Cinema)
That role would really launch him into the limelight and establish his reputation as a teen heartthrob and rising talent. The rest is truly history, as Depp continued to land roles in popular films from that point onwards.
Amber Heard similarly hailed from the south, born in Austin, Texas, in 1986. At the age of sixteen, Heard experienced somewhat of an epiphany when her close friend died in a car accident.
Actress Amber Heard in blue jeans at the Premiere Of "The Dukes of Hazzard" at the Grauman's Chinese Theatre on July 28, 2005, in Hollywood, California (Credit: Shelly Patch / Startraksphoto)
This loss caused her to rethink her life and values, which then caused her to leave her home state of Texas behind. She opted to re-located to Los Angeles and pursue a career in acting as a result.
She began landing minor roles in music videos and television productions such as The O.C., Friday Night Lights, and Criminal Minds.
A conventionally beautiful woman, these roles would lead to more prominent work, including her first lead role as Mandy Lane in the 2006 horror slasher film All the Boys Love Mandy Lane.
Amber Heard as Mandy Lane and Adam Powell as Dylan in the 2006 American slasher film All the Boys Love Mandy Lane (Credit: RADiUS-TWC)
Heard was 20 years old at the time. The film would only receive mixed reviews but helped to establish Heard's place in the film industry.
She would begin to receive higher profile work in 2008 and landed supporting roles in popular and successful films such as Pineapple Express and Never Back Down.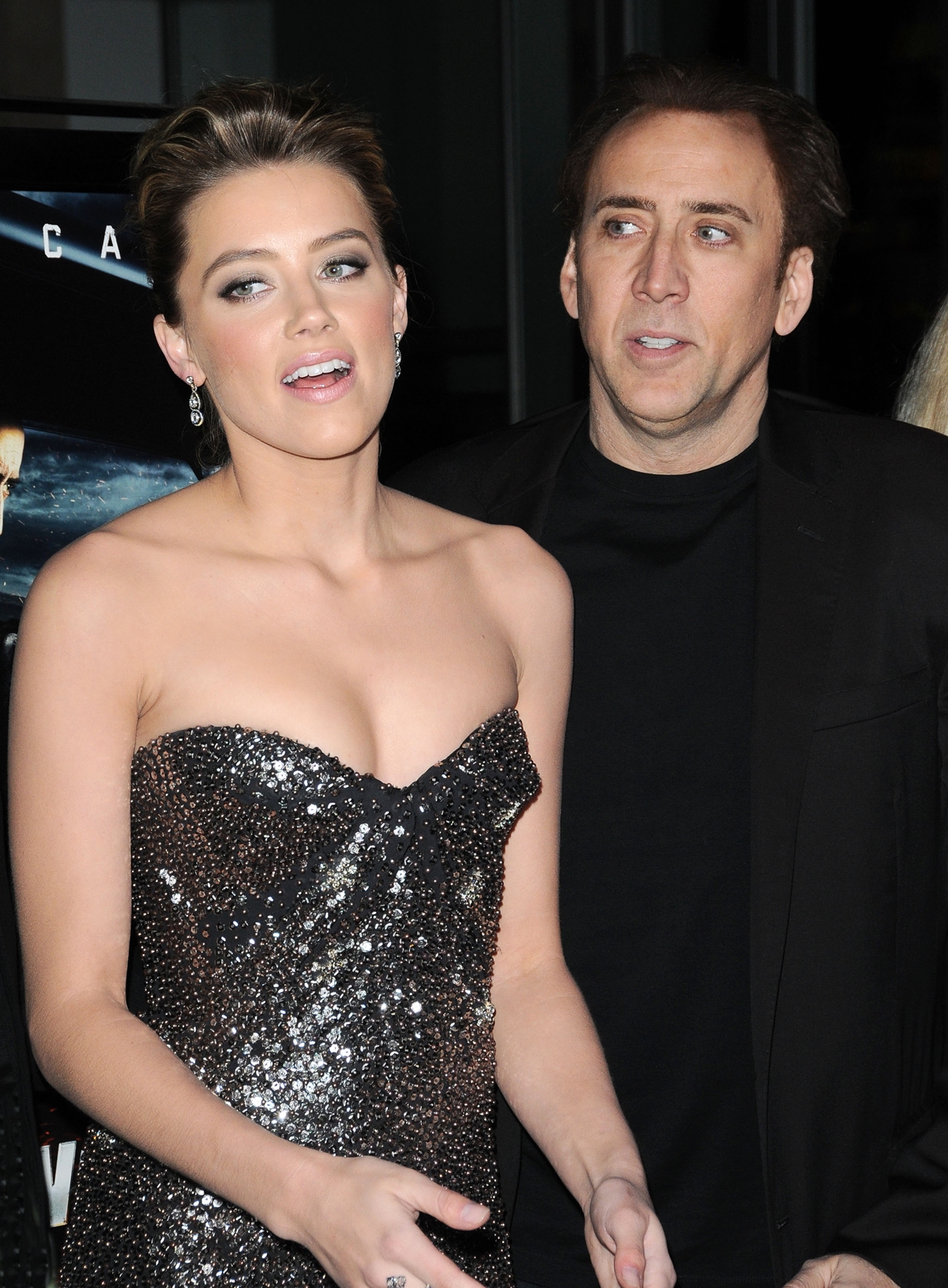 Actor Nicolas Cage and actress Amber Heard in a strapless Donna Karan dress attend a screening of Summit Entertainment's "Drive Angry 3D" on February 22, 2011, in Hollywood, California (Credit: Tony DiMaio / Startraksphoto)
From 2008 to 2010, Heard starred in smaller, independent films with limited releases.
She eventually would find higher profile work again opposite Nicolas Cage in Drive Angry, which was released in 2011, the same year The Rum Diary would be released. In 2021, she secretly welcomed her daughter, Oonagh Paige Heard.
The Making of The Rum Diary
The Rum Diary was adapted from a novel by Hunter S. Thompson. It was written in the early 1960s but not published until 1998, after it was discovered among Thompson's papers by Johnny Depp.
A close friend of Thompson, Depp was linked to the production of the film as early as the year 2000 and was set to star and work as an executive producer for the project.
The film was stuck in development hell for many years, with multiple actors joining and leaving the project (including Benicio del Toro and Josh Hartnett).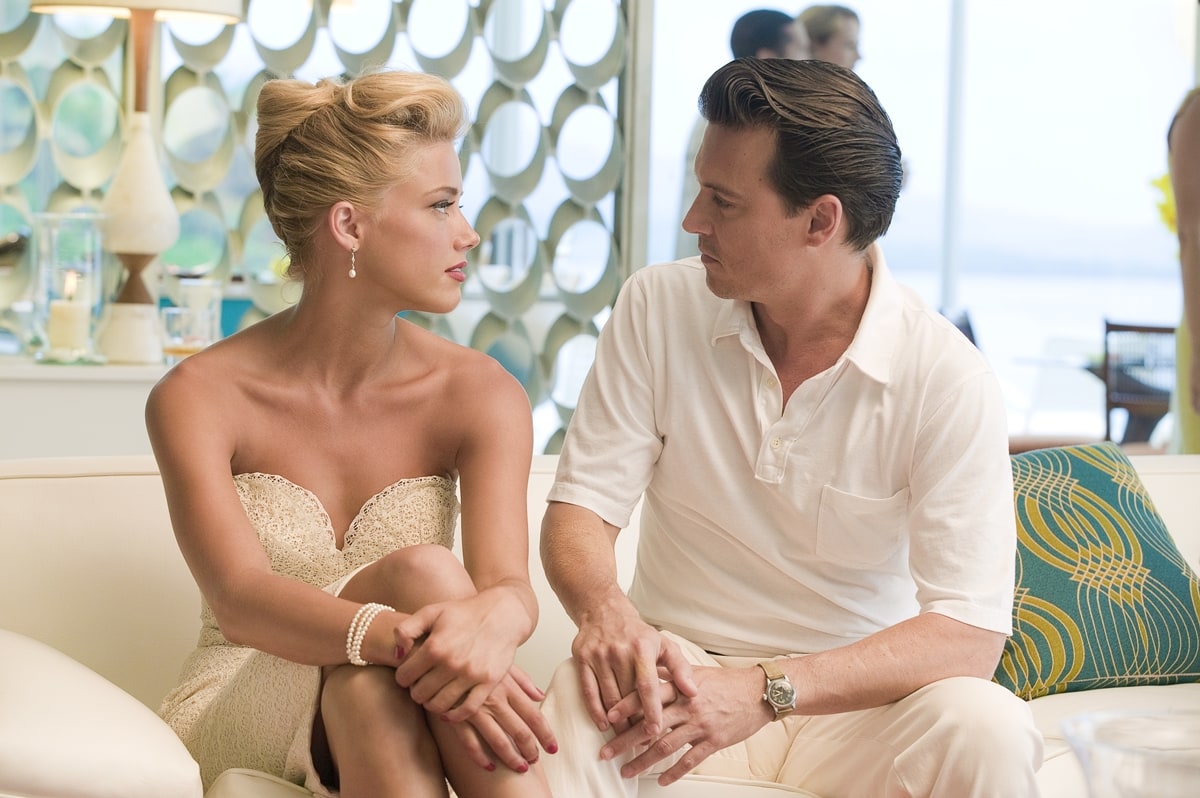 Johnny Depp as Paul Kemp and Amber Heard as Chenault in the 2011 American comedy-drama film The Rum Diary (Credit: GK Films / Infinitum Nihil / FilmEngine)
The film's production finally received new life in 2007, and Amber Heard was cast in the lead role of Chenault and beat out Keira Knightley and Scarlett Johansson for the role.
"It did not take me long to say yes to this movie. It was not a huge struggle for me to accept it. I've always been a massive fan of [author] Hunter S. Thompson long before this … I just thought, 'Wow, they're going to pay me too?' It was a dream job," Heard told the Huffington Post.
To write the screenplay for the film, director Bruce Robinson reportedly drank a bottle of wine a day, channeling the fast and inebriated lifestyle of the original author Hunter S. Thompson.
Actress Amber Heard in a red strapless chiffon Elie Saab dress at the premiere of "The Rum Diary" presented by Film Independent at LACMA held at the Los Angeles County Museum of Art on October 13, 2011, in Los Angeles, California (Credit: INFevents)
In the film, Depp plays an American journalist named Pual Kemp who takes on a freelance project in Puerto Rico after failing to find success in America.
The film follows Kemp as he traverses through the island culture and lifestyle and traces his romance with Chenault, a beautiful woman who lives on the island.
The film was shot on location in Puerto Rico and was filmed during the spring of 2009. While the film didn't fare too well at the box office (or among film critics, for that matter) the film was notable for being the project where Depp and Heard met, beginning their tumultuous relationship.
Johnny Depp and Amber Heard started filming The Rum Diary in Puerto Rico on March 25, 2009, when he was 45 and she was 22 years old (Credit: GK Films / Infinitum Nihil / FilmEngine)
They eventually became a couple in 2012 before marrying in February 2015. Critics derided the film for being somewhat dull, and Heard's character was the subject of scorn for being underdeveloped.
The couple would not work on another film together until London Fields, which began production in 2013.
London Fields: Another Depp-Heard Mess
Unfortunately, Depp and Heard's attempt to make another film was even less successful than their first. Similar to The Rum Diary, London Fields was a film adapted from a novel, this time from a 1989 novel by Martin Amis.
Production began in the early 2000s, and Canadian cult-favorite director David Cronenberg was initially tapped to direct the film.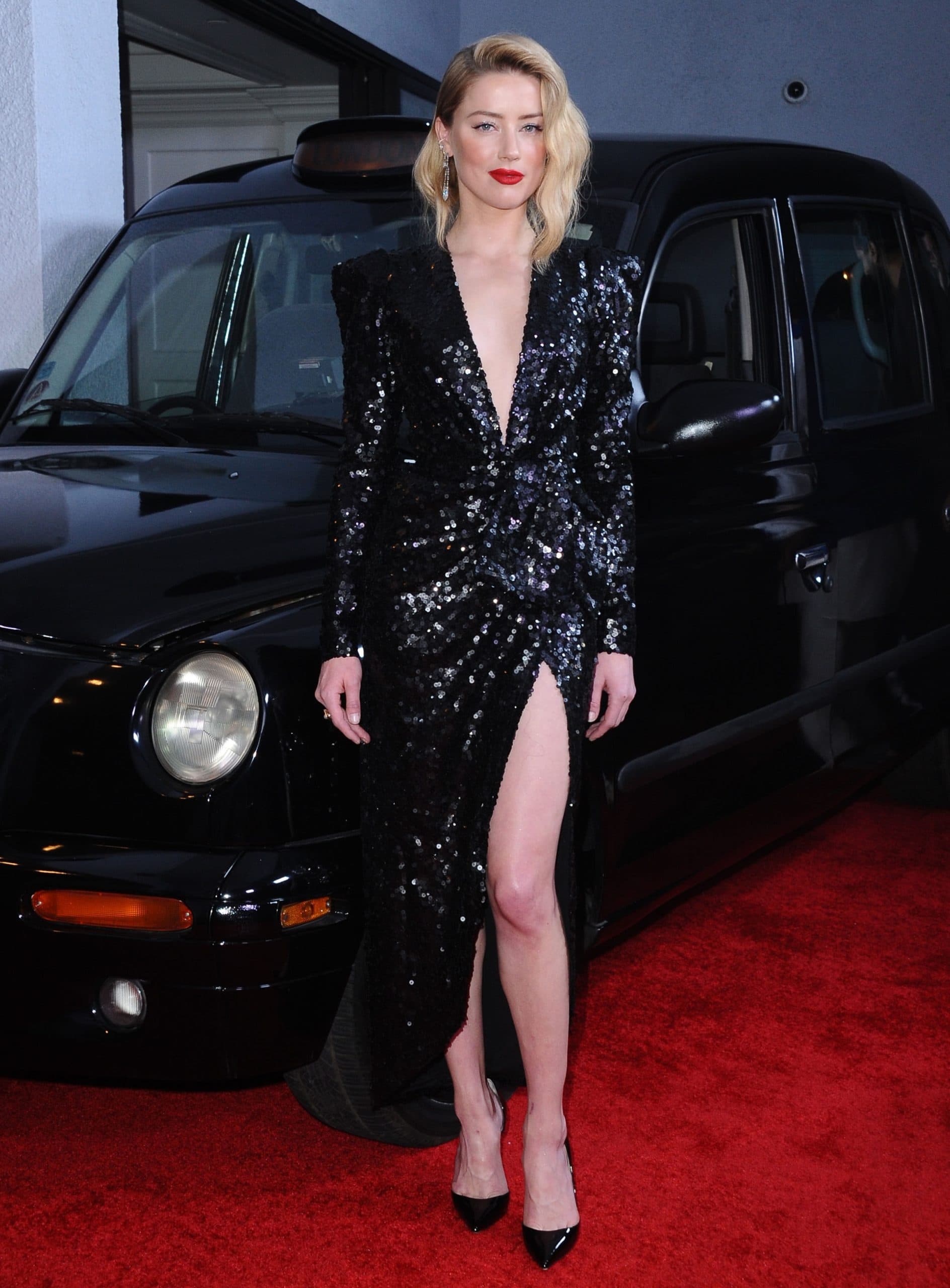 Amber Heard looks stunning in an embellished black Elie Saab midi dress while walking the red carpet for the premiere of her movie London Fields on October 25, 2018, at the London Hotel in West Hollywood, California (Credit: Sara De Boer / Startraksphoto)
Eventually, English director Matthew Cullen filled the director role, and the film began production in London, England, in 2013, with Heard and Billy Bob Thornton cast in the film's lead roles.
The film centers around Samson Young (played by Billy Bob Thornton), a terminally-ill American writer who relocated to London, England.
He becomes linked to Nicola Six (played by Amber Heard), a clairvoyant who has the power to see how people will die. Six envisions that her death will be at the hands of a man, and begins affairs with multiple men to see which one will be her murderer.
Amber Heard as Nicola Six, Theo James as Guy Clinch, and Jim Sturgess as Keith Talent in the 2018 mystery thriller film London Fields (Credit: GVN Releasing)
In the film, Depp plays a small cameo role, which was the only well-received performance of the film.
The film was released to abysmal reviews and was pulled from the lineup of the Toronto International Film Festival in 2015.
To make matters worse, legal issues began to occur regarding the screenplay and final cut of the film, with director Matthew Cullen suing the film's producers as a result.
Amber Heard filming on the set of the movie London Fields in London on September 19, 2013 (Credit: WENN)
Even Amber Heard was sued by the film's producers, who claimed that she made unauthorized changes to the screenplay during the film's production.
The film's release would be delayed until 2018. Film critic Peter Sobczynski of RogerEbert.com gave the film a 0.5/10, calling it a "boring and garish mess."
They Just Can't Get it Right
Perhaps the biggest takeaway we can see from Heard and Depp's romance is how poorly suited they are for each other, both in their personal lives and on-screen.
No matter how hard they tried, they seemingly could not make a successful film together or have a successful marriage.
Johnny Depp and Amber Heard starred together in The Rum Diary (2011) and London Fields (2018) (Credit: Arnold Wells / WENN)
Nevertheless, we hope for the best for the two troubled stars and that the truth of their abusive romance comes to light sooner or later.