Nicolas Cage is well known for his edgy and intense personality in both his life and movies. He is a passionate method actor who once had two teeth pulled for his role in Birdy and swallowed a live cockroach for Vampire's Kiss (1992).
Nicolas Cage portrays Charlie and Donald Kaufman through split-screen in the 2002 American meta comedy-drama film Adaptation (Credit: Sony Pictures Releasing / WENN)
His filmography includes massive blockbuster hits like National Treasure (2004), where he was the avid adventurer, code-breaker and historian, Ben Gates.
And now he and his wife, Riko Shibata, are embarking on a new adventure: as parents to their first child together.
Met in Japan Through Mutual Friends
Cage, who turned 58 on January 7, 2022, and Shibata, who celebrated her 27th birthday on January 10, 2022, met in March 2020 while Cage was filming his 2021 film Prisoners of the Ghostland.
The location of the filming was in Shiga, a Japanese prefecture to the east of Kyoto, on the island of Honshu.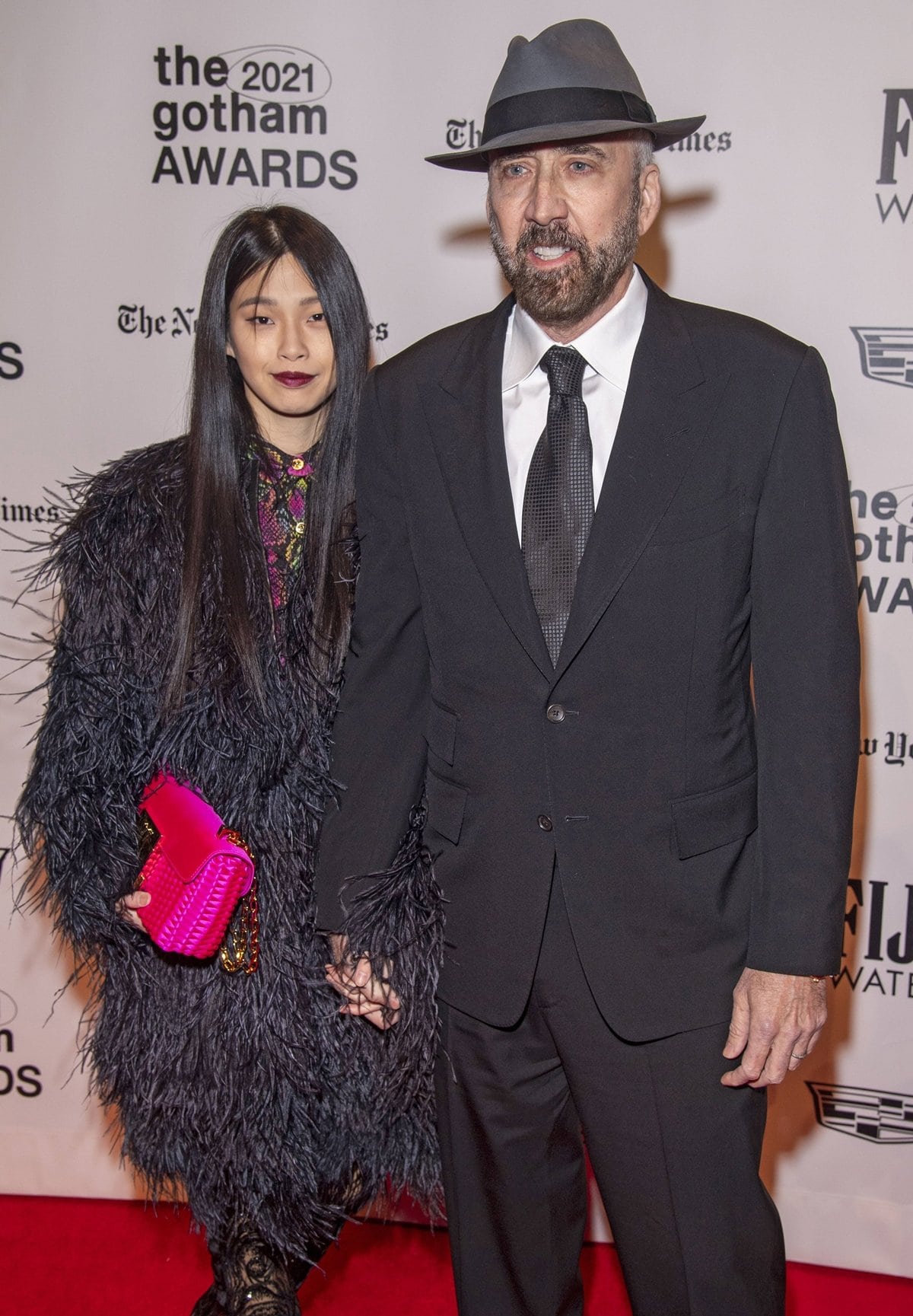 Nicolas Cage's fifth wife Riko Shibata is 31 years younger than him (Credit: MEGA /WENN)
Shibata and Cage share a 30 year age difference, and this will be their first child together and Cage's third. The couple shares a significant height difference as well, with Cage measuring 6′ 0″ (183 cm) and Shibata at 5′ 2″ (158 cm).
The couple was separated for over six months when Shibata returned to Japan during the pandemic. Their relationship may be the best example of absence making the heart grow fonder because Cage proposed over FaceTime while they were separated during the pandemic.
After their FaceTime proposal, Cage FedEx'ed her a unique black diamond engagement ring. Her favorite color is black, so he had the ring made, personalized, and shipped to her to cement their promise to each other.
It Was Love From the Beginning
The couple hit it off right from the start. Cage states that he thought she was absolutely stunning when they met in Japan. He asked her if she had any pets, to which she replied by saying that she has two sugar gliders, which are flying squirrels.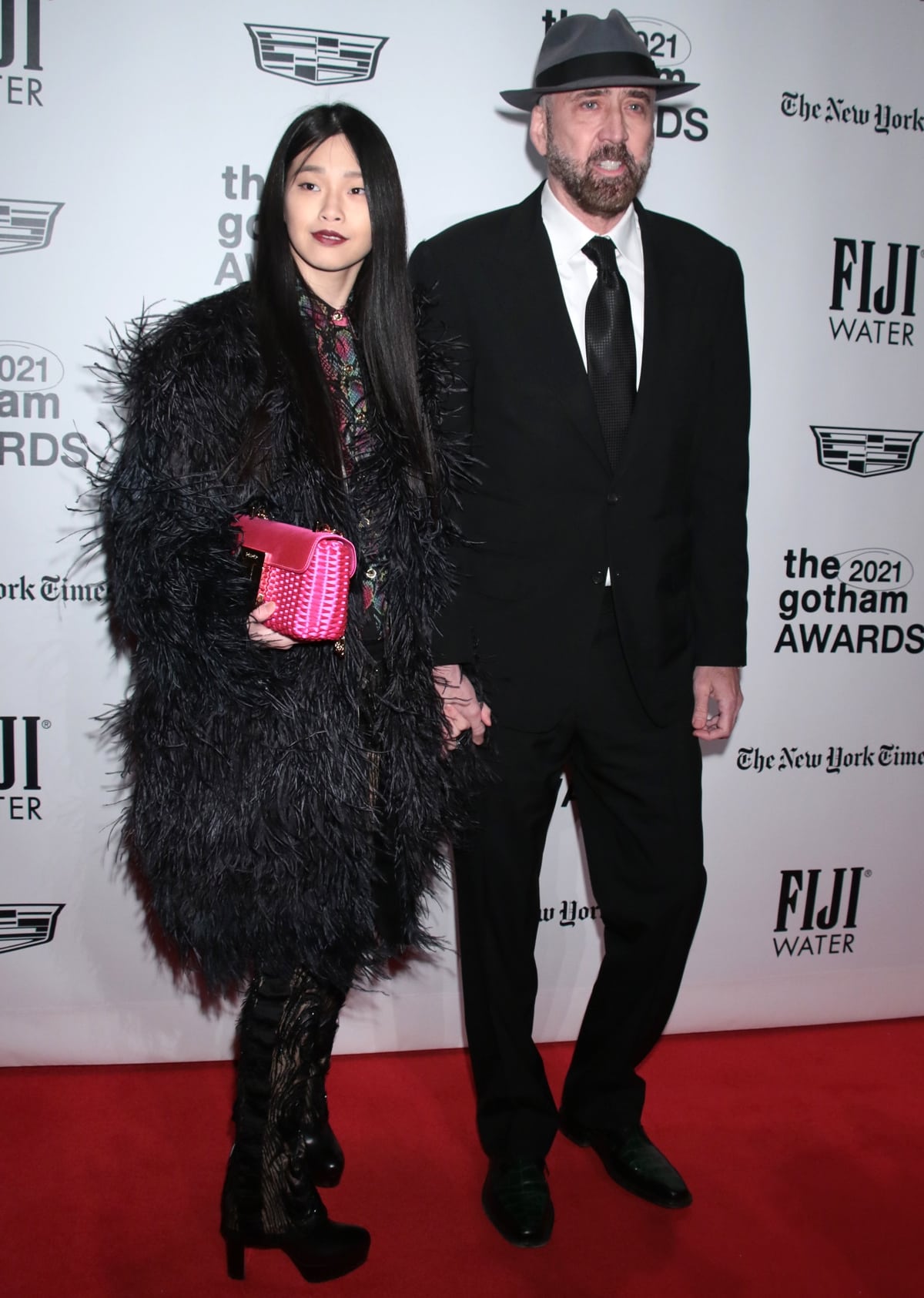 Nicolas Cage and his wife Riko Shibata met in Japan and announced in January 2022 that they're expecting their first child (Credit: MEGA / WENN)
From that moment, he thought, "That's it. This could work out." While this is the first marriage for Shibata, this is Cage's fifth marriage. The child they are welcoming in 2022 will be Shibata's first and Cage's third.
Cage is also a grandfather to his eldest son Weston Cage's children. He states that he loves being a grandfather, so we can only imagine his excitement at the prospect of growing his family with the birth of his new baby.
Married During Intimate Ceremony in Las Vegas
The happy couple wedded in Las Vegas on February 16, 2020. The stunning bride wore a handmade Japanese bridal kimono that was created in Kyoto.
The color was, of course, black and required three layers of silk. The dashing groom wore a Tom Ford tuxedo while the bride walked down the aisle to her favorite song: Winter Song by Kiroro.
The couple exchanged traditional Catholic vows, and Shinto vows with poetry. The artistry that the couple favors was channeled in reading poems by Walt Whitman and a haiku during the ceremony.
Nicolas Cage and his wife Riko Shibata arrive at their hotel in New York City on November 27, 2021 (Credit: MEGA / WENN)
A small gathering was invited to the home of Cage's ex-wife Alice Kim to celebrate the happy couple's wedding. Cage and Kim remained very good friends after their divorce, and their son Kal-El also attended the ceremony.
Their wedding date holds special meaning to Cage as it was the birthday of his late father, August Coppola.
Everything We Know About Riko Shibata
Although Shibata is in the public eye thanks to her very famous husband, there are no extensive details about her life. She is known as a Japanese entrepreneur, celebrity spouse, and media face.
She is from Kyoto, Japan, and she is well known in her country as Cage is recognized as a famous actor there.
She does not have public social media handles but has made many public appearances alongside Cage as well as appearing on the cover for Flaunt Magazine with her husband.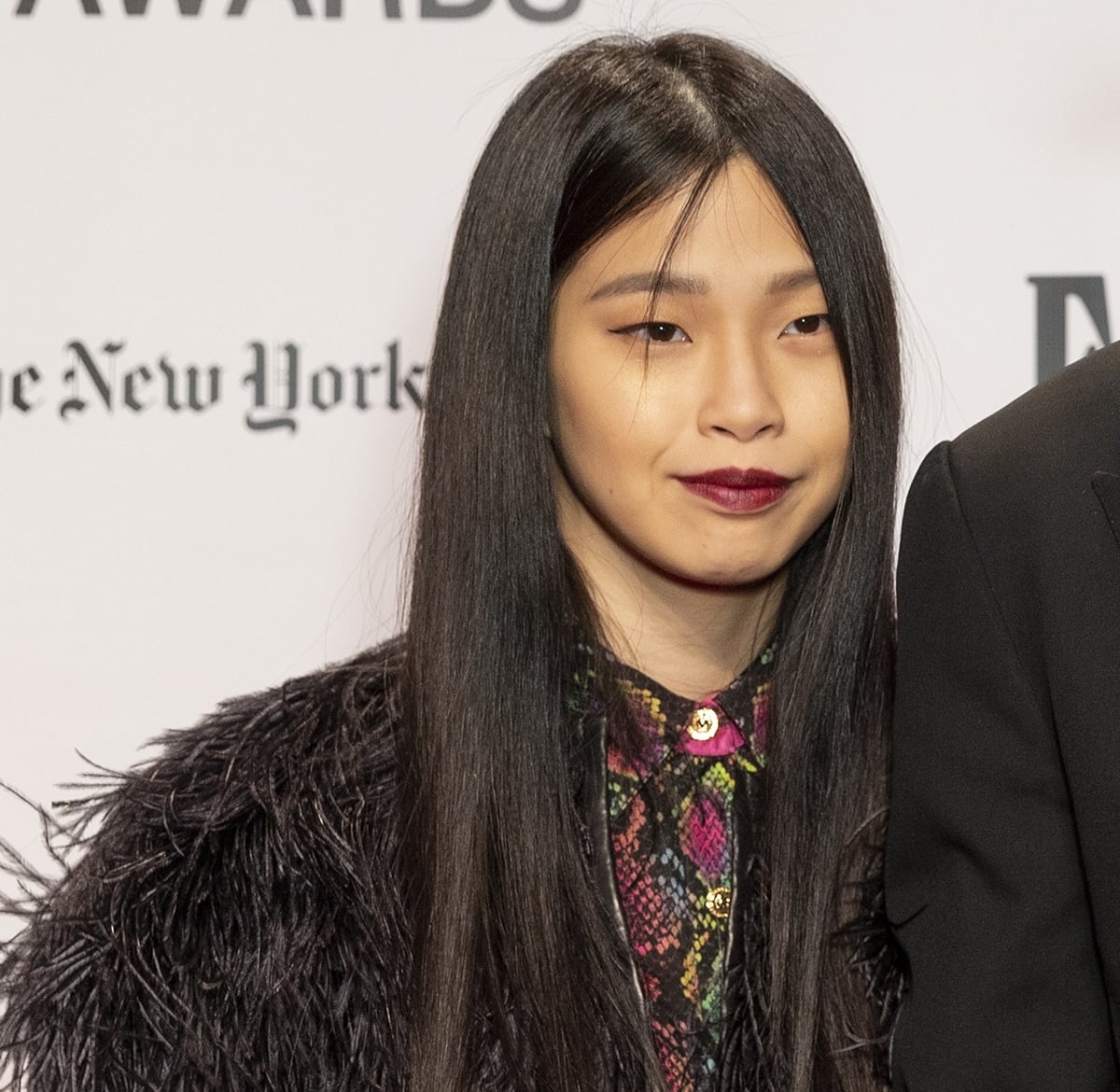 Riko Shibata was born in 1993 and is younger than Nicolas Cage's oldest son Weston Cage Coppola (Credit: MEGA / WENN)
She loves animals and has a close relationship with her family in Kyoto. Although there isn't much public knowledge about her, her fashion choices and public persona make us think of her as an excellent match for the slightly wild and totally charismatic Nicolas Cage.
Nicolas Cage Facts
| What is Nicolas Cage's net worth? | He is an American actor with an estimated net worth of $25 million. |
| --- | --- |
| Full Name: | Nicolas Kim Coppola |
| Born: | January 7, 1964, in Long Beach, a coastal city and port in Southern California |
| Kids: | Weston Coppola Cage and Kal-El Coppola Cage |
| Feet/Shoe Size: | 10 (US) |
| How tall is Nicolas Cage? | 6′ 0″ (183 cm) |
| Nationality: | American |
| Is Nicolas Cage related to Francis Ford Coppola? | Yes, he is a nephew of director Francis Ford Coppola. |
| Was Nicolas Cage in The Godfather? | No, he asked his uncle for a role but was rejected. |
The Adventures of Nicolas Cage
Eccentricity seems to follow Nick Cage wherever he goes, from his movies to his personal life. Art and eccentricity have always run in Cage's veins as his father was a professor of literature and his mother was a dancer and choreographer.
He also appears to channel his eccentric characters into his personal life, as he has been at the center of some interesting circumstances throughout his career. He once had a rare comic book stolen from his collection, recovered 11 years later.
He also once bought a dinosaur skull at an auction, which was reportedly stolen from the Gobi Desert in Mongolia. He later returned the skull to Mongolia after Homeland Security notified him of the theft.
Sofia Ford-Coppola and Nicolas Cage are first cousins through Cage's dad's brother, Francis Ford Coppola (Credit: WENN)
But these are simply a few of the more extravagant purchases that Cage has made. He has made a lot of money throughout his illustrious career and uses it to fan the flames of fun.
He has had a very eventful life which makes us think that he is a free spirit and endearing oddball who has found a match in Shibata.
Nick Cages Previous Relationships and Marriages
Shibata is Cage's fifth wife. He has had many relationships throughout his life. From 1988 to 1991, he dated American actress Christina Fulton, with whom he shares a son, Weston Cage Coppola. Born in December 1990, Weston is just over two years older than Riko Shibata.
His first marriage was to Patricia Arquette, whom he married in 1995. She is an actress who has starred in The Act (2019) and the series Medium (2005 -2011).
Nicolas Cage and Patricia Arquette married in April 1995 and separated in early 1996 (Credit: WENN)
They divorced in 2001. Cage then went on to marry Lisa Marie Presley, Elvis Presley's daughter, whom he met at a party in 2000 and married in 2002.
This was one of Cage's shorter marriages, only lasting four short months.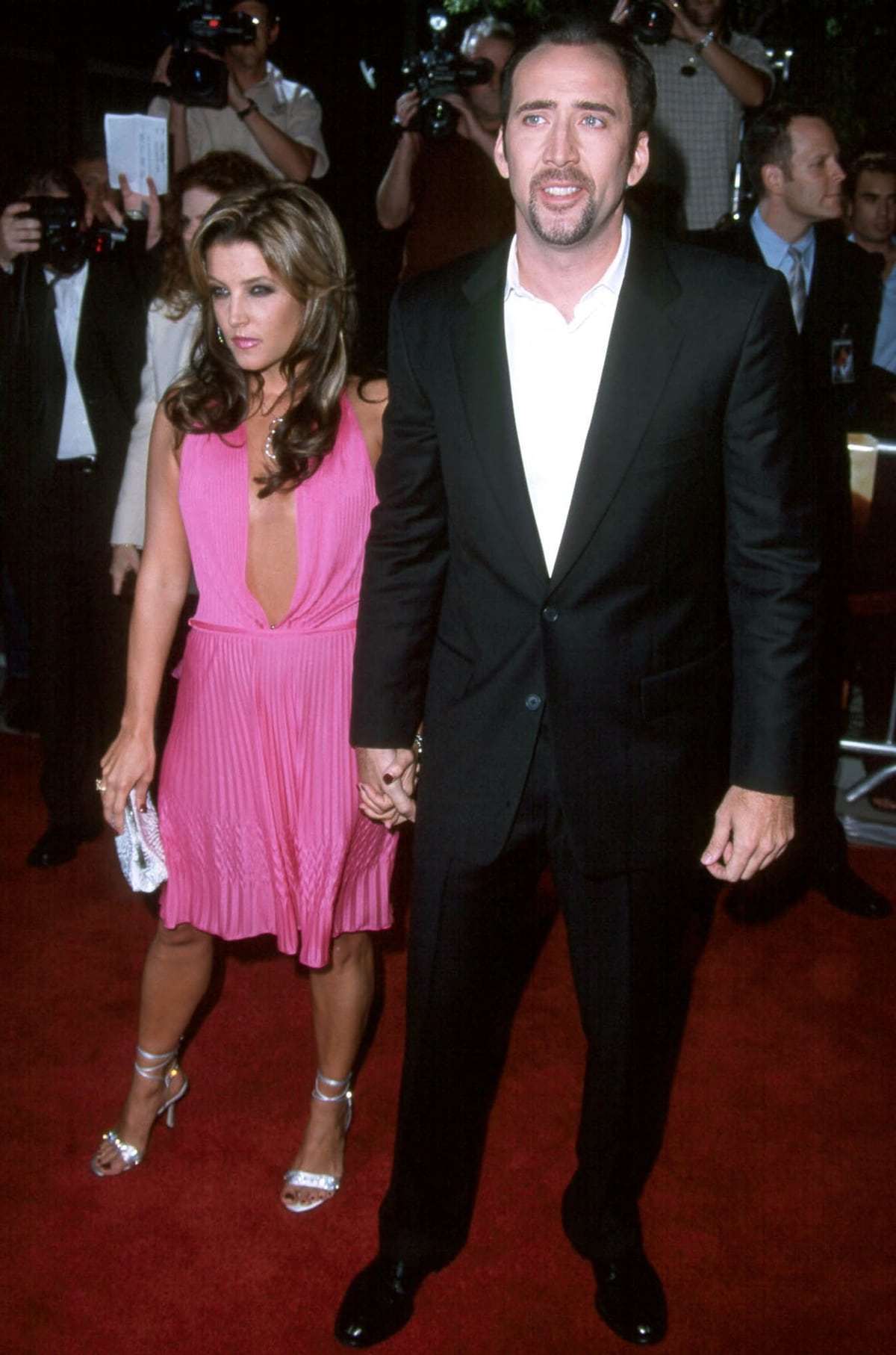 Nicolas Cage and Lisa Marie Presley met at a party in 2000, married in August 2002, and filed for divorce in November 2002 (Credit: WENN)
In 2004 he married Alice Kim, whom he had met when she worked as a waitress. She was 19 at their meeting, and they shared a 20 year age difference.
Alice Kim and Nicolas Cage met while she was waitressing and were married from 2004 to 2016 (Credit: Joe Alvarez)
After dating for two years, they married in July 2004 at a ranch in Northern California. They have a son together, named Kal-El Coppola Cage, and remain very good friends and co-parents.
Kal-El, following Cage's flamboyant nature, is named after Superman.
Weston Cage Coppola with his girlfriend Nikki Williams (married 2011-2012), his father Nicolas Cage, and his stepmom Alice Kim (Credit: WENN)
Their marriage ended in divorce in 2016 and was Cage's longest marriage to date.
Cage's fourth wife was Erika Koike, a make-up artist, whom he married in a Las Vegas wedding in 2019, a year after they began dating.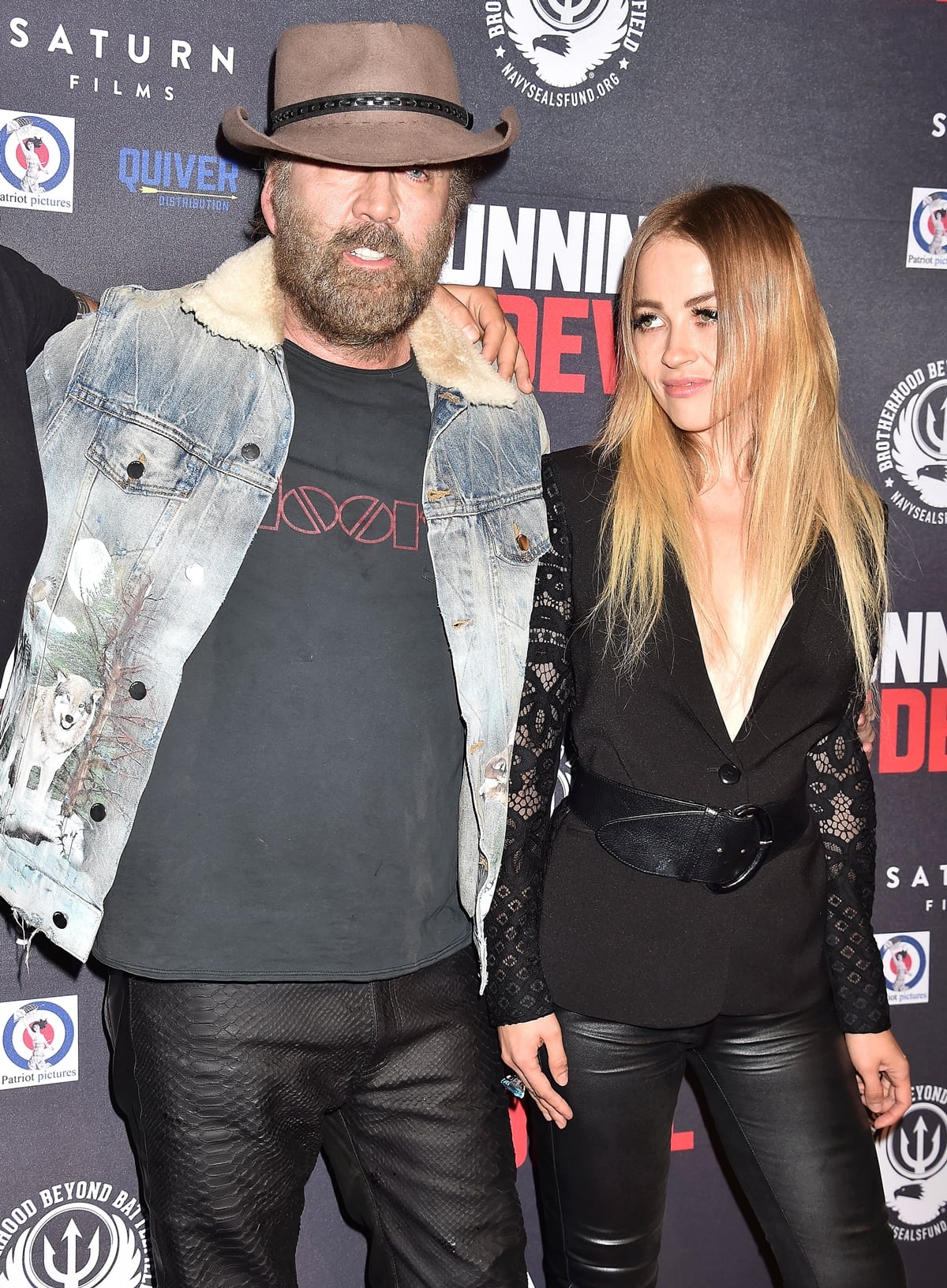 Nicolas Cage married professional makeup artist Erika Koike on March 23, 2019, and sought an annulment on March 27, 2019 (Credit: Avalon / WENN)
The marriage lasted four days, as Cage wanted to annul the marriage based on his being inebriated at the time.
Nicolas Cage and Riko Shibata may have a 30 year age difference, but they are clearly in love and enjoying their lives together in married bliss. They are reportedly delighted to be welcoming their first child together, and we can only imagine the happiness and excitement they are experiencing in addition to their growing family.
The Croods, a 2013 American computer-animated adventure comedy film featuring the voices of Ryan Reynolds, Emma Stone, Catherine Keener, Clark Duke, Nicolas Cage, and Cloris Leachman, premiered at the 63rd Berlin International Film Festival in February 2013.
The US premiere was held a month later in New York City. Numerous celebrities were in attendance, including Emma Stone and Blake Lively.
The latter was, of course, there to support her boyfriend, Ryan Reynolds. However, perhaps the hottest shoes of the evening belonged to Alice Kim, Nicolas Cage's wife at the time. Who do you think had the hottest outfit and shoes at the premiere?
1. Emma Stone in Lanvin Dress and Stiletto Pumps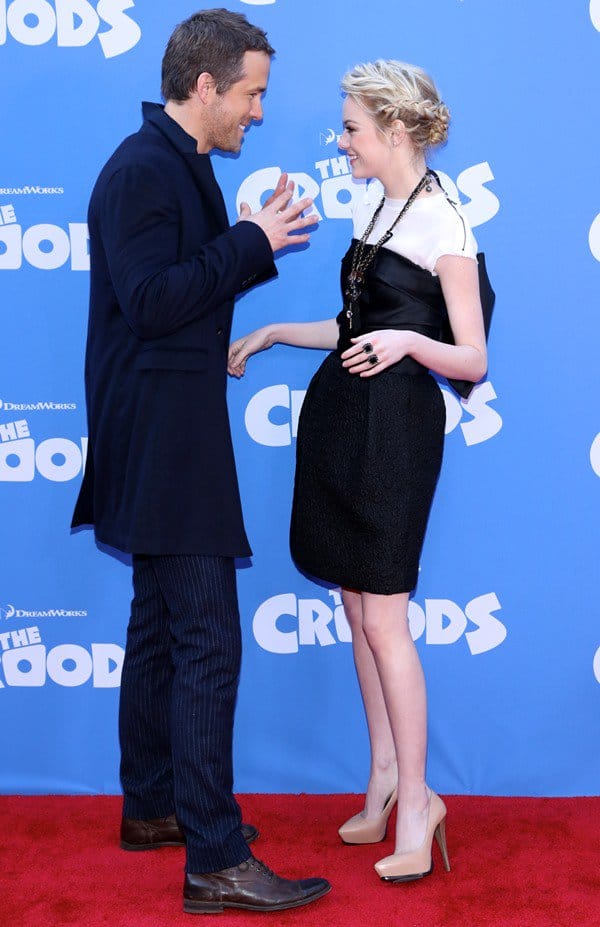 Actors Ryan Reynolds and Emma Stone attend "The Croods" premiere at AMC Loews Lincoln Square 13 theater on March 10, 2013, in New York City (Credit: Andres Otero / WENN)
The American actress donned a strapless black dress from the Lanvin Pre-Fall 2013 Collection featuring a bow-accented satin bodice and a textured skirt.
Emma Stone voices Eep Crood and Ryan Reynolds lends his voice to Guy in the 2013 American computer-animated adventure comedy film The Croods (Credit: Andres Otero / WENN)
She accessorized with jewelry by Jack Vartanian, Lanvin, and Dana Rebecca Designs.
Emma Stone wears Julianne Himiko diamond star earrings and Lanvin Resort 2013 clover and heart necklaces (Credit: Andres Otero / WENN)
Emma Stone wears a Lanvin Pre-Fall 2013 strapless black dress and a flower-accented top (Credit: Andres Otero / WENN)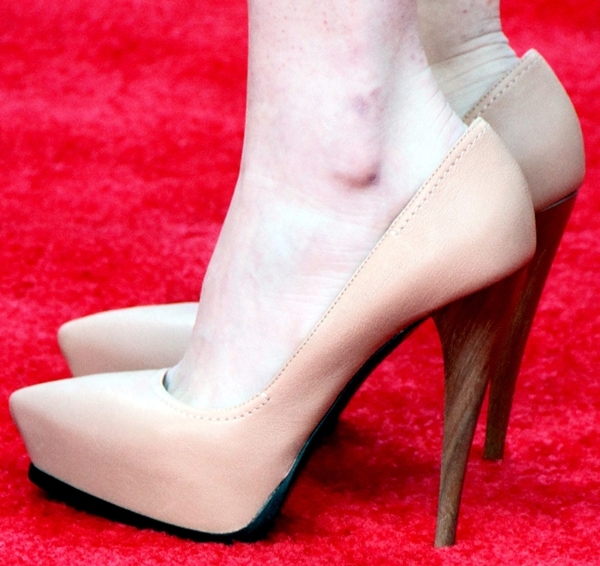 Emma Stone shows off her feet in nude Lanvin platform pumps (Credit: WENN / Mr. Blue)
Nude Lanvin Stiletto Pumps, $890
2. Blake Lively in Marios Schwab Mini Dress and Bottega Veneta Heels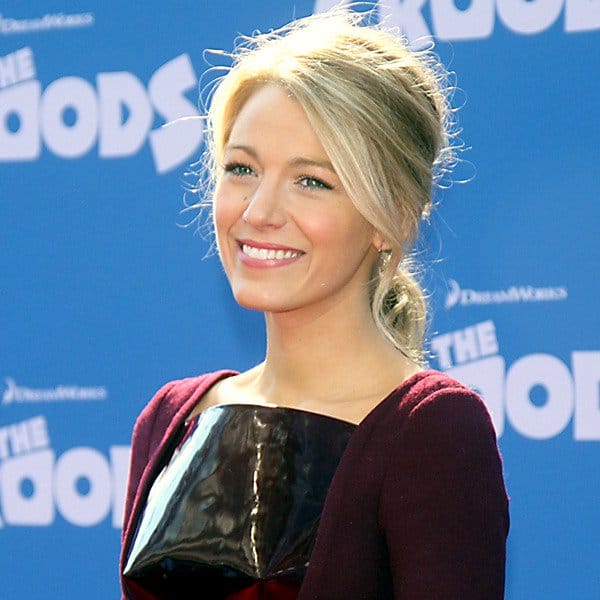 Blake Lively wears a burgundy Marios Schwab Fall 2013 dress (Credit: WENN / Mr. Blue)
The actress and celebrity homemaker arrived in a camel wool coat from the Burberry Prorsum Pre-Fall 2013 Collection featuring an embellished collar.
Blake Lively wears a Burberry London wool and cashmere-blend double-breasted coat with embellished collar (Credit: Andres Otero / WENN)
While it was a very cold day in New York, Blake soon took it off to show off her burgundy-hued dress featuring miniature gold buttons, slits on the sleeves, and a sexy white hemline.
Blake Lively attends "The Croods" premiere at AMC Loews Lincoln Square 13 theater on March 10, 2013, in New York City (Credit: Andres Otero / WENN)
Blake Lively flaunted her legs in a dress from Marios Schwab's Fall 2013 collection (Credit: Alberto Reyes / WENN / PNP)
Blake Lively shows off her feet in Bottega Veneta white wool crystal heel pumps (Credit: Andres Otero / WENN)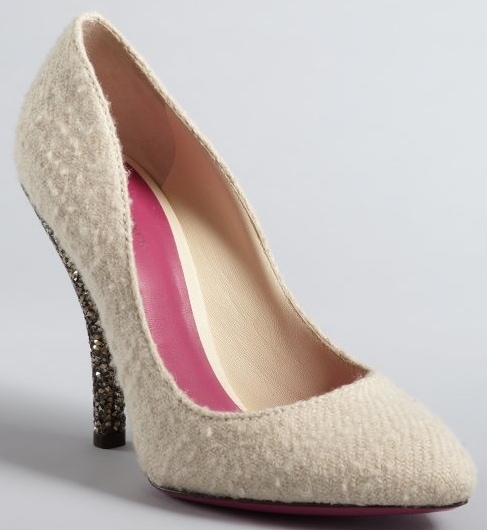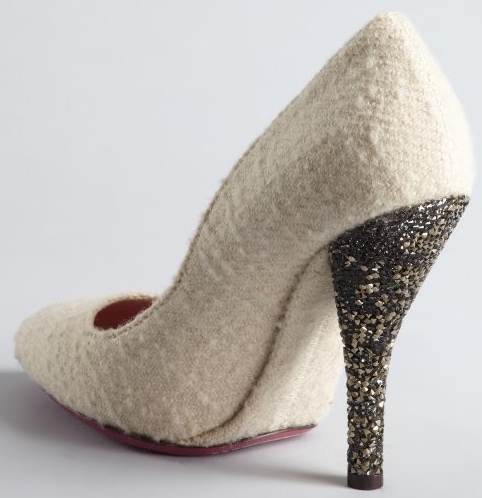 Bottega Veneta White Wool Crystal Heel Pumps, $456.74
3. Alice Kim in Sexy Yellow Heels
Alice Kim and Nicolas Cage met when she was working as a waitress in Los Angeles (Credit: Joel Ginsburg / WENN)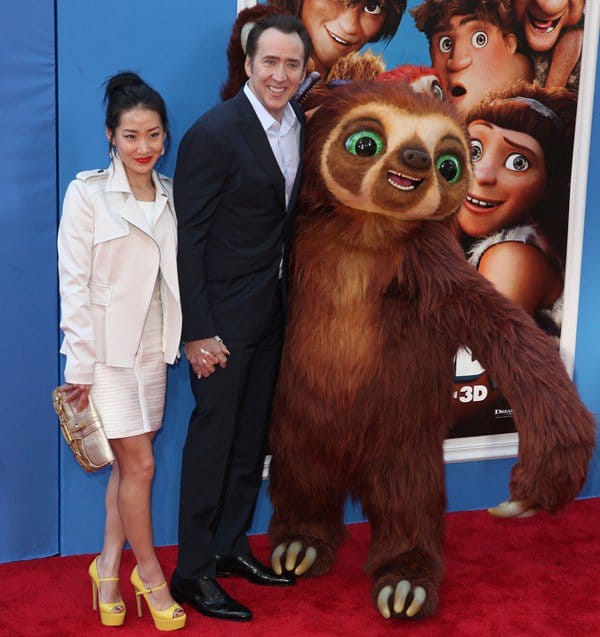 Alice Kim and Nicolas Cage attend "The Croods" premiere at AMC Loews Lincoln Square 13 theater on March 10, 2013, in New York City (Credit: PNP / WENN)
Alice Kim shows off her feet in yellow Miu Miu platform pumps (Credit: WENN)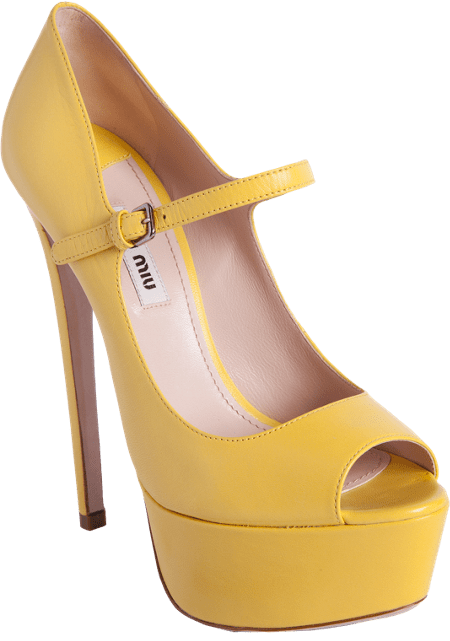 Miu Miu Peep-Toe Mary Jane Platform Pumps, $690