For one moment, let's take a trip back into the not-so-distant past. The year is 2004, and modeling sensation Diane Kruger begins her burgeoning career as a silver screen starlet with the release of National Treasure.
Starring opposite of Nicolas Cage, Kruger would wow American audiences with her golden-age Hollywood beauty, her legitimate acting chops, and of course her European charm. But first, let's take a look at Kruger's (not so) humble beginnings in her homeland of Germany.
Actress Diane Kruger arrives at the Disney Premiere of "National Treasure" on November 8, 2004, at the Pasadena Civic Auditorium, in Pasadena, California (Credit: Everett Collection / Shutterstock)
Kruger was born in a small town called Algermissen, with ambitions of being a ballerina from a young age. Following an unfortunate dance injury, however, Kruger would change her career trajectory and move to Paris to pursue modeling.
Despite her relatively short height, Kruger would dazzle talent scouts, landing her modeling opportunities with premiere haute-couture fashion brands such as Yves Saint Laurent, Chanel, Dolce & Gabbana, and Christian Dior.
But how did Kruger manage to shift from modeling sensation to silver screen starlet? Let's take a look at the trajectory of the talented German's career.
National Treasure – Diane Kruger's Acting Career Begins
Whilst pursuing her modeling career in Paris, Kruger became interested in pursuing acting and began taking lessons at Cours Florent, a famous acting school in the French capital.
She landed small roles in a handful of French films, the 2004 epic historical war film Troy, and the 2004 American romantic thriller drama film Wicker Park before landing her role as Abigail Chase in National Treasure. She was 28 years old when the movie was released worldwide on November 19, 2004.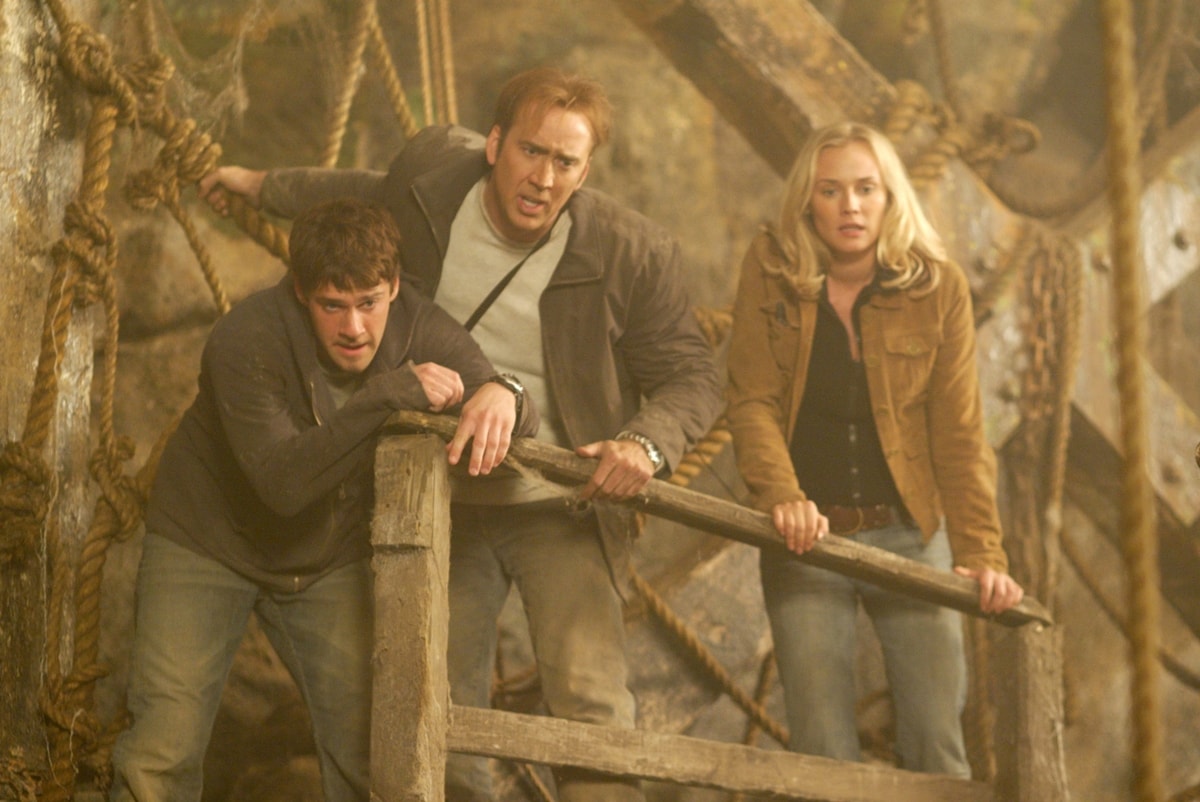 Justin Bartha as Riley Poole, Nicolas Cage as Benjamin Franklin Gates, and Diane Kruger as Dr. Abigail Chase in the 2004 American action-adventure film National Treasure (Credit: Walt Disney Pictures / Jerry Bruckheimer Films)
While the story of exactly how Diane Kruger was cast in her role as Abigal is not known, it doesn't take a rocket scientist to see how talent scouts would find her appealing as a leading woman in Hollywood.
Kruger had a stunning screen presence, propelled by her model beauty and foreign appeal. However, Diane Kruger wasn't just another pretty face.
Her training at Cours Florent provided her with the tools to embody her characters on screen, which the casting directors of National Treasure undoubtedly recognized.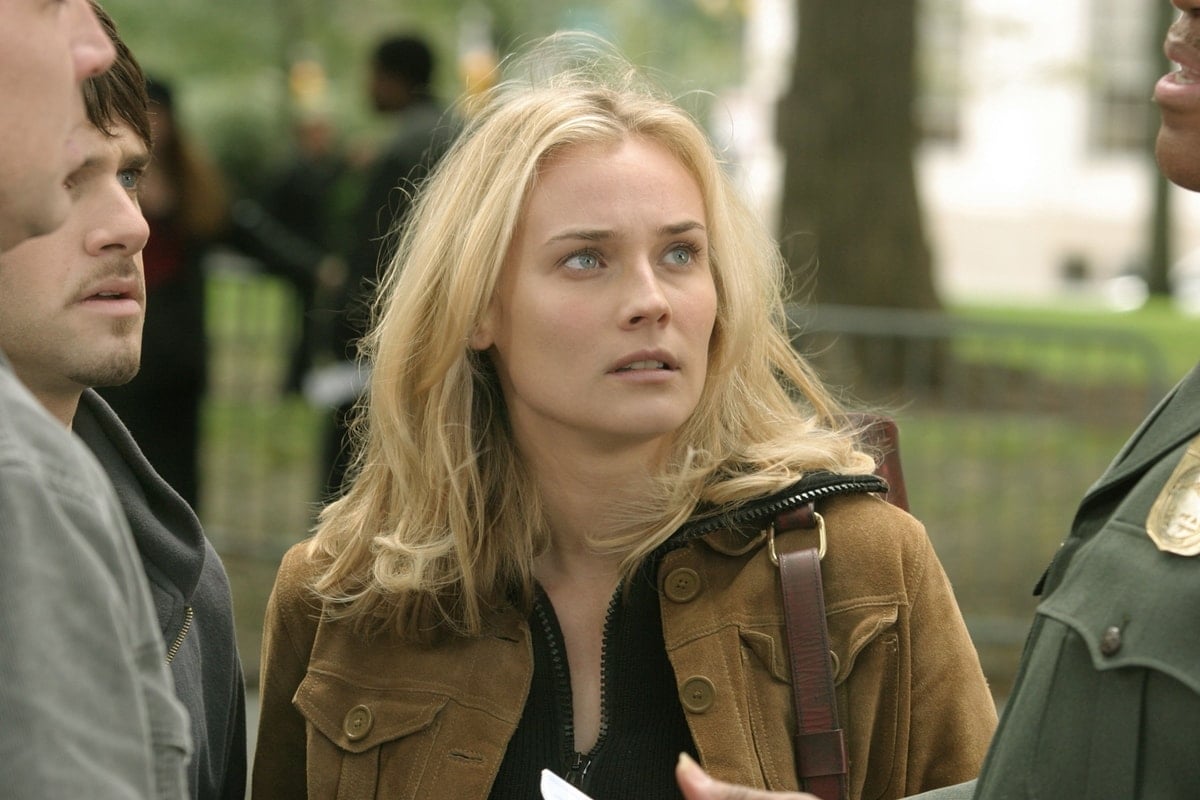 Diane Kruger portrays an archivist at the National Archives who aids Benjamin Gates (Nicolas Cage) in treasure hunting (Credit: Walt Disney Pictures / Jerry Bruckheimer Films)
She also had a decent body of work to analyze as well. While Kruger hadn't quite broken through to Hollywood at this point, her performances in French films alongside Hollywood heavyweights like Dennis Hopper proved she could stand toe-to-toe with some of the best.
Abigal Chase – How Kruger Nailed the Role in National Treasure
National Treasure was finally released to audiences in November of 2004. The film was an unexpected success for Walt Disney Studios, and boasted a strong box office gross of $347.5 million USD, compared to its budget of $100 million USD.
In the film, Diane Kruger played Abigal Chase, a national archivist who acts as an accomplice and a love interest for the film's protagonist, Benjamin Gates (played by Nicolas Cage).
Director Jon Turteltaub wisely decided to take advantage of Kruger's German charm, creating a backstory for Abigail that involved her being an immigrant from Saxony (where Kruger was actually born).
Pictured with his wife Amy Eldon at the premiere of The Meg in August 2018, director Jonathan Charles Turteltaub selected Diane Kruger for the role of Dr. Abigail Chase in National Treasure (Credit: Featureflash Photo Agency / Shutterstock)
Abigail does not have a thick German accent, rather she has the accent of someone who was born in Germany but was raised in the United States.
When her character is introduced, she initially acts cold towards Benjamin, although she is impressed by his knowledge of American history.
Eventually, Abigail becomes embroiled in Benjamin's adventure to find the templar treasure, and by the end of the film, they become romantically involved.
Josh Hartnett as Matt Simon and Diane Kruger as Lisa Parish in 2004 American romantic thriller drama film Wicker Park (Credit: Lakeshore Entertainment / Metro-Goldwyn-Mayer)
National Treasure would prove to be a beloved film of the early 2000s, with a cult following that still exists to this day. Cage and Kruger's chemistry onscreen definitely contributed to this success, and the pair bonded over impromptu karaoke sessions during the filming of the film.
Kruger's success in the role of Abigail Chase would propel her career to superstardom, especially within her native country of Germany.
In an interview with Movieweb in 2004, Kruger would state that was "…getting awards in Germany, which is nice. Obviously, there's a lot of attention towards me right now".
Kruger's Return in National Treasure 2: The Book of Secrets
Judging by the runaway success of the first film (and of Kruger's performance itself), it comes as no surprise that Kruger would reprise her role in the sequel to National Treasure, entitled National Treasure 2: The Book of Secrets.
Released in 2007, The Book of Secrets would follow Benjamin Gates and Abigail Chase in another adventure for elusive American treasure.
This time, the plot centered around the eponymous book of secrets, a diary shared by American presidents that contain the nation's deepest and darkest secrets.
Diane Kruger in a dress by J.Mendel at the premiere of her new film National Treasure: Book of Secrets at NYC's Ziegfeld Theatre in New York City on December 13, 2007 (Credit: Everett Collection / Shutterstock)
Between the events of the two films, however, Abigail has broken up with Benjamin and has a new love interest: a White House curator named Connor. During the course of the new adventure, Abigail and Ben become close again, eventually rekindling their relationship by the time the credits roll.
National Treasure 2 would prove to be even more popular than its predecessor, eventually grossing $457.4 million USD at the box office. Cage and Kruger's onscreen chemistry would again engage audiences and lead to an increasingly large cult following.
Where Does the National Treasure Story End?
Since the release of National Treasure 2 in 2007, fans of the series have been pining for a new installment in the series.
While the success of National Treasure 2 immediately prompted rumors of the development of a third film, no such film has surfaced in the 15 years between the second film and the present, and the series has remained somewhat dormant since.
When asked about the possibility of a third film in the series, Kruger stated "I feel like, at this point, we're way too old. I don't know. I mean, I would say, 'Never say never,' but it's been it's been a minute, you know?".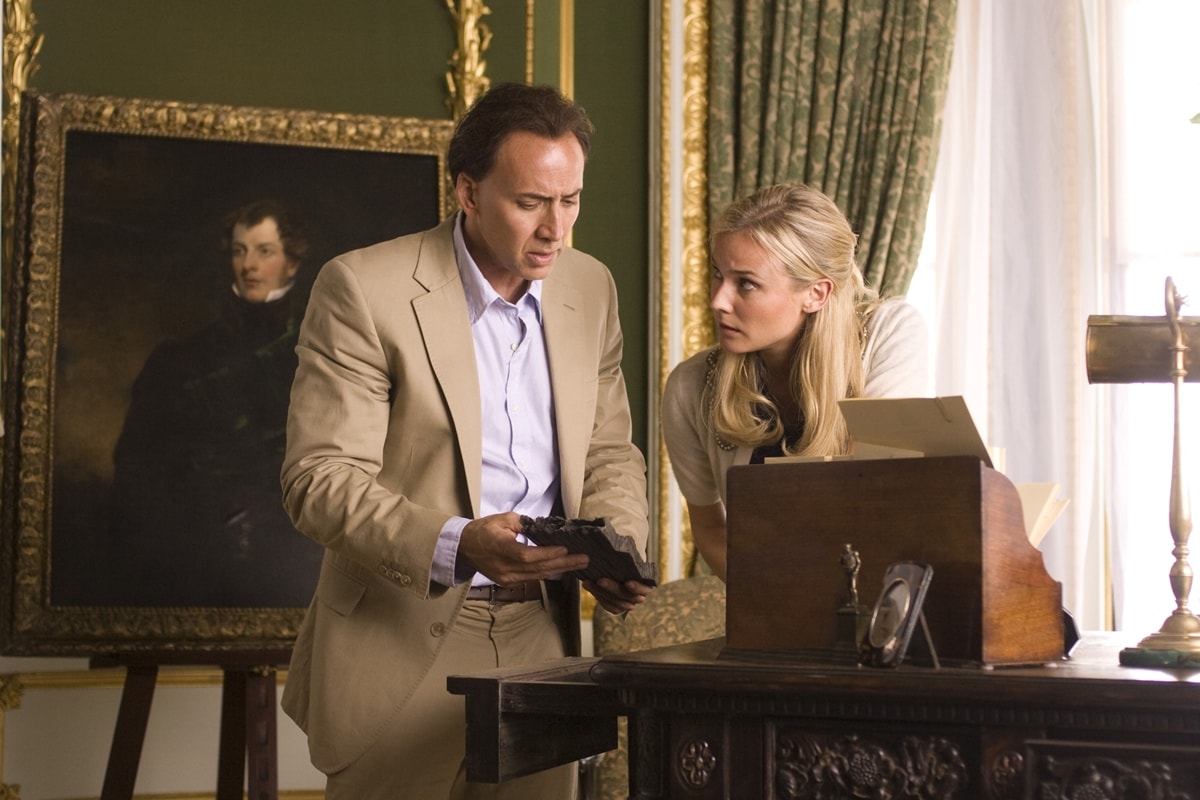 Nicolas Cage and Diane Kruger reprised their roles in the 2007 American action-adventure film National Treasure: Book of Secrets (Credit: Walt Disney Pictures / Jerry Bruckheimer Films)
Regardless of the possibilities of a third film, Disney has moved forward with the development of a National Treasure television series, which is set to be released on the Disney+ streaming service sometime next year.
Catherine Zeta-Jones has been confirmed to be starring in this new iteration of the National Treasure series. With this new series being announced recently, fans of the National Treasure series have been naturally thinking of the possibility of a third film to round out a potential National Treasure trilogy.
Clearly, there is an appetite for more National Treasure, so we say, "why not?". If it does end up happening, we're sure that Diane Kruger would do an amazing job playing Abigail Chase yet again.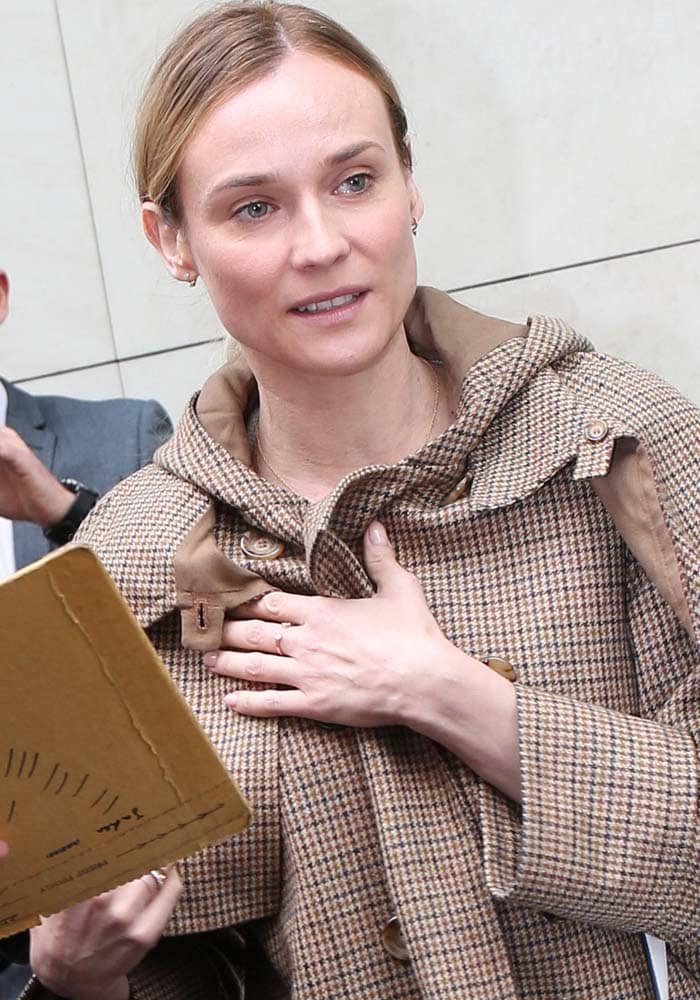 Diane Kruger wears her hair in a ponytail as she arrives at RTL Radio in Paris on March 30, 2016 (Credit: WENN)
How many languages does Diane Kruger speak? The native German, who lives in the United States, once expressed her desire to grow old in Paris.
Luckily, the 2015 English-language French-German drama film "Sky" allowed her to fly into Paris as part of its promotional plan — giving Diane an excuse to both speak French and declare her love for the city on Instagram.
Diane Kruger pairs a checkered cape coat with a plain t-shirt and a pair of jeans (Credit: WENN)
In March 2016, Diane was photographed arriving at RTL Radio for a guest appearance. Guillaume Canet's ex-wife wore a checkered cape coat over a graphic tee and a pair of slim-cut jeans.
She carried a bag from Tod's and finished her ensemble with a pair of suede "Beckie" pumps from Chloe.
Diane Kruger signs autographs for fans in Paris (Credit: WENN)
Diane did not have any noticeable makeup on and had her hair in a messy ponytail.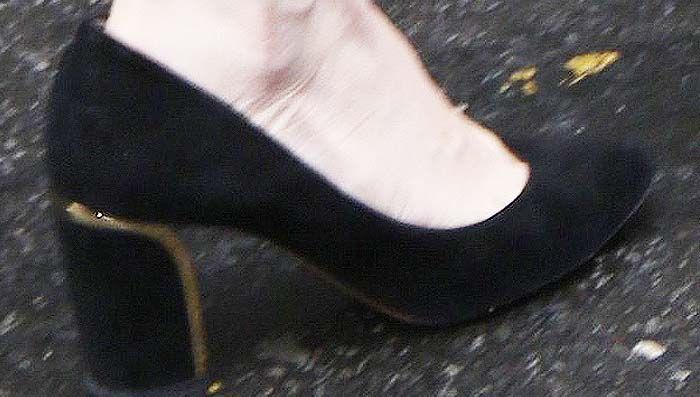 Diane Kruger's feet in black suede Chloé pumps (Credit: WENN)
We love the shoes, but everything else is a mess.
It looks like Diane rolled out of bed and into whatever she could find. Perhaps her stylist decided to ditch her in Paris?
"There is no better place than Paris….ummmm…maybe Paris after the rain with rainbows…❤️" (Credit: Diane Kruger's Instagram)
Regardless of this mess of an ensemble, we have to admit that listening to Diane speaking French is mesmerizing. In addition to speaking German, English, and French fluently, she studied Latin in school for eight years.
Even if we couldn't understand 99.9% of what she was saying, we still enjoyed watching her interview with RTL Radio.
You can order Diane's gorgeous chunky-heeled "Beckie" pumps from Chloé at Farfetch and Nordstrom.
Chloé "Beckie" Metal-Trim Leather Pump in Black, $770
Chloé "Beckie" Metal-Trim Suede Leather Pump in Black, $770