Diane Kruger, born on July 15, 1976, is a distinguished German actress known for her roles in prominent films like Troy, National Treasure, and Inglourious Basterds.
Starting her career in modeling, Diane's height, stated as 5ft 5 ½ inches (166.4 cm), often became a topic of conversation.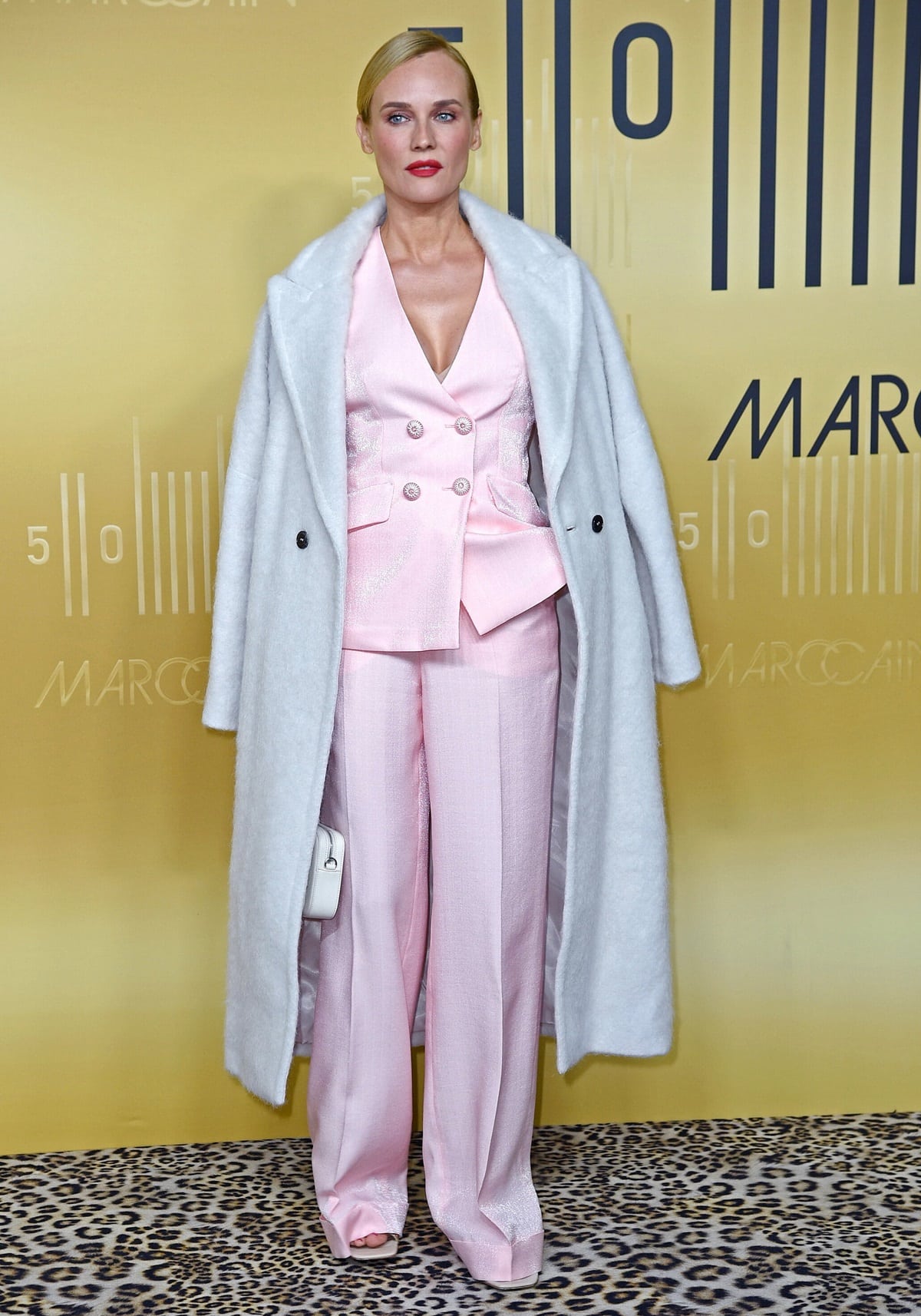 Diane Kruger looking elegant in a pink waistcoat and matching flared pants during the Marc Cain 50th anniversary fashion show event Sommernachtstraum" at Marc Cain GmbH on August 31, 2023, in Bodelshausen, Germany (Credit: DDP / INSTARimages)
In various interviews, she claims to be 5'7″, still considered relatively short in the modeling world. Compared to the average German woman, who stands at about 5ft 5in (165 cm), Diane is marginally taller.
Her shoe size is 8.5 US, which, while there's no strict average, falls within the common range for women. Her shoe size can be roughly converted to a European size 39, a UK size 6, a Japanese size 25.5, or an Australian size 6.5.
Diane Kruger chose flat strappy sandals in a neutral shade for her footwear at the 'Visions' Photocall during Day Three of the 16th Angouleme French-Speaking Film Festival on August 24, 2023, in Angouleme, France (Credit: Abaca Press / INSTARimages)
Transitioning from modeling to acting, Diane's talents were recognized as she received accolades like the Cannes Film Festival Award for Best Actress for her performance in "In the Fade" in 2017.
Does Diane Kruger have a child?
In November 2018, Kruger gave birth to a daughter, her first and Norman Reedus' second child.
"For a long time, the desire for a child didn't preoccupy me," the actress told French magazine Madame Figaro in April 2019.
Actors Diane Kruger, standing at 5ft 5 ½ inches (166.4 cm), and Norman Reedus, towering at 5ft 9 ½ inches (176.5 cm), graced the 23rd Annual Critics' Choice Awards in Santa Monica, California, on January 11, 2018 (Credit: DFree / Shutterstock)
"I had my ways. I was fine without one. In short, I didn't feel absolutely ready. Life ensured my daughter arrived at the right time. It was a surprise, and she is beautiful."
Four months earlier, she echoed a similar sentiment in an interview with PorterEdit.
"I didn't think I wanted children for a long time," she told the fashion magazine. "I was too selfish. But by the time I got to about 35, I thought, yes, I probably do want one. But then you have to wait for the right person to come along."
Initially, she kept her daughter's name a secret due to safety concerns.
"Well first and above all, it's safety," Kruger told People. "We have 'The Walking Dead' empire which has a lot of very intense fandomship that comes with it."
"And secondly, she is an innocent, young, vulnerable baby and I think I just don't understand why America doesn't have better laws for children," added the actress.
Actress Diane Kruger shows off her feet in Christian Dior sandals at the 13th Annual Chrysalis Butterfly Ball at a private Mandeville Canyon Estate on June 7, 2014 in Los Angeles, California (Credit: Kathy Hutchins / Shutterstock)
While promoting her children's book "A Name From the Sky," released in October 2022, Diane Kruger disclosed her daughter's name and the story behind naming her daughter Nova Tennessee.
She explained that "Nova," which means 'new beginning' in Latin, symbolizes the changes and rebirth of a nova star. The name "Tennessee" was inspired by their fondness for the Smoky Mountains and their motorcycle trips to the region.
Diane Kruger: Facts, Rumors, and Everything in Between
Net Worth:
Diane Kruger is a successful actress and former model with a net worth of $24 million as of 2023.
Full Name:
Diane Kruger (née Heidkrüger)
Born:
Diane Kruger, originally named Diane Heidkrüger, was born on 15 July 1976 in Algermissen, Lower Saxony, in what was then West Germany and is now modern-day Germany.
Dating:
Norman Mark Reedus and Diane Kruger started dating in 2015 after meeting while filming English-language French-German drama film Sky.

They were first seen together as a couple in July 2016. They confirmed their engagement in August 2021.

Diane Kruger was married to Guillaume Canet from 2001 to 2006. Following her marriage, she was in a relationship with Joshua Jackson from 2006 to 2016. Prior to that, she also had a relationship with Chris Heinz between 2004 and 2005.
Kids:
Diane Kruger has a daughter named Nova Tennessee. She was born in 2018 to Kruger and her partner, actor Norman Reedus.
Weight:
Diane Kruger's weight is estimated to be between 110 and 120 pounds, which corresponds to approximately 50 to 54 kilograms.
Shoe Size:
Diane Kruger's shoe size of 8.5 US is within the common range for women. While there isn't a strict average for American women's shoe size, many sources suggest that the most frequently purchased women's shoe sizes in the US range between 7.5 to 9. So, Diane Kruger's shoe size is fairly typical for an American woman.
Is Diane Kruger short or tall?
Compared to the average American woman, Diane Kruger's height of 5ft 5 ½ (166.4 cm) is right around the average. The average height for American women is approximately 5ft 4in (162.5 cm). So, Diane Kruger is slightly taller than the average American woman.
Nationality:
Diane Kruger is a dual citizen of Germany and the United States. She holds both German and American passports.
Source of Wealth:
Diane Kruger's net worth is largely derived from her earnings from acting. She has also earned money from brand endorsements and real estate investments.

She is a popular spokesperson for a number of brands, including L'Oréal Paris and Louis Vuitton. Kruger also owns several properties in Los Angeles and New York City.
Ethnicity/Race:
Diane Kruger's ethnic background is primarily German, with some Polish ancestry.
Diane Kruger Stuns in Sheer Thakoon Dress and Jimmy Choo 'Malika' Sandals at 'The Host' Premiere
In March 2013, the LA premiere for the much-awaited movie adaptation of Stephenie Meyer's 'The Host' occurred at ArcLight Cinemas in Hollywood.
Usually, we compile shoe spots from an event in one post, but this Diane Kruger shoe spot deserved no less than its very own feature.
Diane Kruger's bold choice of jewelry also added a touch of unexpected charm to the overall look at the premiere of 'The Host' held at Arclight Cinemas Cinerama Dome in Hollywood, California on March 19, 2013 (Credit: Apega / WENN)
The German actress and former fashion model arrived at the premiere wearing a Thakoon Fall 2013 sheer-paneled LBD paired with Jimmy Choo's "Malika" sandals and basically blew everyone out of the water.
The dress was subtly sexy, the sandals cool and unexpected, and even her bold choice of jewelry surprisingly worked.
Diane Kruger arrived at the premiere wearing a Thakoon Fall 2013 sheer-paneled little black dress that exuded subtle sensuality (Credit: Apega / WENN)
You wouldn't think futuristic-looking sandals like the Jimmy Choo 'Malika' sandals would work with a daring LBD, but trust the ever-fashion-risk-taking Diane Kruger to convince us otherwise.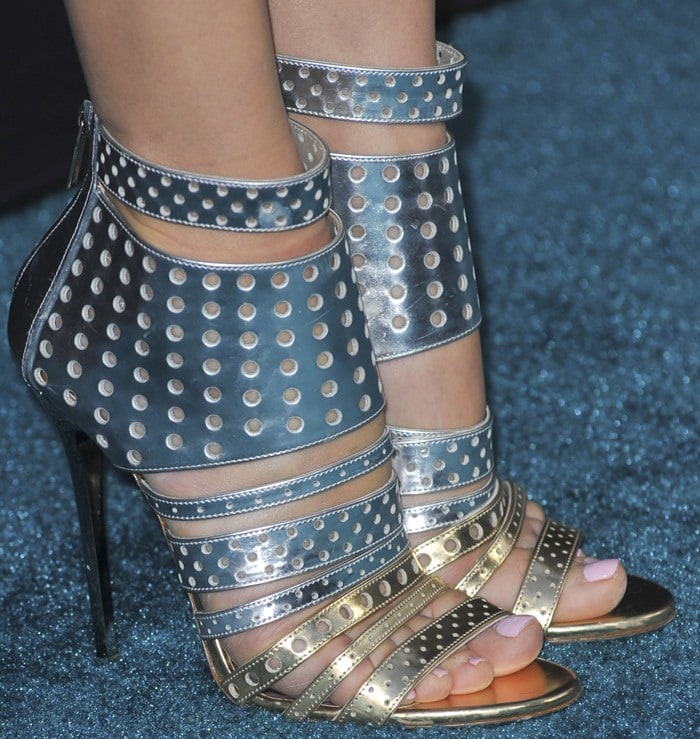 Diane Kruger shows off her feet in Jimmy Choo 'Malika' sandals (Credit: Apega / WENN)
The picture below better showcases the two-tone silver and gold coloring of Diane Kruger's Jimmy Choo sandals: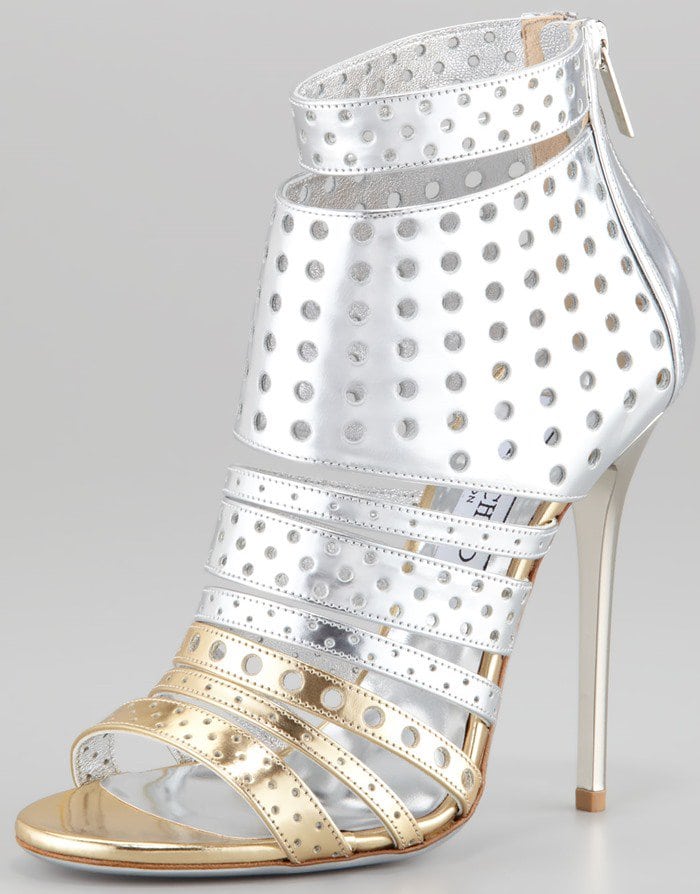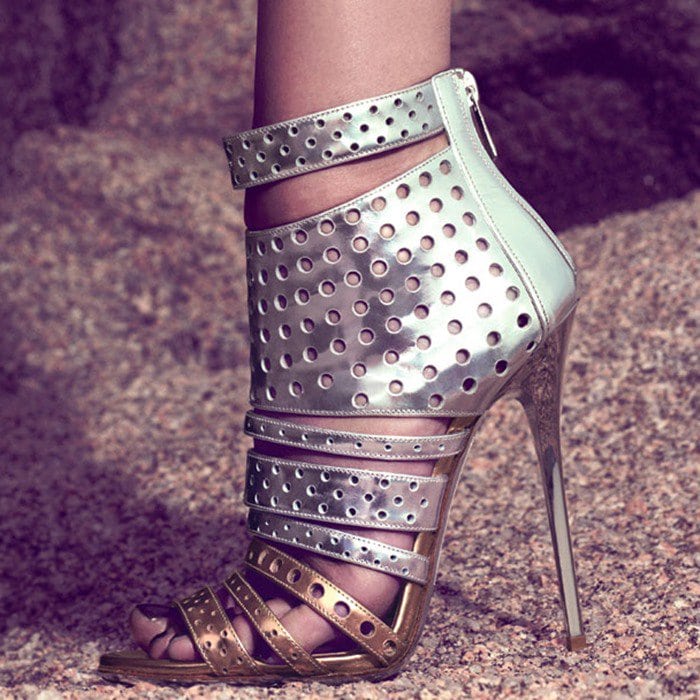 Jimmy Choo 'Malika' Perforated Metallic Leather Sandal, $995
We recently saw this silver-and-gold color combo on the Jimmy Choo "Virginia" sandals spotted on Selena Gomez. Do you think a two-tone color makes shoes more versatile, or do you dislike mixing metallics?