Who needs ice skates for a hockey game? In June 2012, Wicker Park actress Diane Kruger showed off her feet in a pair of Jimmy Choo sandals while attending the 2012 NHL Awards. She supported her boyfriend, Joshua Jackson, who presented an award at the show.
Diane Kruger center parts her hair for the 2012 NHL Awards held on June 20, 2012, at Encore Showroom Inside the Wynn Resort and Casino in Las Vegas (Credit: Judy Eddy / WENN)
8 years earlier, she starred as beautiful dancer Lisa Parish in the 2004 American romantic thriller drama film Wicker Park.
When her character tries on a pair of shoes in the Lady Dragon shoe store, the red soles of her black heels reveal that her shoes are by French shoe designer Christian Louboutin.
The film, which was nominated for the Grand Prix at the Montreal World Film Festival, also stars Josh Hartnett, Rose Byrne, and Matthew Lillard. The same year, Diane Kruger and Rose Byrne also starred together in Troy.
Josh Hartnett as Matt Simon and Diane Kruger as Lisa Parish in the 2004 American romantic thriller drama film Wicker Park (Credit: Lakeshore Entertainment / Metro-Goldwyn-Mayer)
"While I was doing that I was auditioning for Troy, which was this epic Warner Brothers thing that Wolfgang Petersen directed. And so weirdly Diane Kruger got cast as Helen of Troy and we were doing Wicker Park at the same time and auditioning at the same time for Troy," Rose Byrne told Interview Magazine in July 2022.
"So it was very odd. We spent sort of two years working together. I went on to do that job, which was insane. It was like this multi-million dollar ridiculous thing in the middle of Malta and Mexico. It was fun, besides the character being pretty tortured."
Actress Diane Kruger flaunts her legs at the premiere of "Wicker Park" at the Egyptian Theatre on August 31, 2004, in Los Angeles, California (Credit: Marty Hause / Startraksphoto)
When Wicker Park was released on September 3, 2004, Diane Kruger was 28 years old. She celebrated her 28th birthday on July 15, 2004.
Diane Kruger wears an Alessandra Rich skirt with a black silk top at the NHL Awards (Credit: Judy Eddy / WENN)
At the 2012 NHL Awards held at the Encore Theater in the Wynn Resort, the German actress and former fashion model styled the crisscross platform sandals with a black silk top and a sheer fuchsia lace skirt from the Alessandra Rich Spring 2012 Collection.
The bold ankle-length skirt reached Diane's ankles and was layered over a black miniskirt to avoid appearing risqué.
Diane center-parted her hair for the occasion, accessorized with bold dangling earrings, and wore heavy smoky eye makeup.
Diane Kruger's feet in strappy suede Jimmy Choo sandals (Credit: Judy Eddy / WENN)
These popular strappy sandals — called the "Vamp" from Jimmy Choo — are ideal for a formal event during any season.
The open-front design makes these sandals perfect for the summer, and the dark chunky straps make them appropriate for winter.
You can find them at Nordstrom in black and nude suede, black glitter, and a few other shades. Take a look at the options that are the most similar to Diane Kruger's heels:
Black Suede Jimmy Choo 'Vamp' Sandals, $750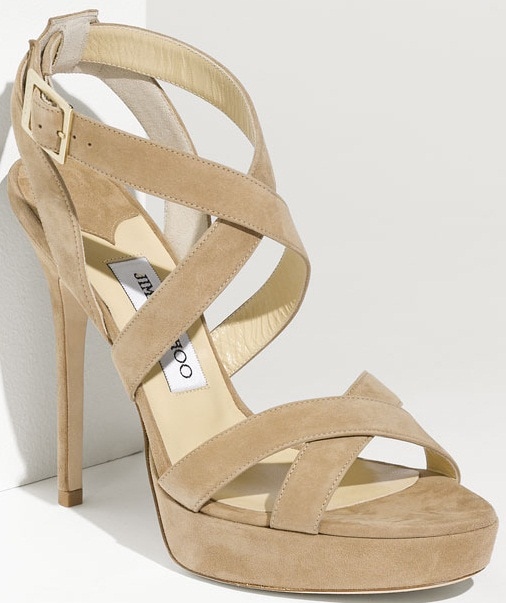 Nude Suede Jimmy Choo 'Vamp' Sandals, $750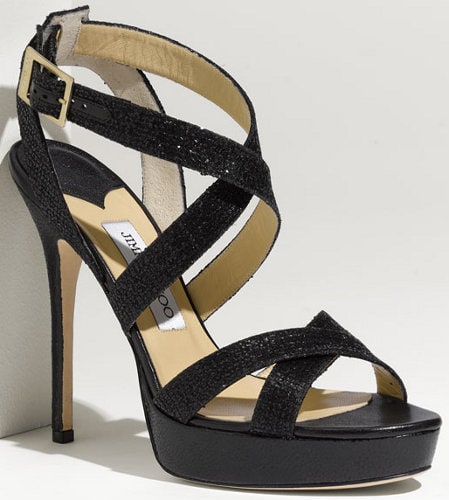 Black Glitter Jimmy Choo 'Vamp' Sandals, $750
Kate Middleton is another fan of these heels. Who do you think wore them better?