'Walking Dead' star Norman Reedus met Diane Kruger for the first time on the set of their movie Sky.
They played husband and wife in the 2015 English-language French-German drama film written and directed by Fabienne Berthaud.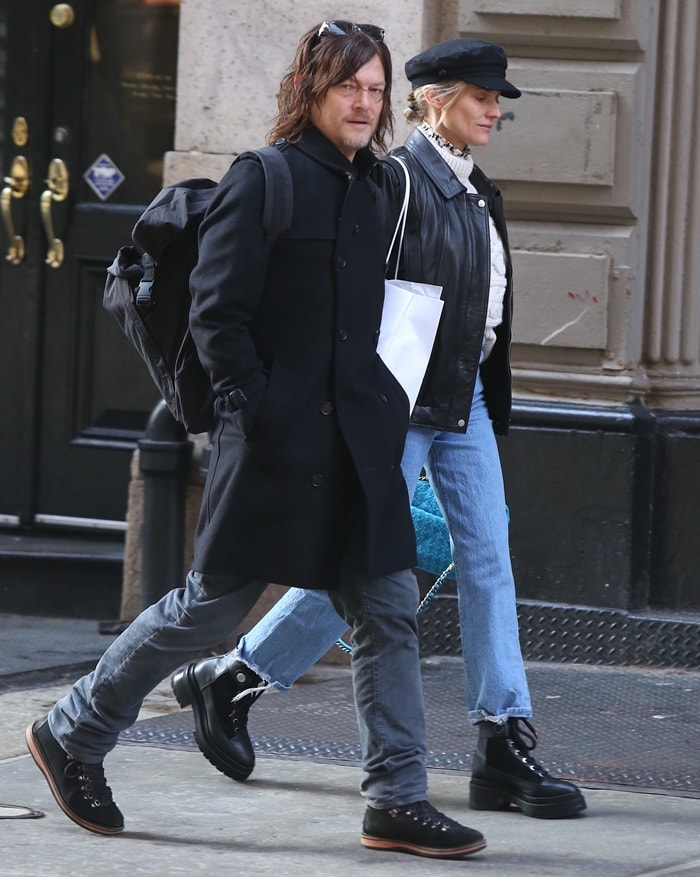 Norman Reedus and his girlfriend Diane Kruger shopping in Soho the day after Christmas on December 26, 2019
"I didn't know [Reedus] before the film," Kruger told People at the April 2016 premiere of the movie. "We share a lot of intimate scenes. I was really nervous about meeting him and not being able to have a drink with him, or talk with him."
During a BuzzFeed interview, Reedus said he fell in love with Diane when reading the script for the movie with Kruger's friend, director Fabienne Berthaud.
"I just kind of fell in love with her, and she was like, 'would you do it?' And I'm like, 'yeah, I'll do it.' And I knew who was involved [you], so I said yes before I even read it."
Norman Reedus and Diane Kruger met for the first time on the set of Sky
Just to make things interesting, the cast of Sky also included Kruger's then long-time boyfriend, Joshua Jackson. Jackson and Kruger began dating in 2006 and announced their split in July 2016.
In an interview with Vulture, Kruger revealed that the pair actually parted ways months before the official statement was made.
"That was something that was a long time coming," she explained of their split.
Diane Kruger dated Joshua Jackson for 10 years between 2006 and 2016 (Credit: Joseph Marzullo / WENN)
"Also we broke up many months before we said we were broken up, so by the time I made that decision, it didn't feel like it was so urgent anymore. You don't break up overnight after ten years, you know what I mean?"
According to NY Daily News, Diane Kruger appeared to be cheating on Joshua Jackson with Norman Reedus in December 2015.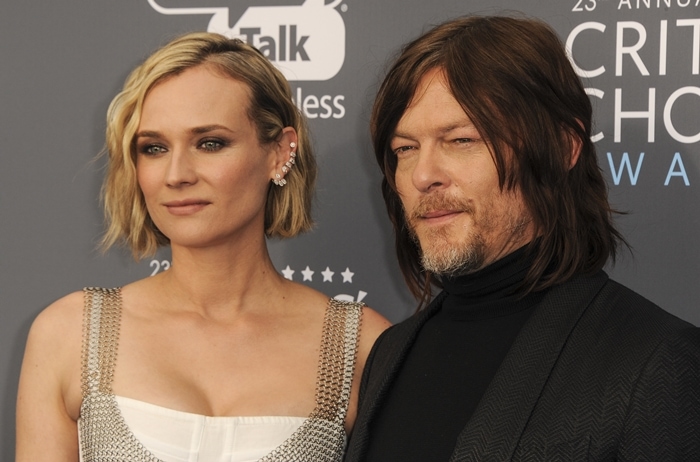 Diane Kruger and Norman Reedus arrive at the 23rd Annual Critics' Choice Awards at Barker Hangar on January 11, 2018, in Santa Monica, California
Diane Kruger is slowly coming into her own unique style. In September 2015, the then 39-year-old rocked an awkward-cute look on the red carpet that could give the Taylor Swift-wannabes of this world a run for their money.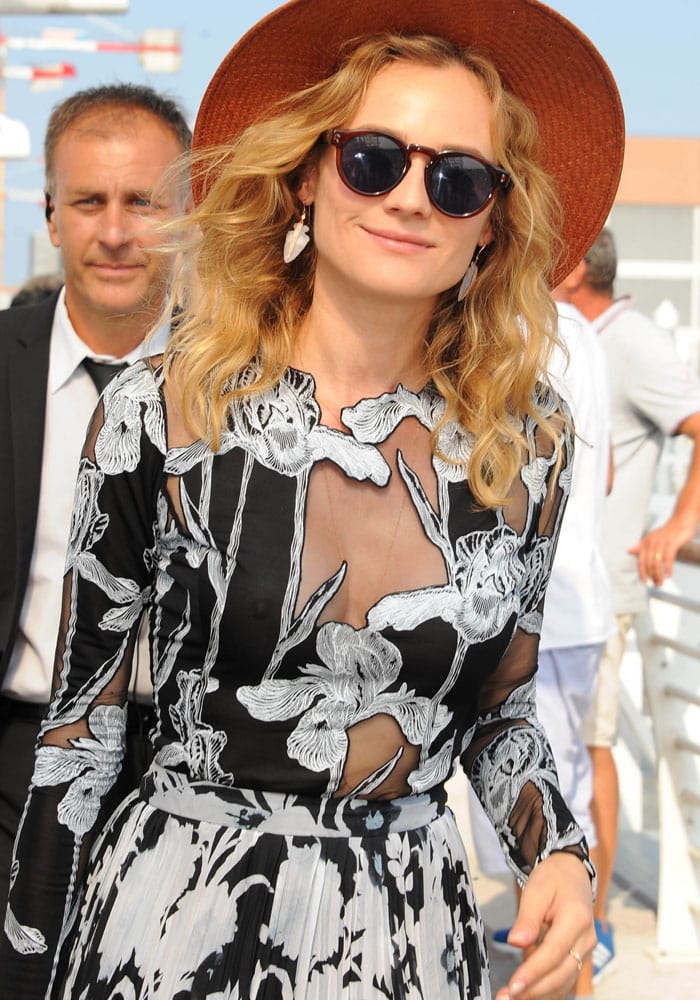 Diane Kruger arrives at the Venice airport to attend the 72nd Venice Film Festival in Italy on September 1, 2015
But, sometimes the actress still gets it wrong — like when she arrived in Italy wearing an outfit that couldn't decide whether it was daywear or nightwear.
While flowy dresses are usually associated with daytime resort wear, the strategic mesh cutouts on the front of Diane's maxi dress just screamed "clubwear."
Diane Kruger makes her entrance into Italy wearing a black-and-white print Thakoon maxi dress
As though the dress itself wasn't confusing enough, Diane finished off her Venice Film Festival look with a straw hat and leopard-and-leather flats.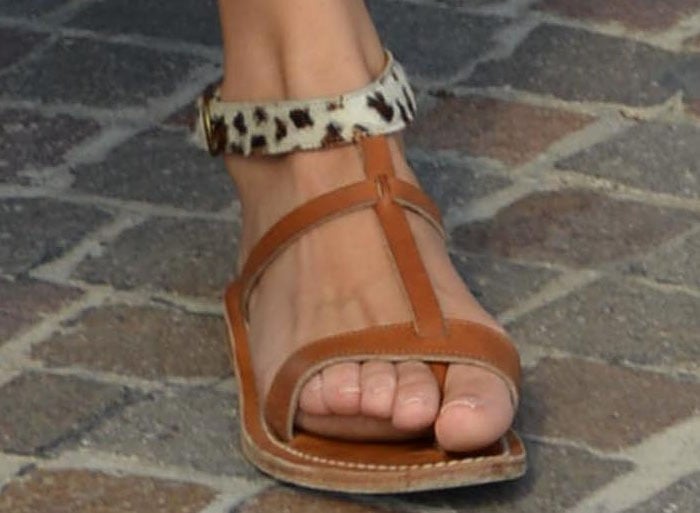 Diane Kruger shows off her unpainted toenails in a pair of leopard calf hair K. Jacques flats
While we're a fan of everything separately, we're not really digging the combination of leopard calf hair and flowy florals.
Diane wore a dress from the Thakoon Resort 2016 collection with the Janessa Leone "Bernt" straw hat, Komono "Clement" shades, a Chanel purse and flats from the K. Jacques 2013 collection.
Diane's sandals are actually cute — they just don't pair well with the rest of this look.
This 2013 K. Jacques pair has flown off the shelves since it was first debuted, but the designer has a 2015 version still available online.
Diane Kruger shows off her Komono sunglasses and her Janessa Leone straw hat as she poses for photos
Grab the wider cuff version "Caravelle" over at Zappos or Matches Fashion.
K. Jacques Leopard and Leather Sandals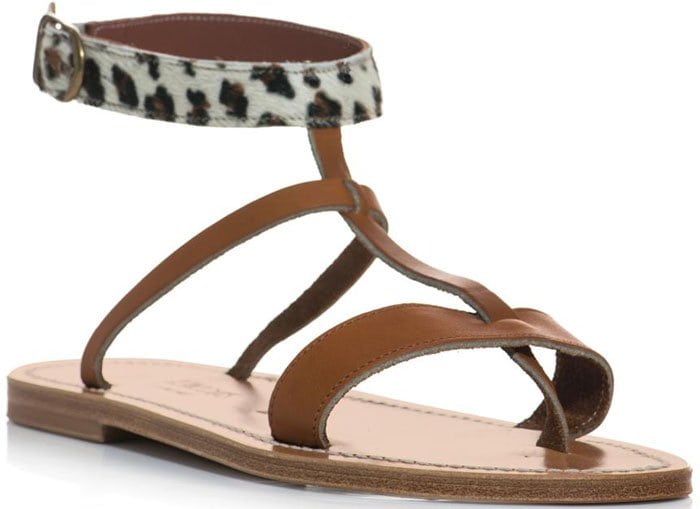 K. Jacques "Caravelle" Combi Natural Leopard, $276.37
Credit: IPA / WENN / Instar / Apega