In 2015, while filming the movie "Sky," Norman Reedus and Diane Kruger met for the first time. At the time, Kruger was still dating her long-time boyfriend, Joshua Jackson, who also has a small role in this film.
In "Sky," Kruger plays the role of a Parisian woman, Romy, on holiday in the USA with her French husband. She believes she kills her husband, Richard, and continues on her journey alone, where she meets Diego, played by Norman Reedus.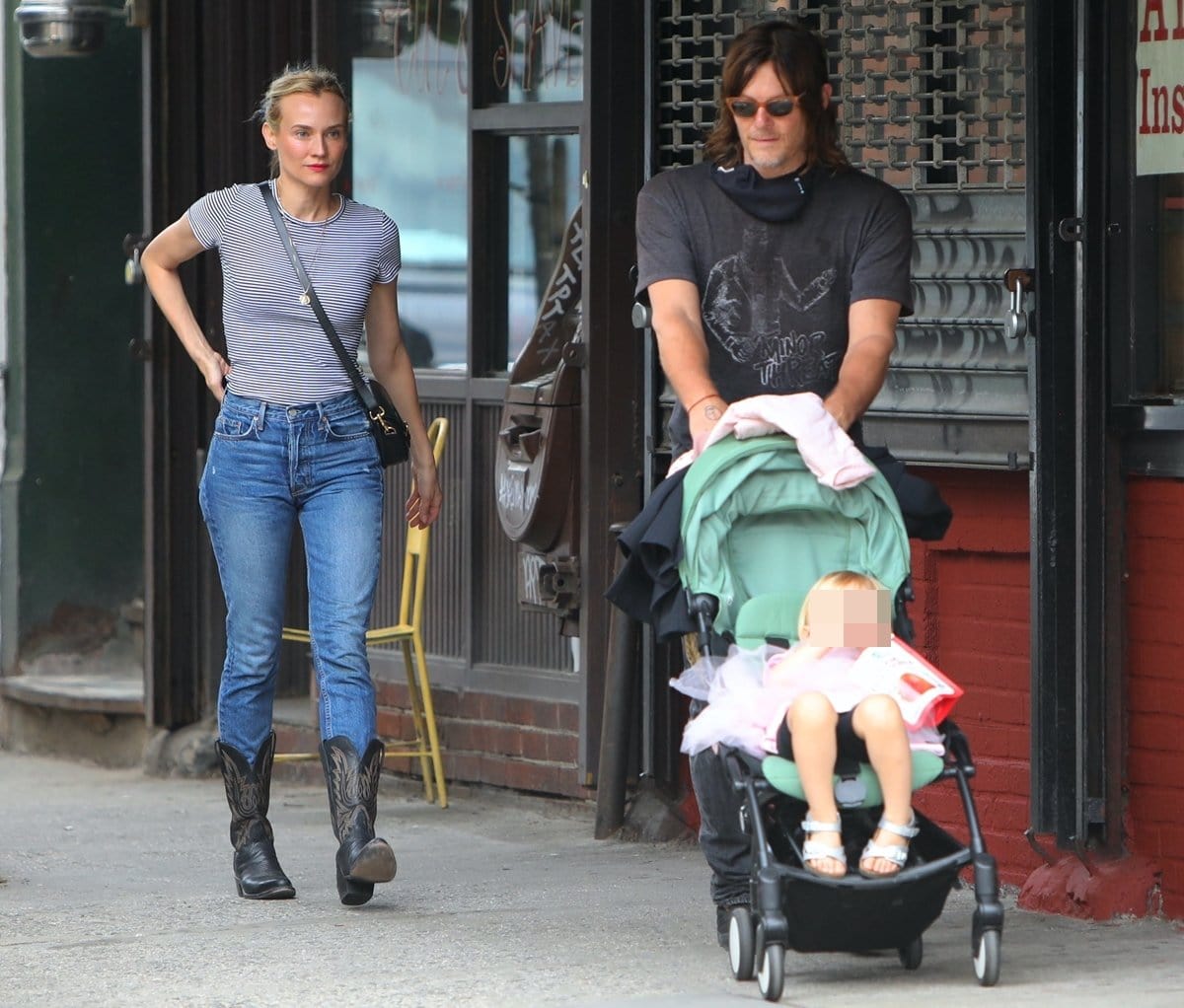 Diane Kruger and Norman Reedus are seen with their daughter in New York City on June 1, 2021 (Credit: MEGA / WENN)
The two characters share a pure love and while filming, their connection blossomed into what they share today – a child and an engagement to be married.
Published in the NY Daily News in December of 2015, Diane Kruger appeared to be cheating on Jackson with her new co-star, Reedus.
Sources claimed that Kruger and Reedus were seen making out in a dive bar in the East Village. Jackson happened to be across the world during this alleged affair-sighting.
Jackson and Kruger eventually ended their relationship. Kruger and Reedus went public with their relationship in March of 2017.
Past Relationship Between Kruger and Jackson
Diane Kruger and Joshua Jackson began dating in 2006 and had been a golden couple in Hollywood for nearly 10 years at the time Reedus and Kruger met on the set of the film they were all working on together.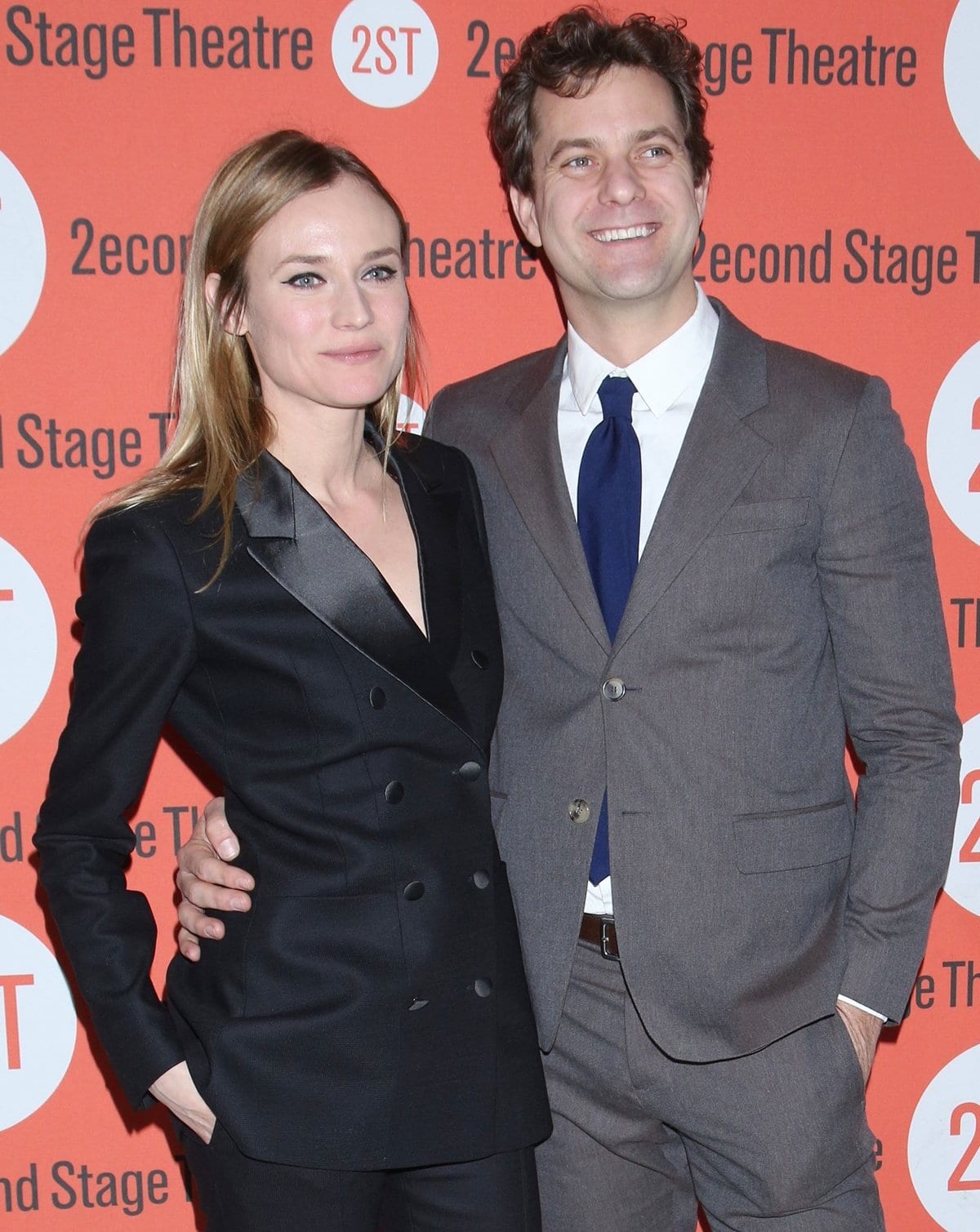 Joshua Jackson and Diane Kruger dated for 10 years between 2006 and 2016 (Credit: Joseph Marzullo / WENN)
Kruger commented to US Weekly in 2007 that marriage was not something she and Jackson had done since neither was "particularly religious".
Fast forward to today, and she is engaged to Norman Reedus and the two share a 2 and a half-year-old daughter.
Pregnancy and Engagement for Kruger and Reedus
Reedus and Kruger announced their pregnancy in May of 2018. She gave birth to their daughter and her first child in November of 2018.
The parents have kept their daughter's life very private, and her name, face, and true birthdate have not been shared.
A source confirmed the couple's engagement to People Magazine in August of 2021. Kruger is 45 and Reedus is 52 years old.
Past Relationships for Kruger and Reedus
Prior to falling in love with one another, both Kruger and Reedus dated a number of people.
Kruger, a German actress and former fashion model, is known for her role as Helen in the war film "Troy" and her role as Bridget von Hammersmark in "Inglourious Basterds".
Before her engagement to Reedus and her 10+ years with Joshua Jackson, she was linked to a couple of other men. She began dating French actor, Guillaume Canet, in 1999 and married him in September of 2001.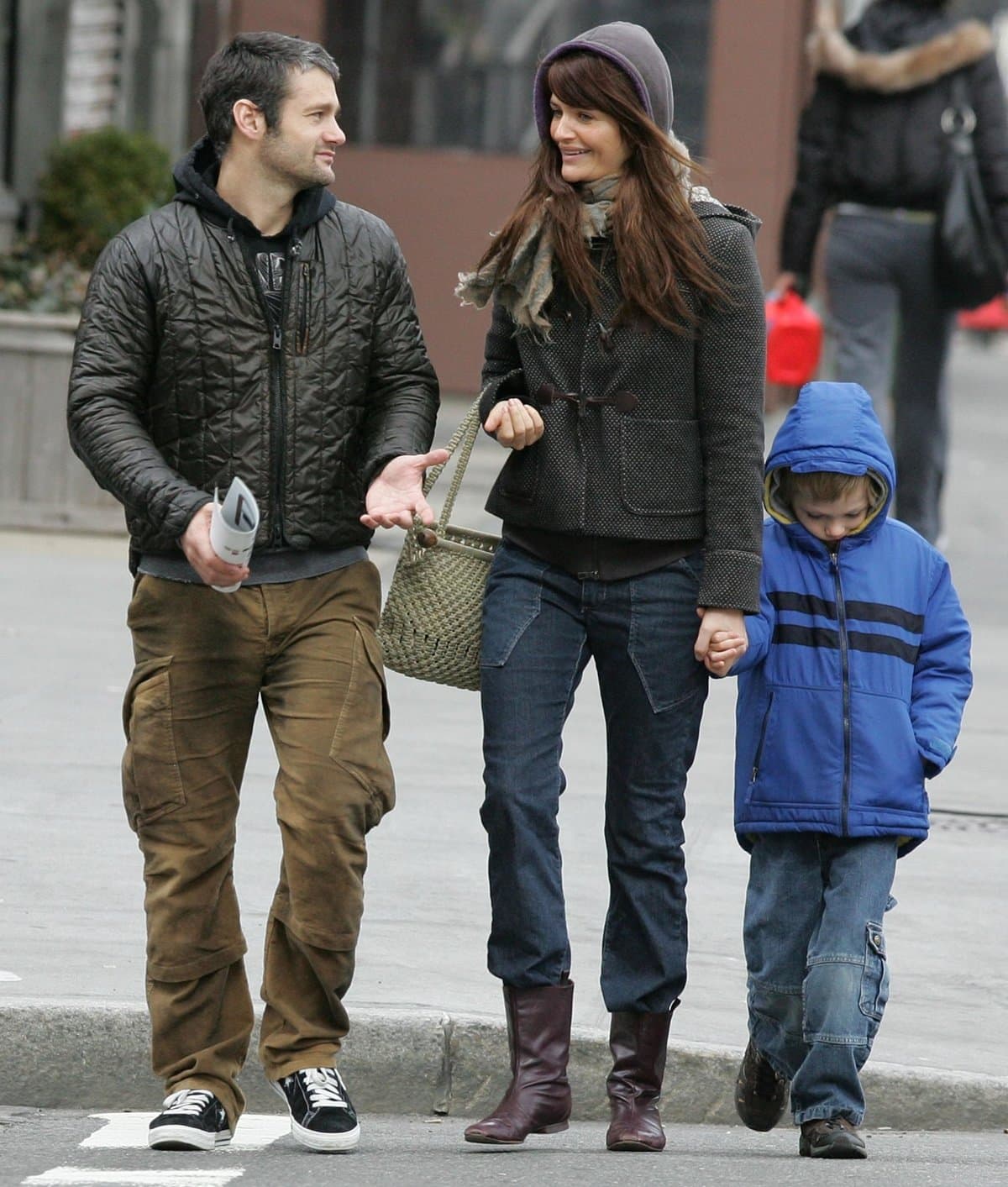 Norman Reedus with her then-wife Helena Christensen and son Mingus Lucien Reedus walking in the Meatpacking District of New York City on February 5, 2006 (Credit: WENN)
They later divorced in 2006 due to the long-distance nature of their relationship. During the end of her marriage to Canet, she was linked to Chris Heinz, an American businessman and investor, during 2004 and 2005.
Reedus, known for his role in "The Boondock Saints" and his role as Daryl Dixon in "The Walking Dead," dated Danish Model, Helena Christensen, from 1998 to 2003.
They share a son, Mingus Lucien Reedus, who was born in October of 1999. The daughter Reedus shares with Kruger is his second child. Reedus also dated Rose McGowan in 2003, after he played a minor role on McGowan's show, "Charmed."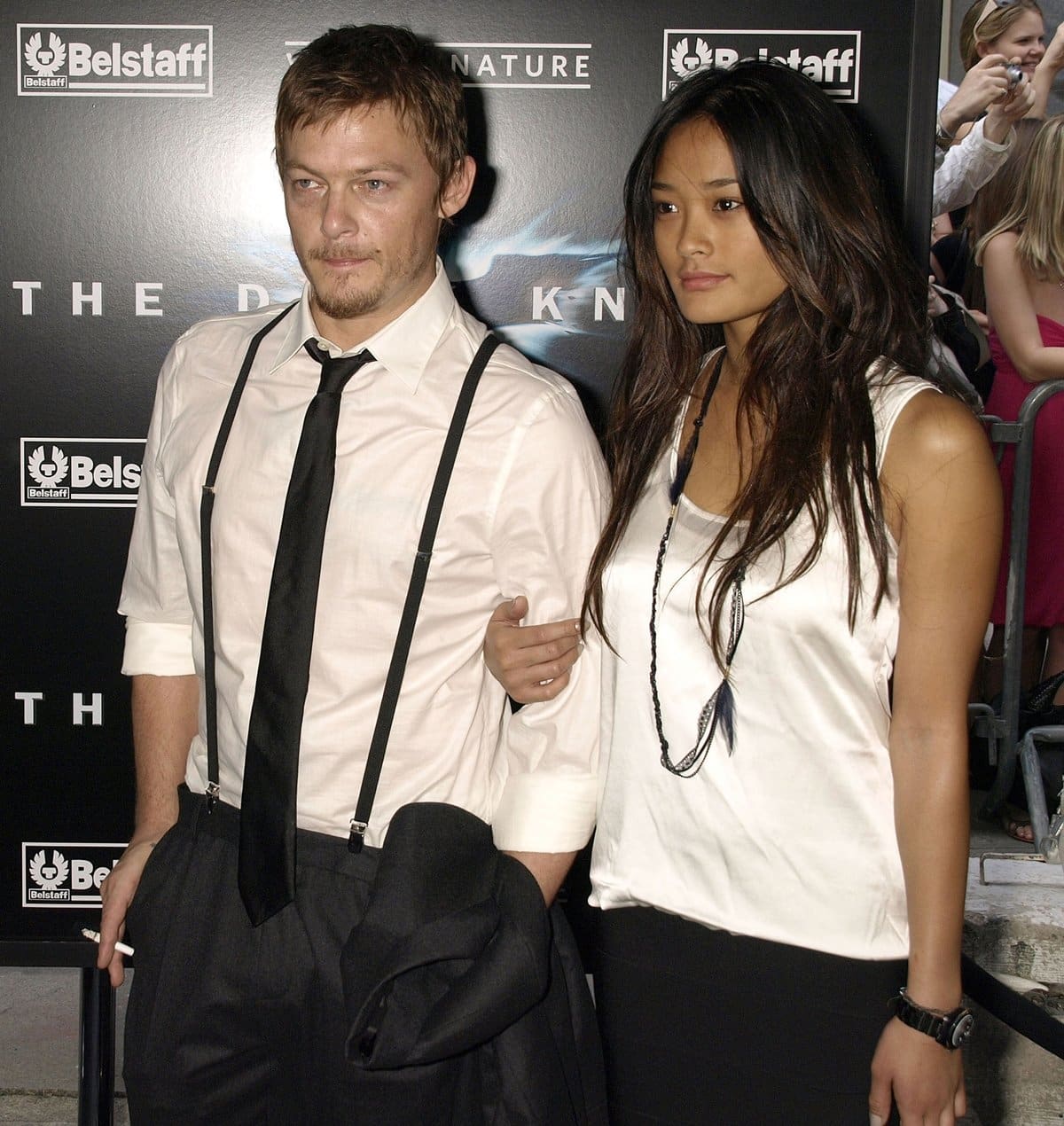 Model Jarah-Evelyn Makalapua Mariano and Norman Reedus dated from April 2008 to 2009 (Credit: Tina Paul / WENN)
Jarah Mariano, an American model known for her appearances in Sports Illustrated Swimsuit Editions and Victoria's Secret dated Reedus in 2008 and 2009. Before meeting Kruger, Reedus dated model Cecilia Singley in 2013.
Both Reedus and Kruger have been in the public eye for decades, dating many notable people before finding one another on the set of "Sky."
Kruger at the 2021 Met Gala and 2021 Cannes Film Festival
Recently, Kruger appeared at the 2021 Met Gala, wearing a beautiful engagement ring from Reedus as she walked the red carpet. Kruger looked stunning in her unique cut-out and high-low neon green dress made by Prabal Gurung.
She paired the dress with beautiful fuchsia satin pumps with crystal embellishment by Jimmy Choo. The shoe is named 'Saeda 100' and it is from Hailey Bieber's recent collaboration with the brand.
Diane Kruger in a Prabal Gurung dress, Jimmy Choo heels, and Tasaki jewelry at the 2021 Met Gala held on September 13, 2021, at the Metropolitan Museum of Art in New York City (Credit: MEGA / WENN)
Kruger's makeup and earrings perfectly complemented the colors of her dress and shoe pairing. The model looked beautiful as always. Kruger partnered with Prabal Gurung for her custom 2018 Met Gala look as well.
Kruger also attended this year's Cannes Film Festival to attend the premiere of "Tout S'est Bien Passe" (Everything Went Fine) on July 7th in France.
Diane Kruger in a bejeweled Armani Prive dress at the 2021 Cannes Film Festival for the premieres of Tout S'est Bien Passe and The Velvet Underground on July 7, 2021 (Credit: MEGA / WENN)
She wore a floor-length black Armani Prive halter neck gown with crystal embellishments and a cut-out. This gown was met with mixed reviews from critics.
Congratulations to Diane Kruger and Norman Reedus on their engagement and soon-to-be marriage. We look forward to following these two actors as their love story continues.
Diane Kruger in a red leather Vanessa Bruno midi skirt paired with a cropped white Carven blouse at The Grove to appear on entertainment news show Extra on March 15, 2013 (Credit: WENN)
In March 2013, Diane Kruger again showed impeccable style as she stepped out to promote her new film, 'The Host', on 'Extra' at The Grove earlier this month.
The German actress looked very edgy in a crisp white cropped top by Carven, which she paired with a red leather skirt by Vanessa Bruno.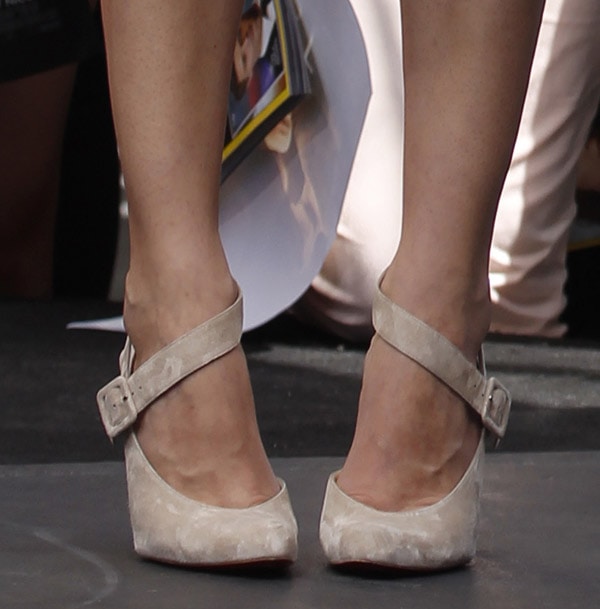 Diane Kruger shows off her feet in gray Christian Louboutin "Miyousra" pumps (Credit: WENN)
Although I would prefer to finish such a look with white heels, her gray Christian Louboutin "Miyousra" pumps complemented her ensemble quite nicely.
Love the look? How about her shoes? Do you think they're a perfect match, or do you have other shoes in mind that would suit her look?
Her heels, which are from Louboutin's Spring 2013 collection, are chic and edgy just like her cropped top. The asymmetrical slingback strap with a buckle closure created that edge I'm talking about.
These shoes are in d'Orsay style — as you can see, the inner sides of this pair are open. Do you find the 'Miyousra' sexy?
Diane Kruger rocks gray high heels from Christian Louboutin's Spring 2013 collection (Credit: WENN)
These Christian Louboutin pumps are no longer available online. You can find the most recent styles from the French shoe designer at Nordstrom, Matches Fashion, Saks Fifth Avenue, and Mytheresa.