After a whirlwind romance, Lena Dunham and Luis Felber tied the knot in September 2021.
The pair was set up on a blind date by mutual friends and spent their first date walking the streets of London while chatting the entire way.
A few months later, they moved in together and tied the knot in an intimate wedding among their closest friends and family.
View this post on Instagram
Felber told The New York Times what married life is like for the loved-up pair: "Every morning is a blessing. And every evening, to be able to go to bed with your best friend and chat – we find it hard to go to sleep at a decent hour. It's rarely eight hours."
What Does Luis Felber Do?
We all know Lena Dunham as a writer, director, actress, producer, and star of HBO's Girls.
But who is her husband?
Luis Felber is a British-Peruvian musician born in Winchester, England, to a Peruvian mother and a British father. After spending his childhood in Peru and Chile, he moved back to Britain at age 7.
He taught himself how to play the guitar by watching MTV as a kid. Felber chose to forgo college and became a musician, playing as a guitarist for different bands and touring around the world. He is currently an independent artist under the name Attawalpa.
Luis Felber penned much of his own music but has also written for other artists. He was also featured on a song in Mick Jagger's 2016 period drama television series Vinyl.
How Did Lena Dunham and Luis Felber Meet?
Felber and Dunham first met on a blind date in January 2021. As Dunham describes, they were introduced through "a series of friends' machinations." They spent their first date strolling through London because so many places were shut down due to Covid-19.
"The first time we hung out, we didn't stop talking for, like, eight hours," Felber told The New York Times about their first date. "I think it was sort of incredible, you know, I walked into that."
Lena Dunham looking fondly at husband Luis Felber at the premiere of her film, Catherine Called Birdy, in London (Credit: PA Images / INSTARimages / Cover Images)
"I'd been on quite a few dates in the past year," Felber shared. "As someone who's quite open, I find you hold a lot back on your first three dates. Or first 10 dates. I was just a bit fed up with that, so I just walked into the situation very myself, shall I say. And Lena liked that. And she's the same."
The Engagement
Felber and Dunham's relationship moved quickly after they connected in January 2021.
After a few months of dating, they moved in together. Felber proposed shortly after when Dunham was admitted to the hospital for health complications. He knew he wanted to marry Dunham when he realized he didn't want her to go through anything like that on her own again.
When Dunham returned home afer her stay in the hospital, Felber popped the question. He presented her with his grandmother's Incan Peruvian ring from the early 1700s. The ring can't be resized, so Dunham wears her engagement ring on her pinky finger. Felber also wears his wedding band on his pinky finger because it fits better and allows him to play guitar more easily.
While on their honeymoon, Dunham gave an interview with Vogue and asked her husband to explain their engagement story.
View this post on Instagram
"Well, you were not feeling well, and I asked to visit you in the hospital, and I stayed longer than I was supposed to stay," Felber recounted. "And I just thought, that left me with a funny feeling seeing you not feeling well. And then the next day, when you got back, we were in bed, and I said, 'I just don't ever want you to go through that on your own again.'"
Felber continued, "And you said, 'Oh, I want to marry you someday.' And I said, 'Why don't we make that someday, soon day?' The next day, I went for a walk with my friend Tom, and he was going on about his life, and I was like, 'I think I proposed to Lena last night.' And when I got home, we made it real."
The Intimate Wedding
The pair was engaged for a month before officially marrying at the Union Club in London. They were surrounded by their family and friends, including Taylor Swift, who was one of Dunham's bridesmaids.
Loved ones from around the world joined in on the ceremony via Zoom because the couple wanted to closely follow the Covid-19 restrictions at the time.
The wedding was intimate, and the day was filled with personal touches such as custom wedding outfits, blue accents, and a small group of their closest friends and family.
Nearly a year after their wedding on September 2021, Dunham and her husband walked the red carpet in London for the premiere of Catherine Called Birdy.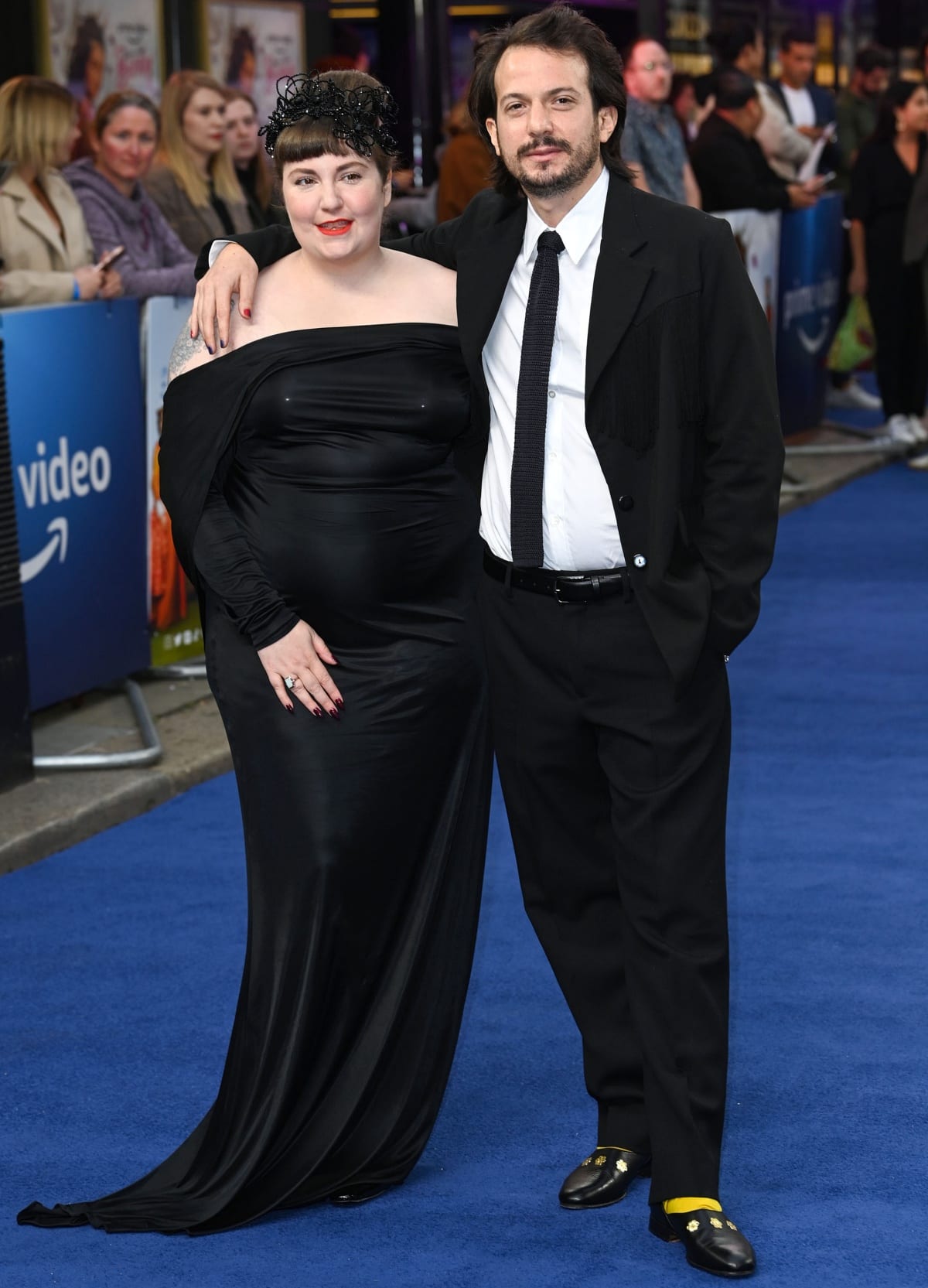 Lena Dunham wearing a custom black strapless gown by Factory New York and Luis Felber in a black suit with a crisp white shirt and a textured necktie at the London premiere of Catherine Called Birdy on September 20, 2022 (Credit: PA Images / INSTARimages / Cover Images)
Dunham directed the film, which stars Game of Thrones actress Bella Ramsey. The comedy film is based on Karen Cushman's 1994 novel of the same name. Set in the 13th century, it follows a young Lady Catherine as she is faced with the prospect of being forced into marriage by her parents.
Luckily, for Lena Dunham, that is not the case. She and her husband, Luis Felber, stumbled upon each other, managed to fall in love, and chose to commit to one another in the most intimate way possible.
Here's hoping that their relationship will last and that they will stay just as in love with each other as they are now.