After showcasing a string of impressive sartorial choices at the Cannes Film Festival in May 2016, The Virgin Suicides actress Kirsten Dunst decided to take a break from all the glamour and dress down for an outing in Los Angeles.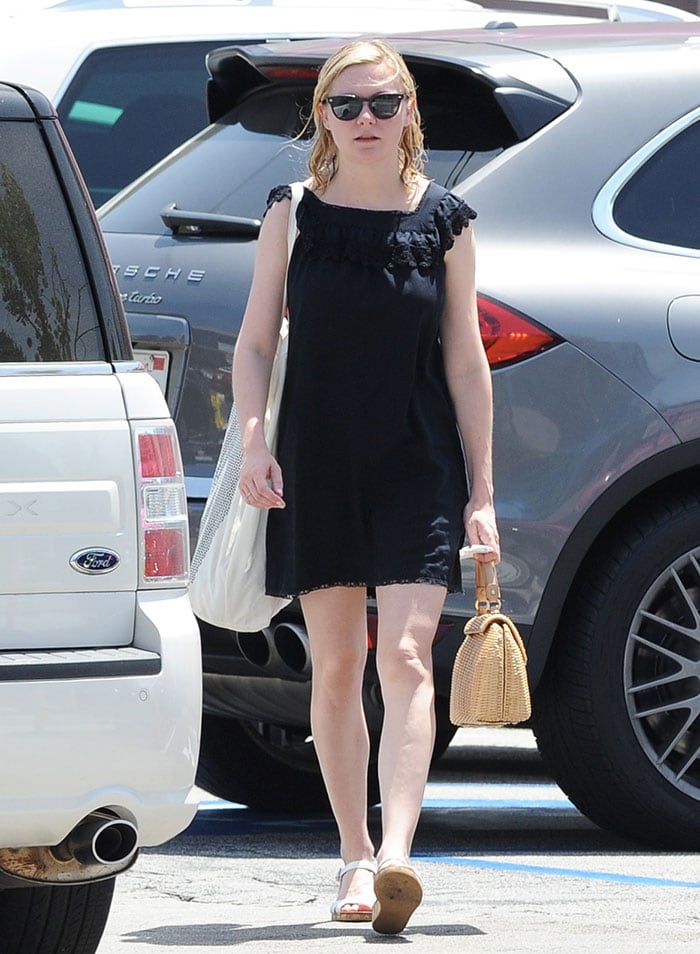 Kirsten Dunst sports damp hair as she runs errands in Burbank on June 3, 2016 (Credit: Cousart / JFXimages / WENN)
17 years earlier, she starred in the Sofia Coppola-directed drama The Virgin Suicides as Lux Lisbon, one of the troubled teenage daughters of Ronald Lisbon (James Woods). It's still considered one of her best movies.
Sofia Coppola and Kirsten Dunst went on to collaborate on The Bling Ring, Marie Antoinette, and The Beguiled.
Kirsten Dunst as Lux Lisbon and Josh Hartnett as Trip Fontaine in the 1999 American psychological drama film The Virgin Suicides (Credit: Paramount Pictures)
"We were in Toronto during preproduction and Kirsten was there shooting some teen comedy, I think. At that point, she'd been doing more broad comedies, but I'd seen Interview With the Vampire, and she stands out," Coppola said about Dunst in an interview with Vogue.
"What I love about her is that she looks like this all-American blonde cheerleader but has this depth behind her eyes that contrasts her look. I just clicked with her right away. She just totally gets me and got how I wanted to do it. Back then, she was just a kid, but it was the beginning of our friendship."
Kirsten Dunst's Age in The Virgin Suicides
The film premiered on May 19, 1999, at the 1999 Cannes Film Festival. Dunst was 17 years old at the time, having celebrated her 17th birthday on April 30, 1999. The movie was filmed in Toronto, Ontario, during the summer of 1998 when she was 16.
Kirsten Dunst was 16 years old when filming The Virgin Suicides (Credit: Paramount Pictures)
"When I read the script, I was a little bit nervous because I was making out with all these guys in the script, and I just was overwhelmed and kind of a young 16-year-old," Dunst told People.
"But when I met Sofia, I felt at ease, and I knew that this would be something special."
"The lights in the house would go off, and then I'd have to run out," Dunst said about a romantic scene in the movie involving a kiss with Josh Hartnett as Trip Fontaine.
"It was such a long-winded thing to get in the car, jump on Josh, his wig would fall off… Then I bit him once, I remember. It was just a mess."
"To be part of a movie that would be my favorite movie during that age," Dunst concluded. "You couldn't ask for more."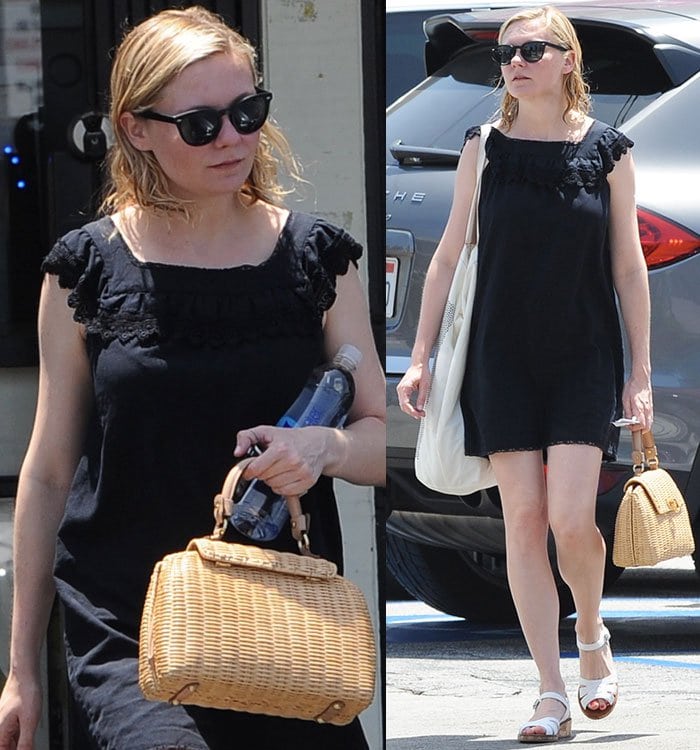 Kirsten Dunst wears a black mini dress and carries a wicker Salvatore Ferragamo bag while out in Burbank (Credit: Cousart / JFXimages / WENN)
The then-34-year-old actress looked fresh while running errands in Burbank. She skipped the makeup and simply let her wet blonde locks air-dry naturally.
Kirsten donned a black mini dress with lace details on the sleeves and thigh-grazing hem.
She accessorized with only a canvas tote worn over her shoulder, a Salvatore Ferragamo wicker bag, and a pair of sunglasses, keeping things low-key.
Kirsten rounded out her chic daytime ensemble with a pair of white sandals by Chanel. They have logo-detailed strappy vamps, peep toes, adjustable ankle straps, about half-inch platforms, and 2.5-inch cork wedge heels.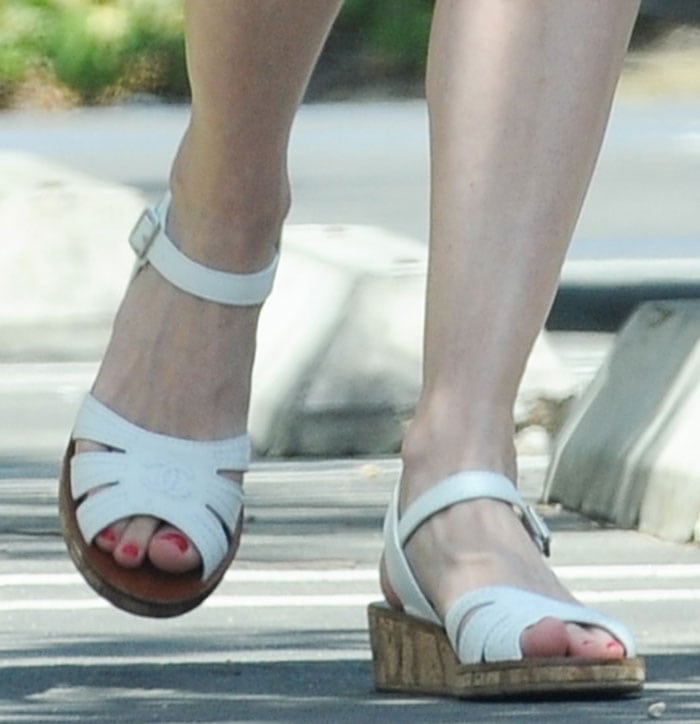 Kirsten Dunst's feet in white Chanel wedge sandals (Credit: Cousart / JFXimages / WENN)