Handbags are the perfect way to add a touch of your personality to any outfit. They can take a classic little black dress and give them a quirky twist.
Brands like Consuela blend classic silhouettes with unexpected prints and bold patterns that will inspire you to try something new.
Consuela is an American accessories brand that sits at a mid-tier price point, with most of its classic bags retailing for under $300. It's a favorite brand amongst fans of novelty fashion, whether you're loyal to Kate Spade or Dooney & Bourke.
Consuela blends classic silhouettes with bold prints and patterns (Credit: ConsuelaStyle)
We're sharing everything you need to know about Consuela bags, the most popular styles, and where to buy your next Consuela bag.
What is Consuela?
Consuela's official website says that its mission "isn't about selling handbags, it's about manifesting a feeling, an experience, and a community." Their quirky handbags are designed to help you live your dream life.

Consuela not only offers bags made by Mexican artisans but also sells quirky accessories and drinkware (Credit: ConsuelaStyle)
While Consuela is known for its handbags, the brand also sells accessories and drinkware. Their bags are made in Mexico by talented artisans who are supported by Consuela to grow their communities.
The brand is famous for its "It's Not About the Bag" program that supports artists and communities while providing financial and operational education.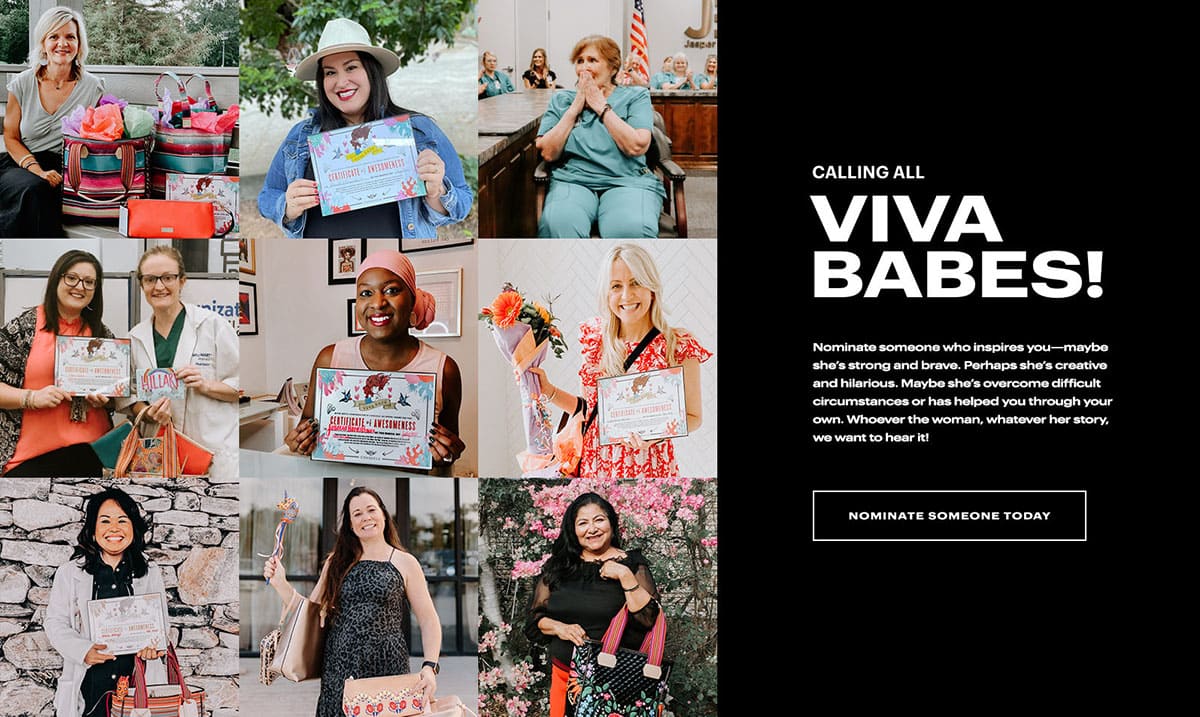 Consuela celebrates women who are making a positive impact in the world by gifting them bags through its It's Not About The Bag program (Credit: ConsuelaStyle)
What Does "Consuela" Mean?
Consuela is a Mexican baby name meaning 'Consolation.' The name choice feeds into Consuela's mission to find joy in every aspect of life.
The brand's designs lean heavily into the experiences we go through in life, with stories told through intricate patterns and purposefully mismatched prints.
The Most Popular Consuela Bags
Consuela offers dozens of handbag styles. It can feel a little overwhelming to explore the brand's archives. We're sharing the most popular Consuela bags to help you find the right one for you.
1. Sophie Sling, $245
The sling bag is Consuela's most recognizable silhouette. It's intentionally designed with versatility in mind, allowing you to wear it three ways.
You can keep your essentials organized with interior pockets and a key lanyard to help you travel hands-free.
Designed for versatility, the Sophie Sling is a bucket bag that can be worn as a crossbody, over the shoulder, or by its leather handles
2. Tommy Downtown Crossbody, $165
One of Consuela's most popular styles is the downtown crossbody. The Tommy is a sleek crossbody that will take you effortlessly from day to night with its adjustable strap and interior pockets. The metallic interior design will spark joy every time you open the bag.
The Tommy Downtown is a sleek crossbody bag with a roomy interior, two interior pockets, and an adjustable strap
3. Rosita Uptown Crossbody, $155
Embrace your feminine side with the Rosita, part of Consuela's 'Uptown Crossbody' collection. It's a classic 'wallet on chain' style and one of the most versatile in Consuela's best-selling range.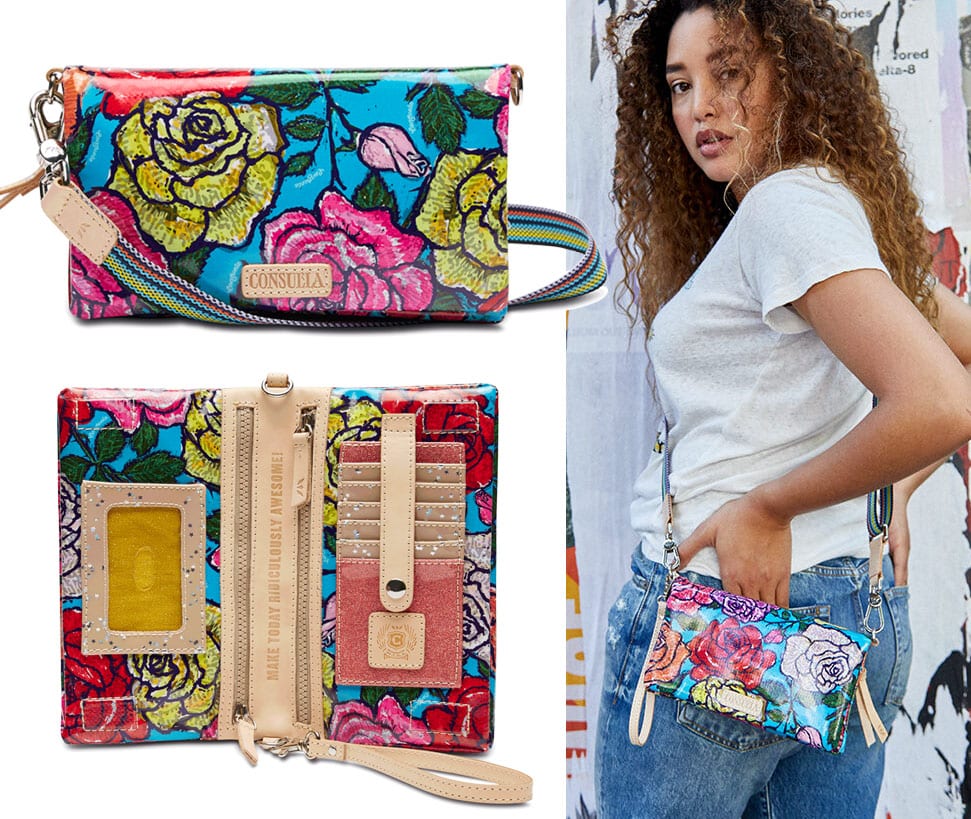 Like a wallet-on-chain, the Rosita Uptown Crossbody has three zipper compartments, six card holder slots, and a wristlet strap
4. Kat Classic Tote, $245
Every handbag collection needs a tote that can do it all. The Kat is a classic tote that will take you from the office to your next travel adventure.
The contrasting interior and animal print side panels make this bag a conversation starter.
A Consuela classic, the Kat tote has a spacious interior and contrasting interior and animal side panels
5. Evadney Weekender, $425
Consuela is also popular for its travel bags. The Evadney Weekender is the perfect carry-on for your next vacation. It's the largest duffel bag in Consuela's range and is TSA carry-on compatible.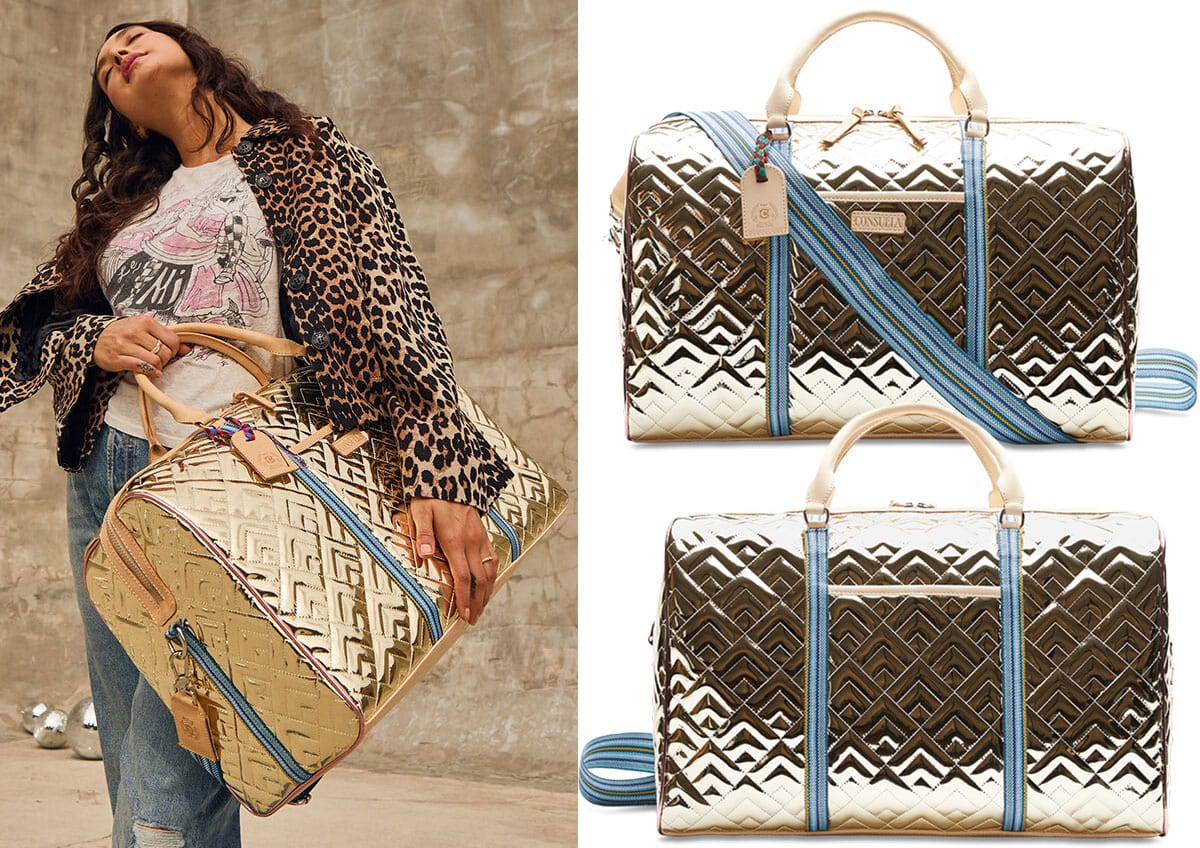 Consuela's largest duffel bag, the Evadney Weekender is roomy enough for more than just your essentials
Meet the Designer Behind Consuela
Consuela was founded by Conni Reed, a Texas-based artist whose love for bold prints and vivid colors is part of the brand's DNA. Her design philosophy is 'The Art of the Unmatched' with a focus on the unexpected.
This philosophy underpins every collection with mismatched patterns, purposefully chosen to reflect different aspects of our lives and histories.
Where Are Consuela Bags Made?
Consuela bags are made in Mexican-owned factories by Consuela's artists and their communities. The brand's team is located throughout the United States and Mexico.
Consuela has been collaborating with factories, communities, and artisans for over 15 years, enabling their partners to thrive and earn a stable income.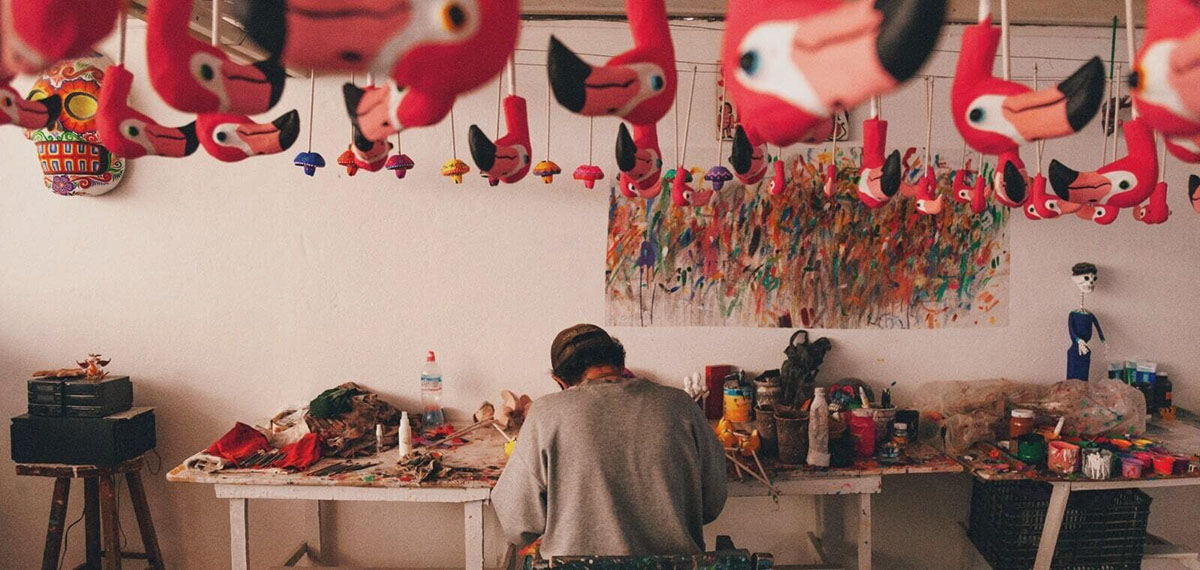 Consuela bags are made by artisans in Mexico (Credit: ConsuelaStyle)
What Are Consuela Bags Made Of?
Most Consuela bags are made using the brand's ConsuelaCloth fabric. This fabric was developed in 2013 and is inspired by traditional Mexican oilcloth.
It's a durable and vibrant material designed to last for years, allowing you to enjoy your bag for years to come.
Consuela uses its own ConsuelaCloth fabric, which allows bright and vibrant colors to shine through (Credit: ConsuelaStyle)
The ConsuelaCloth fabric allows bright and vibrant colors to shine through while being durable and flexible enough to create contemporary silhouettes. Consuela describes its innovative fabric as "a labor of love."
You can care for ConsuelaCloth by wiping your bag with a damp cloth or disinfecting wipe before cleaning with a paper towel.
Where is Consuela Located?
Consuela is an American brand that makes its bags in Mexican-owned factories. You can visit the flagship Consuela stores in Austin and Smithville or shop the collection online.
Consuela is an American brand that makes its bags in Mexican-owned factories (Credit: ConsuelaStyle)
How Much Are Consuela Bags?
Consuela is a mid-tier contemporary accessories brand with handbags that range from $30 for mini bags to $425 for weekender duffle bags.
This varied price range means that Consuela has something to offer everyone. You'll typically pay around $300 for Consuela's best-selling bags.
Consuela is a mid-tier contemporary accessories brand, with handbags ranging from $30 to $425
Where to Buy Consuela Bags
Are you looking to buy a Consuela bag? We're sharing where you can buy the latest Consuela bags – and even save money off your purchase!
You can explore the full Consuela range at the brand's official website. It's the best place to go for more information about the brand and to keep up to date with new releases.
You can save 15% off your first order when you sign up for the Consuela newsletter. Consuela also offers free shipping on orders over $99 and free returns. Referring a friend to Consuela will earn you an extra gift.
Sue Patrick is an independent boutique in Austin that offers the largest range of Consuela bags outside of the brand's official website and stores.
You'll also find Consuela's other accessories and glassware available from this online boutique.
Similar Brands to Consuela
If you're a fan of whimsical brands like Elizabeth Scarlett, Cath Kidston, and Kate Spade, you'll be right at home with Consuela. The American brand is similar to other beloved accessories brands, including Vendula London and Lulu Guinness.
Elizabeth Scarlett Tiger Day Bag, Cath Kidston GBBO Showstopper Ditsy Small Bookbag, Kate Spade All Day Bouquet Toss Large Tote
Consuela is a budget-friendly contemporary brand with innovative fabric and love for unexpected patterns. A Consuela bag is a statement piece you'll wear from one season to the next.