Elle Macpherson, whose impressive height measures 6′ 0″ (183 cm), holds the record for the most Sports Illustrated Swimsuit Issue covers — five if you were wondering — which earned her the nickname, "The Body."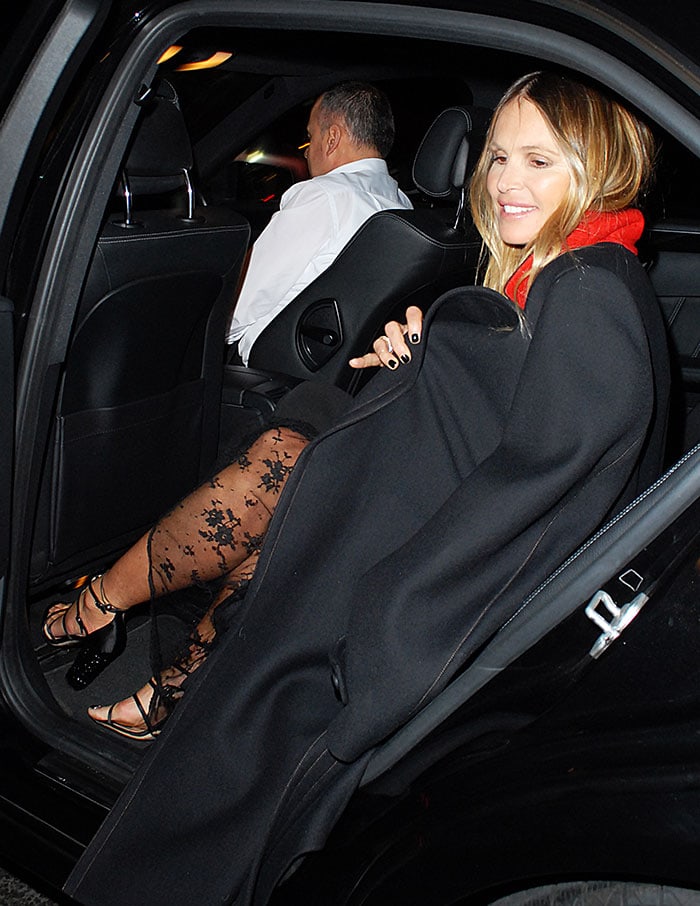 Elle Macpherson arrives at the BFC/Vogue Designer Fashion Fund Cocktail Reception held on March 22, 2016, at the Bulgari Hotel London (Credit: WENN)
"I realized early on that I was never going to have the waif-thin fashion body," she told Vogue Australia about her height in July 2019.
"I was six-foot-tall, 36 hips, 36 bust, and broad shoulders from swimming all my life. I just needed to embrace my uniqueness."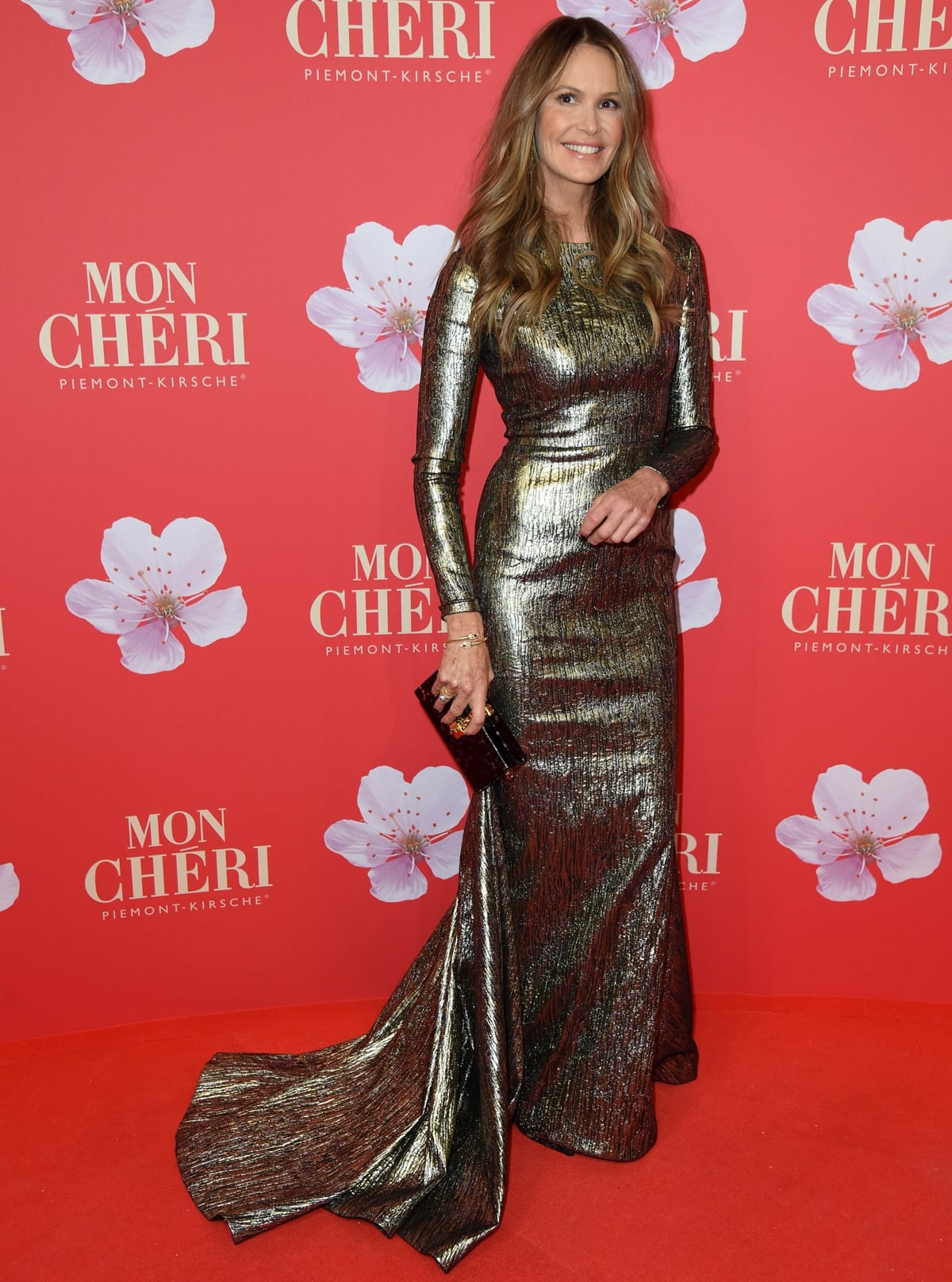 6′ 0″ (183 cm) Elle Macpherson shows off her statuesque height in a metallic dress at the gala of the Mon Cheri Barbara Day in München, Germany, on December 4, 2018 (Credit: P.Hoffmann / WENN)
"I'd never even taken an airplane before. I had a few hundred dollars in my pocket, no return ticket, and a sort of naivety," she added about becoming a model.
"There are many professions that have a body type that works best for them. For example, if you're a jockey there is no point in being 6′ 3″ and trying to ride a fast racehorse; it doesn't really work," she explained in July 2012 on the British daytime TV show This Morning.
"I don't think that there's discrimination against tall jockeys it's just that is not the best body type for that particular job," she added about the benefits of being tall.
Elle Macpherson says tall body types are more successful in fashion because they work better with clothes (Credit: POP / WENN)
"In fashion, there is a body type that works better with clothes; clothes hang better and look better on a certain body type. Having said that I'm six foot. I'm not super skinny – there have been many girls who are fit and strong and have been very successful. Or there are girls like Kate Moss who are very slender, she's tiny. So the fashion industry really is growing, there are lots of different types of beauty."
"There's the typical things, tall, broad shoulders, long legs," she said. Most models are taller than average because clothes look better on taller people.
"For me, there's got to be something that when she walks into the room that means I want to know more about her. Who is that girl? She has an aura about her, there's something going on inside her that interests me."
Elle Macpherson wears a one-shouldered gown as she arrives at a London hotel (Credit: WENN)
In March 2016, the then 52-year-old model proved she still has it by showing off her statuesque figure in a black dress at the British Fashion Council/Vogue Designer Fashion Fund cocktail held at Bulgari Hotel London.
The Australian model was chic in an asymmetric one-shoulder gown, which featured a sheer lace panel on one side that subtly showed off her endless legs.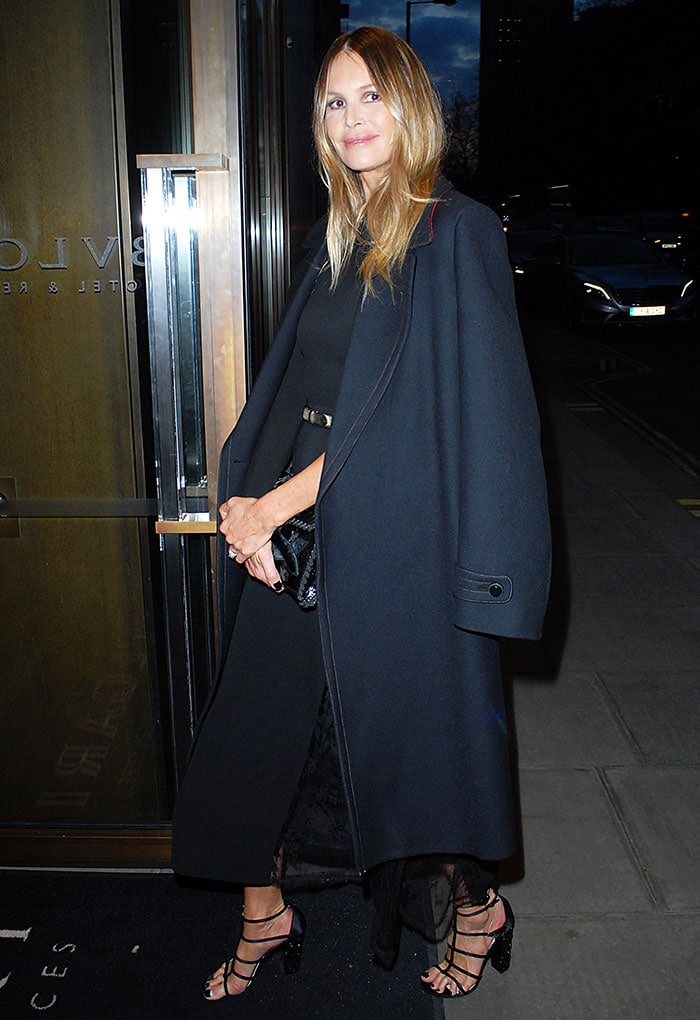 Elle Macpherson tops her dress with a long black coat (Credit: WENN)
She added a gold belt to the look for a more defined waist and boosted her height with a pair of strappy heels.
Elle draped a black coat over her shoulders on her way to the event.
Elle Macpherson at the BFC Vogue Designer Fashion Fund Cocktail Reception at the Bulgari Hotel London on March 22, 2016 (Credit: WENN)
She glammed up the look further with a gold bracelet, a couple of rings, and a black clutch.
To complete the look, she let her golden tresses fall loosely over her shoulders in tousled waves, framing her softly made-up face.
Elle Macpherson's feet in strappy Paul Andrew sandals (Credit: WENN)
Elle picked the "Oralie" sandals by Paul Andrew for her big feet. They feature delicate caged straps, double adjustable ankle straps, and 4.25-inch textured lacquered block heels.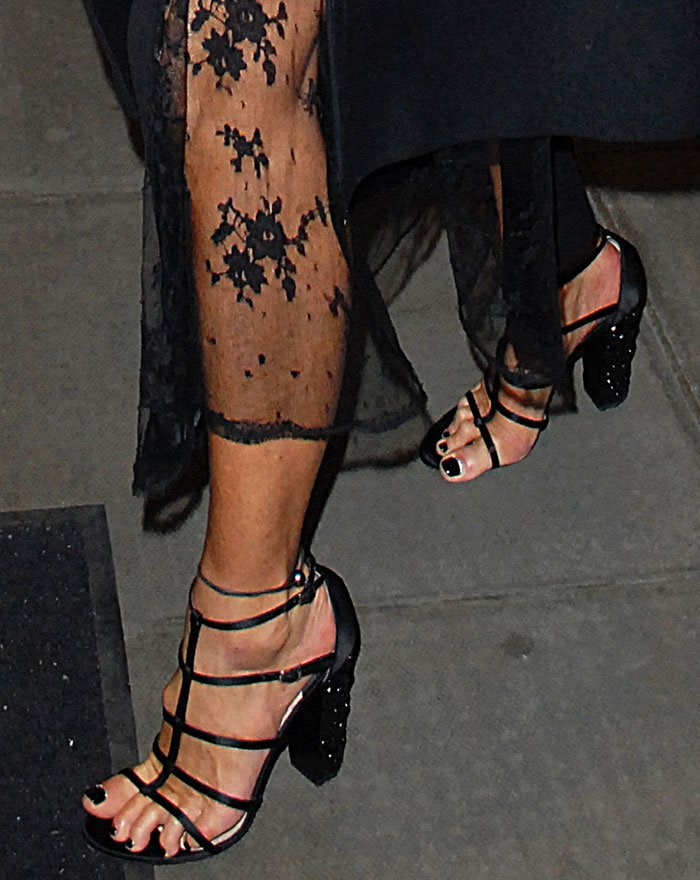 Elle Macpherson's feet in black "Oralie" sandals (Credit: WENN)
These Paul Andrew sandals are available in black, blush, and purple colors at Farfetch and Shopbop.
Paul Andrew "Oralie" Sandals, $895