Hollywood is known for its short-lived marriages and messy divorces. However, there are other celebrity couples that have beaten the odds and have remained together for decades. They got married at the Plaza Hotel in New York on November 18, 2000.
One of the few Hollywood power couples who managed to stay in love after many years is Catherine Zeta-Jones and Michael Douglas.
On Sunday, Catherine attended the 2020 SAG awards to support her husband, who received a nomination for his comedy series, The Kominsky Method.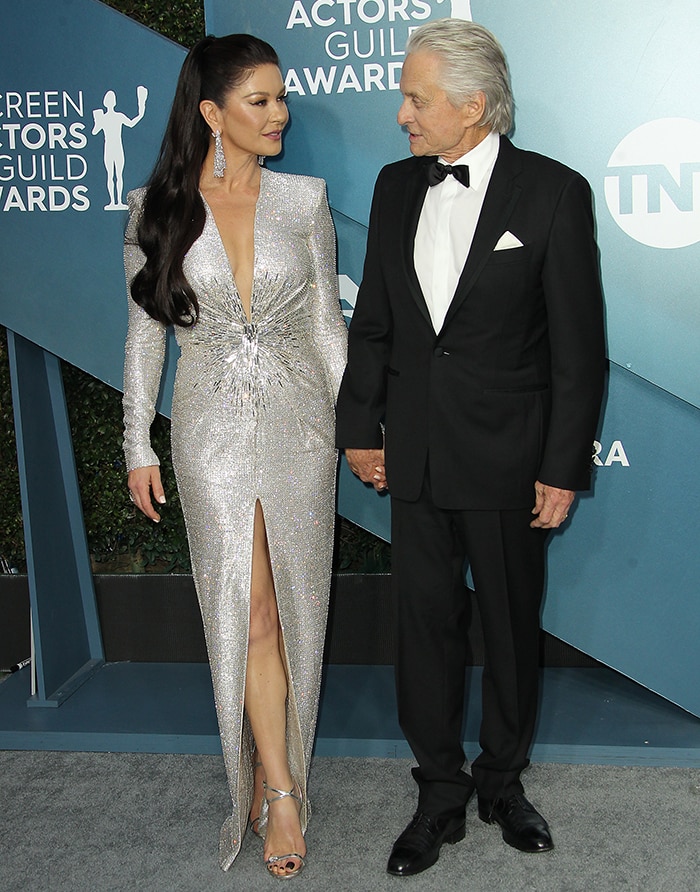 Catherine Zeta-Jones and Michael Douglas at the 26th Screen Actors Guild Awards on January 19, 2020
The 50-year-old actress dazzled in a silver metallic dress from Julien Macdonald's Spring/Summer 2020 collection.
She showed off her figure in the lamé gown that's heavily embellished with Swarovski crystals. It also features a center thigh-high split and a deep plunging V-neckline that stops right above the navel.
Catherine Zeta-Jones dazzles in Swarovski-embellished Julien Macdonald gown
Catherine, who has an enormous collection of shoes, looked youthful with her shiny raven hair worn in a half-up, half-down style, cascading in beautiful waves over her shoulder, courtesy of hairstylist Chad Wood.
Makeup artist Vincent Oquendo used Maybelline makeup to further beautify the actress. She wore winged eyeliner, mauve lip shade with a hint of gloss, nude eyeshadow, and matching blush.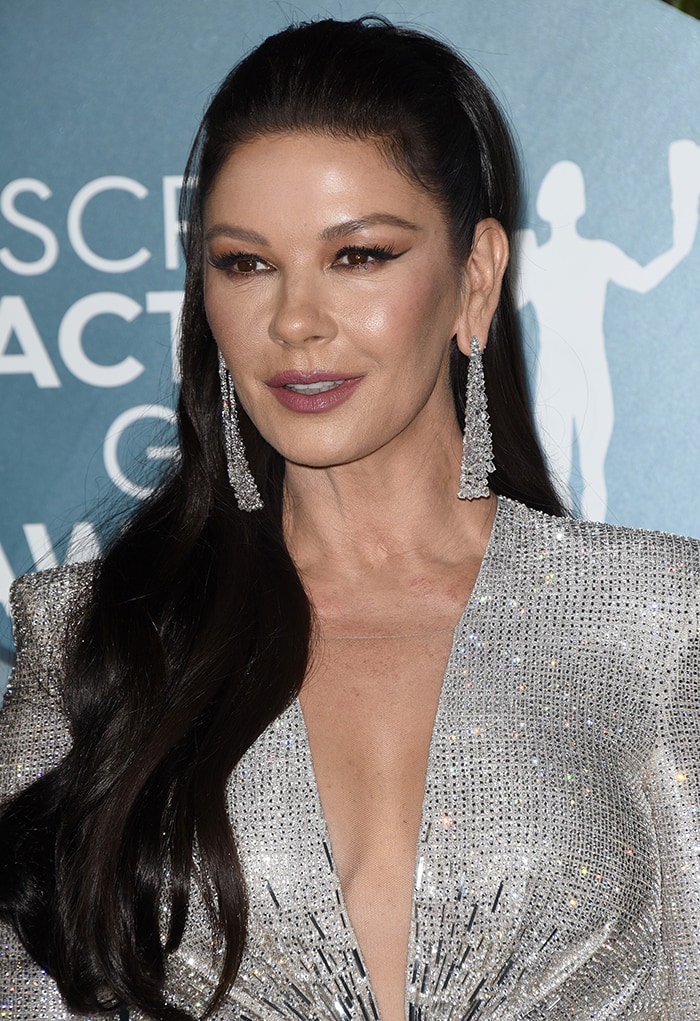 Catherine Zeta-Jones wears half-up wavy hairstyle with winged eyeliner and mauve lip shade
Stylist Kelly Johnson added an extra dose of sparkle to Catherine's look with Lorraine Schwartz jewelry. She accessorized with a pair of dangling diamond earrings and two diamond rings.
For her feet, she wore a pair of Giuseppe Zanotti metallic silver sandals. They feature crisscross ankle straps and two crystal studs at the toe straps.
Catherine Zeta-Jones shows off her sexy feet in Giuseppe Zanotti sandals
Hollywood's iconic power couple
Michael Douglas and Catherine Zeta-Jones are undeniably one of Hollywood's most iconic power couples.
Michael Douglas is the first child of actors Kirk Douglas and Diana Dill. He had his first TV breakthrough role in 1969 in the CBS TV Playhouse special, The Experiment. His film career started in the late 1960s, and his performance in Hail, Hero! earned him a Golden Globe nomination for Most Promising Male Newcomer.
Kirk Douglas and Michael Douglas on American Film Institute (AFI) Salute to Kirk Douglas (CBS) aired on April 23, 1991
Since then, his career took off. He starred in a number of TV shows and movies and also produced films, including One Flew Over the Cuckoo's Nest, which won him an Academy Award for Best Picture in 1975. He also starred in hit movies such as Fatal Attraction, Basic Instinct, Disclosure, and Wall Street for which he won an Oscar for Best Actor.
His role in the 2013 movie Behind the Candelabra received critical acclaim and earned him SAG, Emmy, and Golden Globe awards. His most recent movies include Ant-Man and Avengers: Endgame.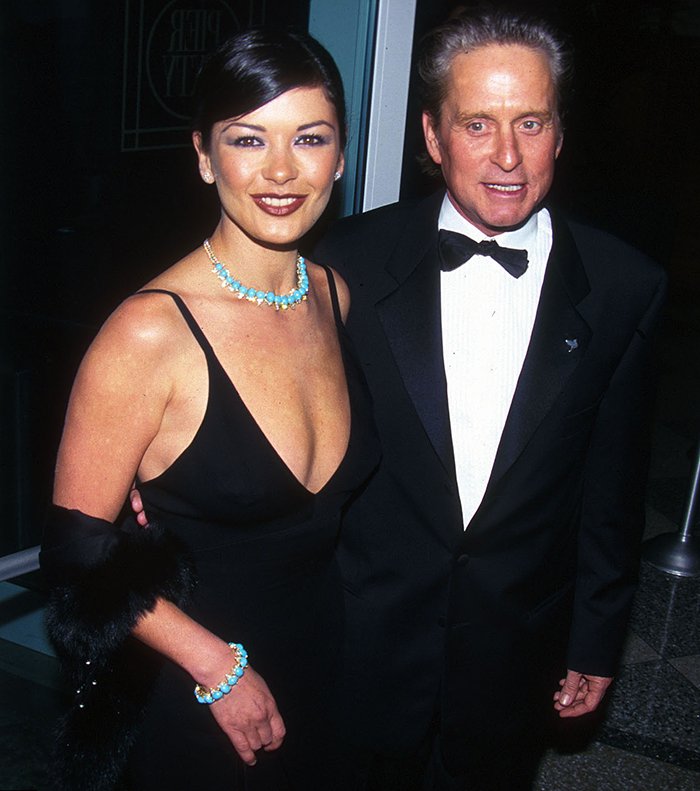 Catherine Zeta-Jones and Michael Douglas at the amfAR Seasons of Hope gala in New York City on November 30, 1999
Welsh actress Catherine Zeta-Jones has established herself in Hollywood with roles in The Mask of Zorro, Entrapment, Traffic, and Chicago for which she won Oscar and BAFTA awards for Best Supporting Actress.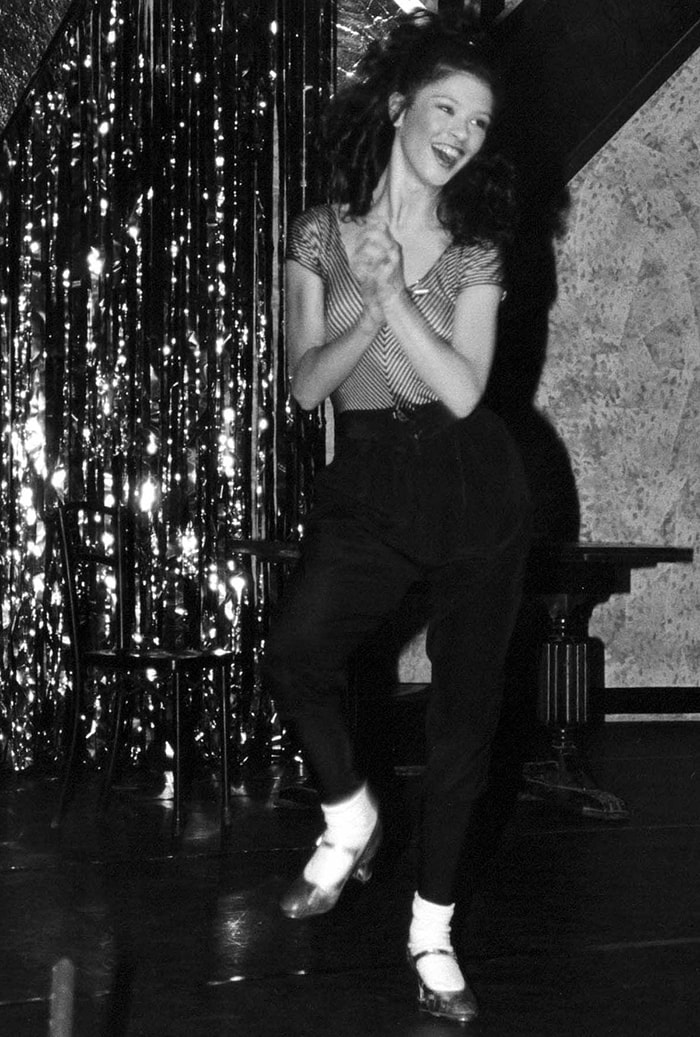 Catherine Zeta-Jones on stage in 1990 before she became famous
She also starred in high-profile movies, such as Intolerable Cruelty, Ocean's Twelve, The Terminal, and No Reservations.
Catherine Zeta-Jones at The Legend Of Zorro Los Angeles Premiere on October 16, 2005
How did Catherine Zeta-Jones and Michael Douglas meet?
In a 2001 interview with CNN's Larry King, Catherine said that they met during the Deauville Film Festival in 1996, just a year after Michael's separation from his first wife Diandra Luker.
Michael was promoting A Perfect Murder, while Catherine was promoting The Mask of Zorro. "I had been told Michael Douglas wanted to meet me. I was a little nervous because I didn't quite know what he wanted to meet about." She said she saw him in the lobby of the hotel but he just walked right past her.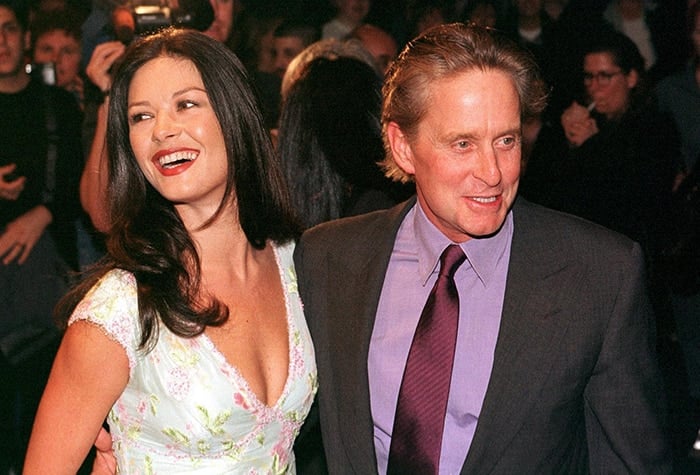 Catherine Zeta-Jones and Michael Douglas at the Double Jeopardy New York premiere on September 23, 1999
Later that evening, their mutual friends Antonio Banderas and Melanie Griffith introduced them. "[Michael] asked very gentlemanly if he could sit next to me at a very long table at the dinner for the Zorro premiere," Catherine recalled.
In a 2016 interview on The Jonathan Ross Show, Michael admitted that he almost blew his chance with Catherine because of a pick-up line. "I said to her after about half an hour, 'You know, I'm going to be the father of your children.' It sounded good, and she said, 'You know, I've heard a lot about you and I've seen a lot about you, and I think it's time I say goodnight.'"
"[I] got her some flowers and an apology—anyway, so I guess it worked out OK," he continued.
Michael and Catherine share the same birthday, September 25. He is 25 years her senior, but age doesn't matter for the power couple.
Michael and Catherine survived difficult times
They have been married for 20 years now, and just like other marriages, the ride hasn't been smooth for the two. Catherine and Michael have also endured hardships in their relationship.
In 2010, Michael Douglas was diagnosed with throat cancer. After weeks of chemotherapy and radiation treatment, Michael was tumor-free but not completely cured.
Michael Douglas outside the Late Show with David Letterman to promote Wall Street: Money Never Sleeps on August 31, 2010, weeks after being diagnosed with throat cancer
Michael's illness took a toll on Catherine. After his treatment, Catherine checked herself into a mental facility to receive treatment for bipolar II disorder. "When you get sideswiped like that [by Michael's illness], it's an obvious trigger for your balance to be a little off—not sleeping, worry, stress," she said in 2013.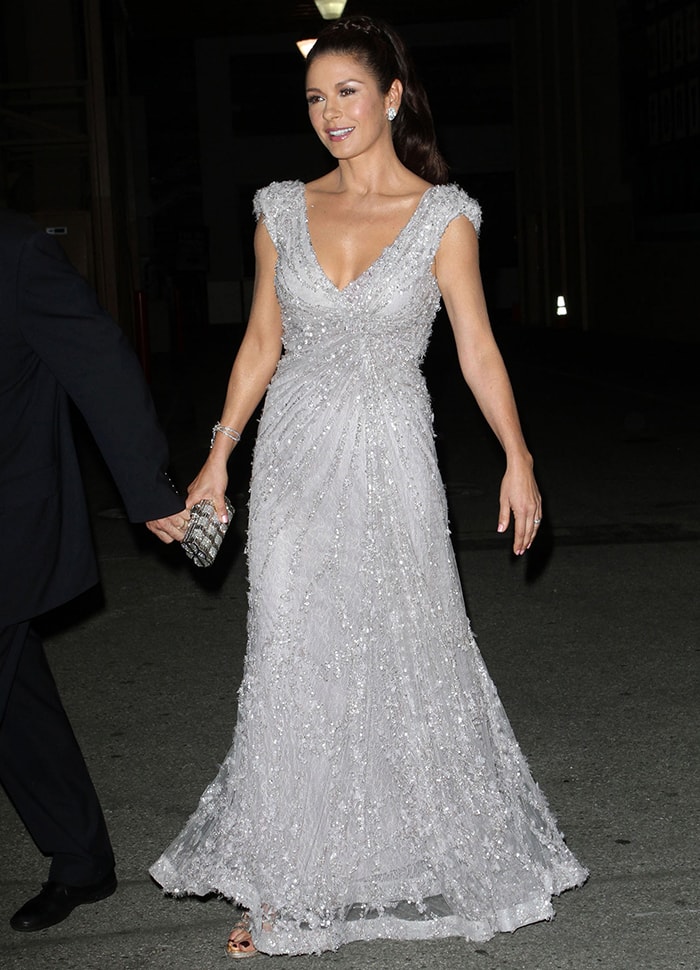 Catherine Zeta-Jones at the 6th Annual A Fine Romance Event on October 15, 2011
In October 2013, Michael admitted that he never had throat cancer. He was actually diagnosed with tongue cancer and he hid the diagnosis to protect his career.
"The surgeon said, 'Let's just say it's throat cancer,'" he told Samuel L Jackson for a segment on This Morning's Male Cancer Awareness Week. He added: "You can't cancel a worldwide European tour, junket thing and say I don't feel well … what's the problem?"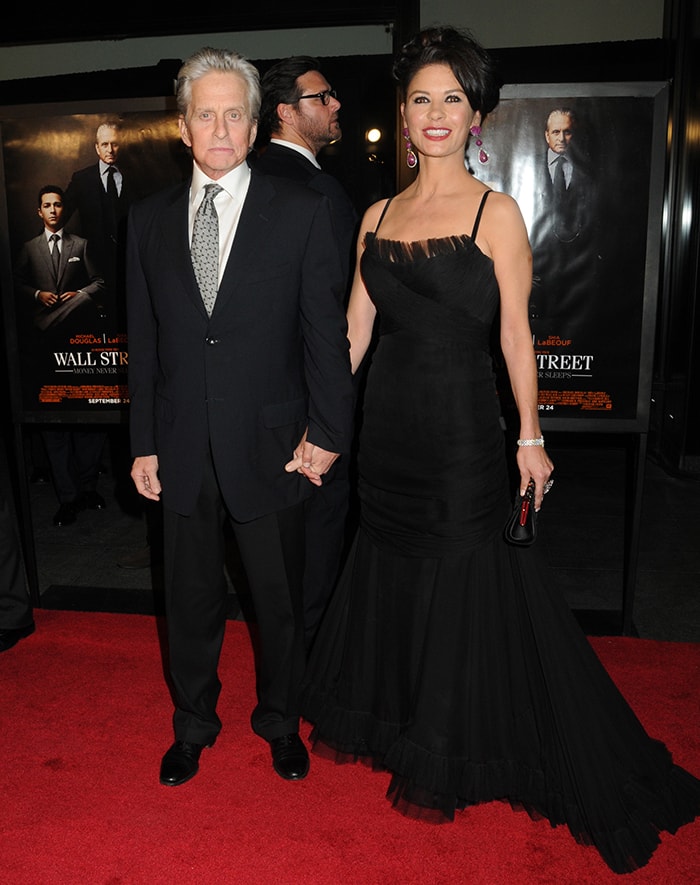 Michael Douglas and Catherine Zeta-Jones at Wall Street: Money Never Sleeps New York premiere on September 20, 2010
In 2013, Catherine again received help to control her bipolar disorder. Three months later, in August 2013, a rep for Catherine told CNN that Catherine and Michael are taking a break from their relationship. "Catherine and Michael are taking some time apart to evaluate and work on their marriage."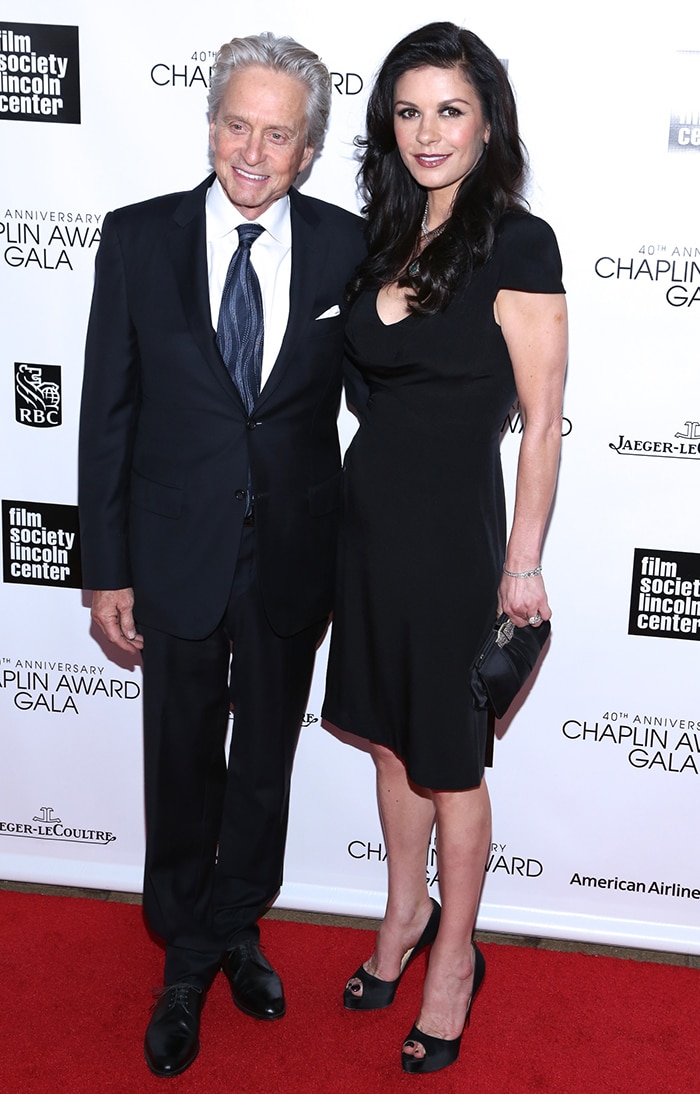 Michael Douglas and Catherine-Zeta Jones at the 40th Annual Chaplin Award Gala on April 22, 2013
They reconciled after a few months, and in a 2015 interview on The Ellen DeGeneres Show, Michael said that reconciliation only works "if both of you are willing to do it. It can't be a one-way street. I'm crazy about her… I think every couple has their difficult times."
He added: "The only problem is, as you well know, we're all in the public eye and it tends to get a little more exposed than most. But we're back, stronger than ever."
Credit: Andres Otero / Sidewalk / Dimitri Halkidis / Anthony Dixon / FayesVision / 
Adriana M. Barraza / Nicky Nelson / WENN