Before her relationships with Joshua Jackson and Norman Reedus, Diane Kruger was married to French actor and director Guillaume Canet. They started dating in 1999 and married on September 1, 2001.
Diane Krueger and with her first husband Guillaume Canet at the 6th annual Cinema For Peace charity gala at the Konzerthaus am Gendarmenmarkt in Berlin, Germany, on February 12, 2007
Five years later, in January 2006, they filed for divorce. She discussed her relationship with the French actor/director in an April 2007 interview with The Sydney Morning Herald.
"He's a great actor and a fabulous director and I admire him immensely. I owe him so much. It's actually because of him that I am considered a character actress in France because he cast me in his first film, Mon Idole, and that was my first role there."
Diane Kruger and her husband Guillaume Canet at the "Merry Christmas" Premiere in The Comic Opera in Berlin on November 23, 2005
"Getting divorced last year was a big thing for me. You know, I was responsible for someone else's feelings. It had been very difficult trying to make the marriage work as I was never around. Ever since we cleared up that situation and have managed to stay friends I feel much more assured. It's good that I'm only responsible for myself. I cannot bring someone else down with me, make someone else unhappy. It's sad, but it's timing, I guess."
Diane Kruger at the Sky premiere held during the 2015 Toronto Film Festival in Toronto on September 16, 2015
In September 2015, Diane Kruger shimmered on the red carpet at the "Sky" premiere held during the 2015 Toronto Film Festival in Toronto, Canada. She later met up with her co-stars Norman Reedus and Q'orianka Kilcher at an after-party.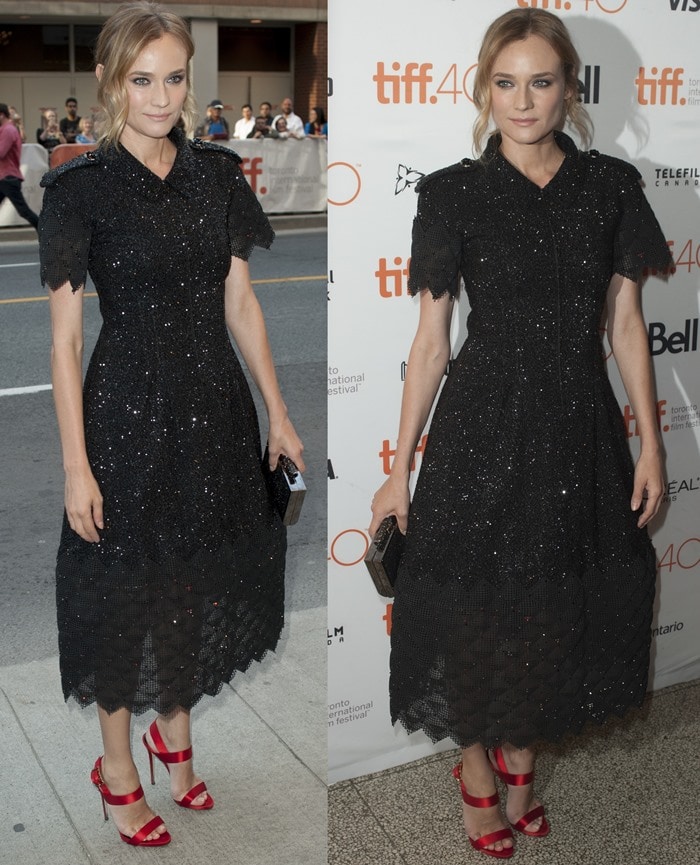 Diane Kruger looked stunning in a rhinestone embroidered Chanel dress
The then 39-year-old German actress wore a rhinestone embroidered dress from the Chanel Fall 2015 Couture collection and carried a Monique Lhuillier "Sophia" clutch featuring a square metal frame with a stingray body and an open cage accent on top.
Her gorgeous look was completed with a pair of red satin Giuseppe Zanotti sandals.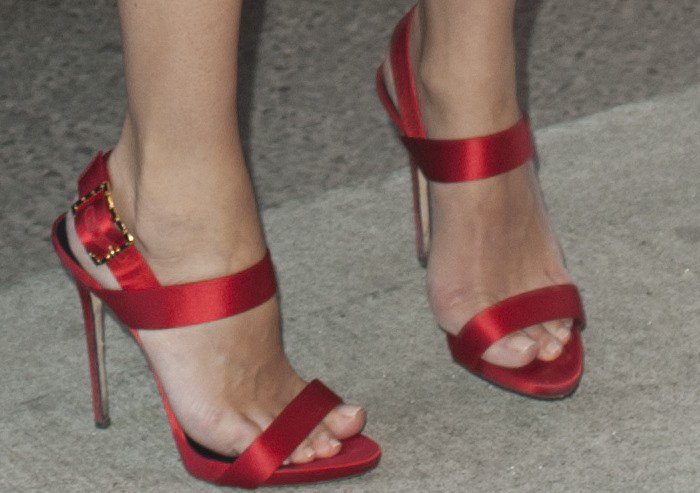 Diane Kruger's sexy feet in red satin Giuseppe Zanotti sandals
You can find Diane's satin Giuseppe Zanotti sandals in black at Shopbop. They feature sparkling, crystal-trimmed buckles, covered platforms, and stiletto heels.
Giuseppe Zanotti Satin Sandals with Jeweled Buckle, $765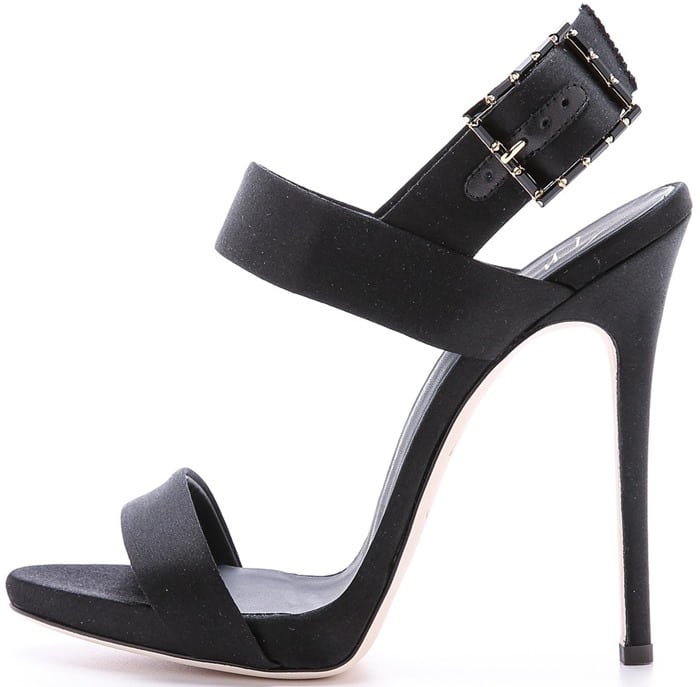 Credit: WENN / Stefan Krempl