Bill Hader, 44, and Anna Kendrick, 37, were first publicly linked in January 2022 but have reportedly called it quits after dating for just half a year.
According to some sources, they started dating almost a year before their relationship was made public. An insider shared details with People about their very private relationship.
The Pair Met Years Ago
"Anna has been dating Bill quietly for over a year," the source told the gossip magazine. "They met years ago. She's hosted Saturday Night Live, and they've done a movie together, but they got together well after the movie."
The Pitch Perfect star hosted SNL in 2014, a year after Hader left the cast in 2013. The pair starred as brother and sister in Noelle in 2019.
Bill Hader as Nick Kringle and Anna Kendrick as Noelle Kringle in the 2019 American Christmas fantasy comedy film Noelle (Credit: Disney+)
The source continued, "They are both very private people, and with the pandemic it was easy to keep it quiet. They're both hysterical so they must keep each other laughing all of the time. She's really, really happy."
Another source added details in an interview with Us Weekly, "They dig each other's sense of humor. [They're] flying under the radar and enjoying the simple things — as opposed to [doing] anything too flashy."
Why The Pair Kept Their Relationship Private
The stars clearly kept their relationship private for quite some time for the sake of Hader's daughters.
The Saturday Night Live alum was married to Maggie Carey from 2006 to 2018. They share daughters Hannah, 12, Harper, 9, and Hayley, 7.
Bill Hader and Maggie Carey met through a mutual friend, married in 2006, and had three children before filing for divorce in late 2018 (Credit: ACE / INFphoto)
Hader told THR that his family's privacy is very important to him. He mentioned his kids, saying, "They just want me to be their dad. They just want me to sit and watch Encanto over and over and over again. So that's what I do."
Kendrick's Outlook On Dating
Although their relationship didn't work out, Kendrick appears to have a positive outlook on relationships.
In 2020, she broke up with her boyfriend Ben Richardson, who was the cinematographer for her 2013 American comedy-drama film Drinking Buddies.
Before she started dating Hader, Kendrick discussed her dating history with The Sydney Morning Herald while promoting her HBO Max series Love Life.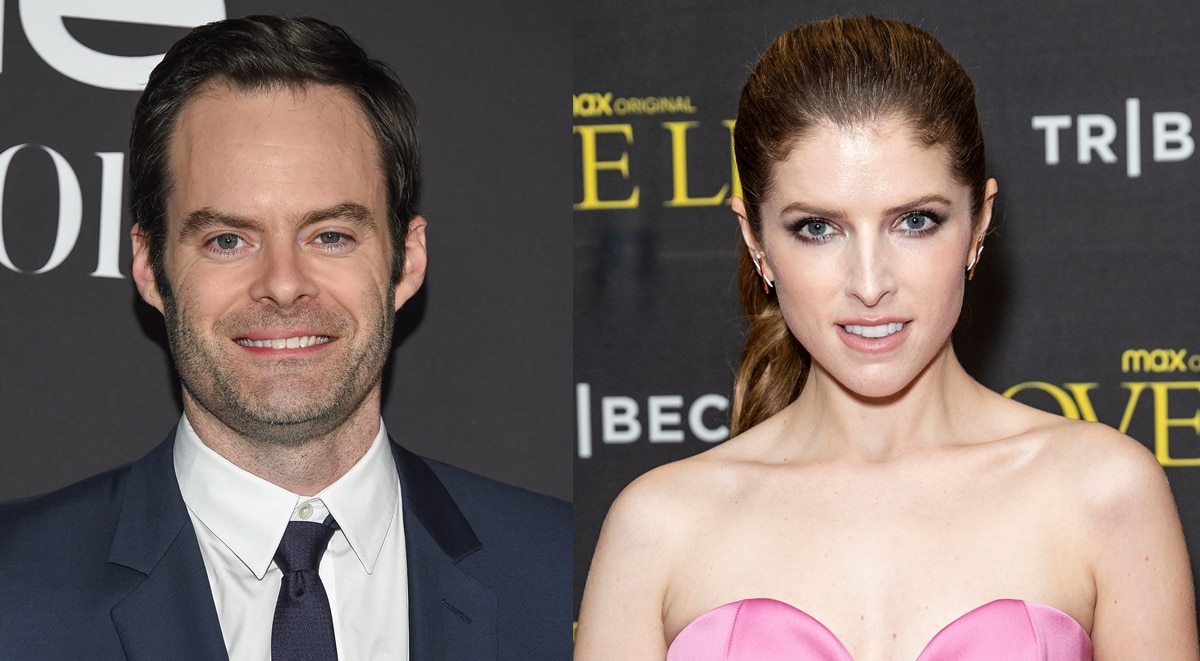 Bill Hader and Anna Kendrick are rumored to have started dating in 2021 and broke up in June 2022 (Credit: Lev Radin / Shutterstock / DFree)
"I'm just so happy that I'm clearer now about what I will accept from people in my life. The real arc that we wanted was to show how we learn from each relationship. Even though our relationships end, it doesn't mean they are complete failures," Kendrick explained.
"People come into your life, and you grow, and they change you, and what you learn from them might be really positive, or it might be negative."
Anna Kendrick sweeps her hair back for the "Trolls" photo call held on May 10, 2016, at Hotel Adlon at Brandenburg Gate in Berlin (Credit: AEDT / WENN)
In May 2016, Anna Kendrick was busy promoting her 2016 American computer-animated musical comedy film Trolls, but during her photo calls, she looked anything but trollish.
Joined by Justin Timberlake, she attended a photo call for the 3D computer-animated musical comedy movie held at the Brandenburg Gate in Berlin.
Justin Timberlake and Anna Kendrick pose for photos at the "Trolls" photo call held in Berlin (Credit: AEDT / WENN)
The then-30-year-old actress kept it simple but chic in an all-black ensemble, while the then-35-year-old actor looked preppy in beige pants, a blue shirt, and a navy suede jacket.
The successful movie star had been serving up a series of seriously stylish looks while promoting Trolls, and she did not disappoint at the photo call.
Justin Timberlake and Anna Kendrick pose with human "Trolls" dolls to promote their new animated movie (Credit: AEDT / WENN)
The Mr. Right star wore a black velvety dress that highlighted her alabaster complexion.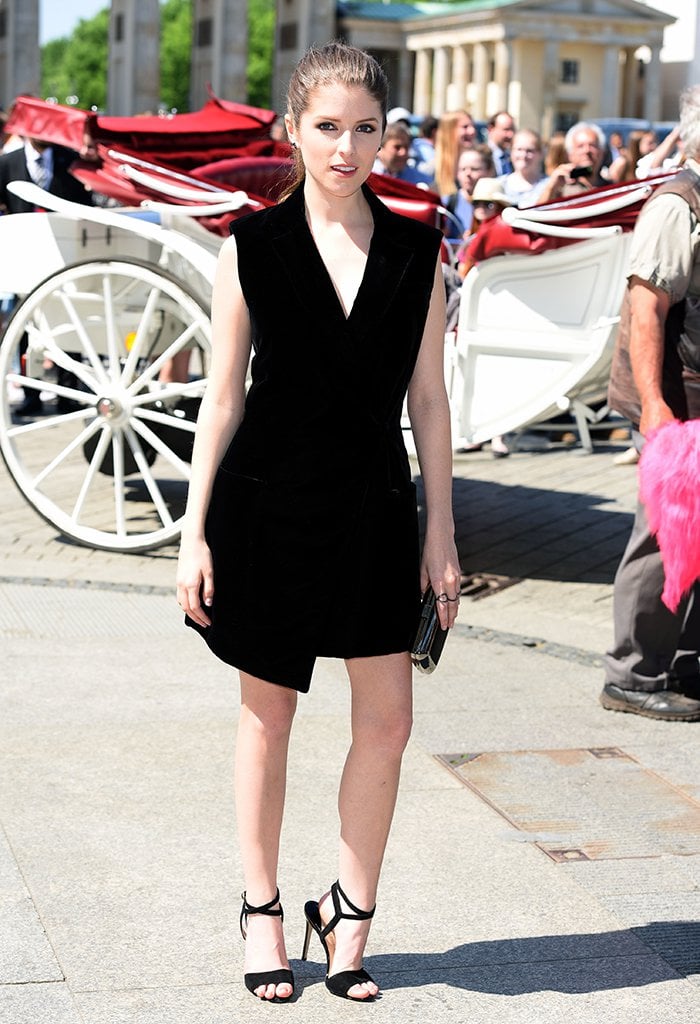 Anna Kendrick wears a black velvet Dior dress while promoting her new movie at the Brandenburg Gate in Berlin (Credit: AEDT / WENN)
The Dior frock featured a waistcoat-style silhouette, a v-neckline, lapels, front pockets, and a short hem that showcased her slender legs.
Anna Kendrick shows off her legs in a black velvet Dior dress (Credit: AEDT / WENN)
The "Into the Woods" star accessorized with a pair of black earrings, a couple of rings, a black clutch, and a pair of black strappy heels.
She pulled her tresses back into a ponytail and sported subtle smoky eyeshadow and a swipe of pink lipstick.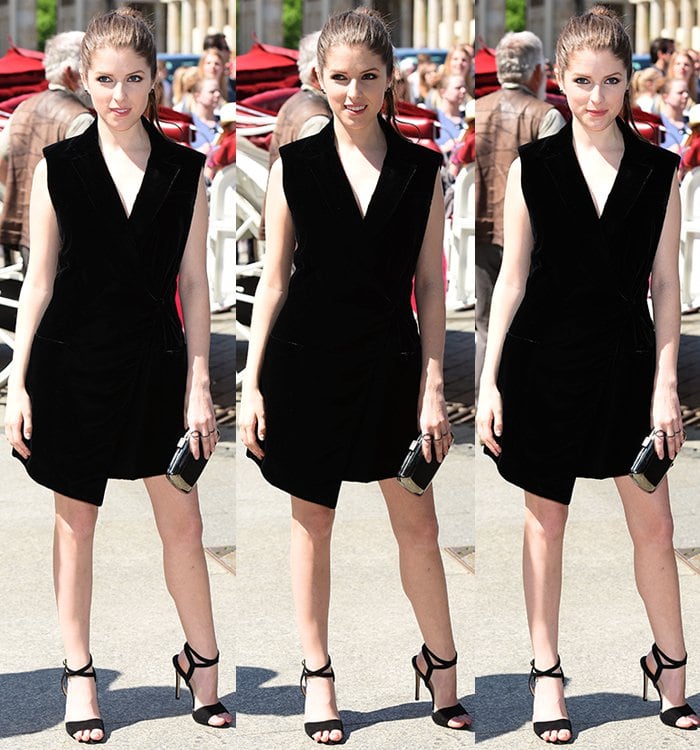 Anna Kendrick wears an all-black look for the "Trolls" Berlin photo call (Credit: AEDT / WENN)
Anna wore the "Laura" sandals by Paul Andrew.
Anna Kendrick's feet in black suede Paul Andrew sandals (Credit: AEDT / WENN)
These black suede shoes feature front straps, open toes, ankle wrap straps with adjustable buckle closures, and four-inch heels.
Paul Andrew "Laura" Sandals, $795