At 33 years old, Elizabeth Olsen has become one of the brightest young stars in Hollywood. Her popularity was spurred on by her work in major blockbuster movies, as well as a wide range of indie films.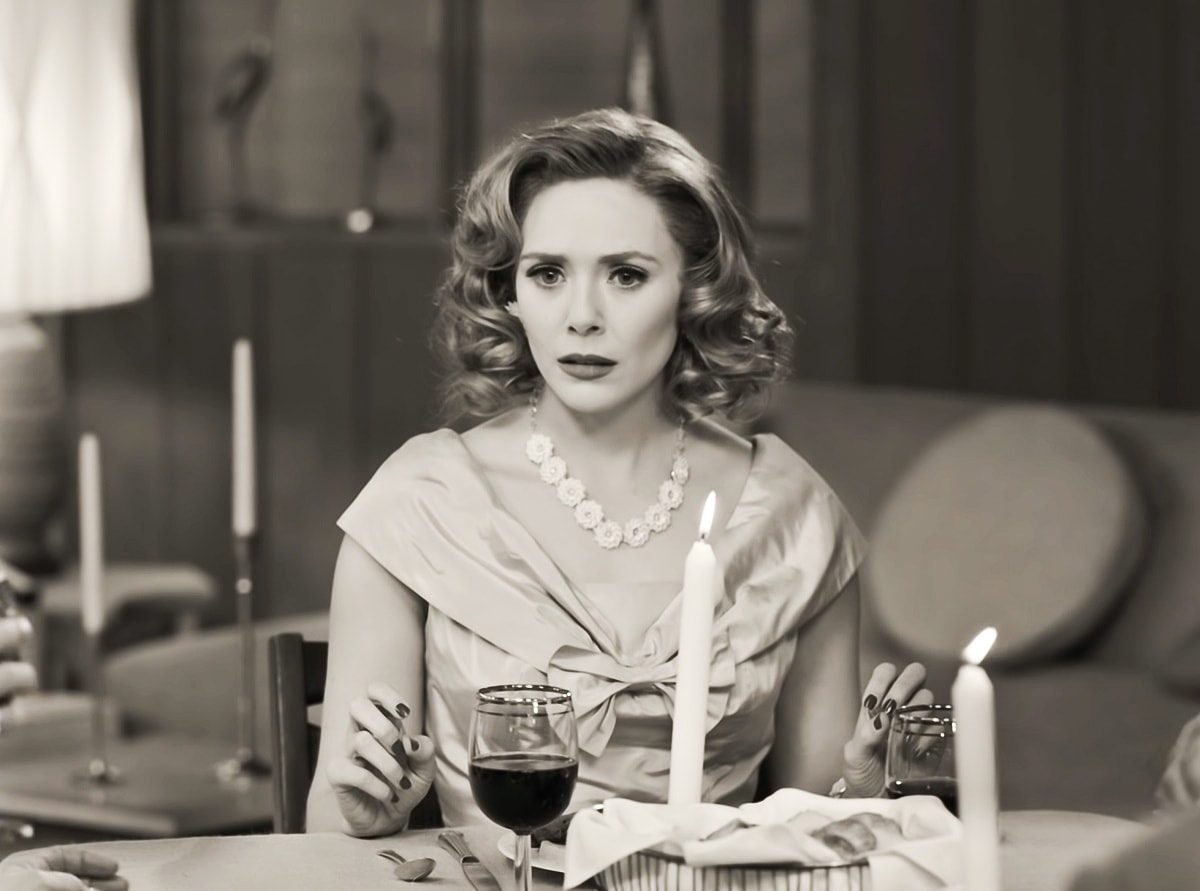 Elizabeth Olsen as Wanda Maximoff / Scarlet Witch in the 2021 television miniseries WandaVision (Credit: Marvel Studios)
Starting with television work, Elizabeth made a name for herself early on but has since surpassed expectations.
Her impeccable acting skills have led to some of the most impressive performances – most notably, her award-winning breakthrough role in 2011's Martha Marcy May Marlene and her Emmy-nominated role as Wanda Maximoff in 2021's WandaVision.
Elizabeth Olsen has a multifaceted education in the performing arts and has dedicated her life to the craft, resulting in her well-earned success.
Although she spent the first few decades of her career studying instead of auditioning, she has made a significant splash in the film industry over the past ten years.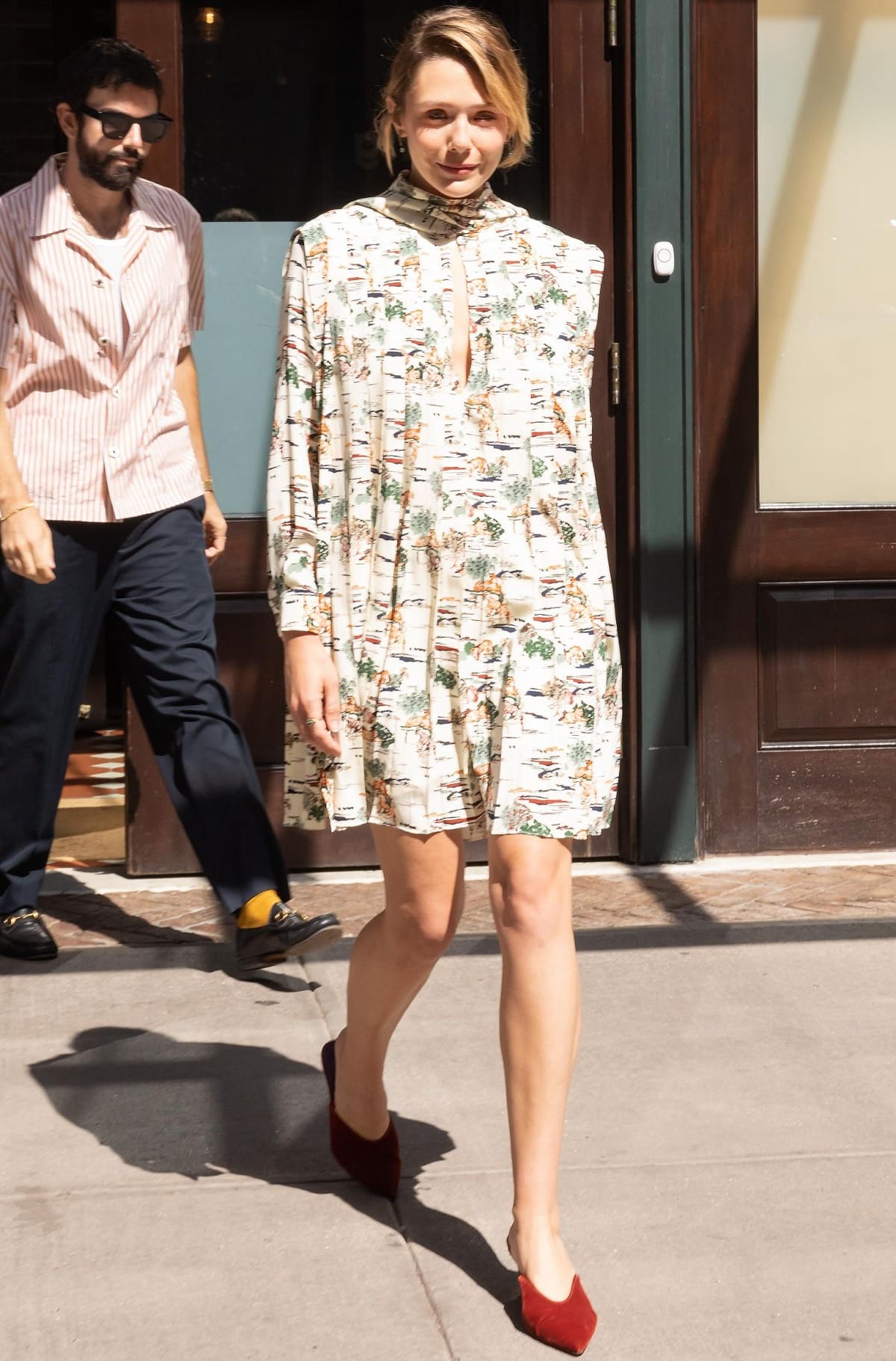 Elizabeth Olsen wearing a Khaite printed minidress and red mules while out in Tribeca, New York, on June 29, 2022 (Credit: Janet Mayer / Startraksphoto)
Before Elizabeth Olsen Was a Star
Elizabeth Chase Olsen was born on February 16, 1989, in Sherman Oaks, California. Growing up in the San Fernando Valley district, the prospect of joining the movie business was always a major possibility.
Considering that her two sisters, Mary-Kate and Ashley Olsen, were massively popular child actors in the 1990s, many assumed that Elizabeth would follow a similar path.
In fact, Elizabeth began acting before she even started formal schooling, briefly appearing in some of her sisters' made-for-television films.
Elizabeth Olsen with sisters Ashley and Mary-Kate on a rare red carpet appearance at the 2016 CFDA Awards (Credit: Ivan Nikolov / WENN)
With the exception of these infrequent roles in her childhood, Elizabeth chose to pursue a proper acting education instead of trying to make it as a child star, attending the NYU Tisch School of the Arts after completing high school.
The NYU graduate considered quitting acting in 2004 due to the poor treatment of her sisters by the media. However, she chose to keep at it, picking up several roles in stage plays in the late 2000s.
Elizabeth Olsen as Martha in the 2011 thriller film Martha Marcy May Marlene (Credit: Fox Searchlight Pictures)
In 2011, Elizabeth made her big-screen debut in Martha Marcy May Marlene, a thriller that is still considered one of her best films to date.
To celebrate Elizabeth Olsen's rise to stardom, we're counting down her top ten movies according to their critics' scores on Rotten Tomatoes.
Let's take a deeper look at Elizabeth Olsen's impressive filmography as we delve into her most critically acclaimed work.
10. Kodachrome (2017) – 71% Score
Directed by Mark Raso, Kodachrome is a touching comedy-drama starring Ed Harris, Jason Sudeikis, and Elizabeth Olsen.
The film follows Matt Ryder (Jason Sudeikis), a failing record company executive, who attempts to make amends with his estranged father on a road trip to Kansas.
In the film, Elizabeth plays Zooey Kern, the nurse of Matt's dying father, Ben (Ed Harris). As a celebrated photographer, Ben asks Matt to take him to the last shop in the country that will accept Kodachrome film, as he has several photos he wants to develop before he dies.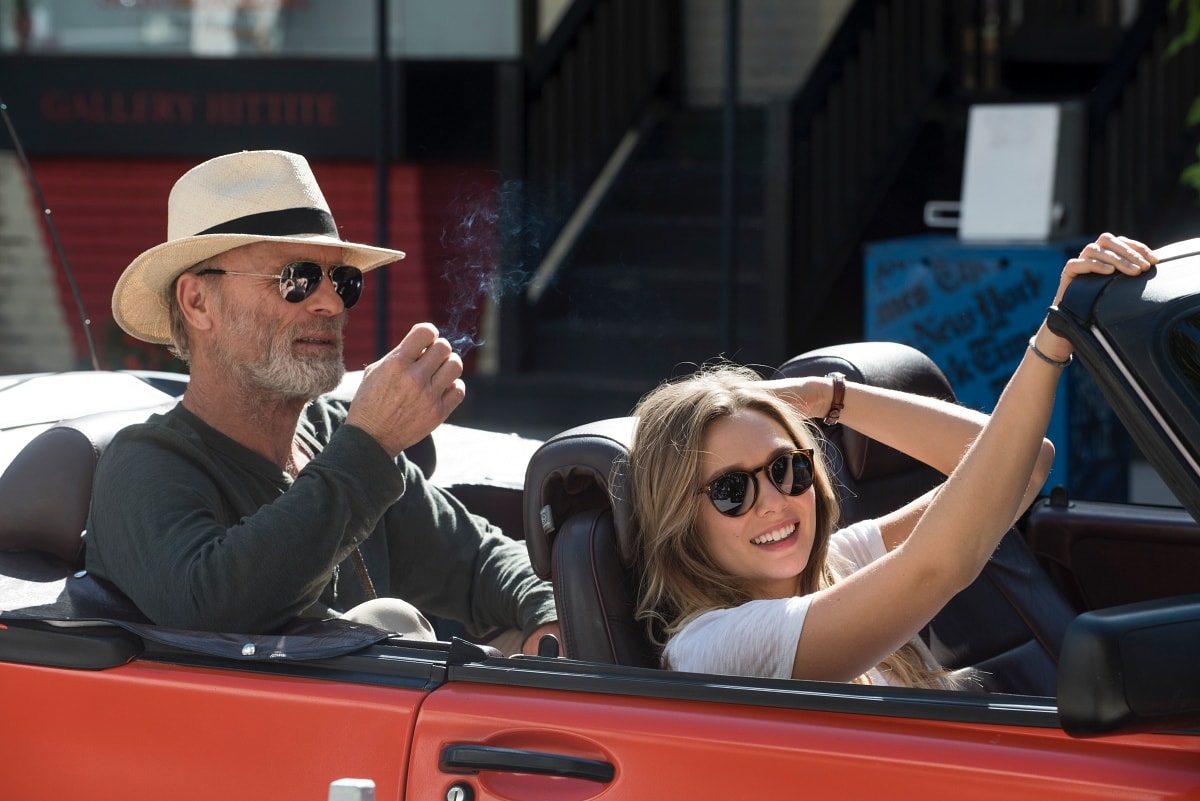 Ed Harris as Benjamin Ryder and Elizabeth Olsen as Zooey Kern in the 2017 comedy-drama film Kodachrome (Credit: Netflix)
Kodachrome is one of Elizabeth Olsen's most recent films unrelated to the Marvel Cinematic Universe. At 28 years old, she does a great job at showing her progression as an actress. Elizabeth balances out the core cast, offering both fun and emotional impact when the drama gets intense.
Despite having reached significant levels of fame before filming, Elizabeth accents the cast and works wonderfully alongside her co-stars without outshining the two focal characters.
9. Doctor Strange in the Multiverse of Madness (2022) – 74%
Elizabeth Olsen joins an elite circle of incredible actresses in the Marvel Cinematic Universe, which includes Scarlett Johansson, Brie Larson, Natalie Portman, Tessa Thompson, Lupita Nyong'o, and Zoe Saldana.
Doctor Strange in the Multiverse of Madness is part of the massive MCU franchise and is a sequel to 2016's Doctor Strange. Directed by the exceptionally creative filmmaker Sam Raimi, the superhero flick is packed with action and a decent dose of creepy vibes.
The film continues the story of Doctor Stephen Strange (Benedict Cumberbatch), a powerful sorcerer who must prevent the shattering of the multiverse when an old friend turns rogue.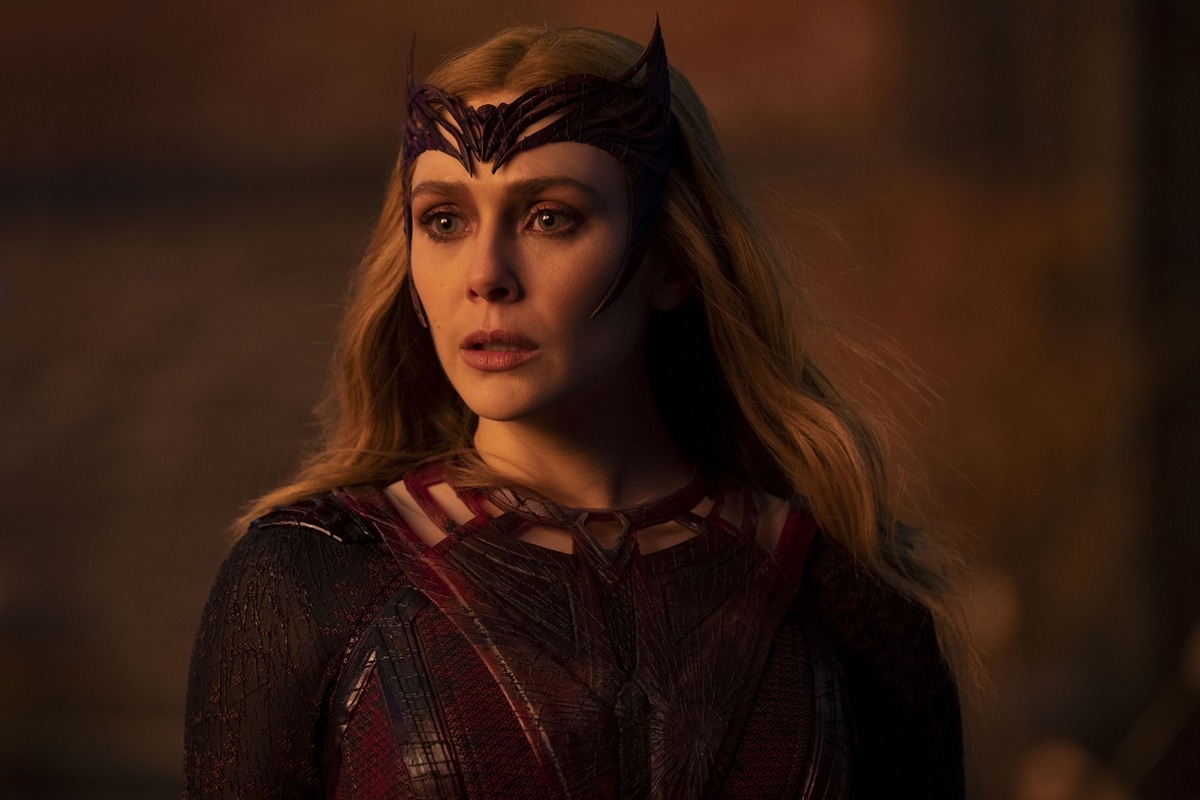 Elizabeth Olsen as Wanda Maximoff / Scarlet Witch in the 2022 superhero film Doctor Strange in the Multiverse of Madness (Credit: Marvel Studios)
At 33 years old, Elizabeth Olsen portrays Wanda Maximoff, also known as the Scarlet Witch, an immensely powerful and emotionally distraught magic user. Eager to reunite with her lost children, Wanda gets on the bad side of Doctor Strange as she turns to nefarious ways to accomplish her goals.
Even director Sam Raimi was surprised by Elizabeth's dedication to the role. He reportedly was worried about asking for multiple takes after the actress delivered scenes that were emotionally exhaustive.
To lighten things up, Elizabeth's eyes were digitally scanned to create the giant eyeball monster Gargantos, who appears early in the film.
8. Godzilla (2014) – 76% Score
Directed by Gareth Edwards and acting as a reboot of the prolific Toho-produced franchise of the same name, Godzilla is a monster movie and the 30th entry in the series.
Elizabeth joins an ensemble of actors, including Bryan Cranston and Aaron Taylor-Johnson. The film showcases the monstrous lizard-beast Godzilla as it protects Earth from attacking creatures.
Aaron Taylor-Johnson as Ford Brody and Elizabeth Olsen as Elle Brody in the 2014 sci-fi monster film Godzilla (Credit: Warner Bros. Pictures)
Elizabeth Olsen plays Elle, the wife of protagonist Ford Brody (Aaron Taylor-Johnson). Working as a nurse at a hospital in San Francisco, Elle attempts to help the wounded as Godzilla battles the invading creatures across the West Coast of the United States.
It's a minor role, but Elizabeth got a decent amount of screen time despite staying on the sidelines for a large chunk of the film.
The newly married star accepted the role of Elle Brody at 25 years old, as she was interested in appearing in a blockbuster movie after mostly acting in independent films up to that point.
Interestingly, she and Aaron Taylor-Johnson would appear as brother and sister in Avengers: Age of Ultron in the following year.
7. Avengers: Age of Ultron (2015) – 76%
Written and directed by Joss Whedon, Avengers: Age of Ultron is the second installment in the Avengers film series, which sees several of Marvel's biggest superheroes teaming up to save the world.
In this star-studded sequel, the heroic team must disable and defeat Ultron, a doom-bringer AI hellbent on ending humanity to rid the world of chaos and pain.
Making her debut in the Marvel Cinematic Universe at 26 years old, Elizabeth Olsen appears as Wanda Maximoff, an orphaned teenager with telekinetic abilities.
Along with her quick-as-lightning brother Pietro (Aaron Taylor-Johnson), Wanda starts as a villain but soon joins forces with the Avengers to take down Ultron.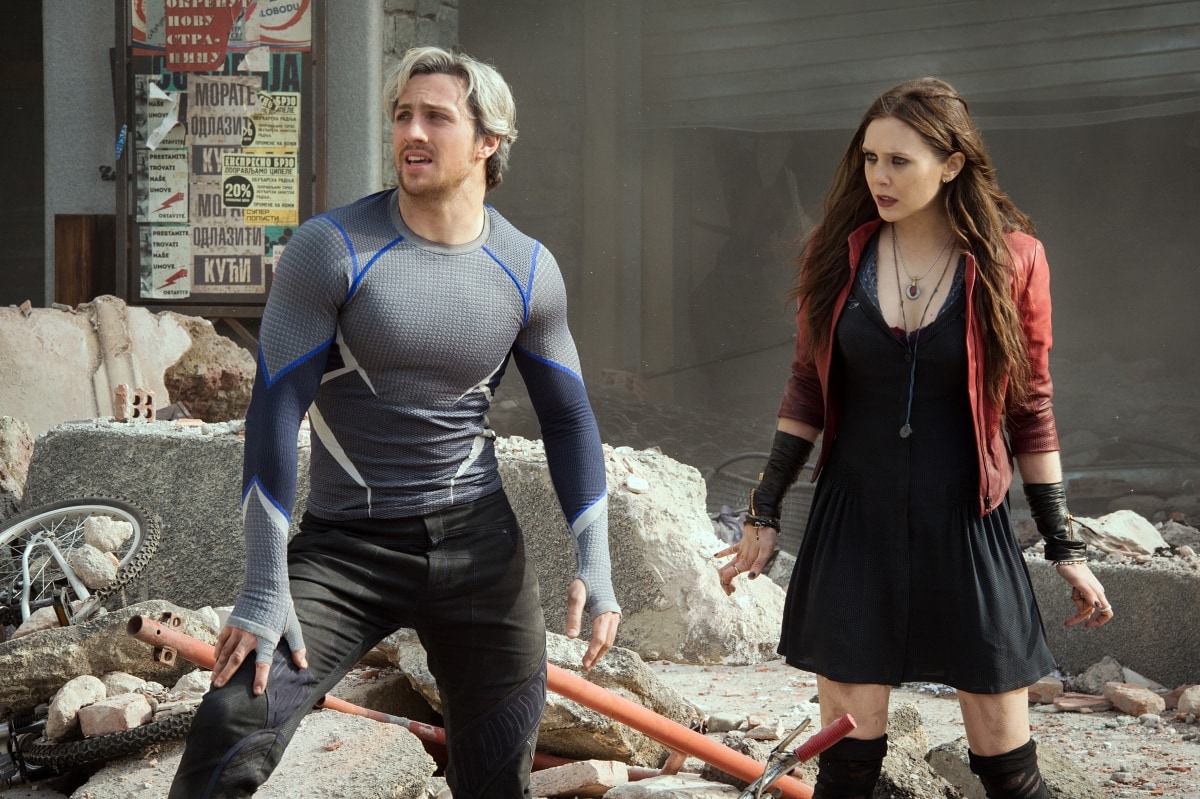 Aaron Taylor-Johnson as Pietro Maximoff / Quicksilver and Elizabeth Olsen as Wanda Maximoff / Scarlet Witch in the 2015 superhero film Avengers: Age of Ultron (Credit: Marvel Studios)
After meeting Aaron Taylor-Johnson on the set of Godzilla, Elizabeth became good friends with the actor, and the pair even consulted each other before accepting their roles in Avengers: Age of Ultron.
Together, they read every issue of the appropriate comics in preparation for the roles, diving deep into comic book culture.
Due to Elizabeth's stellar work, Wanda Maximoff has easily become one of the most beloved characters in the entire Marvel Cinematic Universe.
6. Ingrid Goes West (2017) – 85% Score
Ingrid Goes West is a dark comedy and drama co-written by David Branson Smith and directed by Matt Spicer. It's a commentary on the parasocial relationships fueled by modern-day social media.
The film follows Ingrid Thorburn (Aubrey Plaza), a mentally unstable woman who moves to Los Angeles to pursue a friendship with a famous Instagram user she discovers on the internet.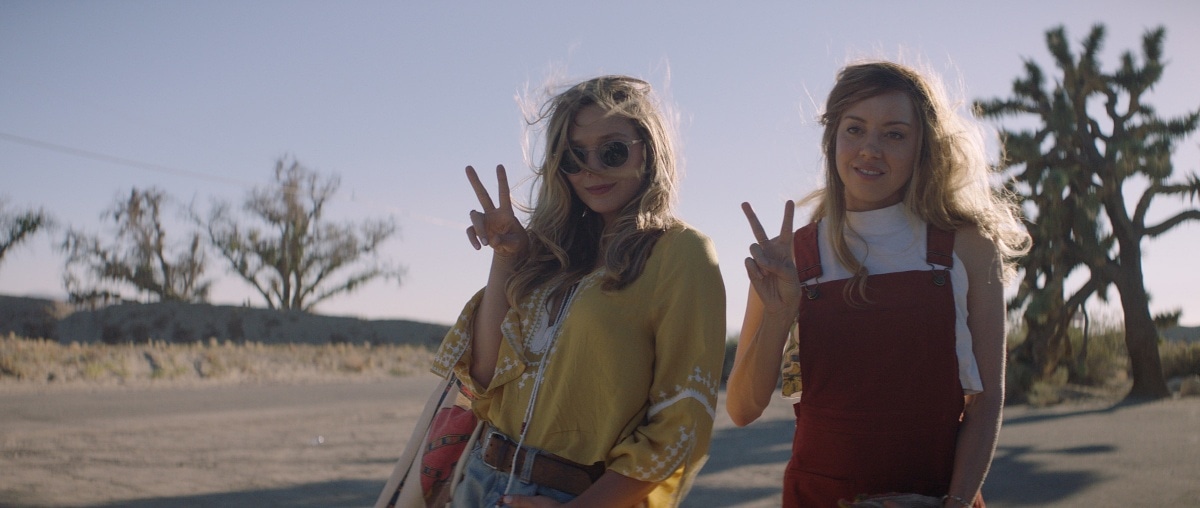 Elizabeth Olsen as Taylor Sloane and Aubrey Plaza as Ingrid Thorburn in the 2017 dark comedy Ingrid Goes West (Credit: Neon)
At 28 years old, Elizabeth Olsen plays Taylor Sloane, a wealthy and popular social media influencer who is the subject of Ingrid's obsession.
Ingrid and Taylor strike up a somewhat natural friendship at the beginning of the film, but things quickly turn south when Ingrid's fabricated life comes under scrutiny.
Although Elizabeth plays an incredibly narcissistic woman, who can't live without her online reputation, the actress knew very little about social media before accepting the role.
In fact, Elizabeth didn't even create an Instagram account until February of 2017, shortly after Ingrid Goes West debuted at the Sundance Film Festival.
5. Avengers: Infinity War (2018) – 85% Score
Directed by Anthony and Joe Russo, Avengers: Infinity War is an adaptation of the 1992 comic book series and the third Avengers film in the Marvel Cinematic Universe.
Faced with an enemy who wields the power to wipe out half of the global population, the Avengers must set aside their differences and work together to save the universe.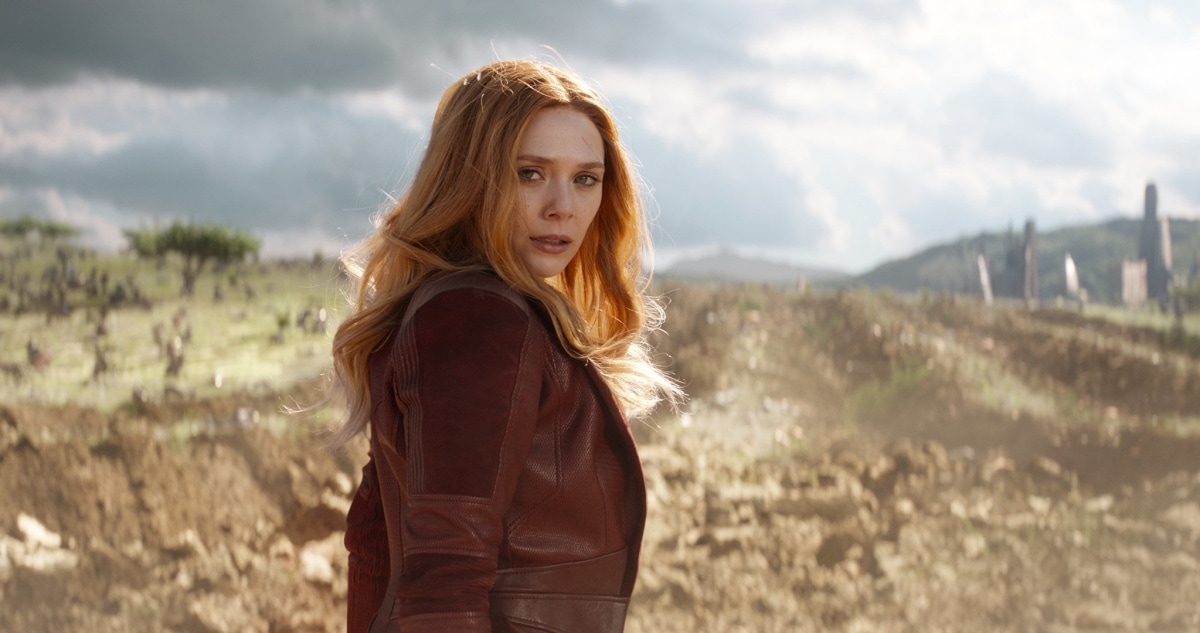 Elizabeth Olsen as Wanda Maximoff / Scarlet Witch in the 2018 superhero film Avengers: Infinity War (Credit: Marvel Studios)
Taking the character to the next level at 29 years old, Elizabeth Olsen once again appears as Wanda Maximoff, a powerful telekinetic superhero determined to do her part in the fight for good.
Now living in Scotland and trying to keep a low profile, Wanda is pulled into the battle when evil forces attempt to capture her partner, Vision (Paul Bettany).
Infinity War is utterly packed with A-list stars, including Robert Downey, Jr., Chris Hemsworth, Scarlett Johansson, and more.
Despite the hefty cast, Elizabeth Olsen gets a relatively significant amount of screen time, appearing more frequently than other major actors like Mark Ruffalo, Chris Evans, and Tom Hiddleston, among others.
4. Wind River (2017) – 87% Score
Set in the Wind River Indian Reservation in Wyoming, Wind River is a murder mystery film written and directed by Taylor Sheridan.
Centered around the murder of an 18-year-old indigenous woman, the movie follows the efforts of two federal agents as they attempt to zero in on the culprit responsible.
At 28 years old, Elizabeth plays the role of Jane Banner, an inexperienced FBI agent who initially investigates the murder before enlisting the help of U.S. Fish and Wildlife agent Cory Lambert (Jeremy Renner).
Together, the pair slowly uncovers a disturbing history of unreported crimes as their supervisors refuse to offer support.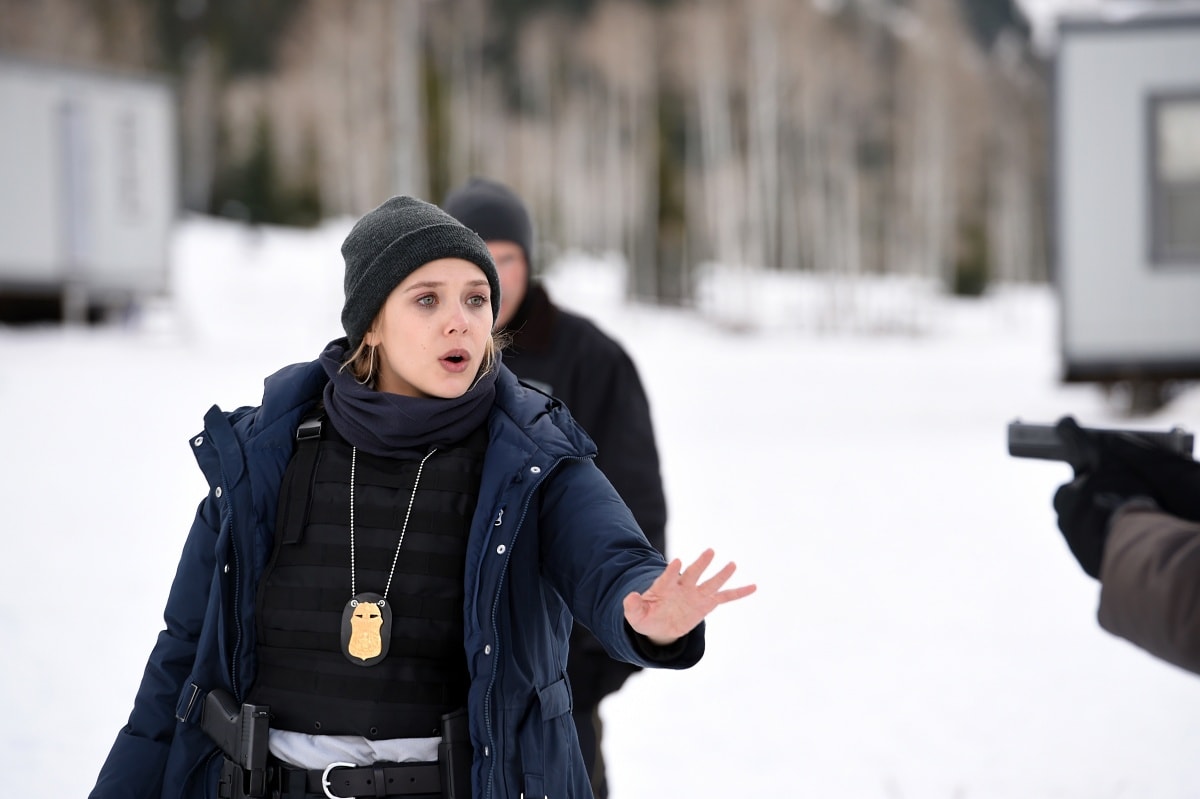 Elizabeth Olsen as Jane Banner in the 2017 murder mystery film Wind River (Credit: Lionsgate Home Entertainment / The Weinstein Company)
Filming Wind River was extremely difficult due to the cold weather, with blizzards frequently occurring along with high winds.
During the shoot, Elizabeth Olsen came down with a troubling case of snow blindness, which occurs when the eyes become sunburnt due to prolonged UV light exposure.
While it was painful at the time, Elizabeth looks back on it as a growing experience and recalls it as one of the more challenging moments in her career.
3. Martha Marcy May Marlene (2011) – 90% Score
Written and directed by Sean Durkin, Martha Marcy May Marlene is a dark thriller that serves as Elizabeth Olsen's feature film debut.
In the film, Elizabeth plays Martha, a 22-year-old woman who reunites with her family after escaping from a dangerous cult in the Appalachian Mountains.
Continuously alienating herself from her family and suffering from severe mental health issues, Martha takes on several personas as she grapples with her time in the cult.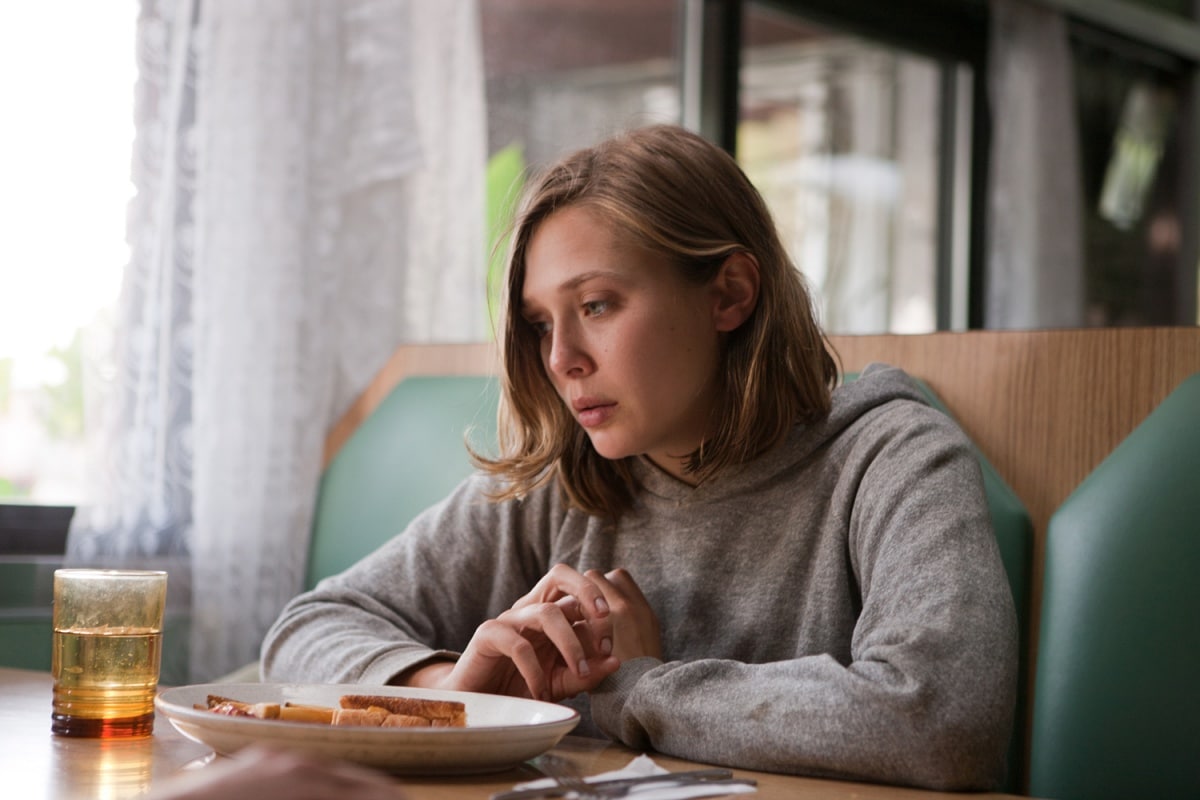 Elizabeth Olsen as Martha in the 2011 thriller film Martha Marcy May Marlene (Credit: Fox Searchlight Pictures)
Despite being her debut film role at 22 years old, Elizabeth handled the part with care and delivered a believable and captivating performance.
For the part of Martha, Sean Durkin was specifically interested in casting an unknown actress. Elizabeth Olsen used it as a perfect opportunity to tackle a tough first role.
Although the script contained several nude scenes, Elizabeth was not deterred. Instead, she found it more difficult to film scenes that required her to jump into a freezing lake.
2. Captain America: Civil War (2016) – 90% Score
As the third installment in the Captain America series and yet another team-up film in the Marvel Cinematic Universe, Captain America: Civil War is often regarded as one of the best movies in the entire franchise.
Directed by Joe and Anthony Russo, this explosive action film sees heroes Captain America and Iron Man at odds with each other following a disastrous mission.
Elizabeth Olsen as Wanda Maximoff / Scarlet Witch in the 2016 superhero film Captain America: Civil War (Credit: Marvel Studios)
At 27 years old, Elizabeth Olsen returns as Wanda Maximoff, now a full-fledged member of the Avengers and one of the youngest superheroes on the team.
When her inexperience causes unnecessary casualties in the line of duty, the world of enhanced humans becomes entangled with international politics.
Civil War was also the MCU debut of the fan-favorite character Spider-Man, a fact that was kept under tight secrecy leading up to the film's release.
While most of the cast was kept in the dark about Spider-Man's involvement, Elizabeth was one of the few provided with key details, proving that the movie's creators had a deep trust in the actress.
1. Avengers: Endgame (2019) – 94% Score
Acting as the culmination of ten years of storytelling in the Marvel Cinematic Universe, Avengers: Endgame is an epic action film featuring a slew of Hollywood megastars. For several years, it has been the second highest-grossing film of all time, bested only by 2009's Avatar.
At 30 years old, Elizabeth reprises her role as Wanda Maximoff/Scarlet Witch, the fiery red sorceress with a grudge against the mad titan Thanos.
As Thanos attempts to stop the Avengers and company from reversing his massive slaughter in Infinity War, their battle begins to span the galaxy and even the path of time itself.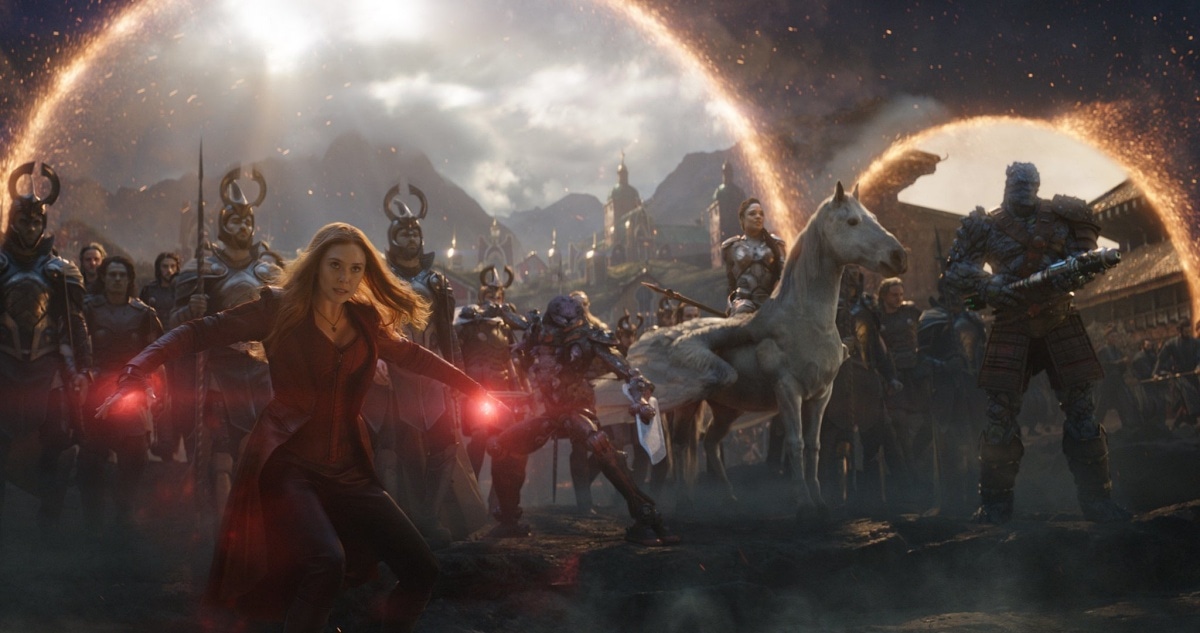 Elizabeth Olsen as Wanda Maximoff / Scarlet Witch with some of the fierce warriors in the 2019 superhero film Avengers: Endgame (Credit: Marvel Studios)
Although a relative newcomer in the Marvel Cinematic Universe, Wanda Maximoff has been described by the Russo brothers as "the biggest threat to Thanos" out of the entire cast.
Playing such an important character was especially taxing for Elizabeth Olsen, who feared that the film would be "Marvel's first flop."
Luckily, that wasn't the case. In fact, it cemented the actress as part of Hollywood's biggest film franchises of all time and Wanda Maximoff as one of the most beloved characters in the MCU.