She initially denied being offered the role of Kate Bishop in Marvel's Disney Plus Hawkeye series.
Earlier this month, however, images from the Hawkeye set showed Hailee Steinfeld filming scenes alongside Jeremy Renner.
Jeremy is reprising his role as Clint Barton in the series. He first portrayed Clint, aka Hawkeye, in the 2011 Marvel movie, Thor.
Last week, at Disney's Investor Day 2020, Marvel Studios president and Marvel Chief Creative Officer Kevin Feige finally confirmed that Hailee is indeed joining the Marvel Cinematic Universe production as Kate Bishop.
Following Kevin Feige's confirmation, Hailee shared with her social media followers a back view photo of herself, wearing the archer's purple costume.
She captioned the photo: "Incredibly excited to officially share this with the world…"
View this post on Instagram
Is Kate Bishop related to Clint Barton?
Her character, Katherine or Kate Bishop, first appeared in Marvel Comics: Younger Avengers #1 in April 2005.
In issue #12, Kate fought alongside the Young Avengers after adopting the Hawkeye mantle when the original Hawkeye, Clint Barton, was presumed dead.
When Clint returned, Kate kept the Hawkeye moniker and trained under Clint. They are not believed to be related.
The upcoming Disney Plus series will follow Clint as he trains Kate Bishop to become the next Hawkeye.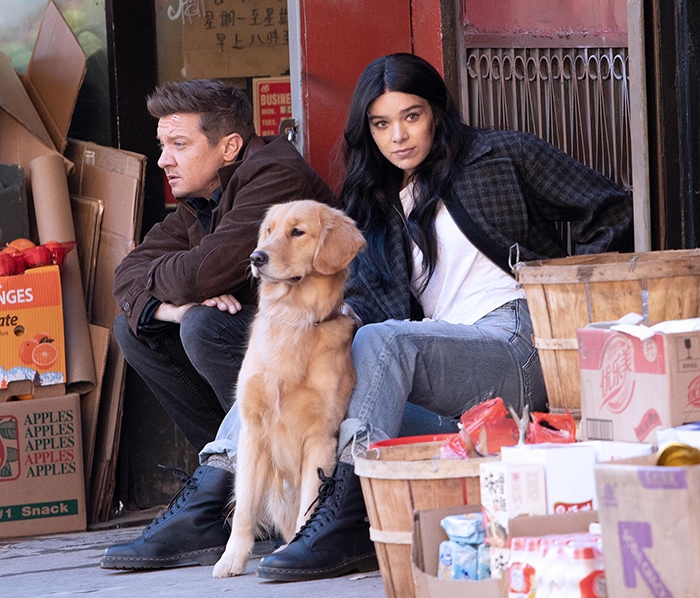 Hailee Steinfeld and Jeremy Renner filming Marvel's Hawkeye Disney Plus series in New York City on December 3, 2020
Filming for Hawkeye began in early December in New York City. The first set of photos showed Hailee and Jeremy working with a golden retriever, who will play Clint's adopted dog, Lucky the Pizza.
Jeremy Renner's character, Clint Barton, adopted Lucky after saving him from the "tracksuit mafia." He was identified as "Arrow" on his dog tag, but Clint renamed him Lucky.
Jeremy Rener's character Clint Barton adopted a golden retriever Lucky the Pizza Dog
Taking a break from their superhero duties, Jeremy and Hailee were pictured in civilian clothes on the set.
Jeremy layered up in dark shirts topped with a brown leather jacket. He finished off his look with a pair of black jeans and brown shoes.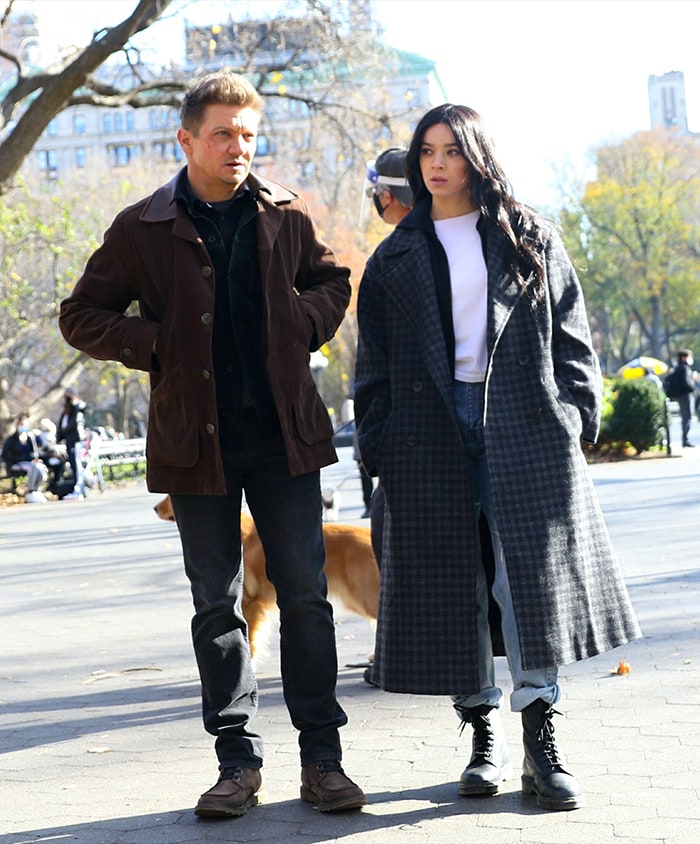 Jeremy Renner bundles up in layers of shirts and a brown jacket with black jeans and brown shoes
Meanwhile, Hailee simply threw an oversized dark-colored plaid coat over her white tee and ripped jeans combo.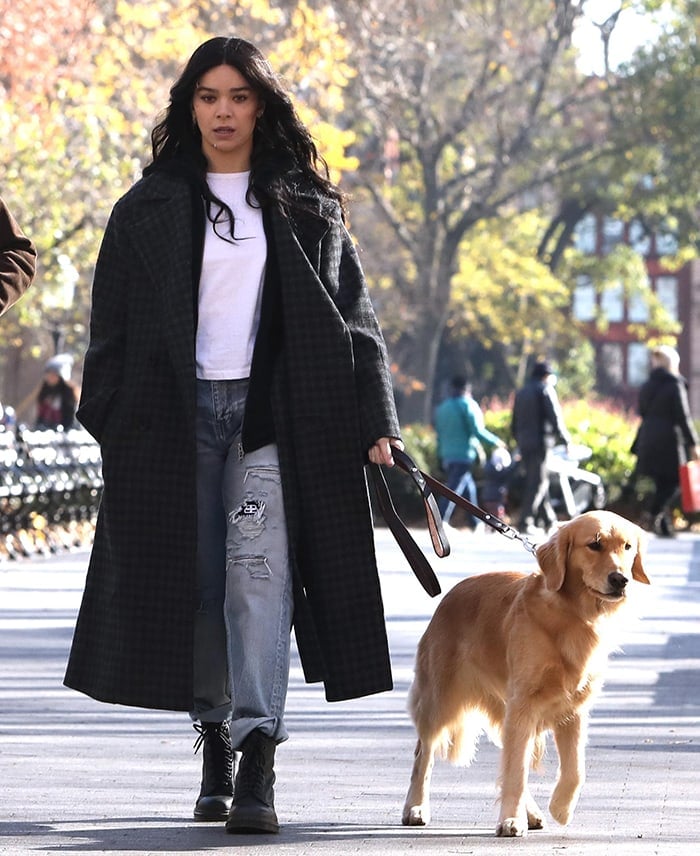 Hailee Steinfeld wears a white tee with ripped jeans and a plaid wool coat
Not related to Jerry Seinfeld, she also wore the same plaid coat and shredded jeans with a black beanie and a ribbed top in purple color, which is one of Hawkeye's primary colors in the comics.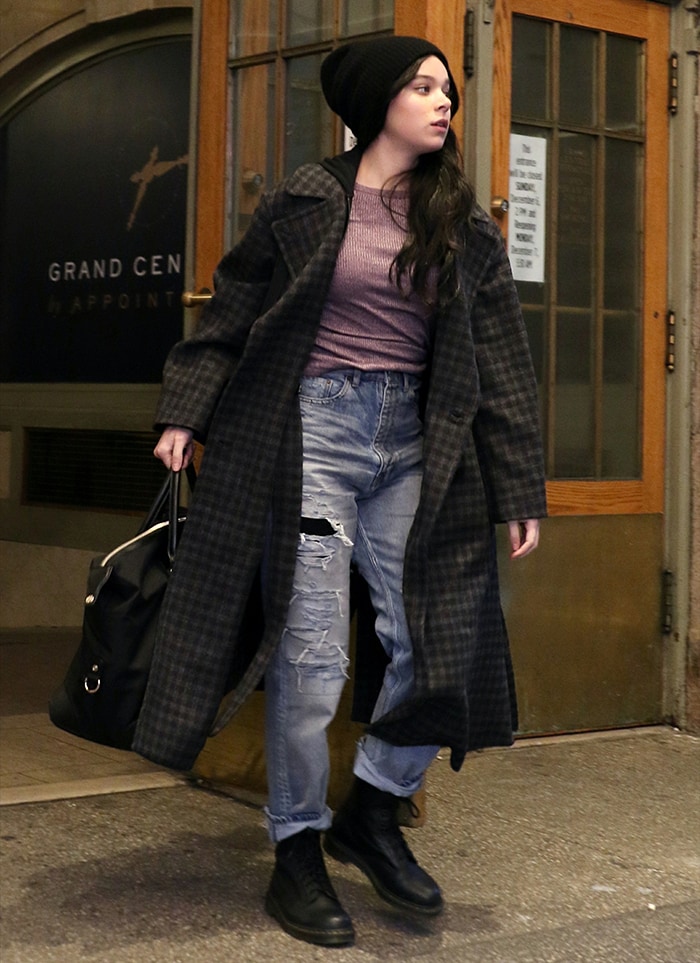 Hailee Steinfeld in a purple ribbed top with ripped jeans and plaid wool coat
In another set of photos, Jeremy and Hailee appeared to have filmed a fight scene as they both have bruise makeup on their faces.
Hailee was wearing a purple sweatsuit with her calf-length plaid coat while holding her huge bow in one hand and Lucky's leash in the other.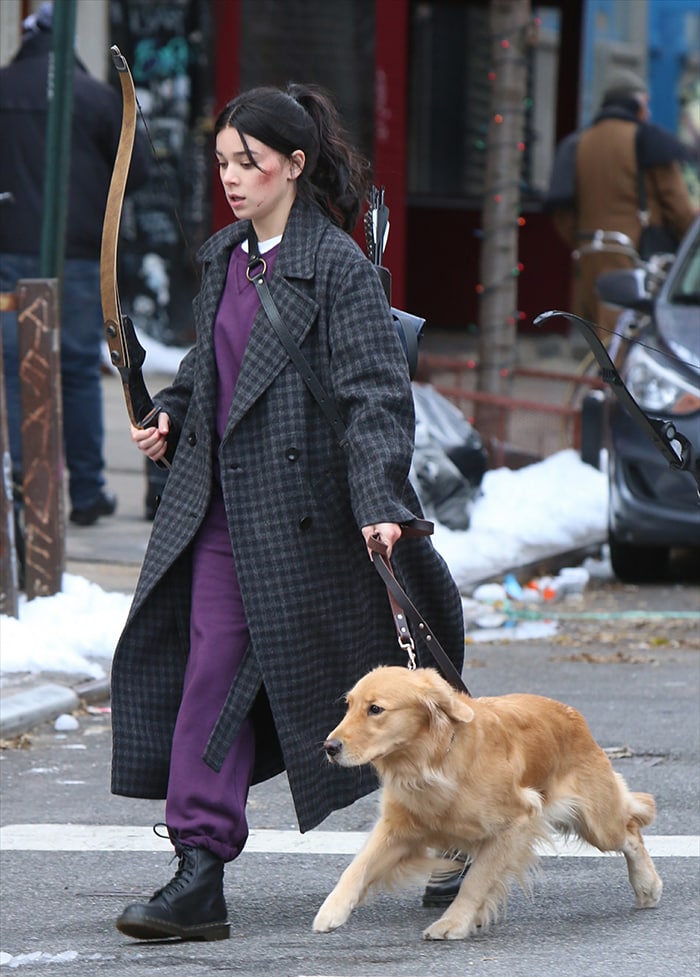 Hailee Steinfeld has fake bruises while filming a fight scene in a purple sweatsuit
Putting on a more stylish look, Hailee also donned a black-and-orange embroidered pantsuit on the set.
Jeremy, on the other hand, appeared to be wearing the same outfit, which included a brown jacket and black jeans.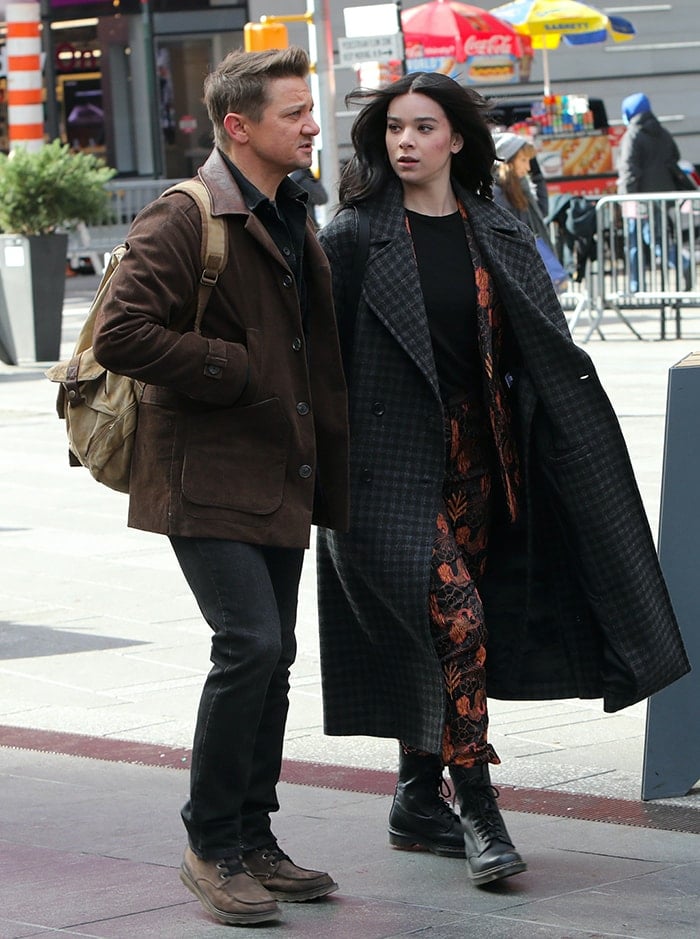 Hailee Steinfeld in a black top with an orange and black embroidered pantsuit
A few days later, fans were finally able to see Hailee in her iconic purple Hawkeye costume.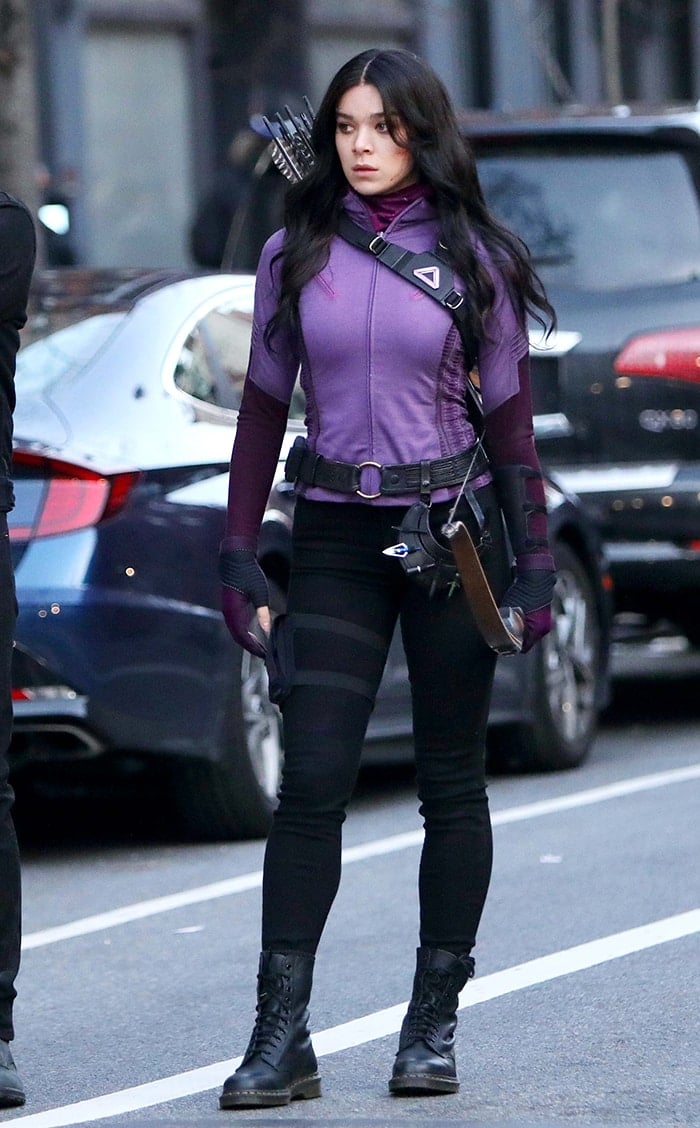 Hailee Steinfeld, aka Kate Bishop, wears Hawkeye's iconic purple costume
The fans' excitement, however, turned into a disappointment as it was not exactly Kate Bishop's suit from the comics.
Some say though that it could be an early prototype or one of the many versions of Kate's full original suit since she's still in training.
The upcoming Hawkeye series follows Clint Barton as he trains Kate Bishop to become the new Hawkeye
In the latest batch of set photos, Jeremy looked more formal in a tuxedo suit. Hailee, on the other hand, donned a long trench coat over a high-neck, long-sleeved outfit.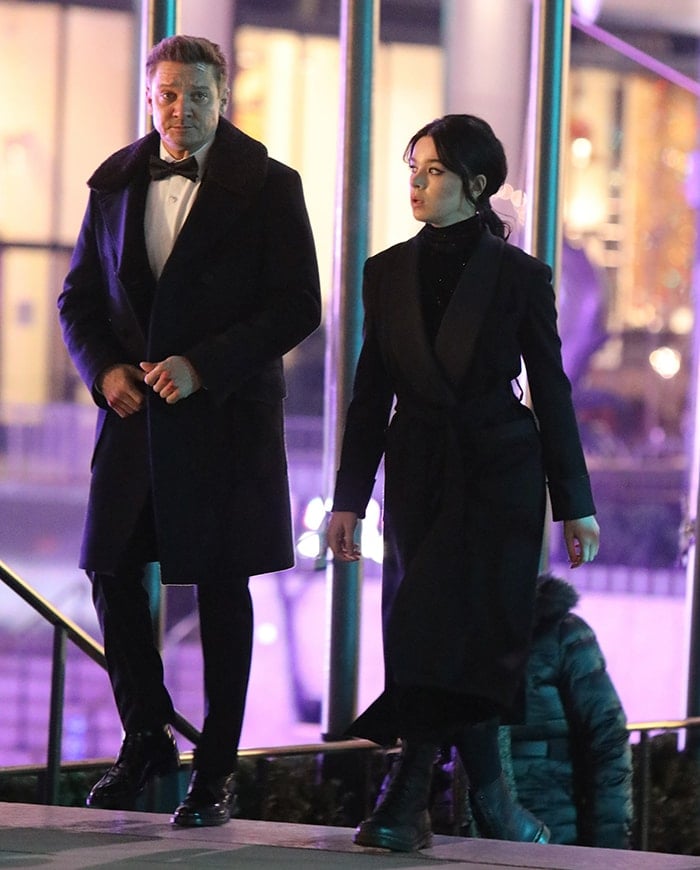 Jeremy Renner in a tuxedo and Hailee Steinfeld in a trench coat on the Hawkeye set
Hailee Steinfeld has been wearing Dr. Martens 1490 combat boots since the first day of filming her new Marvel movie.
These original classic 10-eye boots feature the original "Air Wair" nylon heel pull loop and the brand's trademark two-toned grooved sidewall with yellow stitch detail.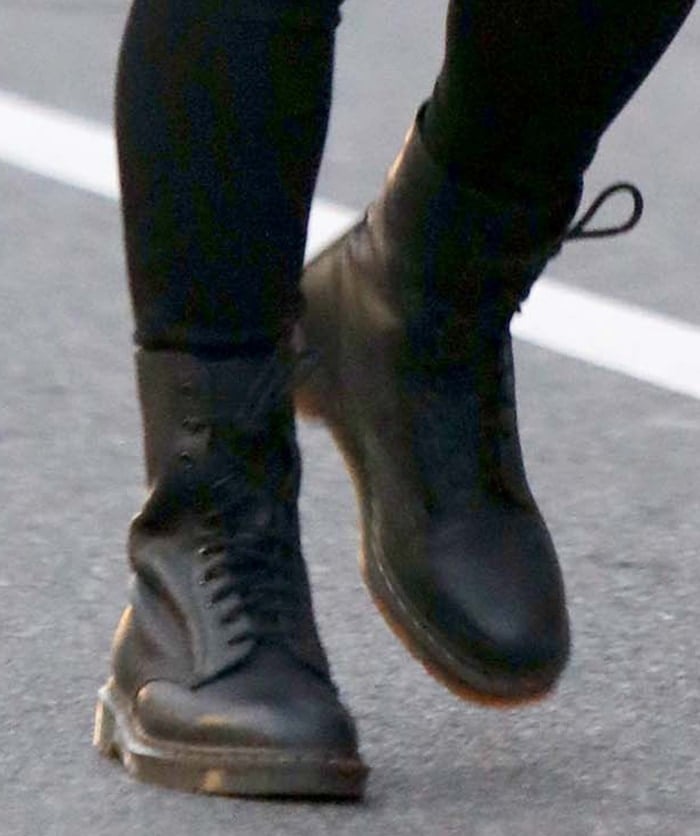 Hailee Steinfeld has been wearing Dr. Martens' 1490 boots on Hawkeye set
Dr. Martens 1490 Combat Boots, $159.95 at Zappos
The 1490 10-Eye lace-up boot from Dr. Martens is an original classic that will live never go out of style
Hawkeye is set to be released in late 2021 or early 2022 as part of Phase Four of the MCU.
Credit: Instar / WENN