In January 2015, Jennifer Lopez was busy doing promotional duties for her new movie, The Boy Next Door, which was released in the United States on January 23, 2015.
She stars as the newly divorced woman Claire Peterson in the American erotic psychological thriller film that is inspired by a true story.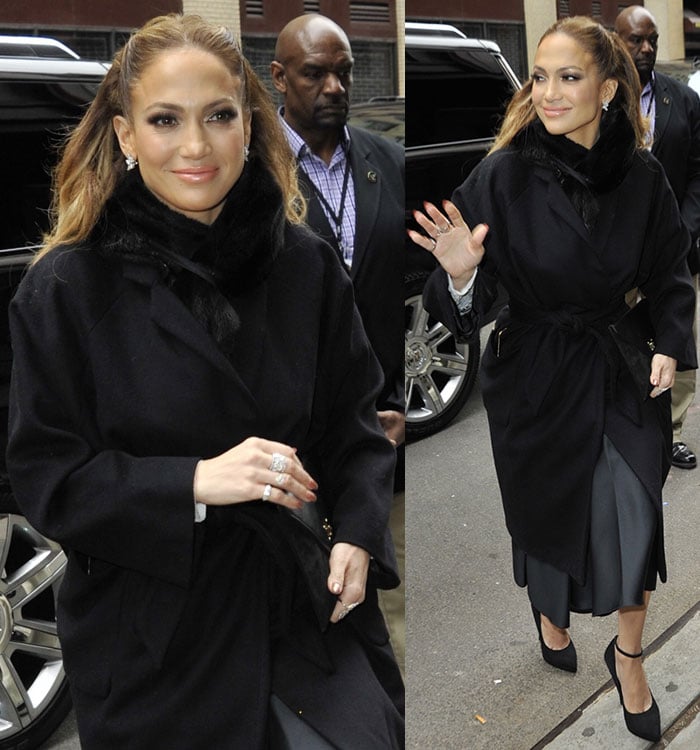 Jennifer Lopez clips her hair back as she arrives for a guest appearance on "The Wendy Williams Show" in New York City on January 20, 2015
Barbara Curry, a former criminal lawyer, wrote the screenplay for the film based on her life experiences. In the movie, Jennifer Lopez's character is seduced by her 19-year-old teenage neighbor Noah Sandborn (Ryan Guzman).
How old was Ryan Guzman in The Boy Next Door?
Most of the filming took place throughout fall 2013 in Los Angeles when Ryan Guzman was 26, though he plays a character who's supposed to be 19. He was 27 when the movie was released in January 2015.
Born on September 21, 1987, in Abilene, Texas, Ryan Anthony Guzman turned 26 on September 21, 2013. His co-star Jennifer Lopez was 44 while filming The Boy Next Door.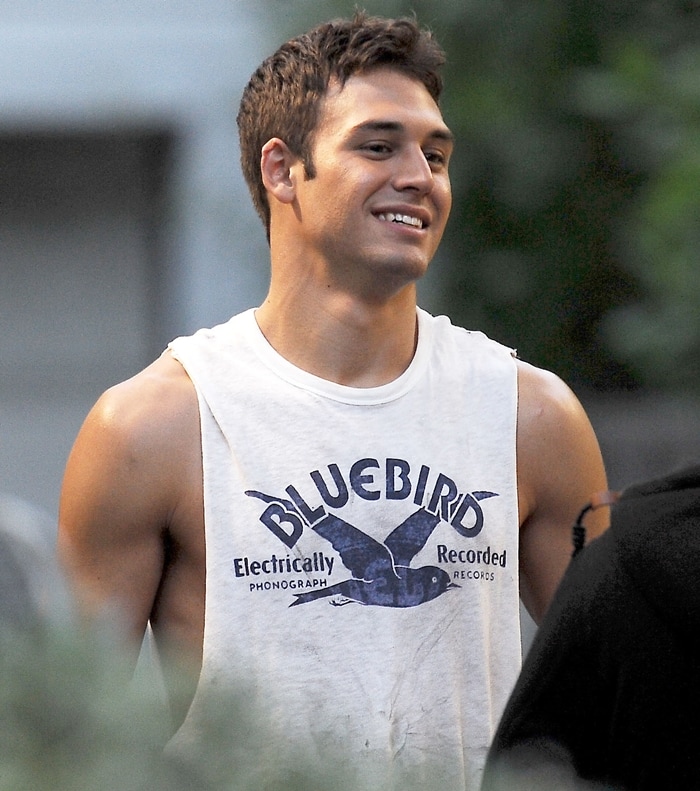 26-year-old Ryan Guzman on the set of 'The Boy Next Door' in November 2013
"If you've ever seen Ryan Guzman, the very notion that this 27-year-old actor would play a high school student seems like an idea for a comedy sketch. It's like casting Keith Richards to play an Olympic gymnast. Also, Jennifer Lopez is a terrific entertainer but she's only an adequate actress. In order for "The Boy Next Door" to work, she needs to be, at the very least, a good actress," ABC News wrote in their scathing review of the movie.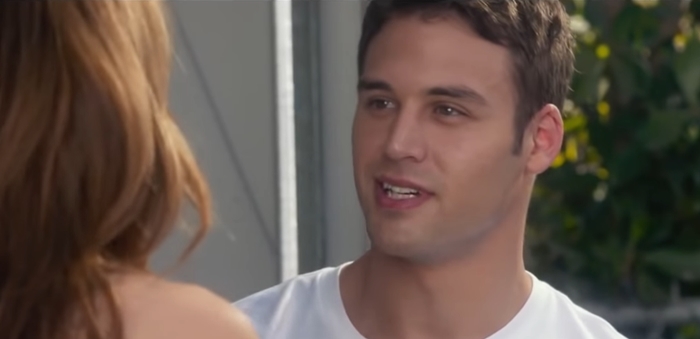 Ryan Guzman turned 26 while filming The Boy Next Door as 19-year-old Noah Sandborn
"Well, initially it wasn't this story — it was much tamer. It really started because there was this house. I'm a runner and would run by this house, and I always admired it. One day, I saw that it was up for sale, and I talked to my husband, and I said, "We should put a bid in. This is my dream house." I found out later that a boy my son was going to school with lived across the street from that house. This boy was kind of a "bad boy: He was always getting in trouble, possibly getting kicked out of school, you know, stuff like that," Barbara Curry told Cosmpolitan about the story.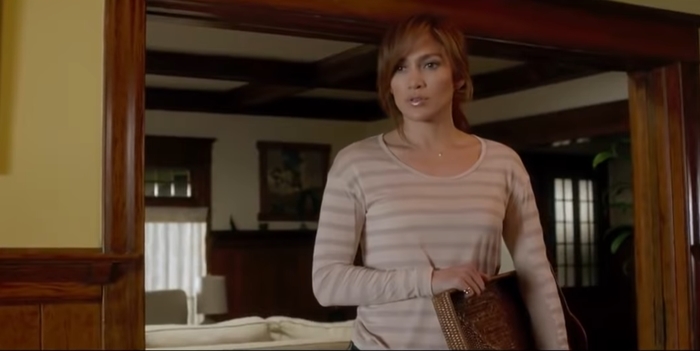 Jennifer Lopez stars as Claire Peterson in the erotic psychological thriller film The Boy Next Door
"And I wondered, If we lived in this house, that boy is going to live right across the street from my son, and I bet you they're going to become friends, and will this boy influence my son? Friends are so important to kids. And I just could imagine all the things that could go wrong with that. Because of that, we did not even try to buy the house, " she added.
"Then I thought it was a really interesting idea, this concept that a neighborhood boy could cause conflict and drive a wedge between a family. The first few drafts of [the movie] focused on a 12-year-old boy and a mother's trial of trying to get her son out of this boy's clutches, and gradually, it became something else. Then there was the decision to have [the two characters] sleep together. Of course, then I had to make the boy a lot older."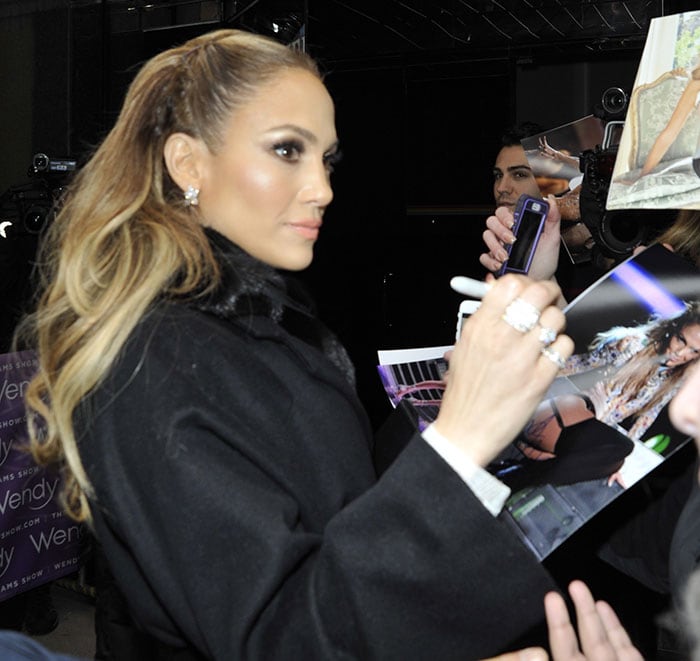 Jennifer Lopez signs autographs for fans as she arrives at "The Wendy Williams Show"
After appearing on Good Morning America, the then 45-year-old actress headed to The Wendy Williams Show to tape an episode.
She looked gorgeous in a black ensemble that included an understated trench coat, a silk pleated dress that fell below her knees, and a black fur scarf wrapped around her neck.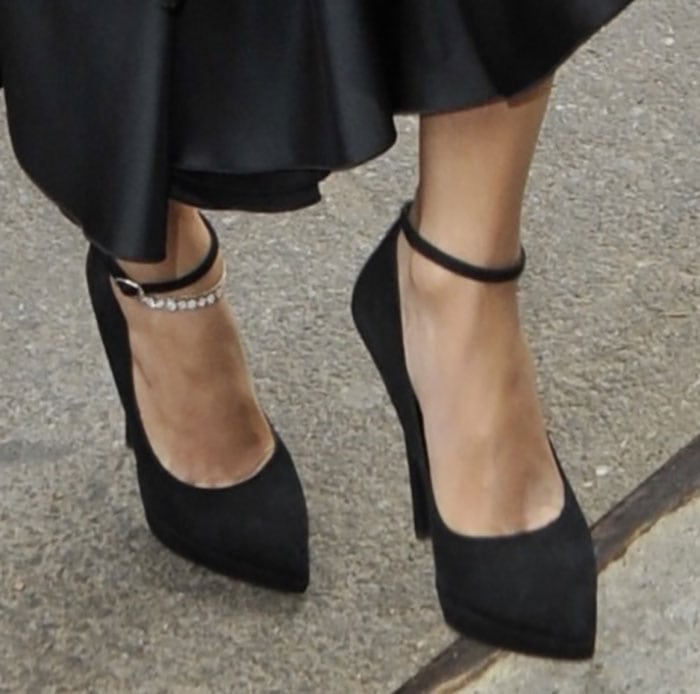 Jennifer Lopez's feet in Giuseppe Zanotti ankle-strap pumps
She completed her look with a pair of Giuseppe Zanotti suede pumps that feature buckled ankle straps, pointed toes, about one-inch platforms, and 4.75-inch heels.
Black Giuseppe Zanotti Platform Pumps, $725.52
The "Booty" singer left the studio wearing another black number — a knee-length black dress styled with a metallic gold belt, a black coat, and hoop earrings.
Jennifer Lopez wears an all-black cinched-waist look as she leaves "The Wendy Williams Show"
She traded her Zanotti heels for a pair of sheer pumps by Kurt Geiger.
Jennifer Lopez signs autographs for fans in an all-black look
These four-inch pumps are called the "Sharkie," and feature sheer side panels with crisscrossing details, suede toe caps and heel counters, and self-covered heels.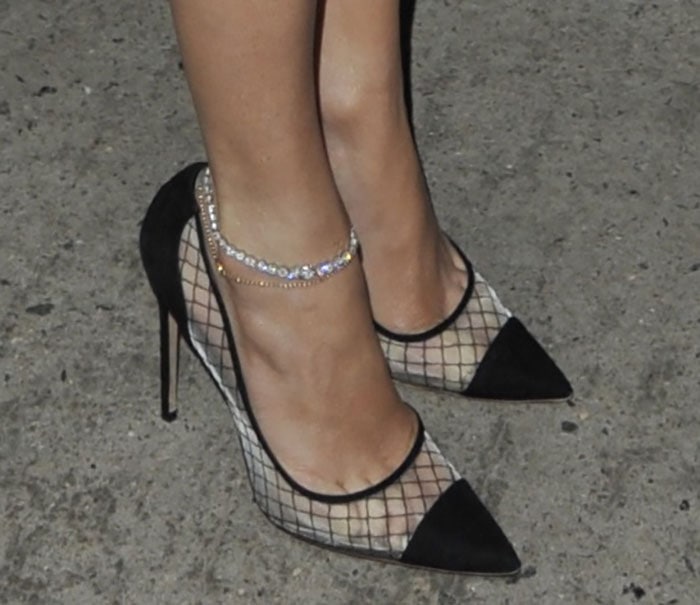 Jennifer Lopez's feet in sheer Kurt Geiger heels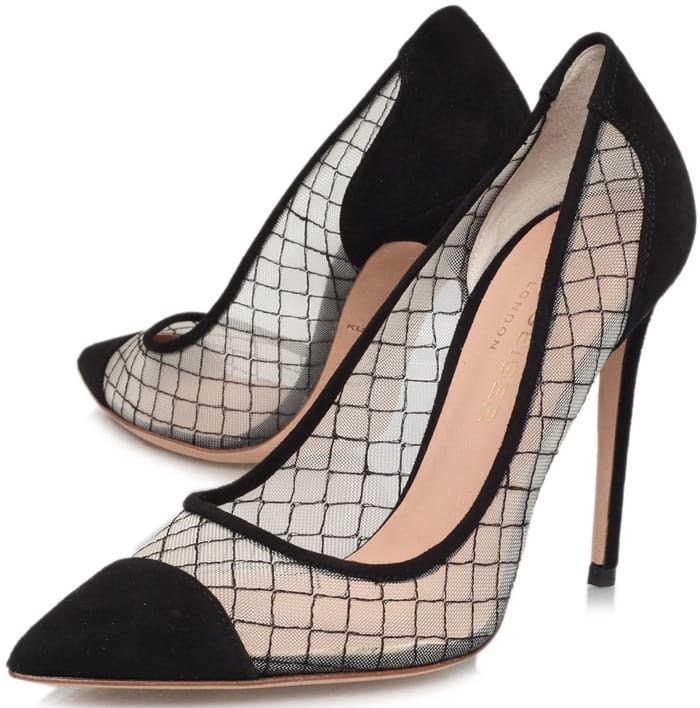 Kurt Geiger "Sharkie" Sheer Cap Toe Pumps, $550
Credit: TNYF / WENN / Cousart / JFXimages