Just one letter away from the same last name, many fans have asked if Hailee Steinfeld is related to American comedian Jerry Seinfeld.
Pictured with his wife Jessica Seinfeld at the WSJ Mag 2019 Innovator Awards at The Museum of Modern Art on November 6, 2019 in New York City, Jerry Seinfeld is not related to actress Hailee Steinfeld
A few years ago, Hailee Steinfeld's mom, Cheri Steinfeld, got mistaken for Jerry Seinfeld when making a restaurant reservation.
"Years ago. My mom's name is Cheri. She called once to make a reservation at a restaurant for the family and left it under Cheri Steinfeld, she told New York Post.
"We showed up and there was no Jerry Seinfeld in the party, which is what I think they heard over the phone, so there was quite a letdown. Luckily, I don't get that too often."
Despite their similar names, Hailee Steinfeld is not related to Jerry Seinfeld.
Hailee Steinfeld's mom Cheri Steinfeld got mistaken for Jerry Seinfeld
In December 2015, breakout star Hailee Steinfeld could reflect on a year filled with much success and exceptional achievements.
Hailee Steinfeld wears her wavy hair down at the 102.7 KIIS FM's Jingle Ball at Staples Center on December 4, 2015 in Los Angeles, California
The then 18-year-old had a crazy year. She started with a "Pitch Perfect 2" stint, was featured in Taylor Swift's "Bad Blood" video, and ended up signing with a record label to release her first single, "Love Myself."
Hailee Steinfeld wears a Yeezy top and John Paul Ataker bottoms on the red carpet of the Jingle Ball
Hailee attended KIIS FM's 2015 Jingle Ball in order to perform her latest single.
The actress-turned-popstar wore a top by Yeezy, lace bottoms by John Paul Ataker, jewelry by Rona Pfeiffer and suede "Fierce" boots by Christian Louboutin.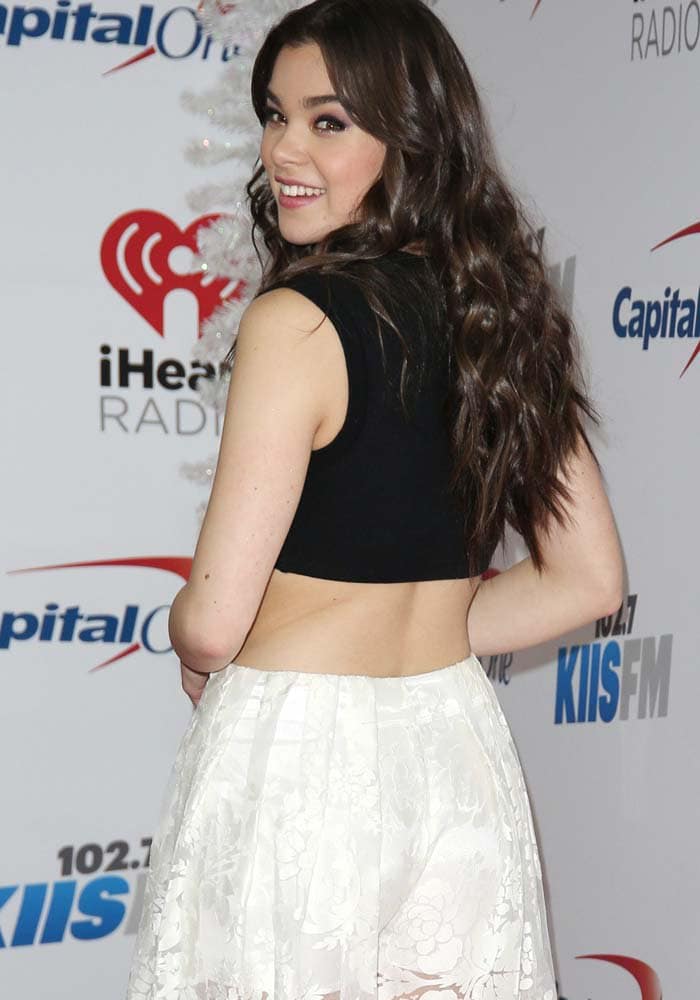 Hailee Steinfeld shows off her back in a Yeezy crop top
At the event, Hailee talked about how she went from attending Jingle Ball to see her favorite artists, to performing on stage. She also talked about her family, dishing on who was the favorite — her or her NASCAR driver brother.
Get Hailee's outfit started with the "Fierce" boots by Christian Louboutin. Grab a pair over at Nordstrom or Mytheresa.
Christian Louboutin "Fierce" Platform Boots in Black Suede, $1,445
Credit: FayesVision / Brian To / WENN / Instar / FayesVision