Scarlett Johansson along with other key members of the Marvel's Avengers cast commemorated the end of their juggernaut movie franchise with a handprint ceremony at the TCL Chinese Theater in Hollywood on Tuesday.
Marvel Studios' Avengers: Endgame producer and cast, Kevin Feige, Chris Hemsworth, Chris Evans, Robert Downey Jr., Scarlett Johansson, Jeremy Renner, and Mark Ruffalo at their handprint ceremony at the TCL Chinese Theater in Hollywood on April 23, 2019
She joined Marvel Studios head Kevin Feige and the rest of the original six Avengers namely Chris Hemsworth, Chris Evans, Robert Downey Jr., Jeremy Renner, and Mark Ruffalo in symbolizing the imprint they've made on pop culture in wet cement.
The Black Widow actress said of the occasion, "I never thought we would be immortalized like this."
Scarlett Johansson casting her handprint in cement alongside Robert Downey Jr.
For the handprint ceremony, Scarlett had to ditch the much-talked-about Infinity Gauntlet–inspired jewelry she wore at last night's Avengers: Endgame world premiere.
Even though the event was commemorative and the handpiece was commissioned by Scarlett's beau Colin Jost especially to celebrate the last Avengers film, Scarlett had to go without the gold cuff featuring chain-linked multicolored gems mimicking the Infinity Stones.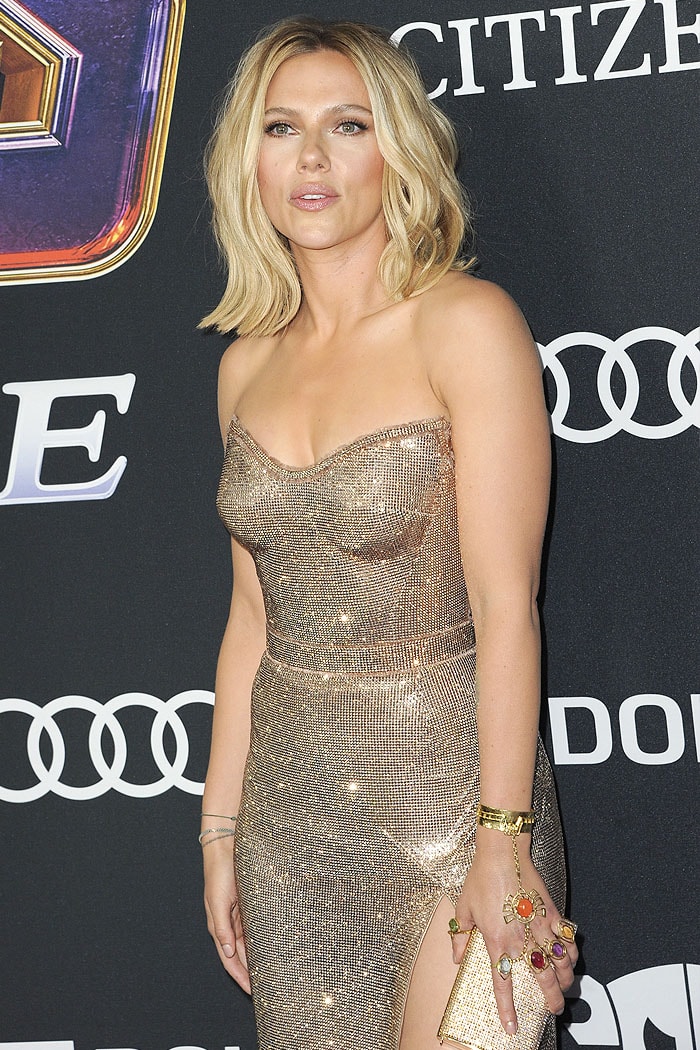 Scarlett Johansson wearing a custom Atelier Versace gold strapless chainmail dress and an Infinity Stones hand jewelry at the Avengers: Endgame world premiere held at the Los Angeles Convention Center in Los Angeles, California on April 22, 2019
Jewelry designer Sonia Boyajian said that her version of the glove of Thanos was her "craziest commission" to date.
Fellow Avenger Brie Larson also wore Infinity Stones–inspired jewelry at the world premiere, which got fans speculating if that means her character Captain Marvel and Black Widow will be the ones who'll lay claim to the Infinity Gauntlet.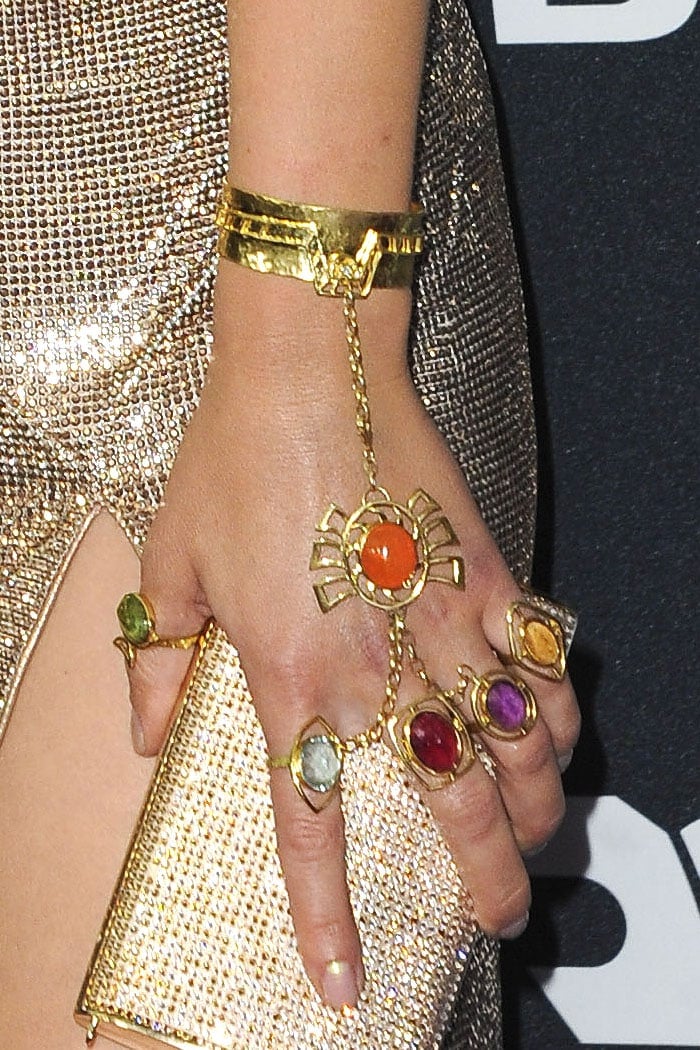 Details of Scarlett Johansson's Infinity Gauntlet–inspired chain-connected gold cuff and multicolored rings created by Sonia Boyajian
As she was going to get her hands dirty, Scarlett wore a casual and comfortable brown-and-white polka-dotted belted jumpsuit from Australian label Zimmermann.
Scarlett Johansson and Mark Ruffalo getting their hands dirty
She added height with pink patent pumps set atop 3-inch block heels, which kept the hem of her jumpsuit from dragging on the floor.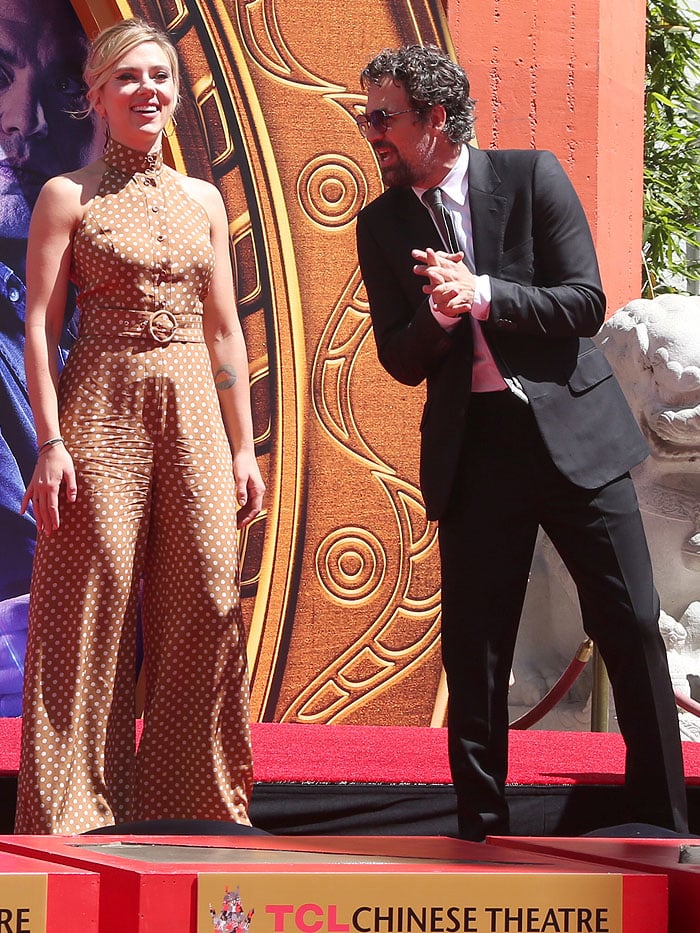 Scarlett Johansson in a Zimmerman polka-dot belted jumpsuit at the Marvel Studios' Avengers: Endgame cast's handprint ceremony
Peep how chunky the heels are on Scarlett's shoes in the pic below.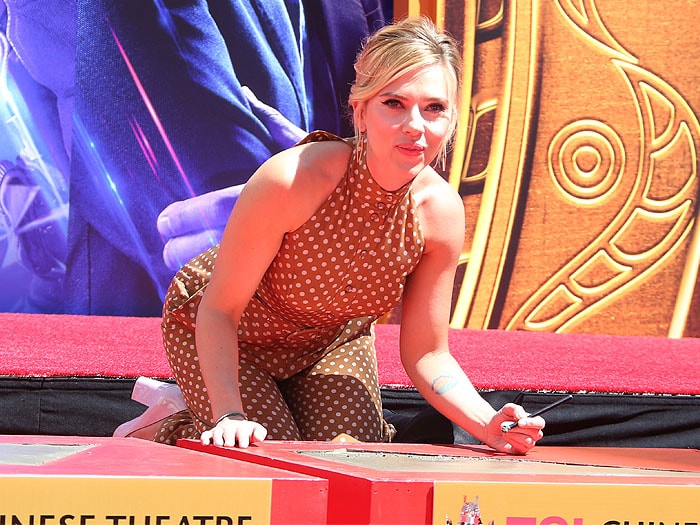 Scarlett Johansson signing her cement handprint using her left hand
Barely-there stiletto sandals have been reigning the red carpet for quite some time now so chunky heels is a refreshing sight.
Get the look for less with the Ayva block-heel pumps below. We think the way the pointy toes balance out the chunky heels is just perfect.
Ayva Block-Heel Pumps, $7.49 at JustFab
Credit: Apega / FayesVision / WENN