It looks like the Avengers ladies have finally decided to bring up their A-game.
After a lackluster Hollywood premiere, Scarlett Johansson and Elizabeth Olsen both brought more exciting fashion offerings to the European promotion of their massive money-making film, Avengers: Age of Ultron.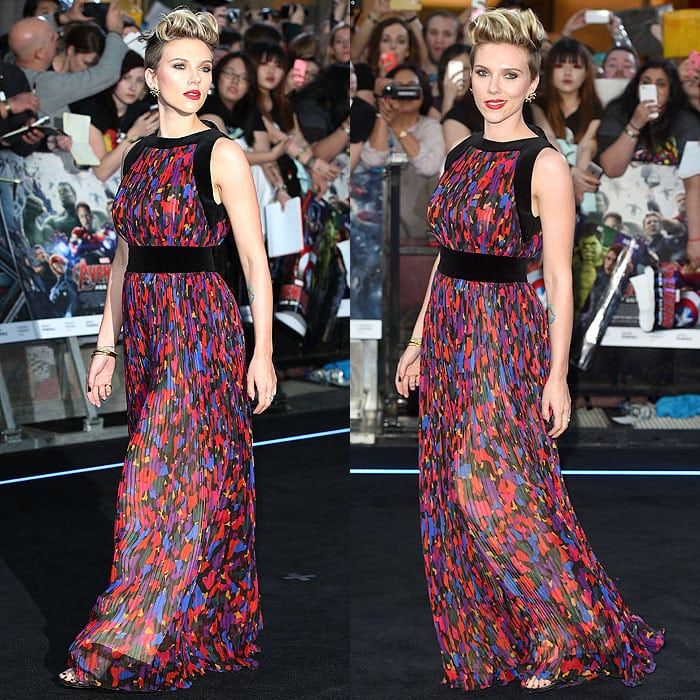 Scarlett Johansson at the premiere of the "Avengers: Age of Ultron" held at the Westfield London in London, England, on April 21, 2015
Scarlett Johansson was first to step out. She brightened up the black carpet in a colorful Balmain Fall 2015 pleated jumpsuit with an all-over camo-inspired pattern and black velvet trims at the shoulders and waist.
Scarlett Johansson giving fierce facial expressions to the cameras
Save for a pair of statement starburst earrings, Scarlett's jewelry was limited to a couple of gold bangles and rings.
Scarlett Johansson wearing a colorful camo-print pleated jumpsuit from the Balmain Fall 2015 collection
This brought out the bluntness of her tomboy buzz cut even more, which the 30-year-old seemed to match with fierce facial expressions and lots of attitude that we haven't seen before. Do you think she's taking red carpet style and posing lessons from Miley Cyrus?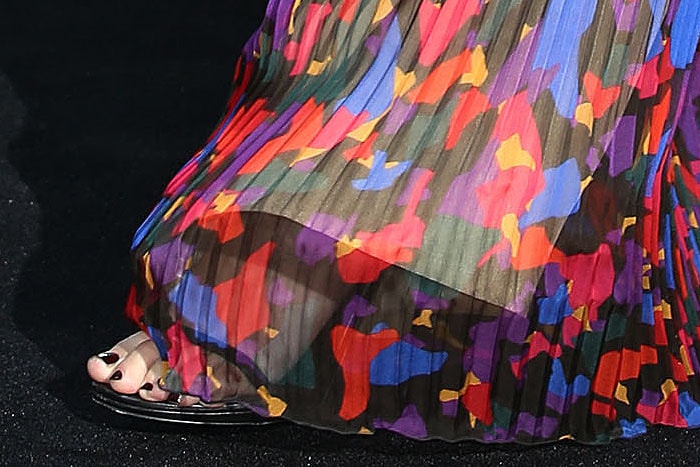 Scarlett Johansson's feet in black leather sandals
We can't quite see Scarlett Johansson's shoes from underneath her jumpsuit's hem, but our best guess is that they're these Saint Laurent "Jane" sandals:
Saint Laurent "Jane" Sandals, $795 at Farfetch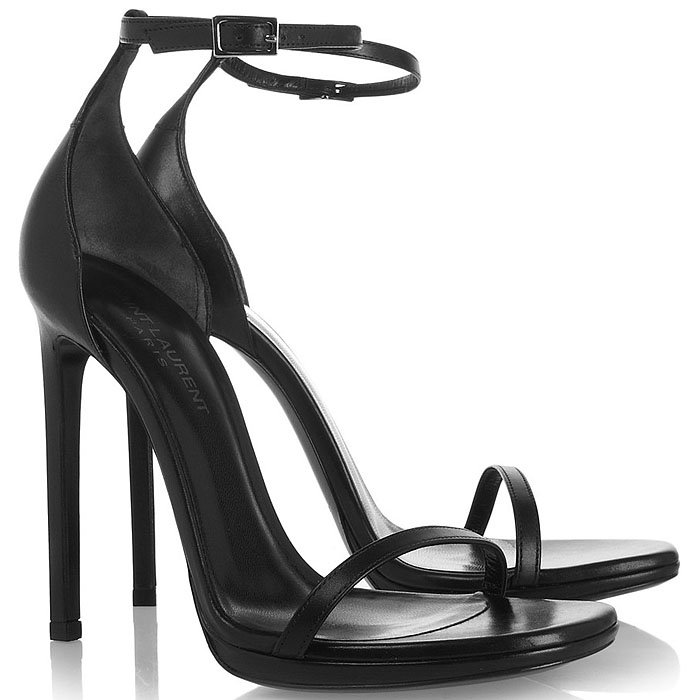 Going the complete opposite route of her co-star, Elizabeth Olsen decided to match the black carpet with an all-black ensemble.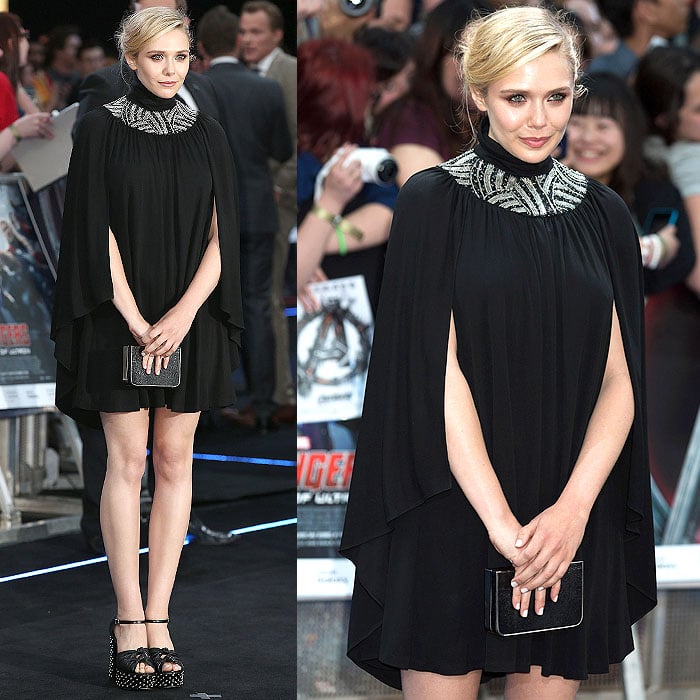 Elizabeth Olsen flaunts her slender legs at the European premiere of "Avengers: Age of Ultron"
The Saint Laurent Spring 2015 design features a cape fit for the latest addition to the Avengers superheroes.
Elizabeth Olsen wearing a Saint Laurent Spring 2015 cape dress with an embellished turtleneck collar
Since she already had an embellished neckline, Elizabeth went sans jewelry and simply carried a black box clutch. She also got some sparkle from her Saint Laurent black leather sandals that boast silver stud detailing covering the platforms.
Elizabeth Olsen's sexy toes in Saint Laurent "Candy" studded platform sandals
Get her exact shoes:
Saint Laurent "Candy" Studded Platform Sandals, $1,295 at Farfetch
Which Avengers lady gets your vote for best dressed at this premiere — Scarlett "Black Widow" Johansson or Elizabeth "Scarlet Witch" Olsen?
The Avengers men, by the way, were also able to hold their own. Check out all the dapper dudes, particularly Robert Downey Jr.'s sick studded sneakers that we are dying to identify. Please hit the comment button if you can identify them!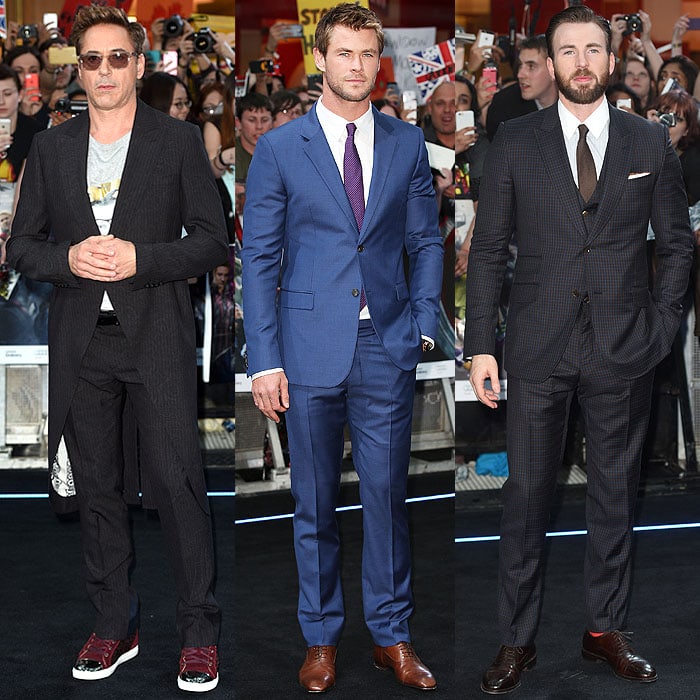 The men of the Avengers: Robert Downey Jr., Chris Hemsworth, and Chris Evans, arriving at the "Avengers: Age of Ultron" premiere in London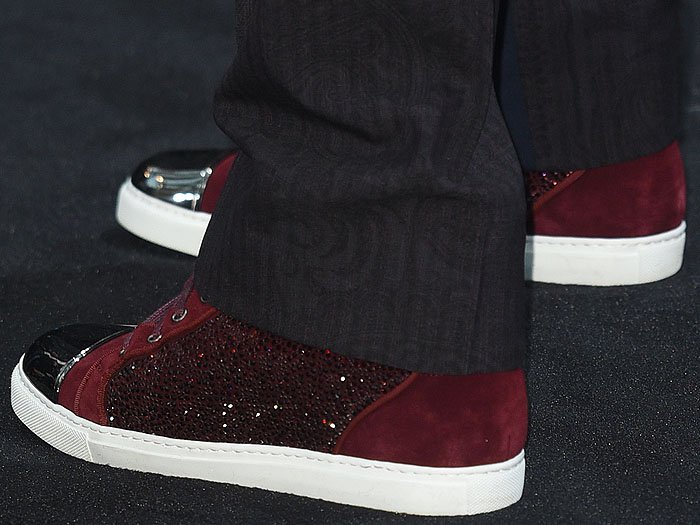 Closeup of Robert Downey Jr.'s burgundy suede sneakers with crystal-studded sides and silver toe caps
The men of the Avengers: Jeremy Renner, Mark Ruffalo, and Paul Bettany gracing the "Avengers: Age of Ultron" European premiere
Credit: Daniel Deme / Joe / Joe Alvarez / Lexi Jones / WENN