Without a single doubt, we can confidently say that Bobby Flay is one of the world's most illustrious chefs.
The wealthy Food Network star has hosted and appeared on a plethora of television shows (cooking-related or otherwise), including Throwdown! with Bobby Flay, Iron Chef, Beat Bobby Flay, and his show with co-star and rumored flame Giada de Laurentiis, Bobby and Giada in Italy.
Bobby Flay with his Hiberno American parents, Dorothy Barbara and Bill Flay (Credit: Kathy Hutchins / Shutterstock)
Despite his busy film schedule, Flay still manages to serve as owner and executive chef of multiple restaurants, including Amalfi in Las Vegas, Gato in New York, and Bobby's Burger Palace, a chain that has nineteen locations in eleven states.
Even still, Bobby Flay has found the time to publish a whopping fourteen cookbooks that you can buy on Amazon!
Entrepreneur Laurence Kretchmer, Caesars Entertainment Chief Operating Officer Anthony Carano, television personality and chef Bobby Flay, Caesars Palace General Manager Sean McBurney, and Caesars Entertainment Chief Executive Officer Tom Reeg attend the grand opening of Amalfi by Bobby Flay at Caesars Palace on June 18, 2021, in Las Vegas, Nevada (Credit: MEGA / WENN)
Obviously, Flay is an extremely prolific chef, as the restaurateur has an estimated net worth of $60 million. What many people don't know is that the chef is an extremely prolific ladies man, too — Bobby Flay has been married three times to three different women.
"Food is the epicenter of my life," the celebrity chef shares on his website. "It's the way I make my living, the way I express myself, and how I keep healthy. I communicate with the world through food."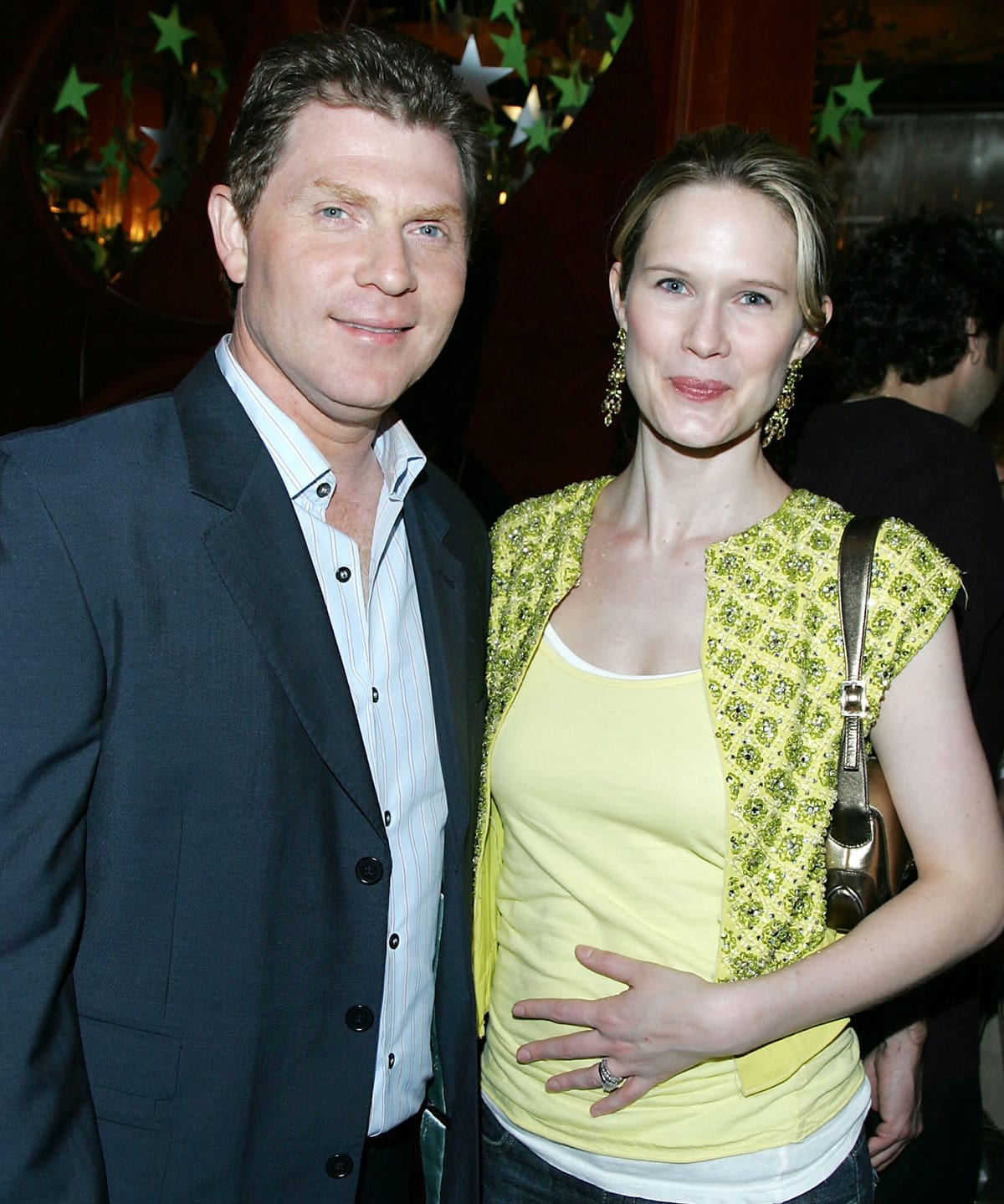 Bobby Flay filed for divorce shortly after separating from his third wife, Stephanie March, in early 2015 (Credit: Alex Oliveira / Startraksphoto)
Flay's food communication must be lacking because all three of the Beat Bobby Flay star's marriages have ended in divorce.
Follow along with us to learn about Bobby Flay's three ill-fated marriages, his ongoing rivalry with Gordon Ramsay, and what he is up to now.
Bobby Flay's First Wife, Debra Ponzek
Okay, maybe communicating through food works for Bobby Flay, at least at the beginning of a relationship. Flay's first wife, Debra Ponzek, shared the celebrity chef's passion for the culinary arts and was also a chef to be reckoned with.
Debra Ponzek was not always a chef. The culinary maven actually attended Boston University to pursue an engineering degree before realizing she loved food more than building machinery.
Debra Ponzek beat her then-husband, Bobby Flay, by winning the James Beard Foundation Award for Rising Star Chef in 1992 (Credit: RISE Brewing Co. Instagram)
She eventually dropped out to study cooking at the Culinary University of America, where she graduated in 1984. That same year, Bobby Flay was also graduating from the French Culinary Institute in New York City.
In a Ratatouille-esque romance (minus the rat, of course) Flay and Ponzek first met in June of 1990 while Flay was working at the Miracle Grill in New York City.
Though the pair have not spoken openly about their engagement, it was a whirlwind romance as Flay and Ponzek reportedly decided to get married within weeks of their first meeting.
The couple wed in May of 1991, less than a year after their first date. The event was held at the Rainbow Room in New York City and around 225 of the pair's friends and family were in attendance.
Of course, being chefs themselves, Flay and Ponzek spared no expense when it came to making sure that their guests would have the meal of a lifetime. Andrew Wilkinson, who, at that time, was the Rainbow Room's executive chef, served guests a decadent, full-course dinner.
Gourmet food and catering stores by Debra Ponzek (Credit: Debra Ponzek's Instagram)
The cake was no less indulgent, a blackberry vanilla behemoth created by New York baker, Sylvia Weinstock, who has created delicious and artisanal cakes for a number of notable big-names, including Martha Stewart and Donald Trump.
Both Bobby Flay and Debra Ponzek found great culinary success during their marriage. In 1992, the couple was individually nominated for a James Beard Foundation Award.
The James Beard Foundation has held a yearly awards show since 1991, to "recognize exceptional talent and achievement in the culinary arts, hospitality, media, and broader food system, as well as a demonstrated commitment to racial and gender equity, community, sustainability, and a culture where all can thrive."
Unfortunately, despite Flay and Ponzek's culinary and romantic love affair, there is such a thing as too many chefs in the kitchen.
When the couple found out they had both been nominated for the James Beard Foundation's "Rising Star Chef" award in 1992, Flay immediately tried to have his name removed from the voting roster, claiming that he did not want to be competing against his wife.
Whether this is because Flay was worried that the competition would put a strain on their marriage or he thought Ponzek was a better chef than he was is up to interpretation. However, it was too late.
View this post on Instagram
"Bobby called me asking to withdraw his nomination to not compete against Debra," said Melanie Young, Director of the James Beard Foundation Awards, in an interview with Eater. "I told him, 'We can't change voting results.'"
Either way, Bobby Flay's efforts to be removed from consideration were pointless, as his wife, Debra Ponzek, won the award for Rising Star Chef in 1992, while Flay won the next year, in 1993.
Whether it was due to their speedy nuptials or arguments about who was the better chef, Ponzek and Flay divorced in 1993 after being married for only two years.
View this post on Instagram
Since 1994, Debra has been married to Greg Addonizio. They reportedly live in Connecticut with their three children.
Bobby Flay's Second Wife, Kate Connelly
Bobby Flay, apparently having learned nothing after his divorce from Debra Ponzek, fell head over heels with Kate Connelly, yet another chef!
The pair first met in 1994 while they were both working on set at The Food Network — Flay appeared as a guest on Robin Leach Talking Food, where Connelly served as a co-host.
While the circumstances of their early relationship may have made other romantic interests balk — Connelly was a single mother, parenting her son, Jonathan, while Flay was fresh off his divorce — Flay says that one another's "baggage" is what attracted them to one another.
Sophie Flay and Bobby Flay at VH1 Save The Music Foundation's "Hamptons Live" benefit hosted by Billy and Julie Macklowe at a private estate in Sagaponack, New York on August 8, 2015 (Credit: Derrick Salters / WENN)
Not one to stray from tradition, Flay proposed to Connelly just only a short time after their first meeting. The couple tied the knot during a low-key ceremony (compared to Flay's first wedding) at Bobby Flay's Spanish restaurant, Bolo.
The past repeated itself once again when Flay and his new wife, Kate Connelly, divorced after just three years of marriage in 1998.
Bobby Flay and Kate Connelly's marriage was short and ill-fated, but one good thing came out of their time together, as the couple welcomed their daughter, Sophie Flay, in 1996.
Though her parents did not manage to keep their love alive, Sophie Flay still manages to have a great relationship with her celebrity chef dad.
Chef Bobby Flay with his parents, Dorothy Barbara and Bill Flay, and daughter Sophie Flay at a ceremony honoring him with a Star on The Hollywood Walk Of Fame on June 2, 2015, in Hollywood, California (Credit: Nicky Nelson / WENN)
The father-daughter duo have shared the small screen together, with Sophie making appearances on Brunch at Bobby's, Beat Bobby Flay, and co-hosting The Flay List with her father.
"I have a very close relationship with Sophie," Flay said in an interview with Parade. "We share a very fruitful life together and it has always revolved around food because of what I do for a living, and her exposure to it, as well as her growing love of food in general."
Now 26, Sophie Flay has managed to make a name for herself without becoming a chef like her parents. Currently, Sophie works as a journalist for the Los Angeles news channel ABC7, is a contributor to Localish, and has even done voiceover work for Spotify.
"I think that Sophie is going to eclipse me in every part of her life," Bobby Flay revealed in an aww-worthy interview with Parade.
"She has a special way about her. She's well-liked, and she's very inclusive to everyone around her. She is savvy and an extremely hard worker. I am not worried one bit about Sophie and her future."
Bobby Flay's Third and Final Wife, Stephanie March
In Bobby Flay's defense, he did not go after yet another chef. Instead, he met Stephanie March, an actress whose credits include titles such as Law & Order: Special Victims Unit, Early Edition, A House on Fire, Rescue Me, Grey's Anatomy, and 30 Rock.
Believe it or not, Flay and March did not meet because of a shared love for all things food. In fact, the pair had been set up on a blind date by a mutual friend.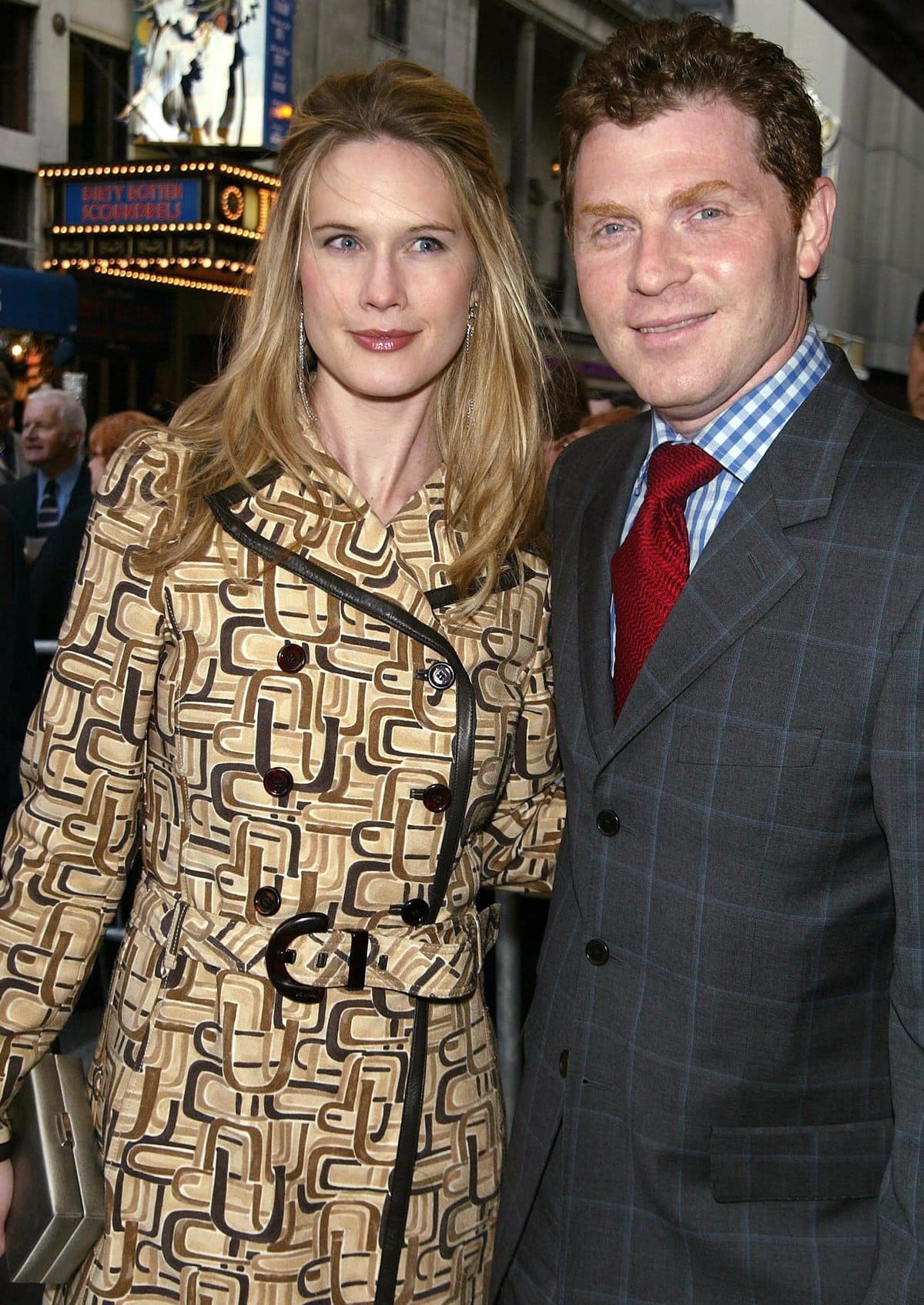 Stephanie March was introduced to Bobby Flay by their mutual friend, actress Mariska Hargitay (Credit: Joseph Marzullo / WENN)
Flay and March went on their first date in 2000, attending dinner at a celebrity favorite sushi restaurant, Nobu, in New York City.
Needless to say, Flay realized that he should play it cool before popping the question (unlike in his previous two marriages, where the chef proposed just months after meeting both Debra Ponzek and Kate Connelly).
This time, Flay waited three whole years to propose to his actress girlfriend, but when he did, he made sure it was special.
His proposal was picture perfect, getting down on one knee at the ice skating rink below Rockefeller Plaza, Christmas lights twinkling, as he presented Stephanie March with a beautiful (and expensive) princess-cut diamond ring.
The pair were married two years later, in 2005, at St. Peter's Episcopal Church in New York City.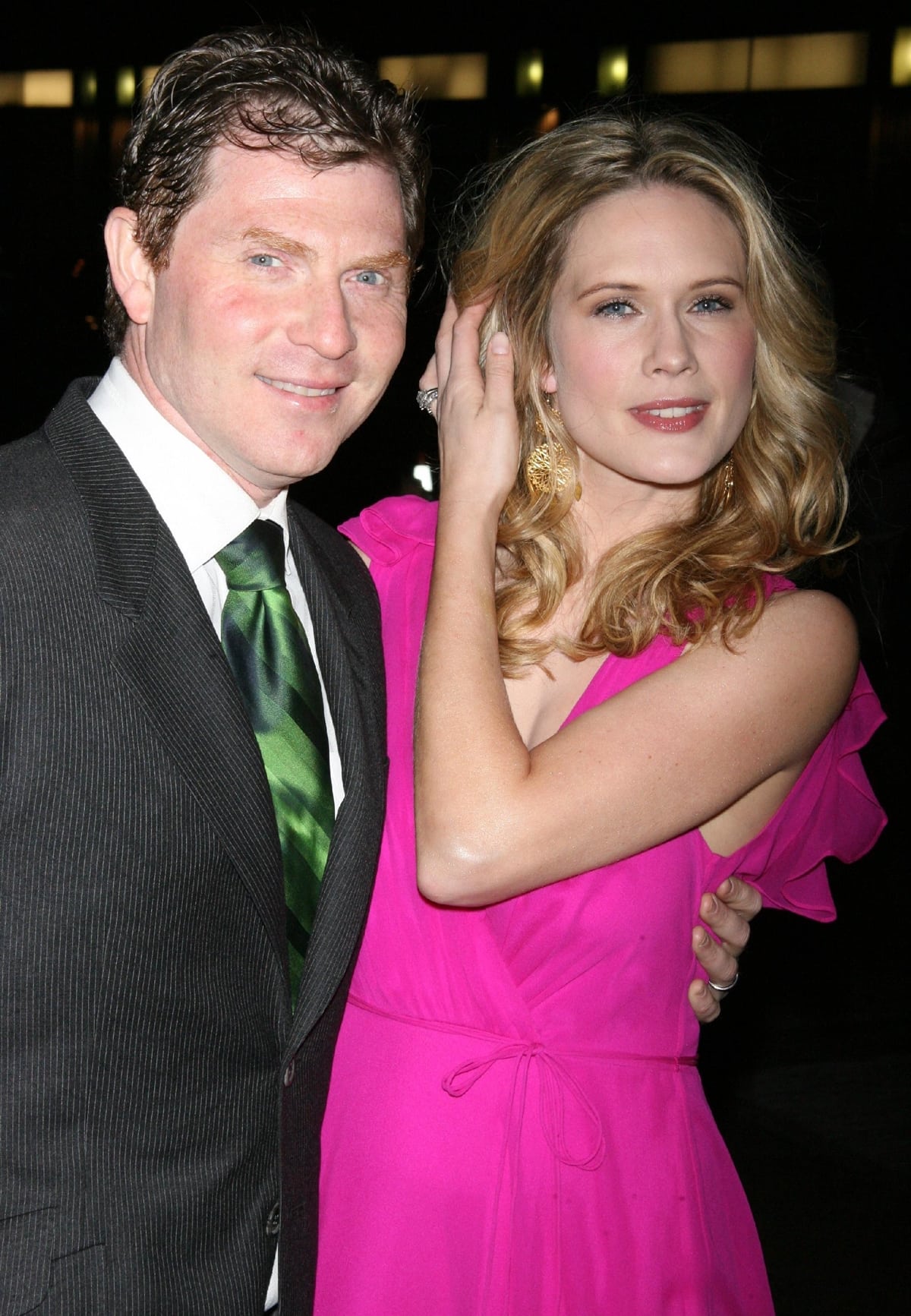 After dating for five years, Bobby Flay and Stephanie March were married on February 20, 2005, at St. Peter's Episcopal in New York City by Rev. K Dennis Winslow (Credit: PNP / WENN)
Bobby Flay's third marriage to Stephanie March lasted much longer than his previous two. The couple stayed together for ten years and seemed to have a happy and loving relationship.
The chef's wife made frequent appearances on her husband's television shows, including Throwdown with Bobby Flay, Boy Meets Grill with Bobby Flay, Iron Chef America: The Series, and Bobby Flay Fit.
Unfortunately, the couple's decade-long marriage came to an end when the couple was divorced in 2015. Though neither Flay nor March revealed much to the media about their relationship, rumors began to swirl about their reasons for divorce.
At the time, 50-year-old Bobby Flay had been rumored to be having an illicit, extramarital affair with his assistant, singer/actress Elyse Tirrell, who was nearly half his age.
Stephanie March also claimed he committed adultery with January Jones several times during the early months of 2010. It's rumored that Bobby is the father of January Jones' son, Xander Dane Jones, who was born on September 13, 2011.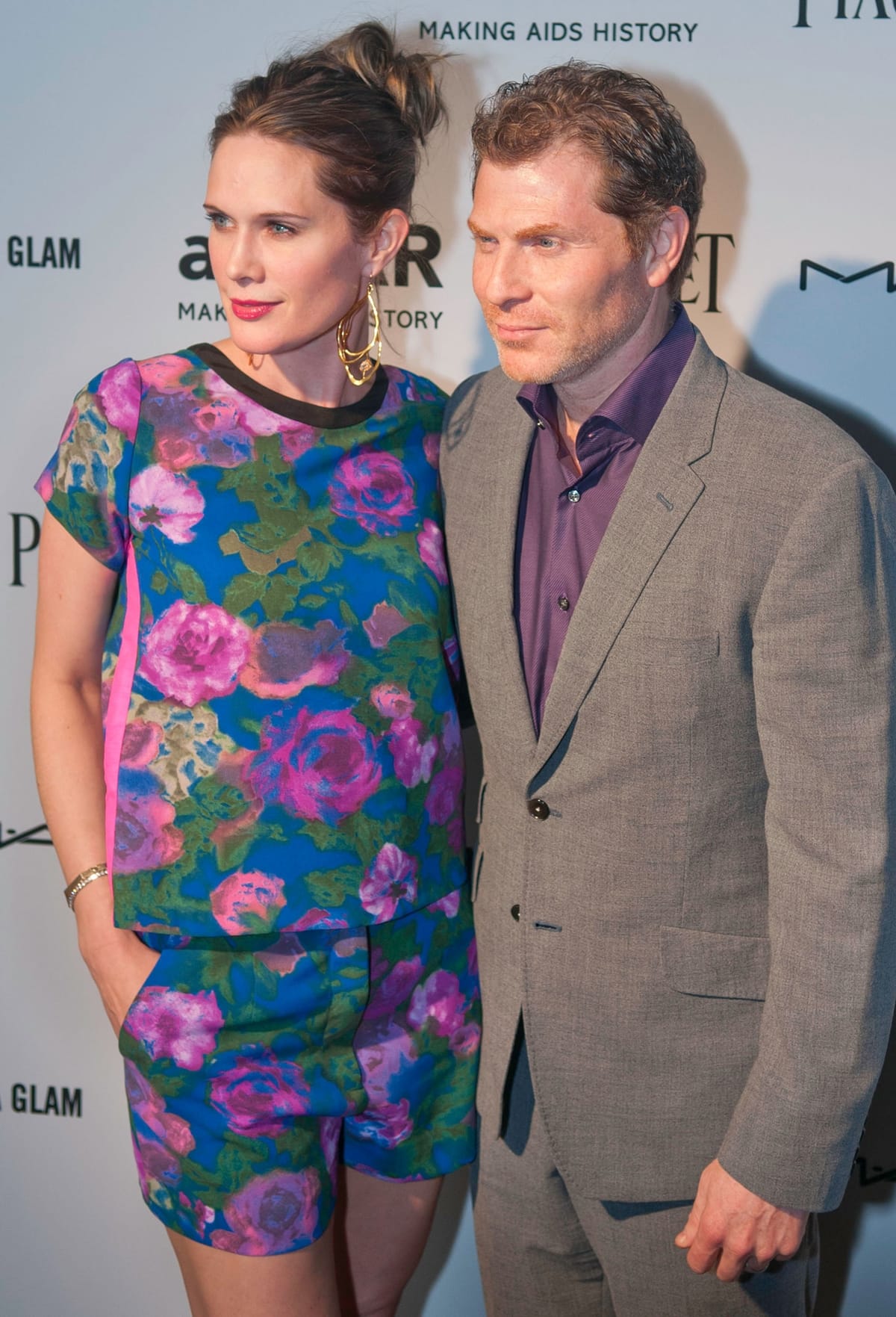 Stephanie March and Bobby Flay filed for divorce in 2015 and alleged that Flay had an affair with his assistant, Elyse Tirrell, and "Mad Men" actress January Jones (Credit: Mitchell Zachs / WENN)
These rumors have not been substantiated, but instead of denying the affairs outright, Flay's representatives released a statement claiming that they would not comment on the affairs, which, quite frankly, is a bit suspicious.
News began to surface about Flay and March's nasty divorce settlement battle — including a prenuptial agreement that required the chef to pay his ex-wife $5,000 a month — and much of this, quite frankly, made Bobby Flay seem perfectly awful.
One of these reports included that Flay failed to support his then-wife when her appendix burst in 2013, and March had to receive emergency surgery.
Bobby Flay is rumored to be the father of January Jones' son, Xander Dane Jones (Credit: WENN)
Allegedly, Flay did not even arrive at the hospital until after the surgery despite claims that he was in town.
Additionally, Flay allegedly left the hospital before March was released — offering her no comfort, care, or even a ride home — claiming that he "had to work" and would send his assistant to his then-wife's aid.
Not cool, Bobby Flay. At least the guy is a good father. In 2017, two years after her divorce, Stephanie March married Dan Benton, the founder of Andor Capital.
What Is Bobby Flay up to Now?
Other than Bobby Flay's newsworthy rivalry with fellow celebrity chef and notable pottymouth Gordon Ramsay — which began in 2013 after Ramsay said he had "forgotten more than he's known" about Flay and was attempted to be settled in the only way a celebrity chef knows how: a cook-off — Flay has continued his career as a restaurateur and television host.
Though Flay's restaurants are doing well commercially, the chef has lost some luster when it comes to being a decorated culinary artist.
Bobby Flay has only been awarded one Michelin star and currently doesn't have any (Credit: MEGA / WENN)
He was awarded his first Michelin star in 2008 for his Las Vegas Mesa Grill restaurant but was unable to hold onto his star and was not given any Michelin Stars the next year.
Flay still has no Michelin Stars, unlike Gordon Ramsay, who has seven. I wonder who would win that cook-off?
In recent years, Flay was rumored to have an ongoing romance with fellow Food Network star Giada de Laurentiis. The two chefs suspiciously announced their respective divorces in 2015, but both claim they simply have a good friendship, which explains their chemistry on screen.
Since then, the two collaborated on a new show for Discovery+, titled Bobby and Giada in Italy, where they traipse across the beautiful Italian countryside, eating every dish imaginable.
It's hard to believe the pair weathered a serious professional feud in the early 2000s after an Iron Chef America fiasco. It seems the chefs are long past this.
Bobby and Giada in Italy is a travelogue series on Discovery's streaming service, discovery+ (Credit: Food Network)
These days, media outlets have finally revealed the name of a new mystery woman in Flay's life. After carefully avoiding questions about his new flame, the identity of writer Christina Perez has finally bubbled to the surface. The much younger Perez has written for publications like Elle, Vogue, and Condé Nast Traveler.
Perez was seen next to Flay and his daughter, Sophie, at the Breeder's Cup, where his horse, Pizza Bianca, was receiving honors.
It was revealed by a close source that Flay and Perez have been quietly dating for about a year, during which Flay would refer to his nameless "girlfriend" as someone who didn't eat meat. Although prying hosts would latch onto the detail, Flay has, until recently, remained tightlipped about Christina's identity.
View this post on Instagram
"She's so lovely. I'm really happy to have met her," Chef Flay told People. "My life is so crazy hectic, and she's always the light at the end of the day for me."
The couple are becoming more vocal on social media about their relationship and their kitchen collaborations! The pair haven't announced taking their relationship to the next level just yet, but based on Flay's history as a hopeless romantic, we'll keep our fingers crossed- maybe the fourth time's a charm!