Jennifer Hudson may have gotten her start on American Idol in 2004, but the actress-slash-singer has made so much progress since her Idol days that it's sometimes hard to think of an entertainment scene without her.
In addition to blowing up TV sets, movie screens and Top 40 stations, J. Hud has also blown up the tabloid pages.
While there's no question when it comes to Jennifer's talent, there certainly is a lot of speculation in regards to her love life.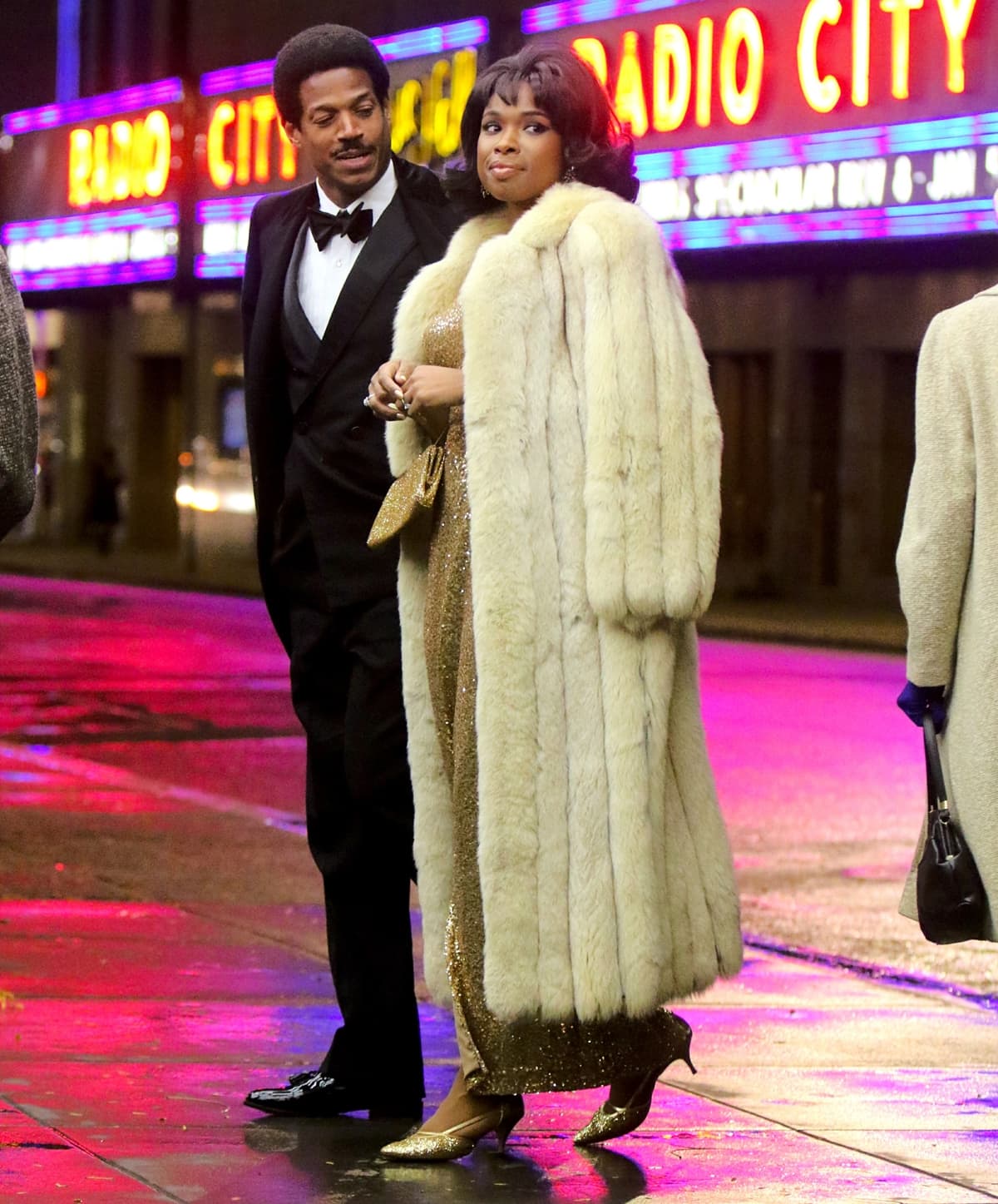 Jennifer Hudson as Aretha Franklin and Marlon Wayans as Aretha's abusive husband and manager Ted White filming on location for "Respect" on November 8, 2019, at Rockefeller Center in New York City (Credit: Jose Perez / INSTARimages)
Much of that speculation revolves around and Marlon Wayans, a famous American actor, writer, comedian, and producer.
Marlon, who kicked off his career in 1988 with a pedestrian role in "I'm Gonna Git You Sucka," quickly developed a successful Hollywood career, where he eventually met Jennifer.
Read on to catch up with some of that speculation… and find out the truth.
A private life
Jennifer's turbulent dating history has led the singer to become increasingly mum about her personal life.
Jennifer's well-documented conflict with ex-fiancé David Otunga appeared to cause both a lot of personal grief and career impact.
After 10 years of partnership, Jennifer broke off an engagement with David, and then requested an emergency protection order to stave off her former fiancé's efforts to ruin her reputation.
She also got a restraining order.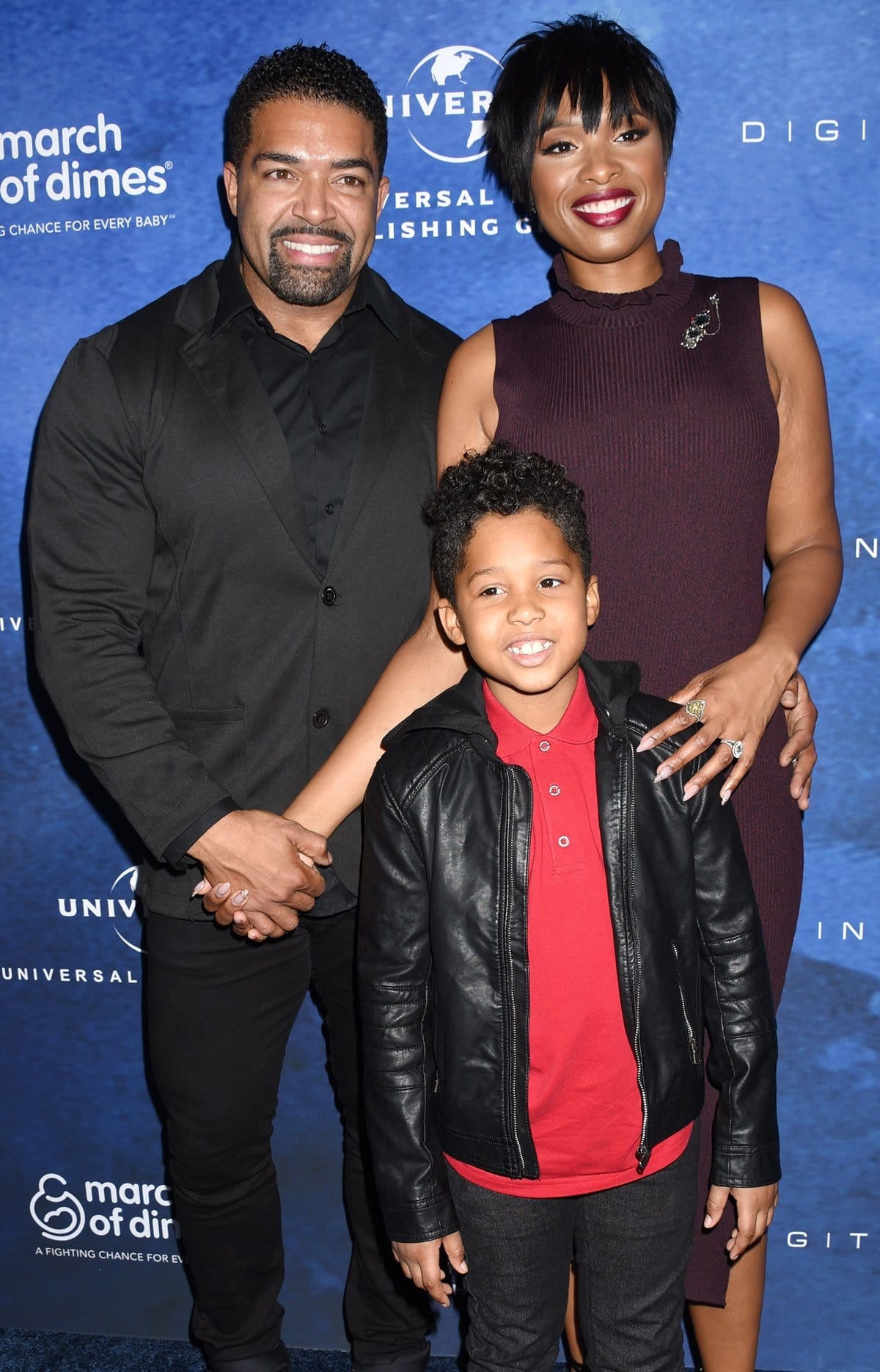 Jennifer Hudson and her former fiancé David Otunga, with whom she shares David Daniel Otunga Jr., split in November 2017, and she received a protective order against him (Credit: Ga Fullner / Shutterstock)
David managed to leak false information to the press, and won full custody of the duo's son, David Daniel Otunga Junior, in the process.
Jennifer's former fiancé also allegedly violated a confidentiality agreement, which explains further why Jennifer prefers to keep her personal issues out of the limelight.
A spark with Common?
However, as much as Jennifer would like to keep speculation regarding her dating life to a minimum, the tabloids continue to do what tabloids do.
Following her separation with David, eyes turned to Jennifer and rapper-slash-actor Common.
Eyewitnesses reported seeing the two getting quite cozy at Philly eatery Vedge — allegedly cuddling and giggling over food.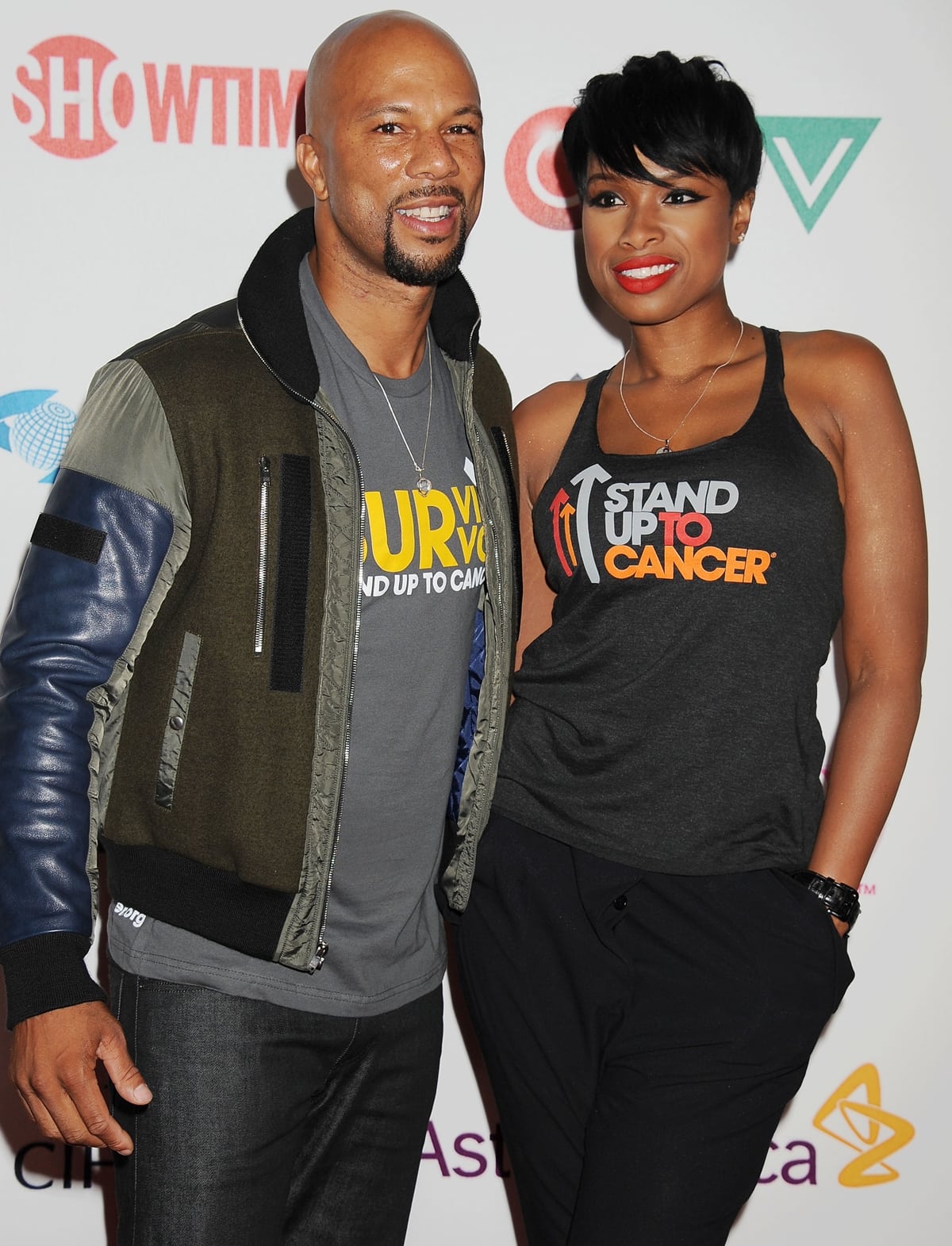 Jennifer Hudson has been rumored to be dating Common, with whom she stars in the upcoming action-thriller "Breathe" (Credit: INFphoto)
Common — who recently split with comedian Tiffany Haddish due to busy schedules — hadn't been tied to another love interest until he was cast alongside Jennifer.
Common and Jennifer both star in Stefon Bristol's action-thriller "Breathe," which may explain why the two were caught dining together. This futuristic picture also stars Sam Worthington and Milla Jovovich.
A link with Marlon Wayans
Similarly, a film project starring both Jennifer and Marlon Wayans led to even more rumors about Jennifer's dating life.
"Respect," the biopic about "Queen of Soul" Aretha Franklin, stars Jennifer as Aretha and Marlon as Ted White, Aretha's abusive husband and manager.
The pair were first linked due to a discredited YouTube Video named "Jennifer Hudson and Marlon Wayans Go Public About Their Romantic Relationship," but the rumors resurfaced again following the casting of "Respect."
However, it's highly unlikely that the two have ever dated.
Wayans has publicly shared in interviews that instead of pursuing relationships and marriage, he's spent his time and emotional energy focusing on his mother.
Jennifer Hudson is rumored to have started dating Marlon Wayans while filming "Respect" (Credit: Jose Perez / INSTARimages)
"I never got married because I knew my mom needed me," he told Essence.
Even though Marlon's mother, Elvira Wayans, has since passed away, the actor still has no interest in marriage.
"On her death bed, I said, 'Can I tell you something woman?'," Marlon said. "She was in a lot of pain and she was fighting to stay alive and I say, 'I'm 47 years old and I've never been married because I always wanted you to be my number one girl.'"
"My mother turned over, she looked at me, she grabbed my hand, and she pulled me close to her. I said 'I know, I love you too,'" he said.
Marlon remains unmarried, and never married his ex-girlfriend Angelica Zachary. He dated her between 1992 and 2013, and they welcomed two children into the world, Amai Zackary Wayans and Shawn Howell Wayans.
Marlon has also been rumored to have dated Essence Atkins.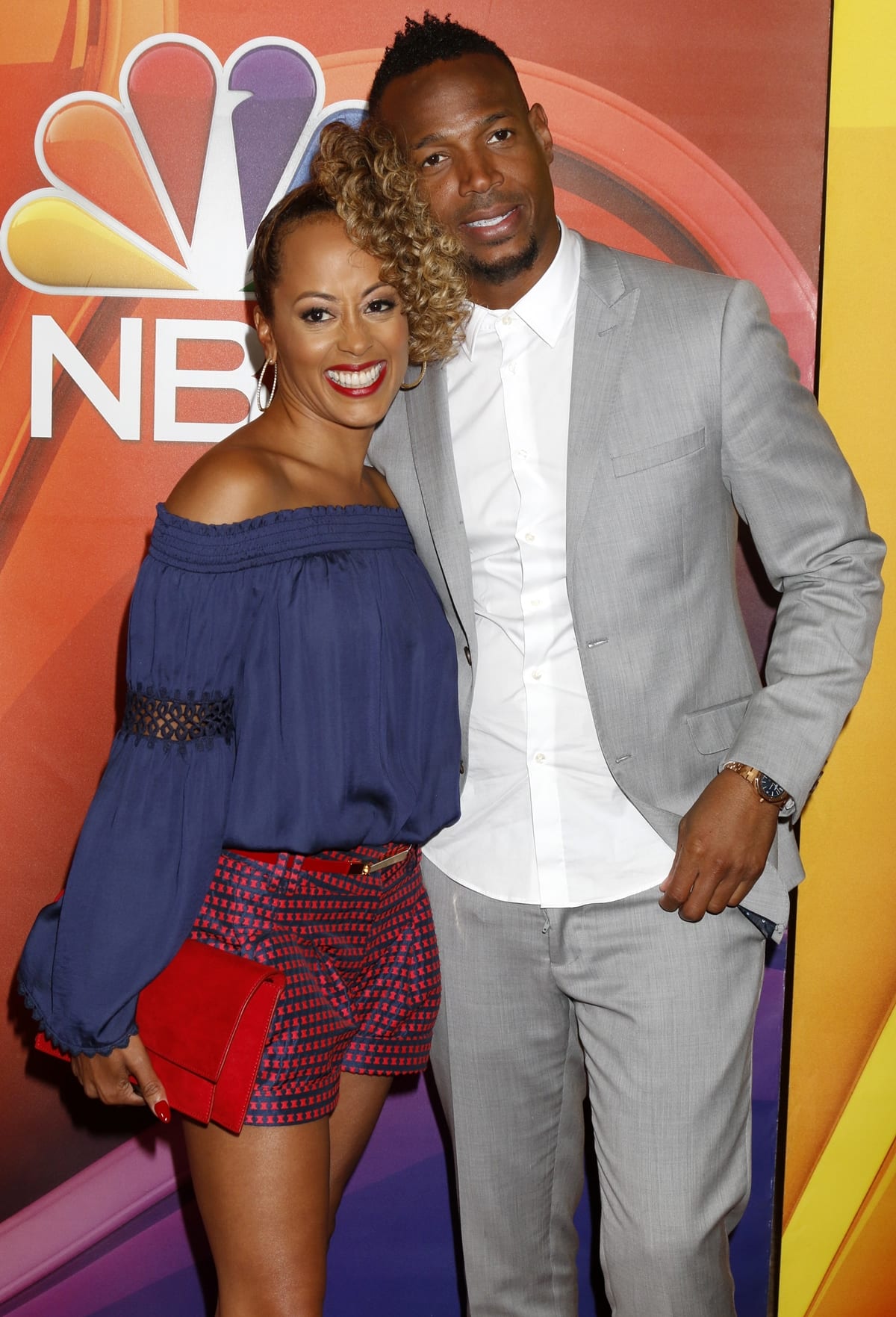 Marlon Wayans has been rumored to be dating his good friend Essence Atkins (Credit: Kathy Hutchins / Shutterstock)
While Marlon may have been quick to publicly choose his mother over any future wife, Jennifer has remained silent about the subject.
Why Jennifer Hudson's love life sparks so much interest
As fascinating as Jennifer's love life is to many, we have to admit: This powerhouse is fascinating all on her own.
Jennifer is the youngest woman – and only the second black woman — to win all four top U.S. entertainment awards: Grammy, Oscar, Emmy and Tony.
J. Hud also earned a star on the Hollywood Walk of Fame in 2013, and was declared one of Time Magazine's 100 most influential individuals on the planet in 2020.
So, even if Jennifer's private life isn't in the spotlight, we're sure glad her talent is!
Jennifer Hudson's Style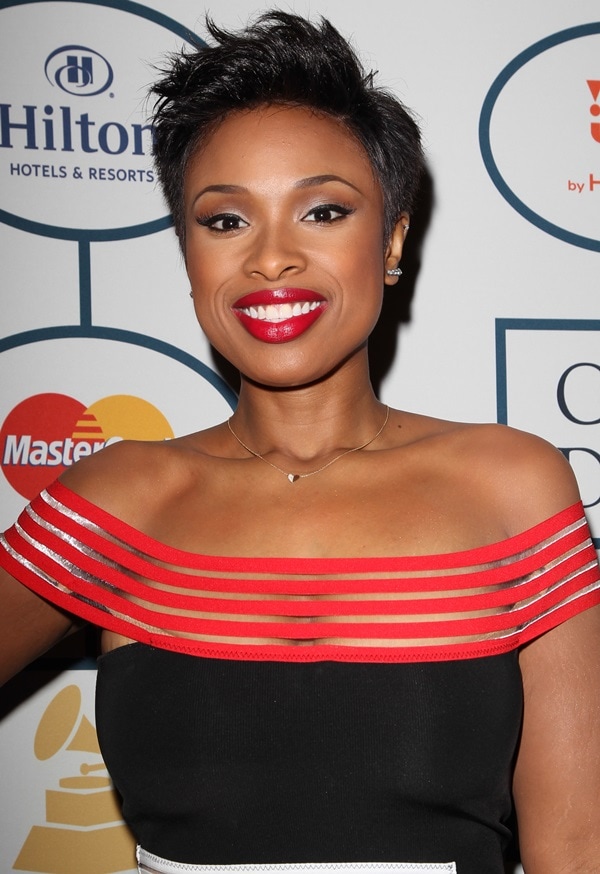 Jennifer Hudson wears her short hair in a spikey hairstyle at Clive Davis's Pre-Grammy Gala held on January 25, 2014, at The Beverly Hilton hotel in Los Angeles (Credit: WENN)
If the dress that Jennifer Hudson wore to the 2014 Clive Davis Pre-Grammy Gala and Salute to Industry Icons looked familiar, it's likely because you've seen it before.
Jennifer styled a black off-the-shoulder Christopher Kane dress with Christian Louboutin's popular "Pigalle" glitter pumps.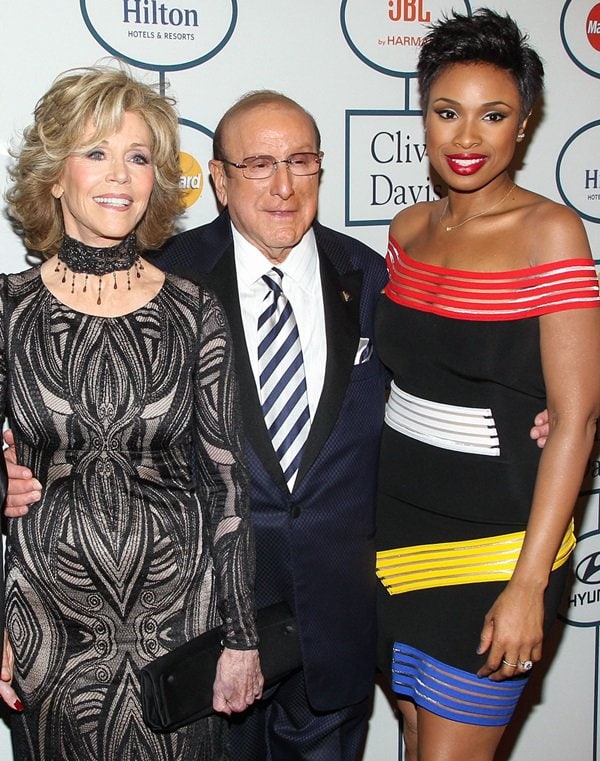 Jane Fonda, Clive Davis, and Jennifer Hudson pose for photos at a pre-Grammy party (Credit: WENN)
Her Christian Louboutin heels feature blue grosgrain trim and Neptune glitter.
The singer and "Respect" actress accessorized with an orange Rodo leather clutch and Jack Vartanian jewelry.
Jennifer Hudson poses on the red carpet in a colorful Christopher Kane dress (Credit: SIPA / WENN / FayesVision / Adriana M. Barraza / Nikki Nelson / Visual)
One year earlier, Chloe Grace Moretz wore the same dress to the Teen Choice Awards.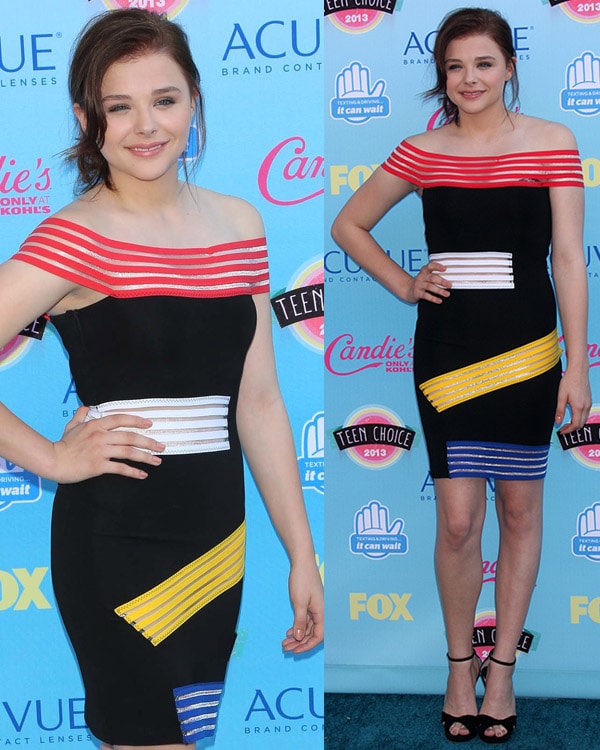 Chloe Grace Moretz wears a colorfully-accented black Christopher Kane dress to the 2013 Teen Choice Awards held on August 11 at the Gibson Amphitheatre in Los Angeles (Credit: SIPA / WENN / FayesVision / Adriana M. Barraza / Nikki Nelson / Visual)
The young actress styled the outfit with ankle-strap Jimmy Choo "Jada" platform sandals.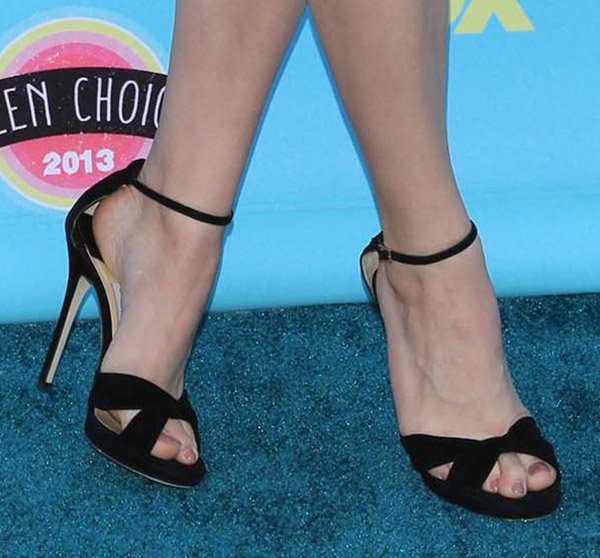 Chloe Grace Moretz's feet in Jimmy Choo platform sandals (Credit: WENN)
Who do you think looked best in the elastic-striped off-the-shoulder dress by Christopher Kane?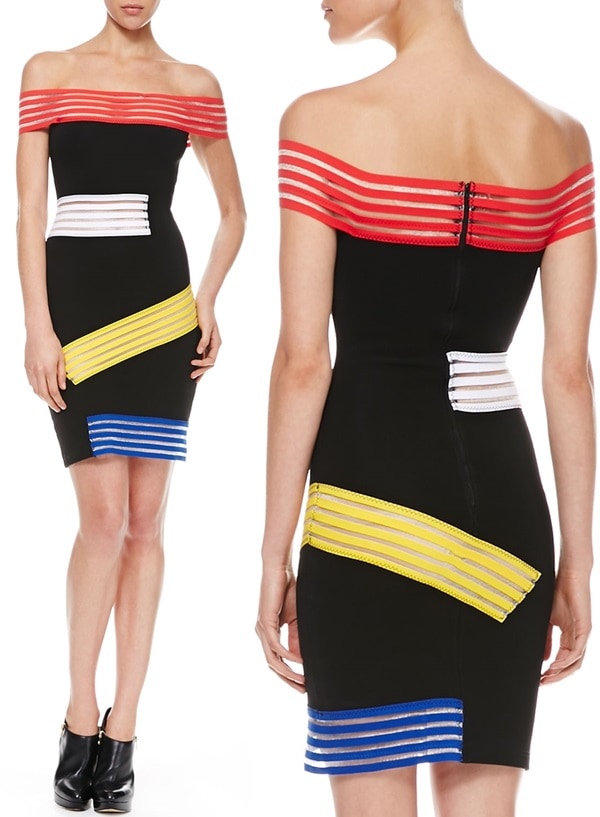 Christopher Kane Elastic-Striped Off-the-Shoulder Dress, $1,860