It has been nearly 20 years since the release of the 2004 comedy movie White Chicks, yet it remains a heated topic of conversation among fans and critics.
The film is directed by Keenen Ivory Wayans and written with the help of his brothers and lead actors Shawn and Marlon Wayans. It details a wild undercover FBI mission that sees two black agents disguising themselves as snooty, wealthy white women to prevent a kidnapping.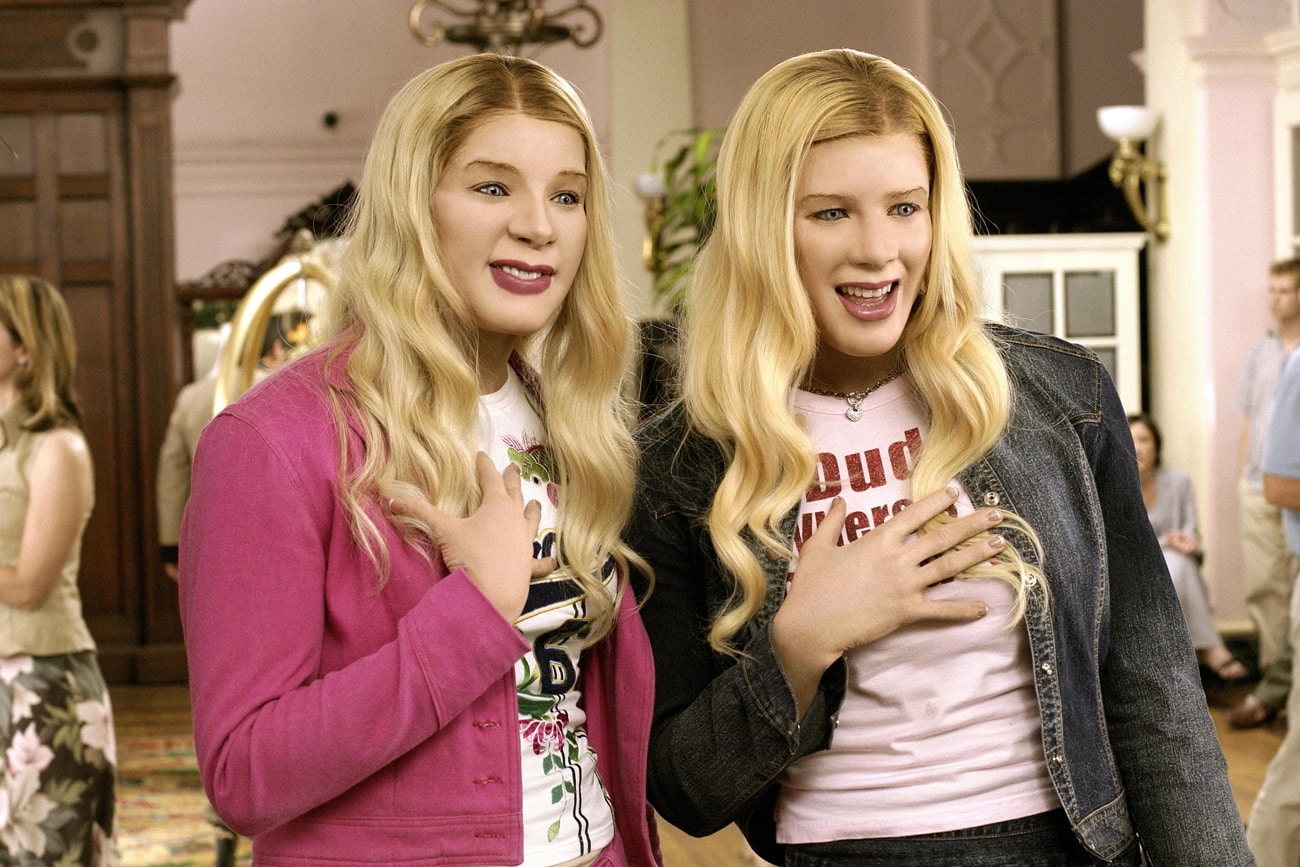 Shawn Wayans and Marlon Wayans go undercover using whiteface as women to solve a kidnapping plot in the 2004 American comedy film White Chicks (Credit: Sony Pictures Releasing)
Although panned by critics, it was a sizable success at the box office, leading to a cult following in recent years. Despite the controversy and criticism, rumors of a potential White Chicks 2 release have cropped up, reigniting the debate.
Let's take a look at this undeniably weird comedy and find out why White Chicks has remained relevant against all odds.
How Old Were the White Chicks Cast?
The movie "White Chicks" was theatrically released in the United States on June 23, 2004.
Shawn Wayans, who played Kevin Copeland, was born on January 19, 1971, and was 33 years old.
Marlon Wayans, who played Marcus Copeland, was born on July 23, 1972, and was 31 years old.
Jaime King, who played Heather Vandergeld, was born on April 23, 1979, and was 25 years old.
Frankie Faison, who played Section Chief Elliott Gordon, was born on June 10, 1949, and was 55 years old.
Lochlyn Munro, who played Agent Jake Harper, was born on February 12, 1966, and was 38 years old.
John Heard, who played Warren Vandergeld, was born on March 7, 1946, and was 58 years old.
Busy Philipps, who played Karen Googlestein, was born on June 25, 1979, and was 24 years old.
An Unlikely FBI Mission
After botching a big-time drug bust, FBI agents and brothers Marcus (Marlon Wayans) and Kevin Copeland (Shawn Wayans) are placed on a less serious mission, providing protection detail for the two spoiled daughters of a wealthy CEO, Brittany (Maitland Ward) and Tiffany Wilson (Anne Dudek).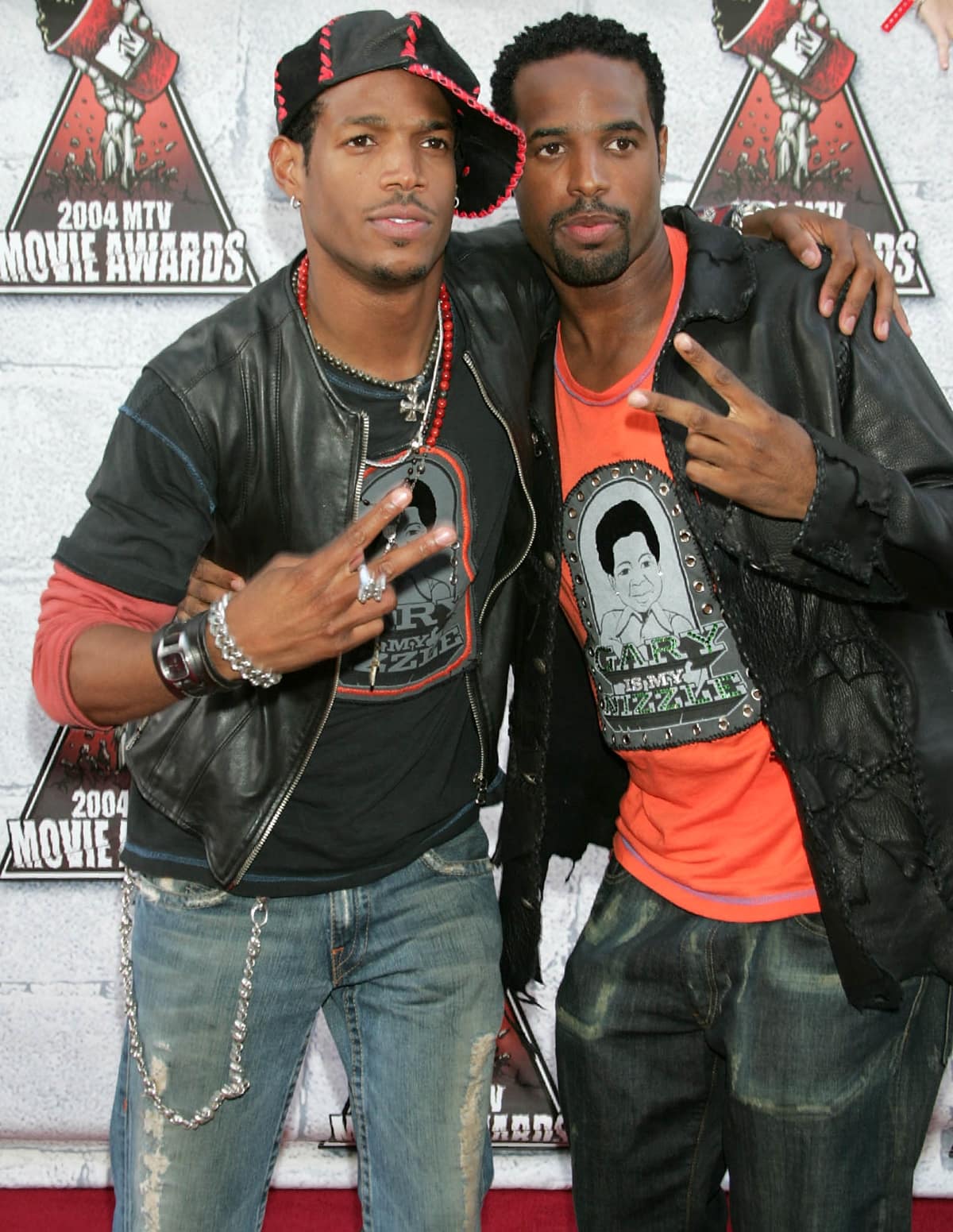 Shawn Wayans and Marlon Wayans attend the 2004 MTV Movie Awards held on June 5, 2004, at Sony Pictures Studios in Culver City, California (Credit: Bill Davila / Startraksphoto)
As the sisters head out for a fashion show in the Hamptons, the FBI believes they will be kidnapped, providing an opportunity for Marcus and Kevin to catch the high-profile suspects.
When things go off the rails, the FBI agents disguise themselves as Brittany and Tiffany, embarking on the trip in their stead.
Despite some hefty setbacks and plenty of wild encounters, Marcus and Kevin are eventually able to catch their culprit, revealing a massive conspiracy and reviving their reputation at the FBI.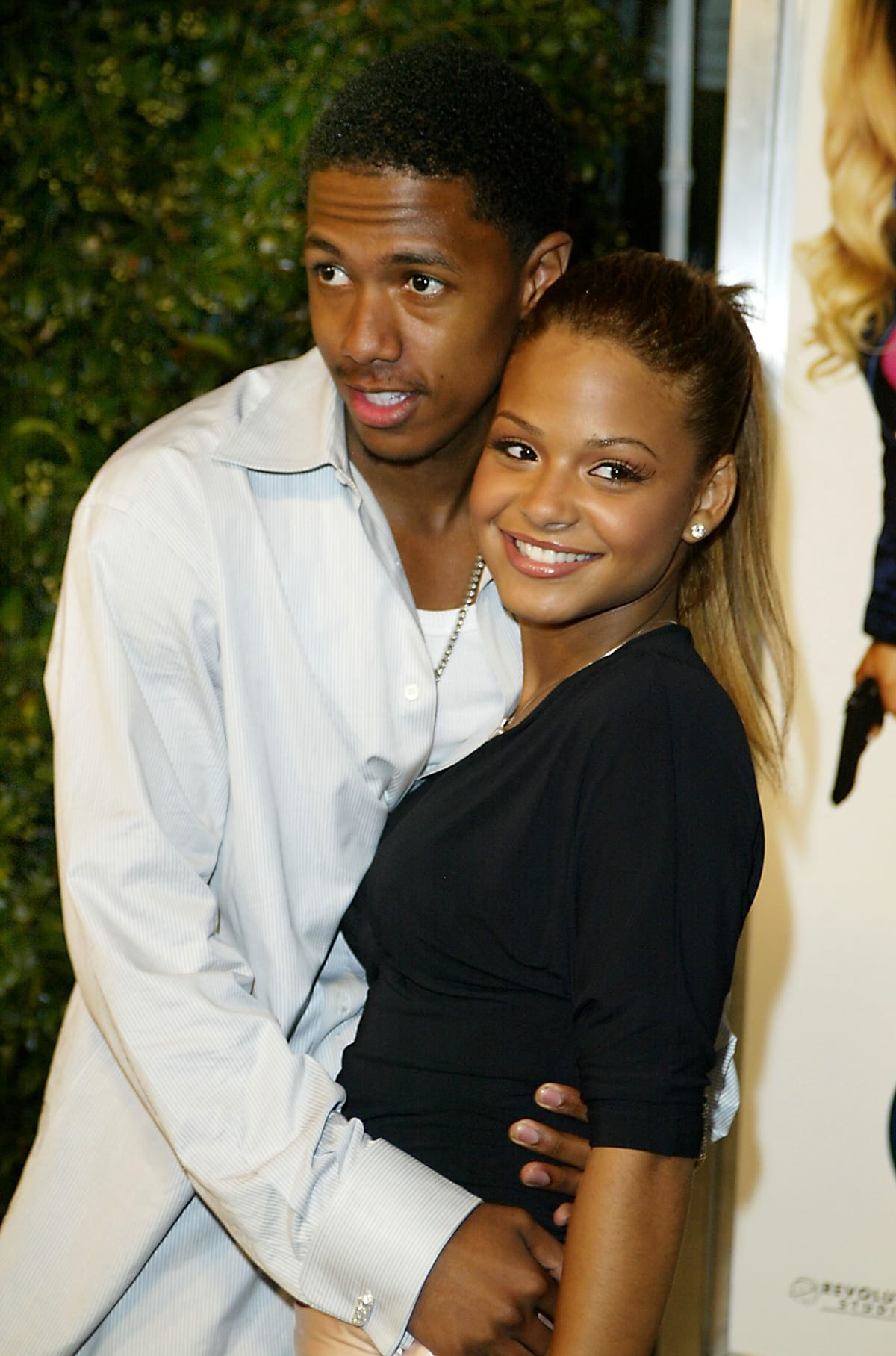 Christina Milian and her boyfriend Nick Cannon at the premiere of the movie White Chicks on June 16, 2004 in Los Angeles (Credit: Everett Collection / Shutterstock)
Regardless of the quality of the story or the effectiveness of the comedy, it's easy to commend the Wayan brothers on their committed and hilarious performances.
Just like in previous films like 2000's Scary Movie, Marlon and Shawn boldly present ridiculous characters, managing to deliver the jokes with ease.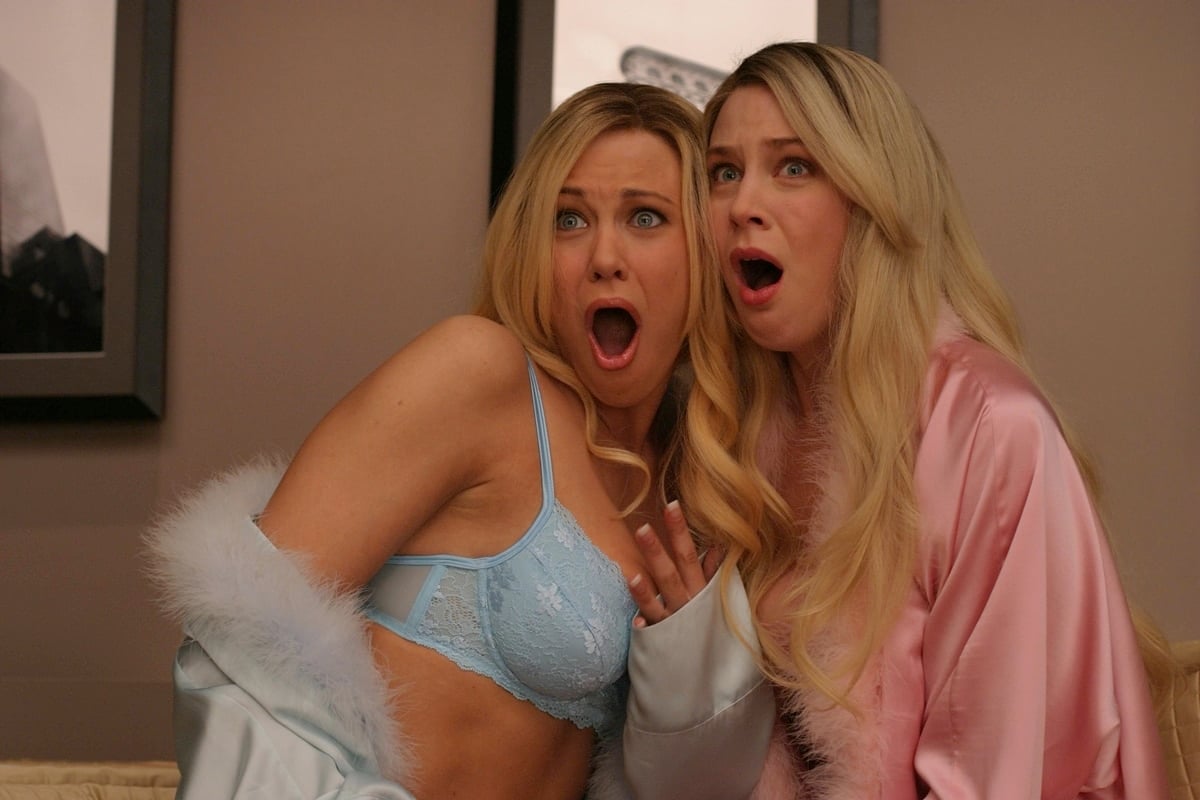 Maitland Ward and Anne Dudek portray the wealthy socialites Brittany and Tiffany Wilson in White Chicks (Credit: Sony Pictures Releasing)
Even with their limited screen time, Maitland Ward and Anne Dudek perfectly portray the air-headed and pompous Wilson sisters, coming off as hilariously entitled and vain.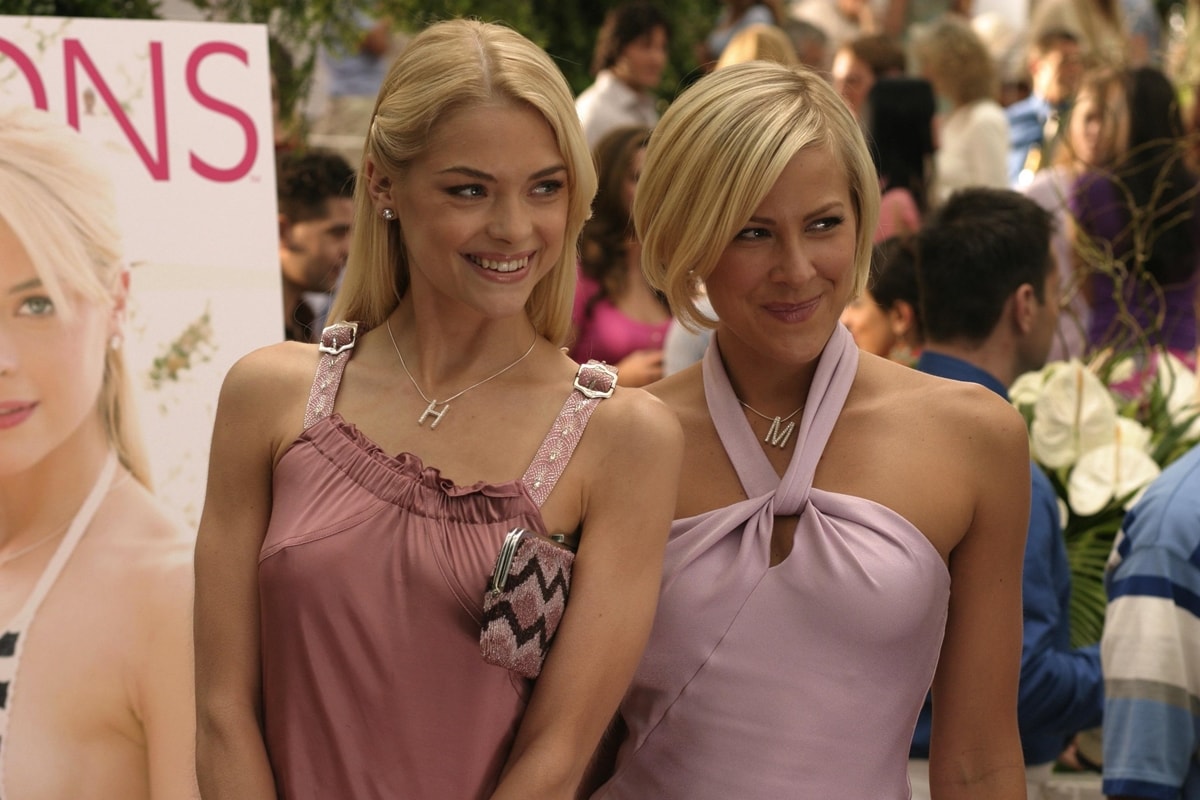 Brittany Daniel and Jaime King play the secondary antagonists Vandergeld Sisters in the controversial 2004 buddy cop comedy film White Chicks (Credit: Sony Pictures Releasing)
Other stars help bolster the cast, including Jamie King and Brittany Daniel as the rival Vandergeld sisters and Terry Crews as the oblivious but charming Latrell Spencer.
Controversies, Critics, and White Chicks 2
When White Chicks first hit theaters in 2004, it was heavily panned by critics, who felt the film was as shallow as the characters it depicts.
Despite the harsh reception, it was a commercial success, earning $113 million against its relatively small $37 million budget.
While many dismiss White Chicks as a mindless movie with no entertainment value, it's easy to see why fans of other Wayan Brothers movies enjoy it so much.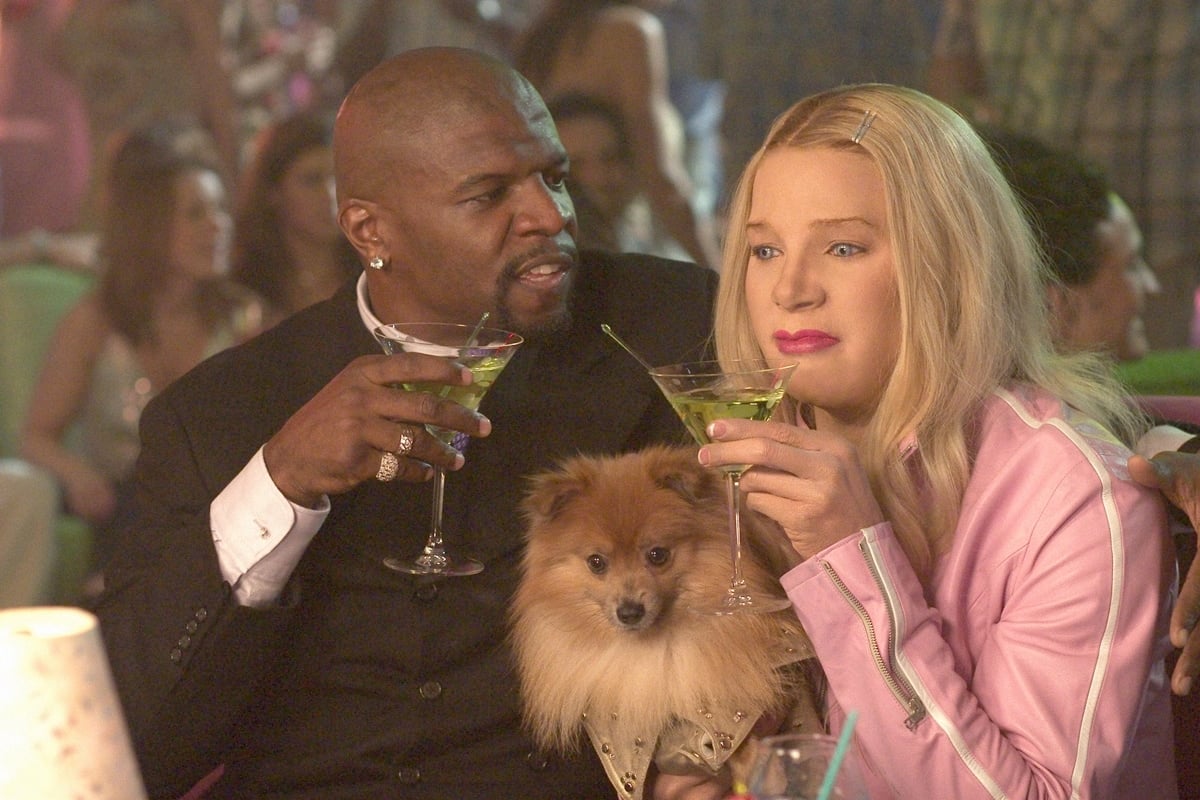 Terry Crews as Latrell Spencer and Marlon Wayans as Marcus Anthony Copeland II / Tiffany Wilson in the 2004 American comedy film White Chicks (Credit: Sony Pictures Releasing)
Riding off of the success of their previous films, the actors were at the height of their popularity when White Chicks arrived, carrying the movie with their charisma.
Surprisingly, given how satirical and over-the-top the movie is, White Chicks has been criticized for its use of "whiteface."
As both Marlon and Shawn Wayans are disguised as white women for most of the movie, some offended viewers have deemed it racist and misogynistic.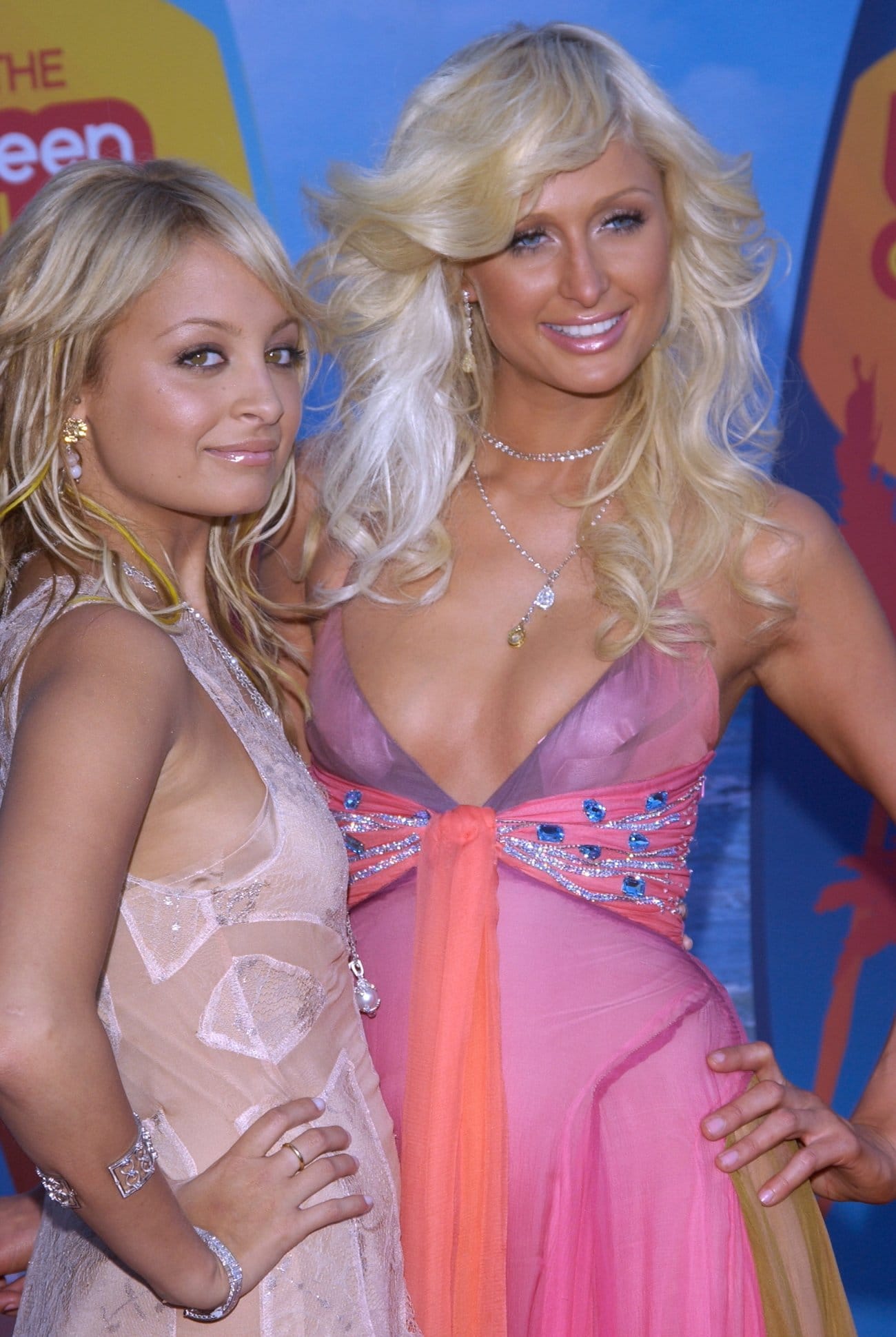 Wealthy blonde socialites Paris Hilton and Nicole Richie at the 2004 Teen Choice Awards at Universal Studios in Los Angeles on August 8, 2004 (Credit: Featureflash Photo Agency / Shutterstock)
However, White Chicks doesn't seem to be a malicious attack toward white women as a whole, but rather a parody of the inflated popularity of rich stars like Paris Hilton.
In the early 2000s, rich women like Hilton gained massive success purely based on their heightened social status and attractive looks, which is undoubtedly what White Chicks aimed to mock. The Hilton sisters didn't seem to mind the ridicule.
View this post on Instagram
"Great seeing you last night. That movie was hilarious AF," Paris wrote on Instagram in a response to a photo shared by Marlon Wayans. "Love you too bro and yes let us know."
"Happy we could be a source of inspiration! White Chicks 2?" Nicky saidin another comment.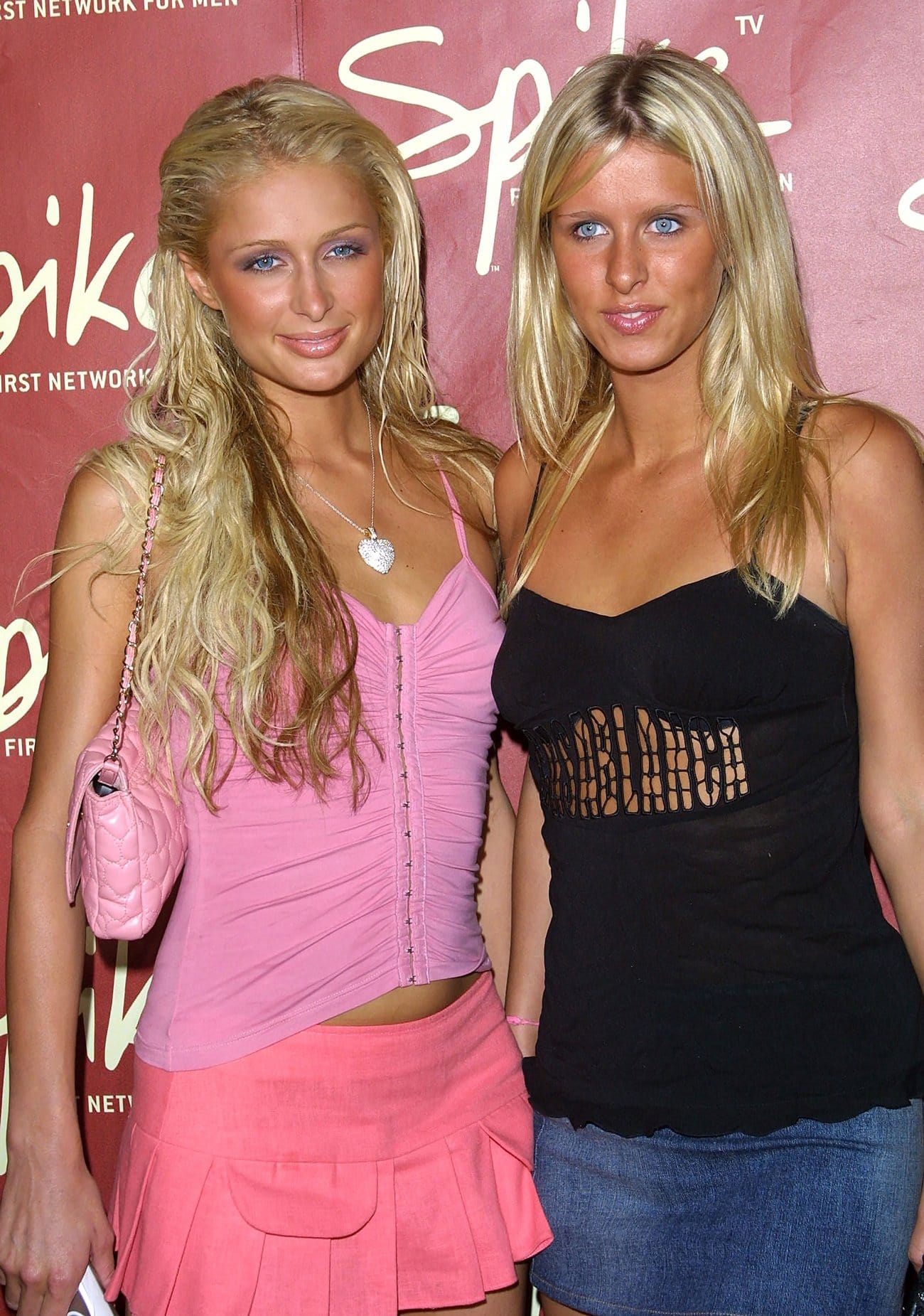 The cult classic film "White Chicks" was inspired by blonde heiress sisters Paris and Nicky Hilton (Credit: DFree / Shutterstock)
Even with the continuing controversy, fans have been begging for White Chicks 2 for years. While there were plans for a sequel in 2009, Sony Pictures officially canceled it, even though the Wayans have expressed some interest in returning.
Recently, the buzz has been growing, as comments made by actor Terry Crews in 2019 hint at a renewed effort to get White Chicks 2 off the ground.
However, when asked about the potential sequel during a promotional tour for his new stand-up special, Marlon Wayans stated that he and the studio executives have been unable to reach an agreement on the budget.
Simply put, Marlon and Shawn know that White Chicks 2 will be a success and want to be paid their proper dues.
4 Fun Facts About White Chicks
1. White Chicks was originally titled "The Miltons" and was meant to be a loose remake of the 1939 movie, Gone With the Wind, but set in modern Los Angeles.
2. Although the theatrical version of White Chicks is rated PG-13, the movie was written and shot as a crude R-rated comedy. Sony Pictures had the film edited down after filming was completed in an effort to reach a broader audience.
Shawn Wayans and Marlon Wayans play FBI agent brothers Marcus Anthony II and Kevin Copeland (Credit: Sony Pictures Releasing)
3. In 2004, White Chicks was nominated for "Worst Movie of the Year" by multiple award shows, including the 25th Golden Raspberry Awards. Conversely, it was nominated for four positive categories by the BET Comedy Awards.
4. The extensive makeup required for the movie was created by none other than Greg Cannom, who has worked on films like 2018's Vice, 2008's The Curious Case of Benjamin Button, and 1994's The Mask.
Jaime King curls her hair for the Glamour Magazine Game Changers Lunch held on April 20, 2016, at Au Fudge in West Hollywood (Credit: Michael Wright / WENN)
Who wears pajamas out to lunch? Jaime King, that's who.
However, in April 2016, the "Hart of Dixie" actress looked far from a "People of Walmart" submission. Jaime somehow elevated her sleepwear to something much fancier and definitely much more appropriate for a Hollywood photo op.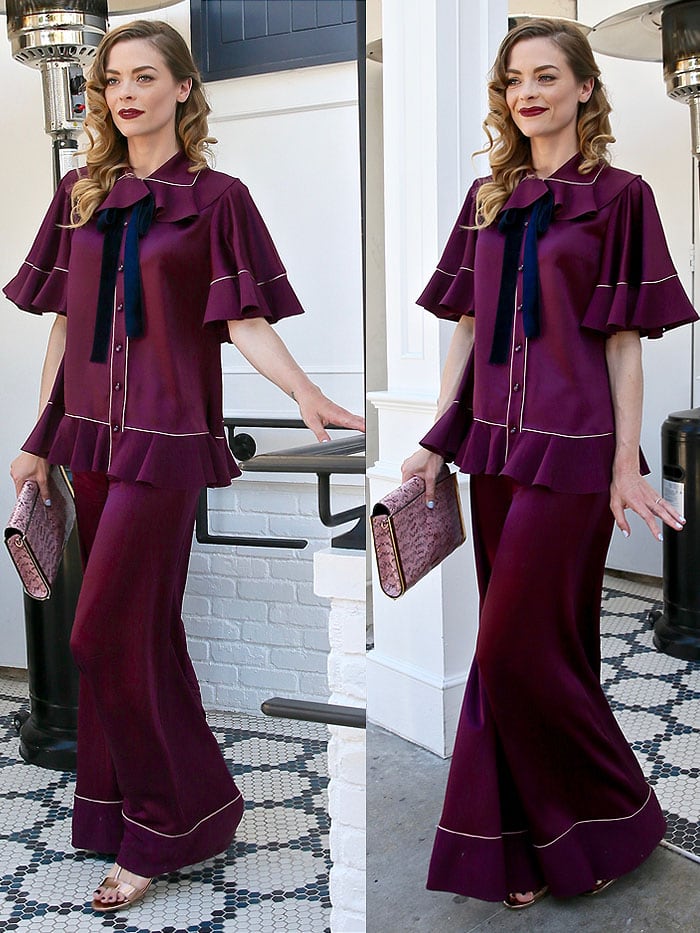 Jaime King wears a pajama-like set from Roksanda Ilincic while out to lunch (Credit: Michael Wright / WENN)
The then-37-year-old mom-of-two looked comfy chic in a plum Roksanda Ilincic butterfly-sleeve button-down top and matching wide-leg pants.
The satin fabric and white piping details make the pieces look like pajamas.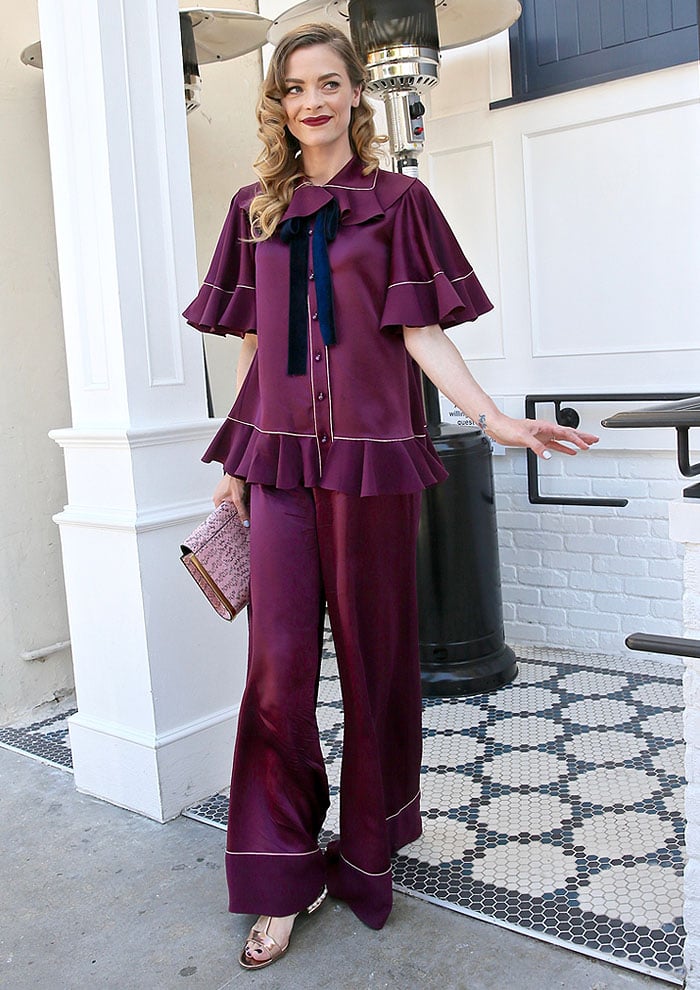 Jaime King glams up a pajama-like satin set from Roksanda Ilincic with styled hair and full makeup (Credit: Michael Wright / WENN)
It looks like Jaime was self-aware enough to know how her ensemble could come off since she made sure to really glam it up with coiffed blonde curls and dark-lipped makeup.
Jaime King wears a maroon satin set with wide legs and ruffled sleeves (Credit: Michael Wright / WENN)
Jaime completed her lady-who-lunches look with a Rebecca Minkoff clutch and Nicholas Kirkwood "Casati" flat sandals, accented with lovely pearl embellishments on their gold heels.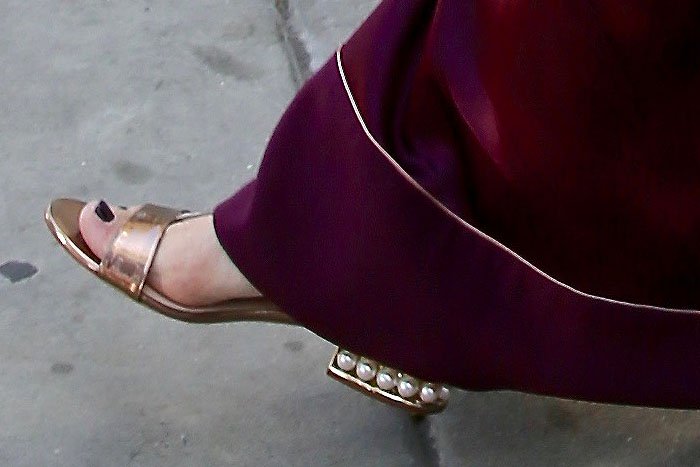 Jaime King's feet in pearl-accented Nicholas Kirkwood sandals (Credit: Michael Wright / WENN)
Jaime even matched her pedicure to her ensemble!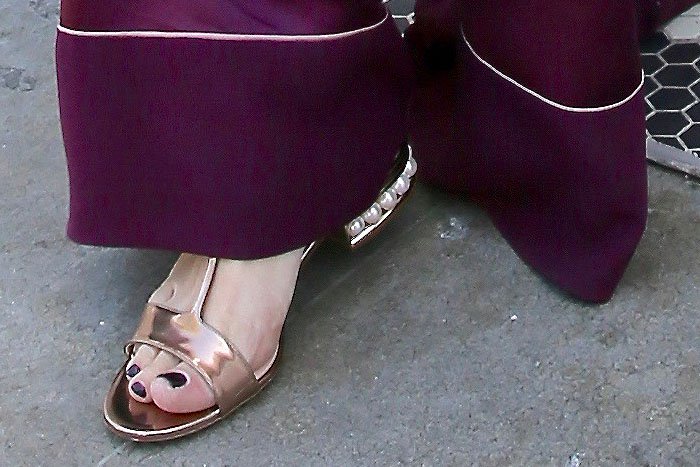 Jaime King's feet in rose gold "Casati" sandals (Credit: Michael Wright / WENN)
The sandals come in numerous colorways, including champagne glitter, nude patent, blush patent, white leather, black suede, and blue-and-black suede at SSENSE and Farfetch.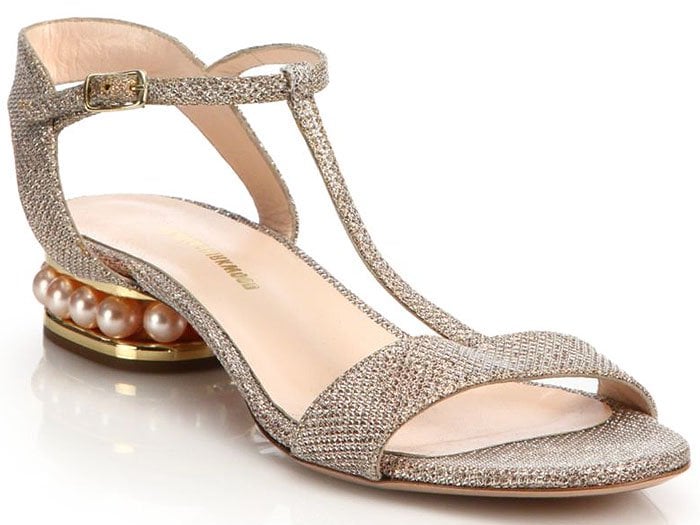 Nicholas Kirkwood 'Casati' Pearl-Embellished Flat Sandals in Champagne, $566.14 to $695
Nicholas Kirkwood 'Casati' Pearl-Embellished Flat Sandals in Nude Patent, $540.40 to $650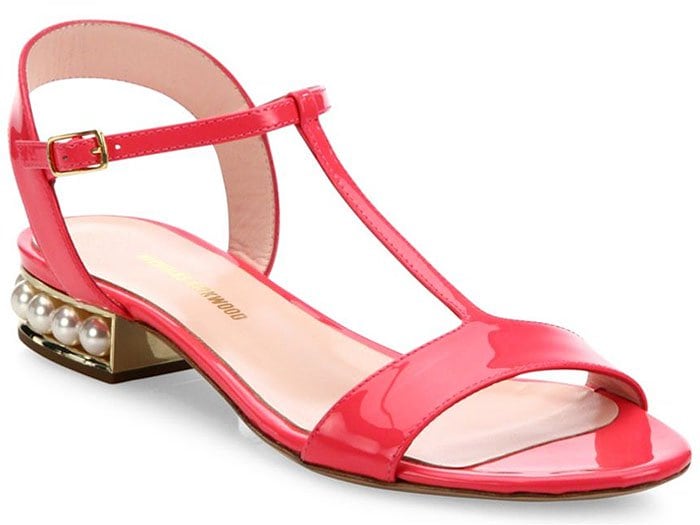 Nicholas Kirkwood 'Casati' Pearl-Embellished Flat Sandals in Blush Patent, $650
Nicholas Kirkwood 'Casati' Pearl-Embellished Flat Sandals in White, $540.40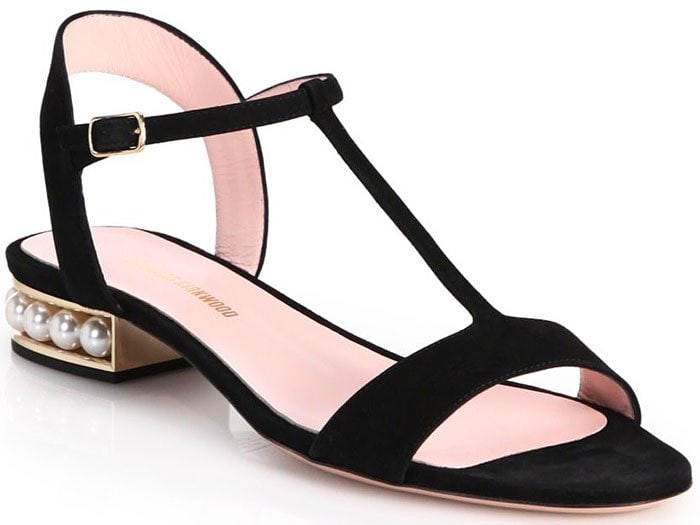 Nicholas Kirkwood 'Casati' Pearl-Embellished Flat Sandals in Black Suede, $650 to $695
Nicholas Kirkwood 'Casati' Pearl-Embellished Flat Sandals in Black-and-Blue Suede, $650