After winning the Academy Award for Best Supporting Actress for Dreamgirls in 2007, Jennifer Hudson met with music icon Aretha Franklin, who personally chose the American Idol finalist to portray her in a movie.
Fast forward to 2021, three years after Aretha's death, a movie based on the life of the Queen of Soul finally materialized, with Jennifer portraying the music legend.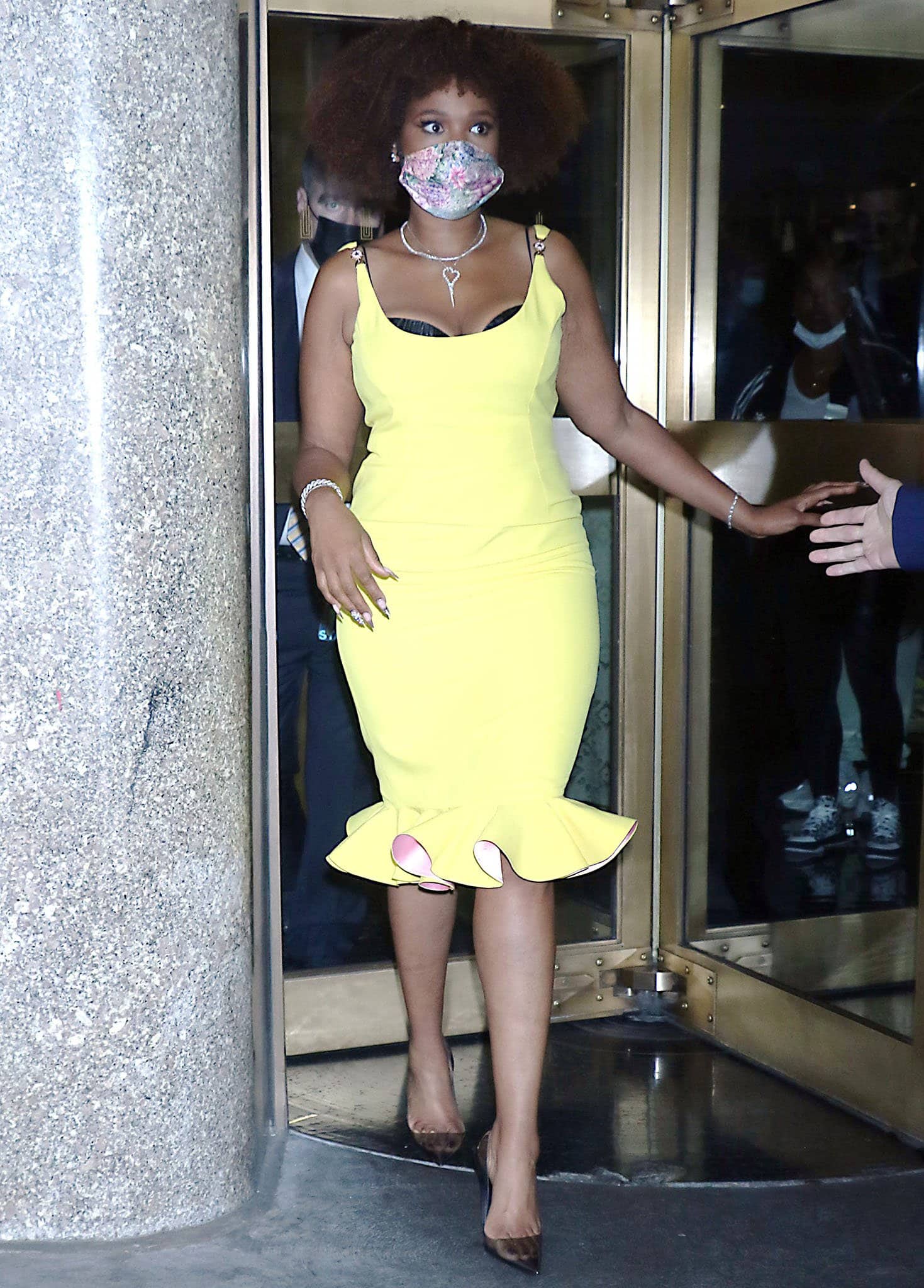 Jennifer Hudson leaving Late Night With Seth Meyers studio after promoting her new movie Respect on August 17, 2021 (Credit: Mega / WENN)
"I feel like while we were filming, I think it goes beyond the singing and how Jennifer sings and acts. It's within the scene when Aretha's mother comes to her; it felt so true to my own life. And in the moment I was like, 'I don't think I would've been able to tell the story without my own life experience and triumphs,' and I feel like she saw far more than what I saw," she shared. "In that moment, I said, 'This is what it was – this is why.' It was things that I discovered throughout the film that at least I told myself, 'This must be the reason,'" Hudson told Variety when asked why Aretha picked her.
"I feel like that was the takeaway for me: owning your voice," she added. "She was always big about that. And it wasn't until she owned her voice that we got our Queen of Soul. So if we all took that moment to go within ourselves and own what we have, what king and queen lies under there?"
Respect, the long-delayed Aretha Franklin biopic, hit theaters on Friday, receiving generally positive reviews from critics.
Is Jennifer Hudson playing the piano and singing in Respect?
Yes, in addition to doing all her own singing live on set for Respect, she learned to play the piano for the movie. "I started piano lessons," David Otunga's ex revealed in an interview with People.
"Aretha got me back in music school. It's still a process, but the film has made me more passionate about learning an instrument and expressing myself musically."
Jennifer Hudson plays piano and does her own singing as Aretha Franklin in Respect (Credit: Metro-Goldwyn-Mayer Bron Studios)
"It was an actor's choice to say 'I cannot play Aretha Franklin without learning some element of the piano'. And now, when I'm learning music, I no longer just look at the top line, the melody line, the singing line," she added in an interview with The New York Times.
"I'm considering it as an arranger. What key is that in? What is the progression?"
Aretha Franklin songs covered by Hudson in the movie include "Respect," "Ain't No Way," "I Never Loved A Man," "Natural Woman," "Chain of Fools," "Think," "I Say a Little Prayer," and "Amazing Grace."
Jennifer Hudson has been busy promoting the biographical music drama in New York City.
On Tuesday, she dropped by Late Night with Seth Meyers, where she talked about the first time she met Aretha Franklin.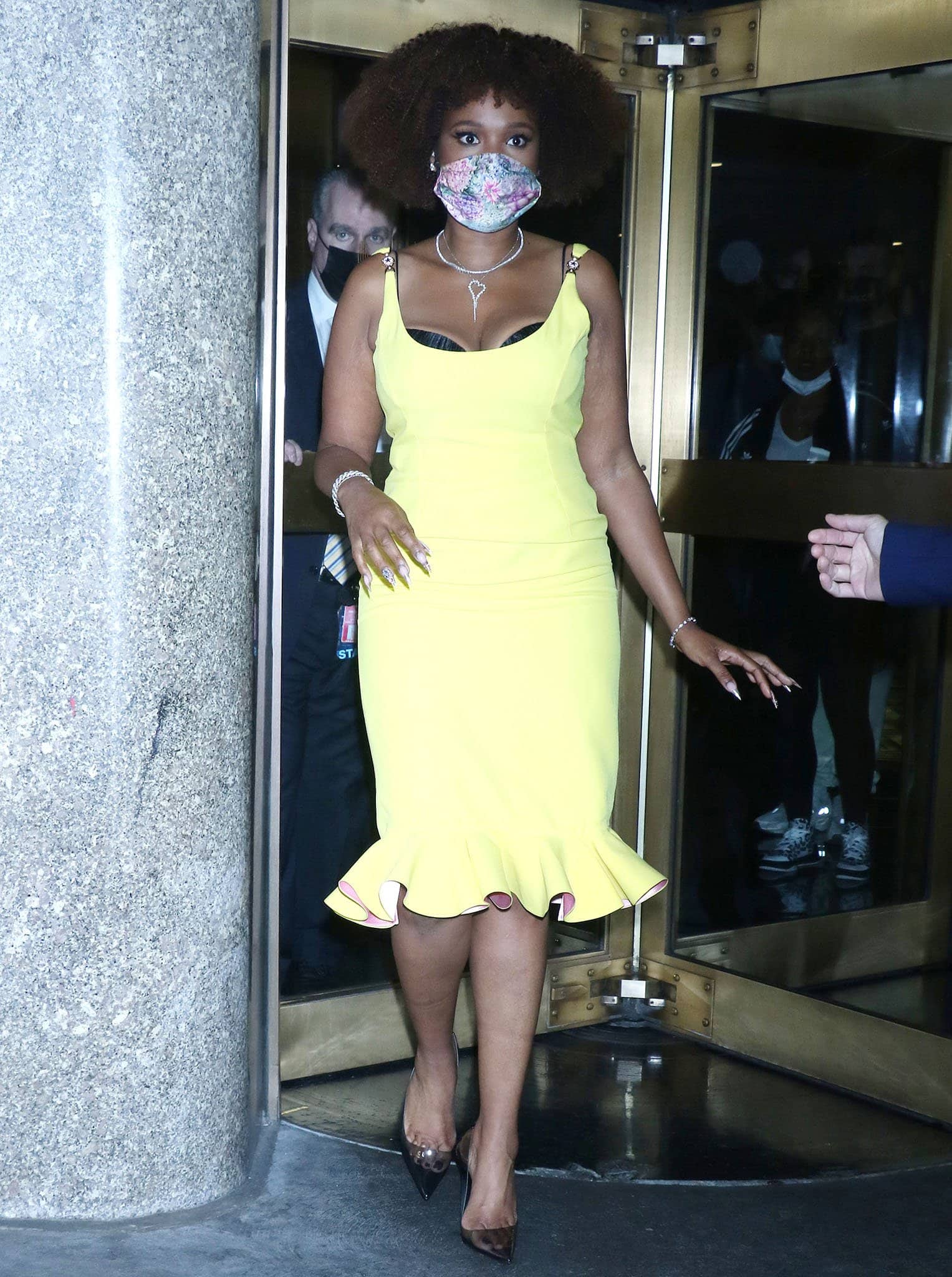 Jennifer Hudson shows off her figure in a yellow Versace Spring 2021 midi dress (Credit: Mega / WENN)
"You know what? I think it was a bit overwhelming," she admitted about her role as Grizabella the Glamour Cat in the 2019 musical fantasy film Cats.
"It's unfortunate that it was misunderstood. I think later down the line, people will see it differently. But it is something I am still very proud of and grateful to have been a part of," Hudson told Seth Meyers.
The 39-year-old singer looked amazing in a bright yellow form-fitting dress from Versace's Spring 2021 collection.
It has a deep scoop neckline with a contrasting built-in black bra that put her cleavage on display. The midi number also has buckled shoulder straps and a fluted hem that fell just right below her knees.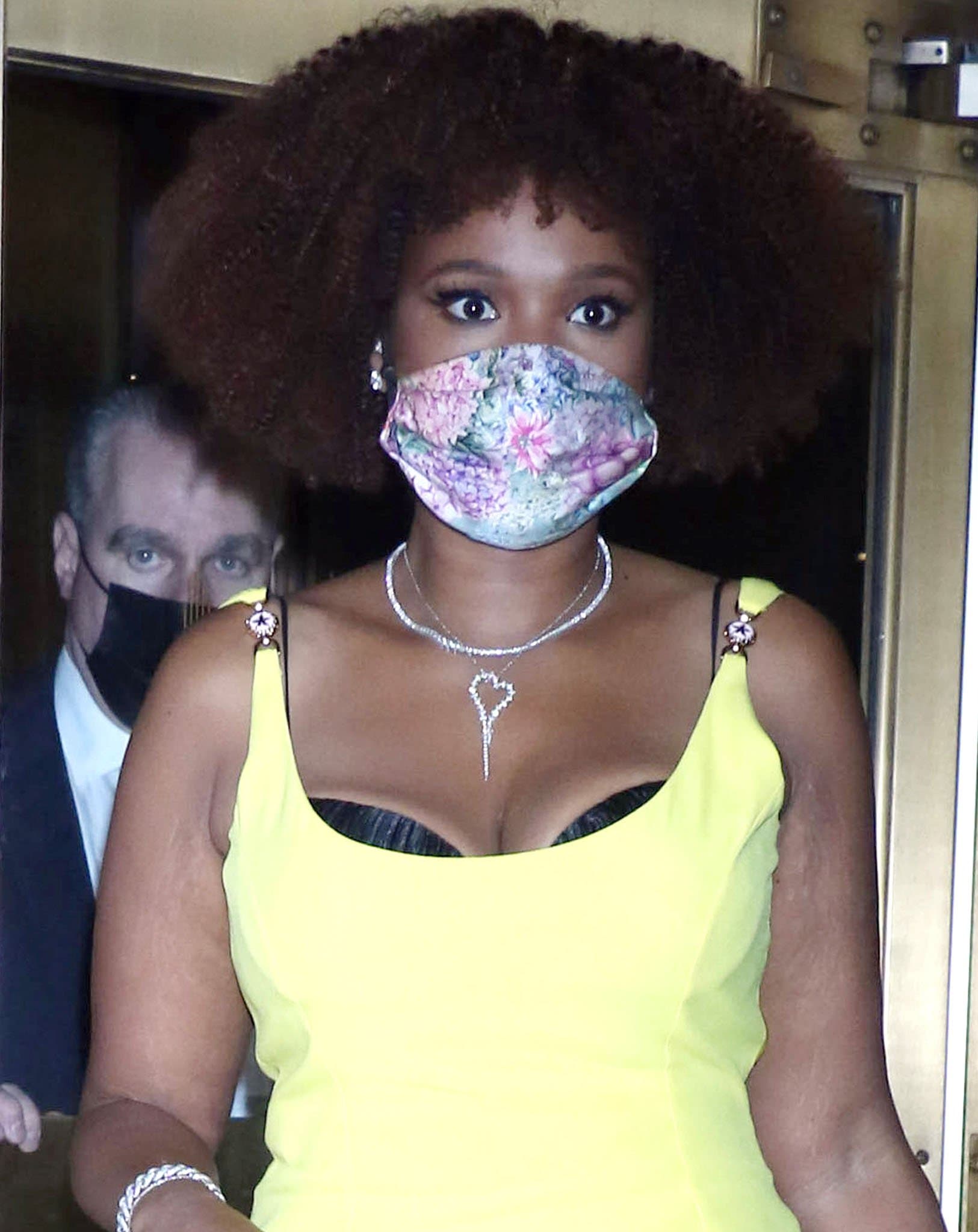 Jennifer Hudson wears her short hair in tight curls and highlights her eyes with mascara and eyeliner (Credit: Mega / WENN)
Adding some sparkles to her look, J.Hud accessorized with diamond necklaces, bracelets, and earrings. She also styled her look with embellished nails, care of Mr. Luis Nails, and left the studio with a floral-printed face mask.
Beauty-wise, Jennifer wore voluminous tight curls and highlighted her eyes with eyeliner and mascara, and wore a swipe of red lipstick with matching blush.
A pair of clear black pointed-toe pumps rounded out Jennifer's look.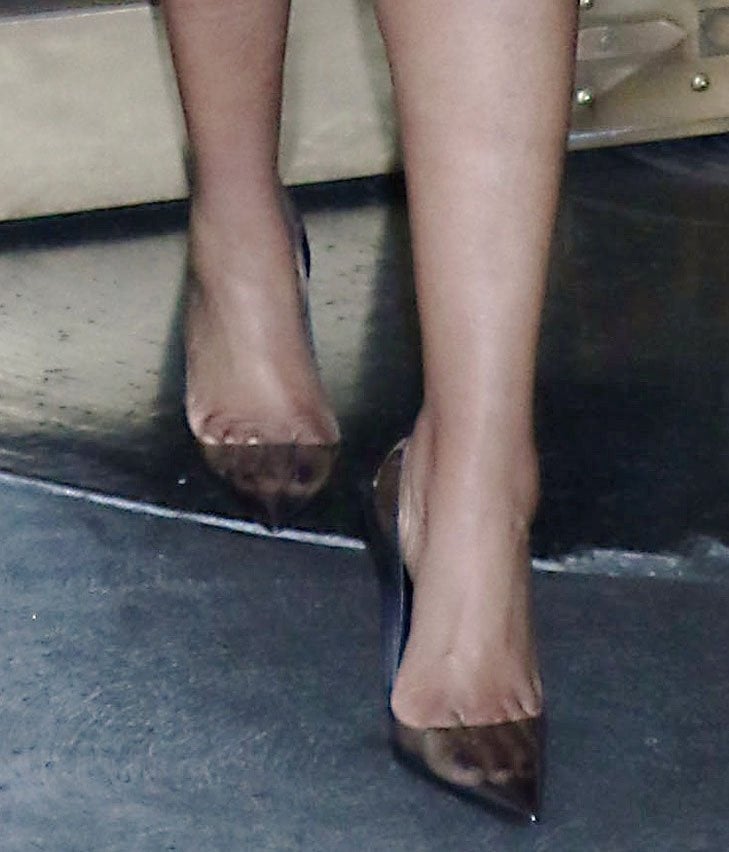 Jennifer Hudson pairs her yellow fluted midi dress with black PVC pumps (Credit: Mega / WENN)
Last week, the Grammy-winning singer was pictured leaving her NYC hotel in a bright orange midi dress.
The ribbed frock hugged J.Hud's curves as it features a form-fitting silhouette with lace-detailed side slits fastened together by tonal ribbons.
It also has long sleeves with puff shoulders and a sweetheart neckline that showed a hint of her cleavage.
Jennifer Hudson leaving her NYC hotel in an orange ribbed midi dress on August 12, 2021 (Credit: Mega / WENN)
Not one to skimp on accessories, the Cats star styled her look with diamond drop earrings, bracelets, rings, and several dainty necklaces, including a Respect necklace, layered around her neck.
Looking all glammed up, the mom-of-one wore her short tresses in a classy vintage side-swept curled hairstyle. She then wore dark mascara, winged eyeliner, and bold red lipstick that matched her cheeks.
Jennifer Hudson styles her short hair in retro curls and wears bright red-orange lip color and winged eyeliner (Credit: Mega / WENN)
To complete her stunning look, Jennifer slipped her feet into a pair of Christian Louboutin multicolored gem-embellished sandals with asymmetrical straps, open toes, and about 4-inch heels.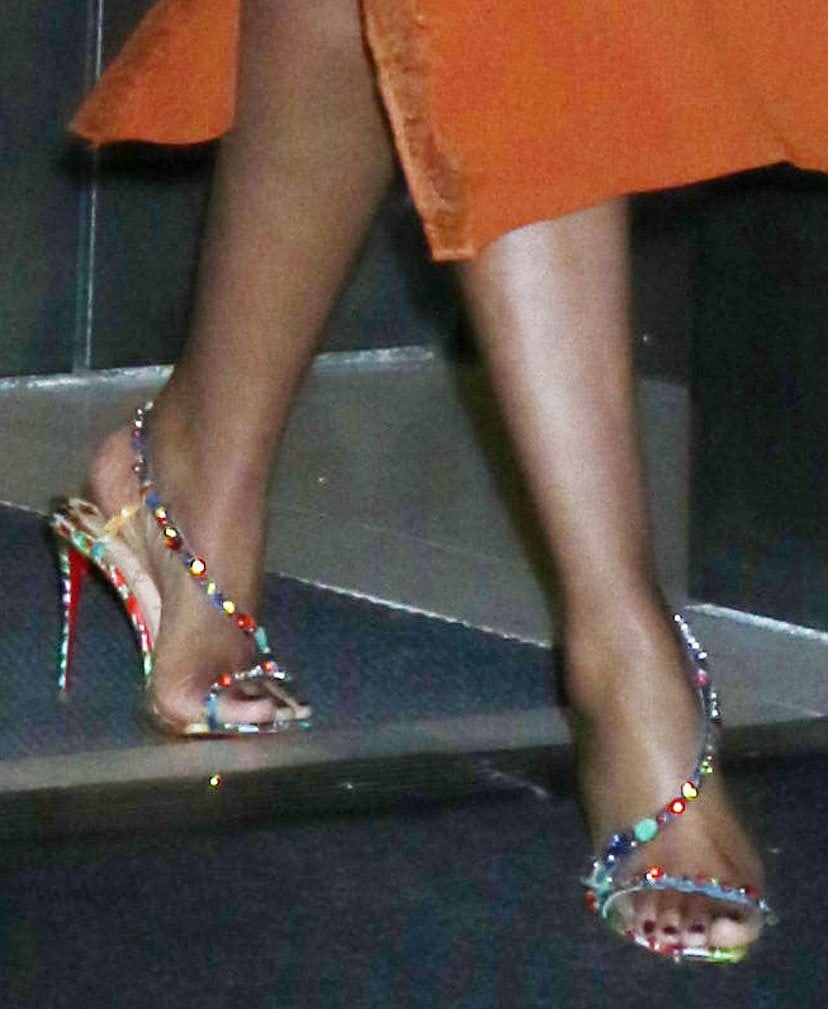 Jennifer Hudson shows off her feet in Christian Louboutin multicolored crystal sandals (Credit: Mega / WENN)
Continuing her winning style streak, Jennifer looked every inch the movie star while outside The Late Show with Stephen Colbert, where she performed the title track from her new film.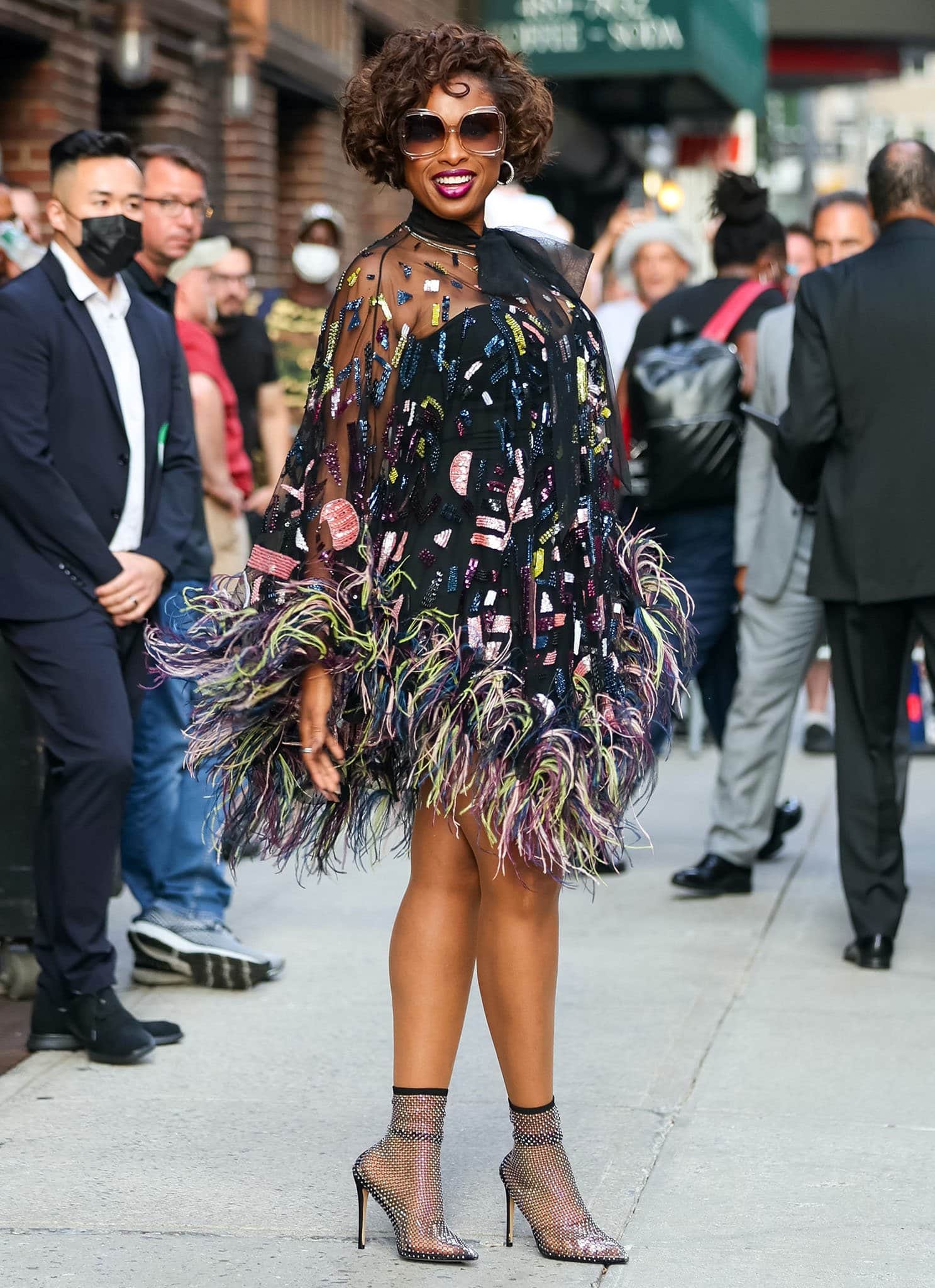 Jennifer Hudson outside Late Show with Stephen Colbert studio at the Ed Sullivan Theatre in New York City on August 12, 2021 (Credit: Mega / WENN)
She wowed in a Zuhair Murad sheer black cape-like mini dress that's covered in multicolored geometric sequins and has a bow neckline. Adding to its flamboyance was the multicolored feathered hem grazing her thighs.
To protect her modesty, Jennifer had on a little black dress underneath the see-through mini.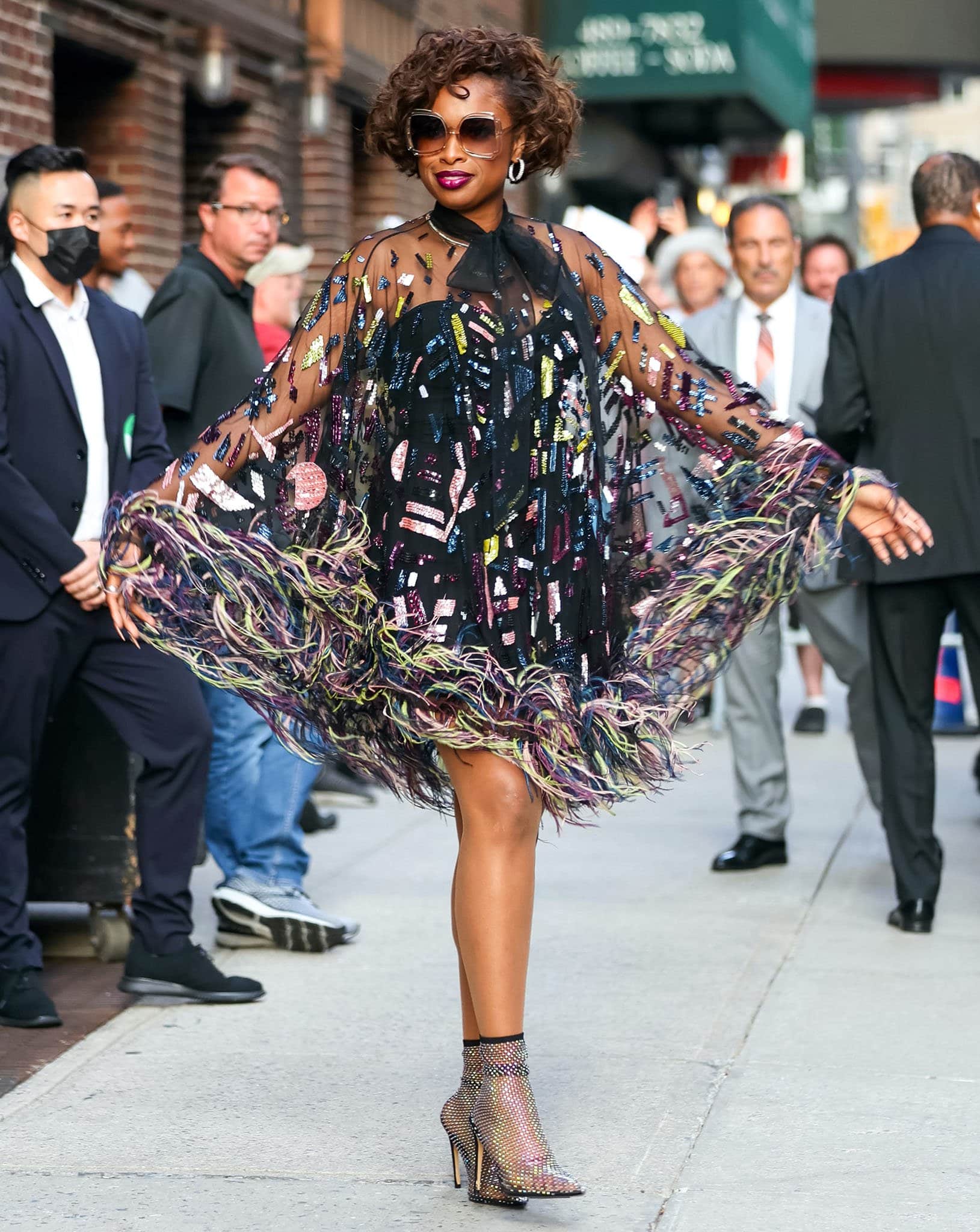 Jennifer Hudson wows in Zuhair Murad sheer mini dress with multicolored geometric sequins and a feathered hem (Credit: Mega / WENN)
The award-winning singer-actress elevated the look further with crystal-embellished hoop earrings, a necklace, and a pair of oversized acetate-framed sunglasses with gradient lenses.
She then styled her short hair in glamorous curls and wore bright magenta lip color.
Jennifer Hudson wears magenta lip shade with shimmering eyeshadow and cat eyeliner (Credit: Mega / WENN)
While her dress was already striking enough, Jennifer decided to finish off her look with a sparkling pair of ankle booties from Le Silla.
This scene-stealer features a clear PVC pump with an ankle strap inside a black crystal-embellished sock-like net. It also comes with a pointed toe and a stiletto heel that measures about 4.7 inches.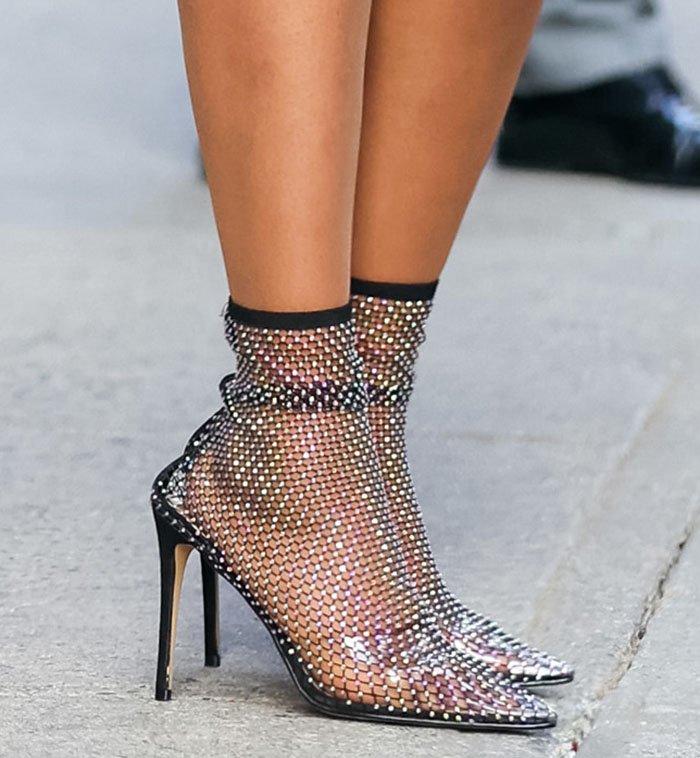 Jennifer Hudson displays her feet in Le Silla crystal-sock booties (Credit: Mega / WENN)
Le Silla 'Gilda' Crystal-Sock Booties, $1,360 at Farfetch
Le Silla's Gilda booties have clear PVC pumps covered with crystal-embellished net
During last week's premiere, Jennifer brought her fashion A-game to the red carpet at Regency Village Theatre.
Jennifer Hudson at the premiere of Aretha Franklin's biopic, Respect, held at the Regency Village Theatre in Los Angeles on August 7, 2021 (Credit: Mega / WENN)
She stunned in a purple sequin gown from Dolce & Gabbana with a custom silk chiffon veil from Jolleson draped over her shoulder.
The fitted gown is entirely covered in glittering sequins and features a strapless sweetheart neckline, a thigh-high slit, and a floor-sweeping hem with a dramatic long train.
Jennifer Hudson stuns in Dolce & Gabbana purple sequined gown with a Jolleson chiffon veil (Credit: Mega / WENN)
Styled by Wayman and Micah, J.Hud accessorized her already shimmering look with a selection of jewelry from Bulgari. She also wore bedazzled pointy nails done by celebrity nail tech Badazznailzz.
Makeup artist Adam Burrell highlighted Jennifer's natural features with mascara, eyeliner, pink smokey eyeshadow, and lip gloss.
Meanwhile, hairstylist Kiyah Wright styled the singer's hair into a sleek side-parted updo and attached the veil to her bun.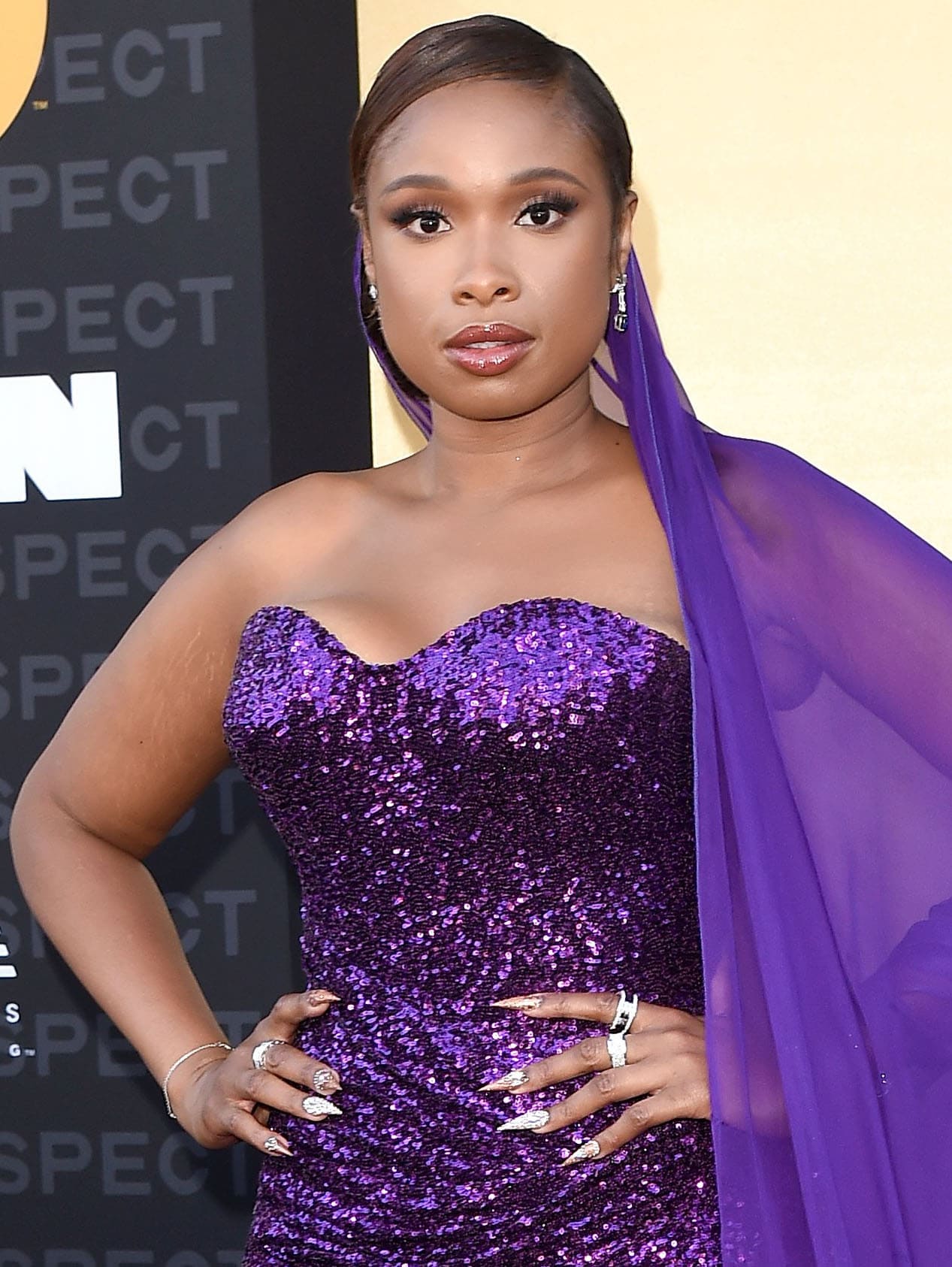 Jennifer Hudson styles her hair in a neat side-parted bun and wears neutral makeup with pink smokey eyeshadow (Credit: Mega / WENN)
Continuing with the glimmering elements of her look, Jennifer displayed her feet in Christian Louboutin Degrastrass pumps. These have a PVC upper covered in strass crystals with nude patent leather trims.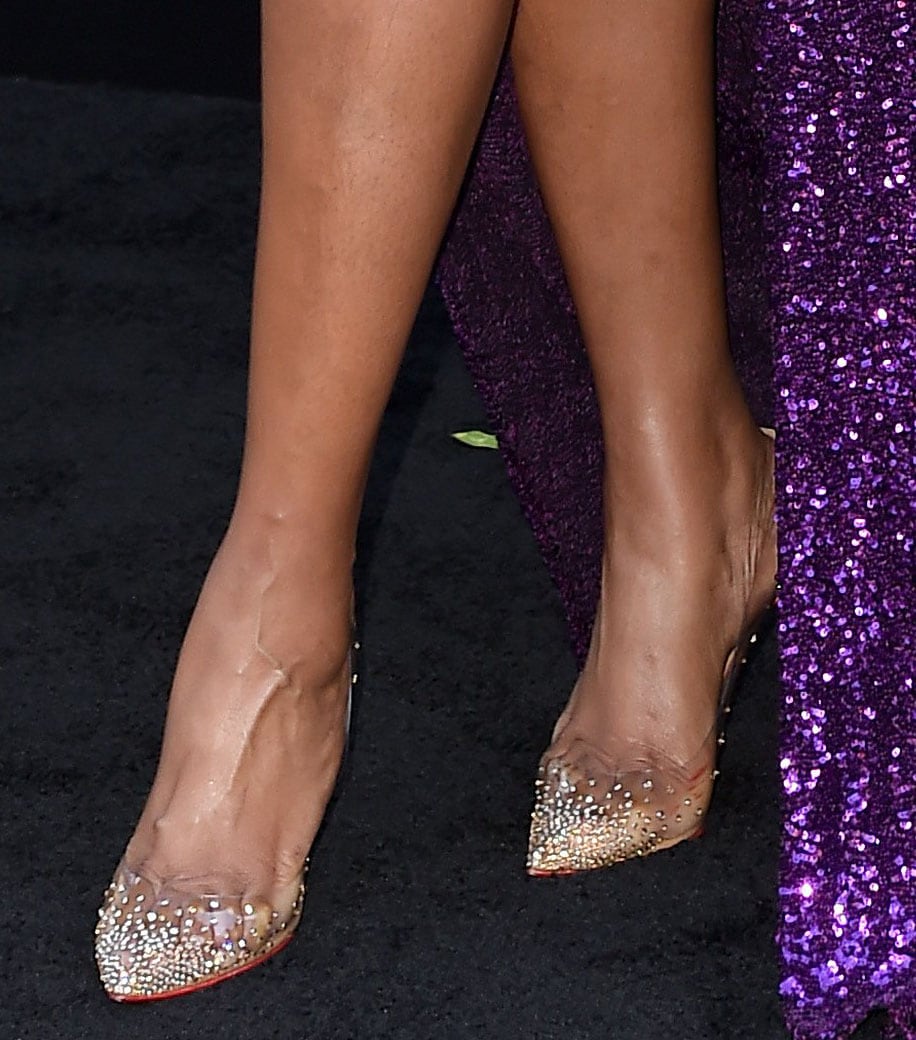 Jennifer Hudson shows off her feet in Christian Louboutin Degrastrass pumps (Credit: Mega / WENN)