Gordon Ramsay is one of the most famous and richest chefs in the world. Known for his unfiltered criticism, Ramsay gained notoriety by starring in his popular television show Hell's Kitchen.
Cayetana Elizabeth Ramsay was dating one of Gordon Ramsay's friends when they met in 1992 (Credit: WENN / Avalon)
Ramsay has been married to his wife, Tana Ramsay, for over 20 years. Here's everything you need to know about their relationship:
The Couple's Relationship History
Because the two met so young, they've only been in serious relationships with each other.
Rumors have circulated the internet that Gordon was previously married to Australian television news anchor Tracy Grimshaw, but those are untrue. Tana was, however, dating a friend of Gordon's when the two met.
How They Met
Gordon and Tana Ramsay have been together for many years. They met when Tana was 18 years old, studying to become a Montessori teacher. He was 26 years old at the time and working long hours in a restaurant kitchen
Gordon Ramsay met Tana when she was 18 and he waited until she was single before asking her out on a date (Credit: WENN)
The two met through a mutual acquaintance – the head chef of the restaurant she was working at knew Gordon, and the two hit it off.
"I would work, come home, sleep, and wake up again when Gordon finished work," Tana said in an interview. "We'd meet up in the small hours. That was the only way we could be together, and we really wanted to be together."
It didn't take long for the two to decide to spend their lives together, and soon after they got married, they began having children. They tied the knot in 1996 in Chelsea when she was 21 and he was 29.
The two have five children together: Megan Jane (1998), twins Holly Anna and Jack Scott (2000), Matilda "Tilly" Elizabeth (2001), and Oscar James (2019).
Gordon Ramsay's Cheating Scandal
The Ramsays' marriage has survived decades, and many of those years their relationship has been in the public eye.
The two seemed to have a solid relationship until 2008 when cheating allegations shocked the United States and the United Kingdom and shook the foundation of their relationship.
After over 10 years of marriage, author Sarah Symonds came forward claiming she and Gordon Ramsay had engaged in a years-long on-again-off-again affair.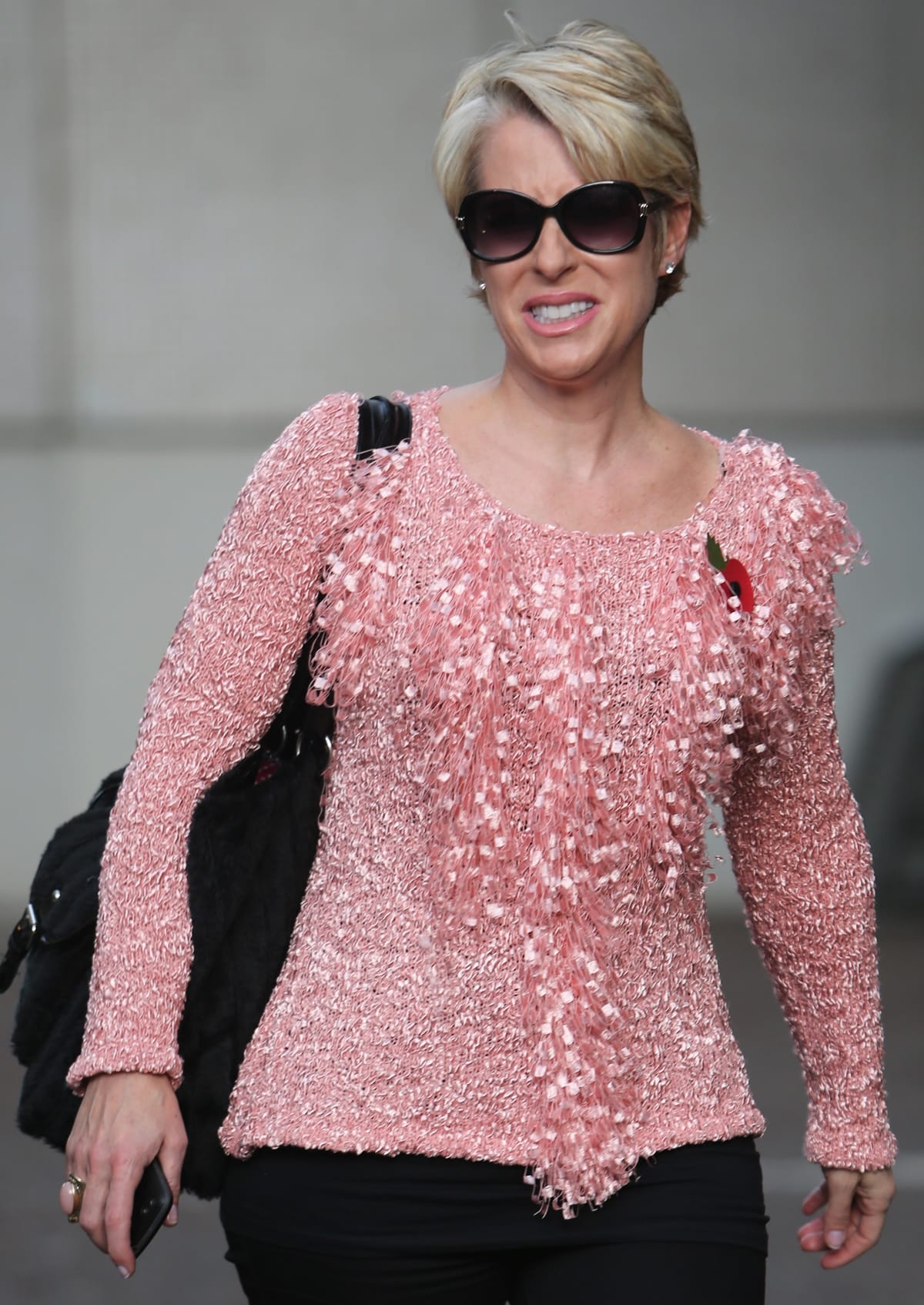 Sarah Symonds claims she had an affair with chef Gordon Ramsay on and off for seven years (Credit: Rocky / WENN)
Symonds published a book called Having an Affair? A Handbook for the Other Woman, and inside detailed being a mistress in an affair, and asserted that she and Ramsay had met multiple times for sex.
Symonds's claims only got more salacious, as she added that the two also engaged in phone sex multiple times and that at their last rendezvous, Ramsay arrived with the drug amyl nitrate, which many people use to increase pleasure during sex.
Ramsay denied all claims of cheating on his wife and disparaged Symonds in the process. Although he maintained the rumors were untrue, he did apologize to his wife for enduring the embarrassing claims. Ramsay has not had any other cheating scandals since.
Gordon Ramsay's Feud With His Father-In-Law
As if sordid cheating rumors weren't enough to shake their marriage, the Ramsays also had to endure an intense feud between Gordon and Tana's father, Chris Hutcheson.
Gordon's business was steadily growing, and Hutcheson managed it for many years. After a while, though, things turned sour, and Hutcheson was removed from his post at the company.
Pictured as a teenager holding an engraved trophy, Gordon Ramsay grew up in an abusive household with an abusive father who struggled with alcoholism (Credit: Channel 4's Born Famous)
Neither revealed the exact reason why Hutcheson left, but rumors of borrowed money swirled, and in 2011, Ramsay sued Hutcheson.
Ramsay claimed Hutcheson hacked both his personal and business accounts in order to steal money and retrieve photos of a woman he was having an affair with.
Six years after initially filing the suit, Hutcheson was found guilty and spent six months in jail for his crimes. His two sons, who conspired with him, each spent four months in jail.
Inside the Lives of Their Children
Gordon and Tana Ramsay struggled to conceive and even suffered a miscarriage. Although they've suffered heartbreak, the Ramsays have some very accomplished children. Here's what they're known for:
Megan – The oldest of the Ramsay children, Megan stays busy traveling and spending time with her boyfriend. Her father, however, does not exactly approve of the relationship, and has called him "wet" and "pathetic."
Gordon Ramsay, Holly Anna Ramsay, Matilda "Tilly" Ramsay, Jack Scott Ramsay, Megan Jane Ramsay, and Tana Ramsay attend the BAFTA Children's Awards at The Roundhouse on November 20, 2016, in London, England (Credit: Alan West / WENN)
Holly – Holly Ramsay is a social media influencer and podcast host who often speaks out about the importance of mental health. She recently shared that she celebrated a year of sobriety after quitting drinking to aid her own mental health.
Although she's not sure she'll maintain the choice forever, she's noticed major improvements in her life since quitting.
Jack – Compared to his sisters, Jack Ramsay keeps a relatively low profile. He's been featured in episodes of his sister Tilly's television show, but aside from that, he's best known for being Gordon Ramsay's son. In 2020, Jack joined the Royal Marines.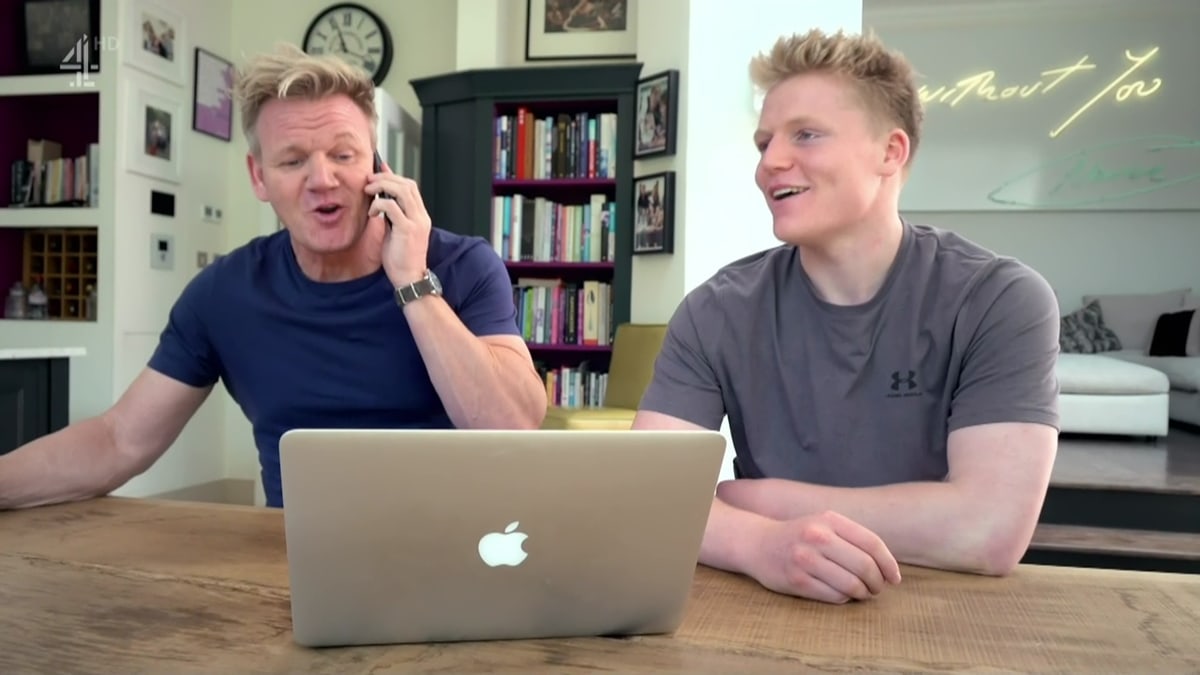 Gordon Ramsay with his son Jack, who was born on January 1, 2000, and joined the Royal Marines in 2020 (Credit: Channel 4's Born Famous)
"Can't tell you enough how proud I am of this young man Jack Ramsay you've made me feel like the proudest father today congrats on joining @royalmarines what amazing achievement," Gordon wrote about his son on Instagram.
View this post on Instagram
Matilda (Tilly) – Tilly Ramsay has made a name for herself. She rose to prominence by hosting Matilda and the Ramsay Bunch on BBC, and since then she's been featured on television several other times.
Tilly was recently a contestant on the competition television show Strictly Come Dancing.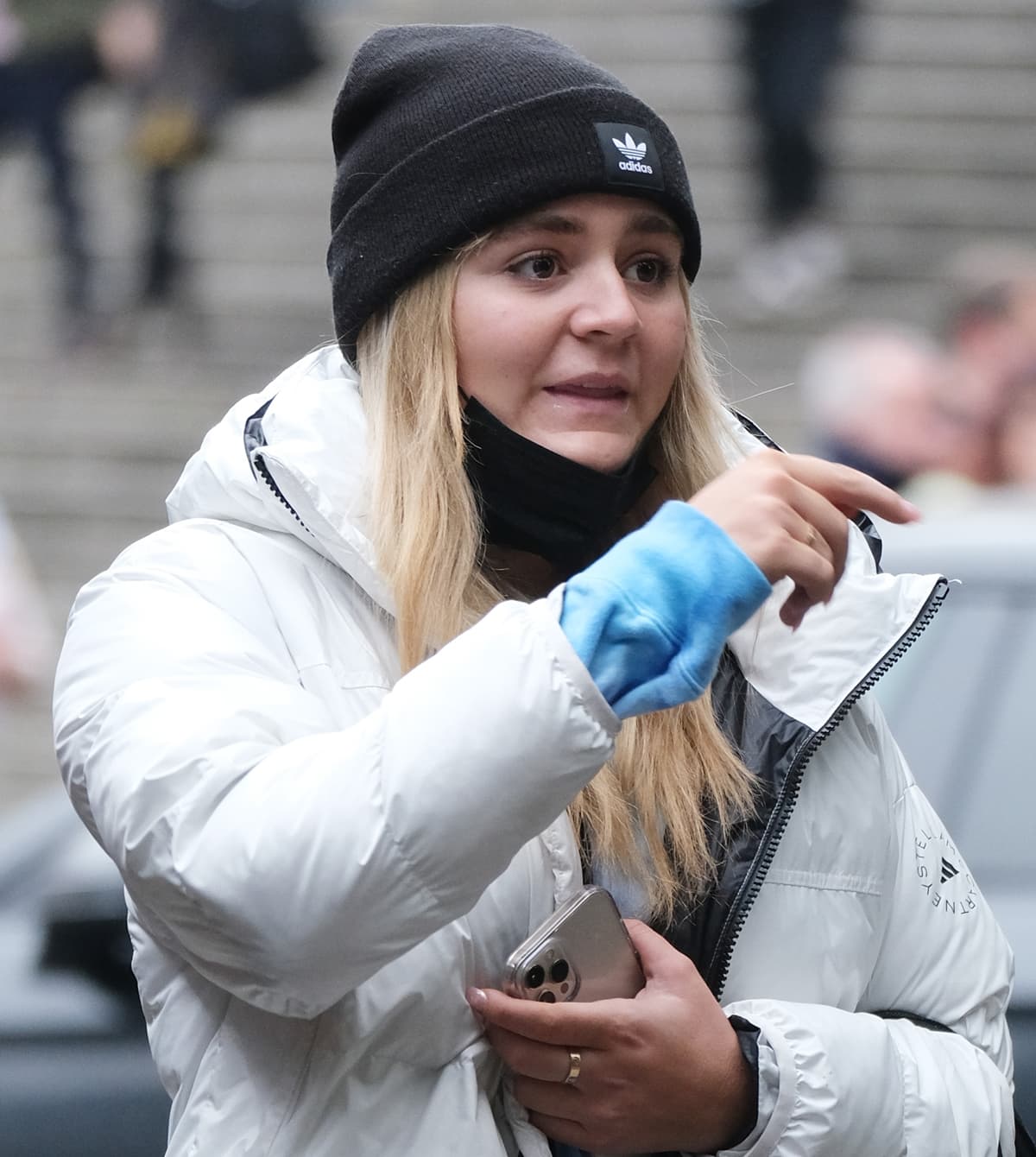 Matilda Elizabeth "Tilly" Ramsay making her way to rehearsals for the Strictly Come Dancing Live Tour 2022 at Utilita Arena Birmingham on January 23, 2022 (Credit: Avalon / WENN)
Oscar – Oscar is the youngest of all the Ramsay children. Although he's not old enough for school, he has a large Instagram following.
6 Fun Facts About the Ramsay Family
The Ramsays have lived very interesting lives. Here are some facts about the couple:
1. Gordon is older – Gordon and Tana Ramsay are nearly eight years apart.
2. Tana isn't very tall compared to her husband – Gordon is several inches taller than his wife. He stands at 6'2" while his wife is 5'6".
3. Tana Ramsay is also a cook – The Ramsay family is full of good cooks. She's shown her cooking skills on television several times and has published multiple cookbooks.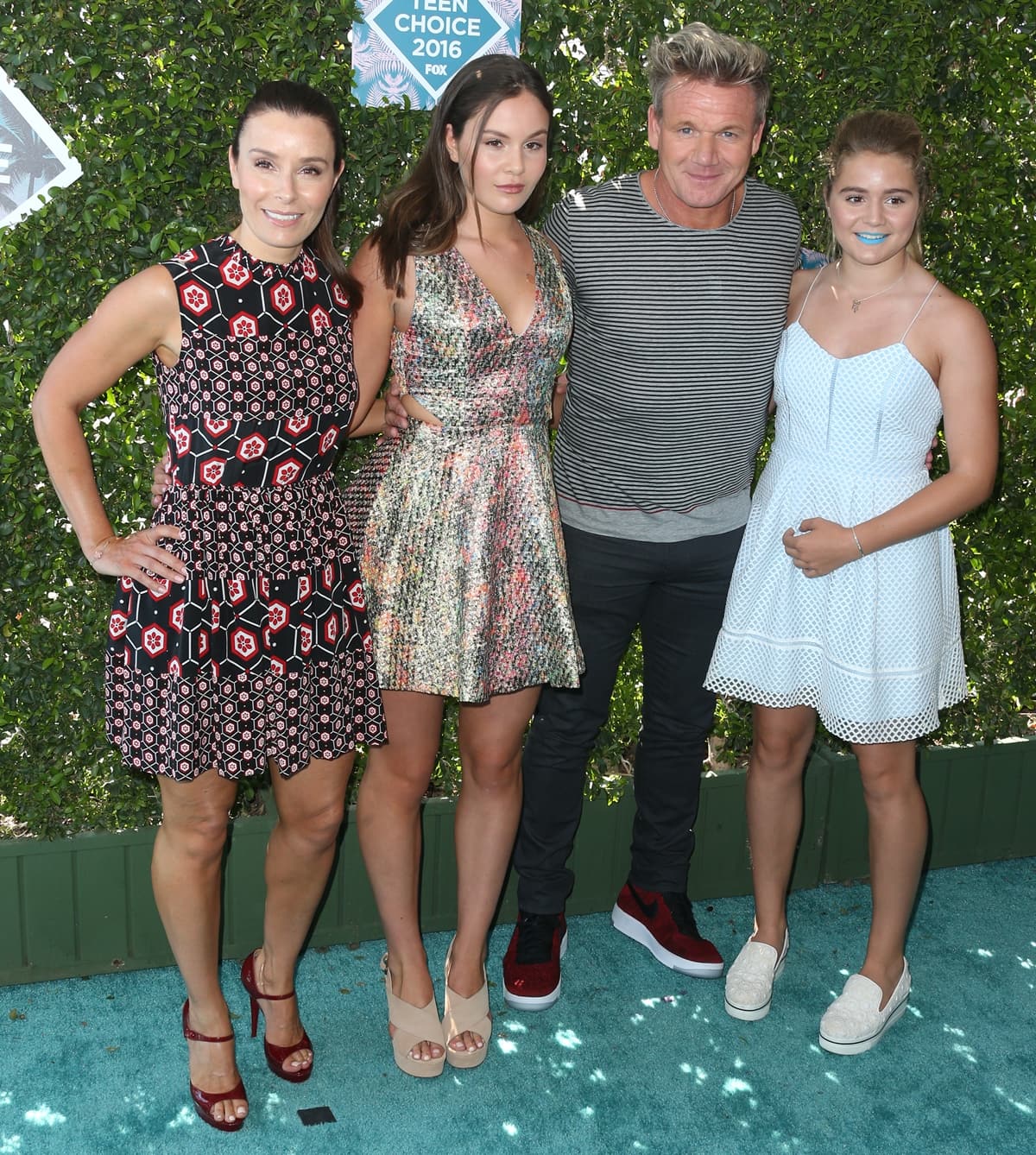 Tana Ramsay, Megan Ramsay, chef Gordon Ramsay, and Holly Ramsay arrive at the Teen Choice Awards 2016 at The Forum on July 31, 2016, in Inglewood, California (Credit: FayesVision / WENN)
4. Gordon is considered one of the best chefs in the world – It's rare for a chef to earn a Michelin star for their culinary work, but Gordon Ramsay is one of those rare chefs. He has multiple restaurants with Michelin stars and has seven stars total.
5. Gordon has a title from the Queen – The Queen of England named Ramsay Officer of the Order of the British Empire for his contribution to the food industry.
6. They have three homes – Gordon and Tana share three homes all across the globe. They have properties in London, Cornwall, and Los Angeles, and split their time between the United States and the United Kingdom.
Inside Gordon and Tana Ramsay's Relationship Today
Despite the issues the two have faced in their relationship over the years, Gordon and Tana Ramsay are still happily married, and the two both post regularly on social media.
They've weathered scandals, family feuds, and life as celebrities, and still managed to keep their family together and raise five children.
In October 2014, Radar Online caught Kris Jenner uploading a digitally-altered picture of herself with British celebrity chef Gordon Ramsay. However, nothing would stop the wealthy momager from making her cookbook a success.
View this post on Instagram
At this point, we've all heard the phrase "The devil works hard, but Kris Jenner works harder."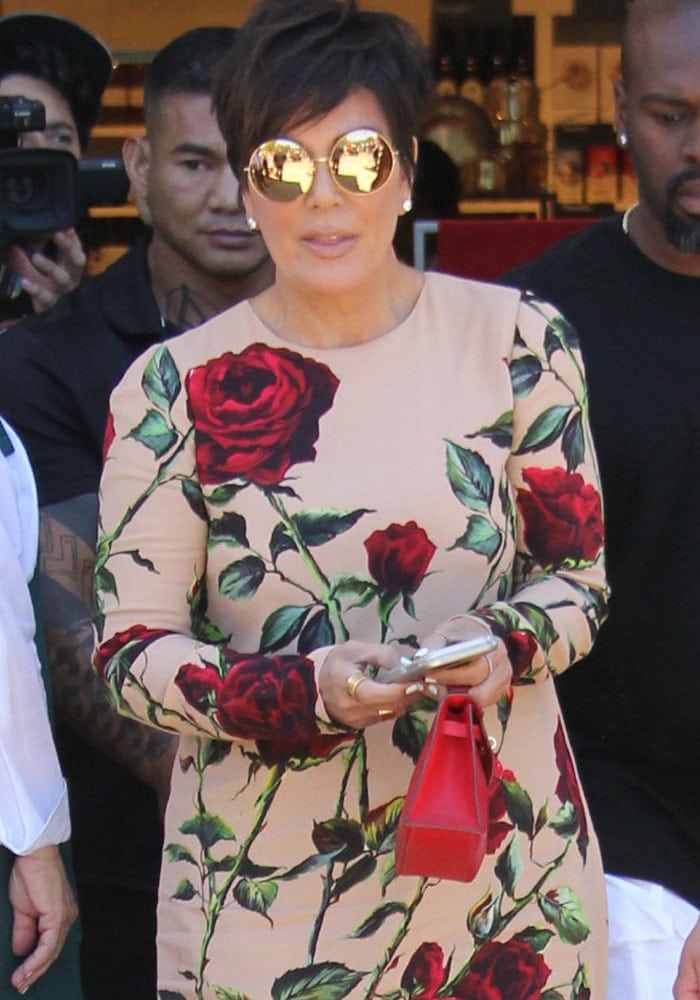 Kris Jenner arrives at a book signing for her cookbook titled"In The Kitchen With Kris" on August 29, 2015, at Williams-Sonoma The Commons in Los Angeles (Credit: CMJ / WENN)
America's momager was back at it again. The Kardashian matriarch wasn't sitting back and waiting to collect money from the numerous television appearances and endorsements that her daughters were making.
Instead, the mom-of-six authored her own cookbook titled In the Kitchen with Kris: A Kollection of Kardashian-Jenner Family Favorites.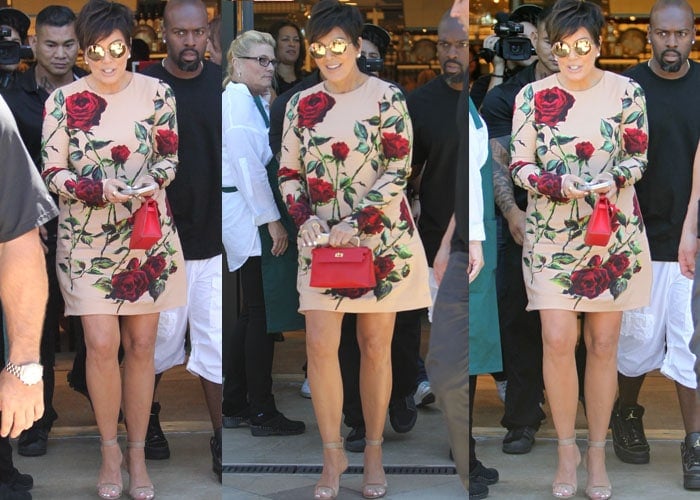 Kris Jenner styles a floral-printed dress from Dolce & Gabbana with a pair of nude heels as she attends a signing for her own cookbook (Credit: CMJ / WENN)
Available on Amazon, it has been widely ridiculed by Eater and other food and dining websites.
In the Kitchen with Kris: A Kollection of Kardashian-Jenner Family Favorites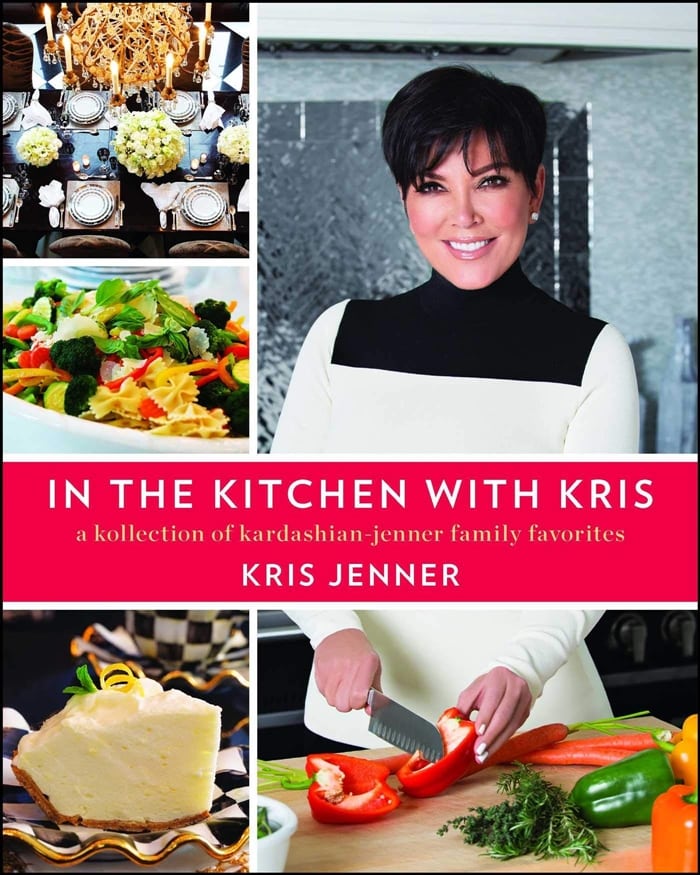 Kris Jenner's cookbook with nearly 70 favorite recipes that have become the centerpiece of the Kardashian-Jenner family
So, if you've ever wanted to eat like the Kardashian/Jenner household, you're in luck.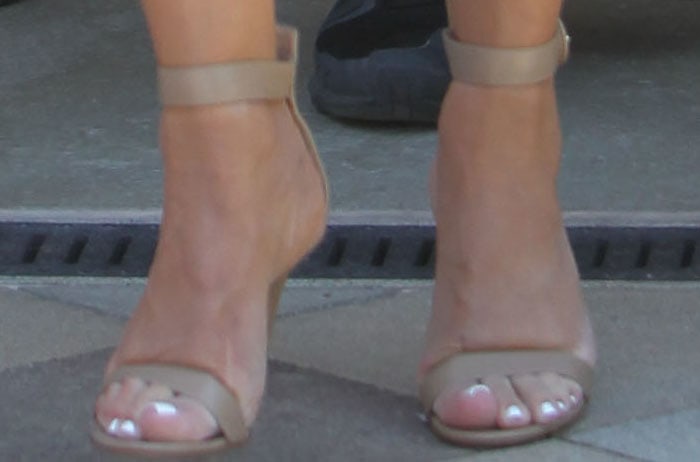 Kris Jenner shows off a fresh white pedicure in a nude pair of Gianvito Rossi sandals (Credit: WENN)
The then 59-year-old was spotted at Williams-Sonoma The Commons for her first book signing.
For the event, Kris wore a dress by Dolce & Gabbana. She styled her flowered frock with a pair of Gianvito Rossi "Como" sandals in beige.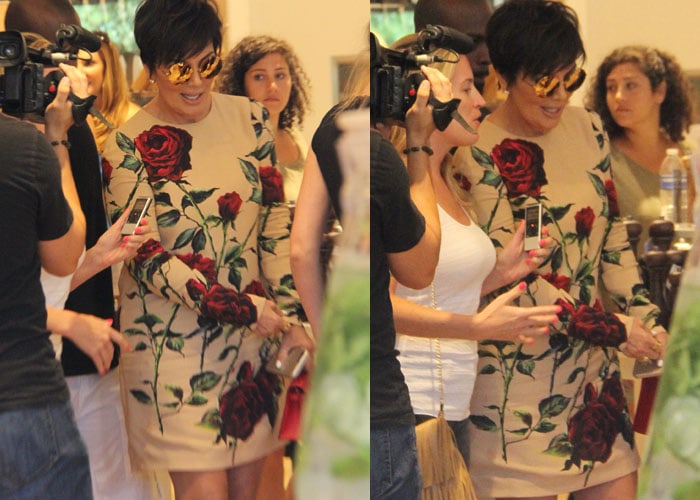 Kris Jenner acknowledges the paparazzi as she attends a book signing in Los Angeles (Credit: WENN)
The reality television star completed her look with a tiny red purse and reflector sunglasses.
Kris Jenner smiles at the cameras as she sits and autographs cookbooks at a book signing held at Williams-Sonoma The Commons (Credit: WENN)
Kris was accompanied by her younger boyfriend Corey Gamble, who stayed by her side throughout the event, and her daughter Khloe, who stopped by for a supportive visit.
To get a pair of these simple nude sandals for yourself, head over to Farfetch.
Nude Gianvito Rossi Como Heeled Sandals, £520