Having turned 24 on February 20, Rihanna was seen celebrating the night of her birthday at the Japanese restaurant Nozomi in London, England.
Rihanna rocked a white and black fur jacket and a tuxedo-striped black tube jumpsuit for the party. Gold served as the color of her accessories from her gold hoop earrings, gold jewelry and gold nails, down to the gold heel-less shoes on her feet:
Rihanna's gold hoop earrings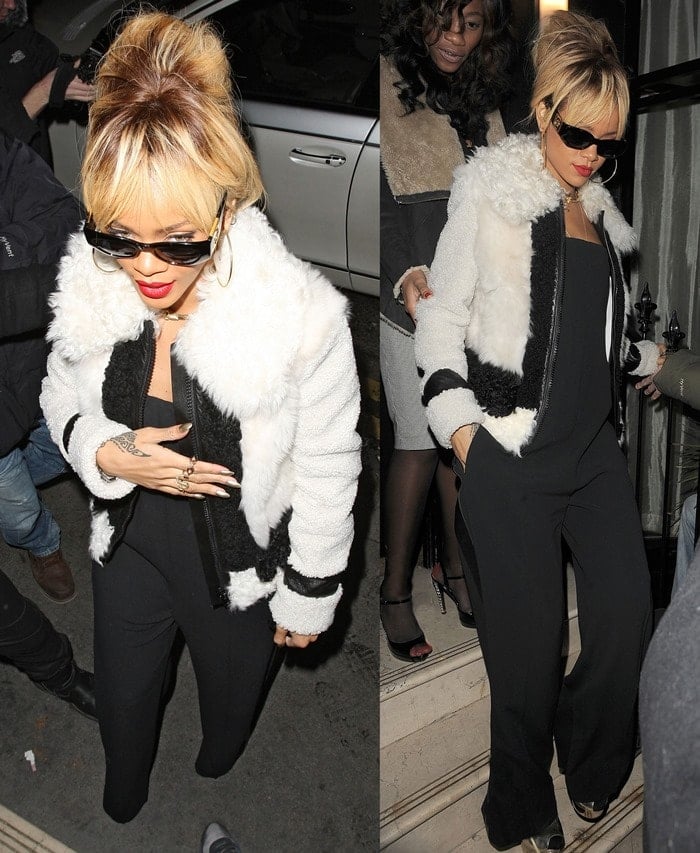 Rihanna steps out of a luxurious Maybach car as she arrives to celebrate her 24th birthday at the Japanese restaurant Nozomi in London, England of February 20, 2012
The long hem on Rihanna's jumpsuit might have covered her feet in most of the pictures from this night but when the paps were able to photograph her shoes, they were NOT to be missed.
That is a seriously shiny gold color on those shoes, ladies. Worthy of an international popstar who is off to celebrate her birthday and is to be the center of attention at her own party.
We've featured Rihanna's heel-less shoes so many times before so we all already know that they are these heel-less platform sandals from Giuseppe Zanotti:
Giuseppe Zanotti heel-less platform sandals, $895.00 at Neiman Marcus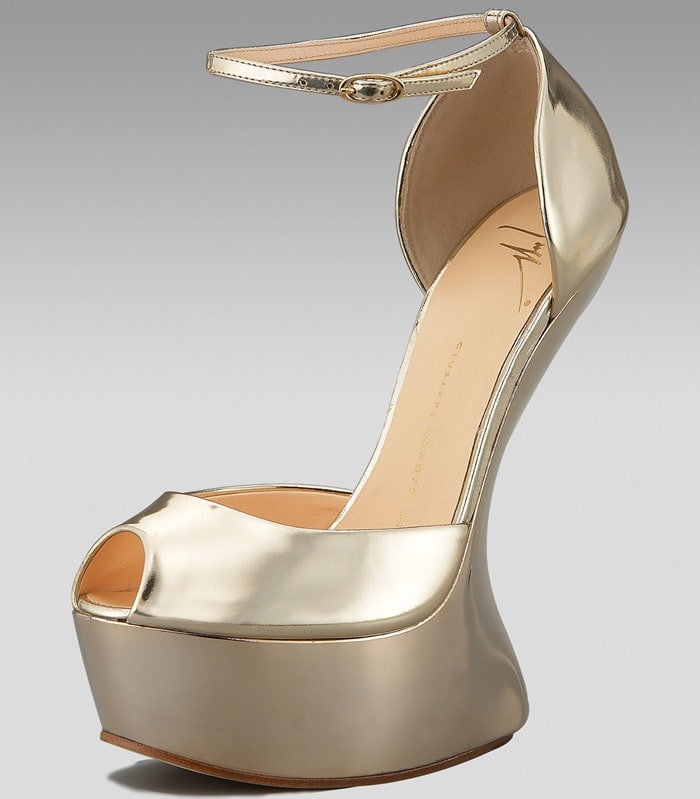 What we didn't know is how blindingly gold they are. The product pictures do the color no justice!
These Spring 2012 heel-less shoes are still priced at the original $895.00 SRP. You could wait for them to go on sale but they're already almost sold out. You can also check out our favorite look-for-less option to these heel-less shoes which are the Jeffrey Campbell 'Night Walks' and their many different versions.
Do you dig heel-less shoes or do you think their shock factor has already been worn out?
Credit: Spiller / WENN