Mulberry is one of the most recognizable British fashion brands. Their leather handbags are a staple in the pages of fashion magazines like Vogue and Harper's Bazaar.
We have spotted everyone from the royals like the Duchess of Cambridge to political figures carrying a Mulberry bag.
They're a British institution and have collaborated with everyone from Alexa Chung to Lana Del Rey to create must-have bags that have defined fashion trends.
Catherine Duchess of Cambridge, Alexa Chung, and Lana Del Rey carrying different Mulberry bags
Like every luxury fashion brand, buying a Mulberry bag pre-loved comes with risks. The brand is the victim of millions of dollars worth of counterfeit goods every year.
If you're shopping for a pre-loved Mulberry bag, you'll want to know what signs to look out for and where you should shop for an authentic Mulberry bag.
Meet Mulberry
Like most great British institutions, Mulberry has a humble heritage. The brand began in 1971 when Roger Saul's mother gave him £500 to launch his brand making belts and chokers.
Roger Saul, the founder of the Mulberry fashion label, driving an electric car during the 2010 Brighton to London Eco Rally on July 7, 2010
His sister helped design the tree that would become its logo, taking inspiration from the Mulberry trees they used to see on their way to school. Roger took the logo and named the brand 'Mulberry' after the tree.
Roger Saul's sister helped him design the Mulberry tree logo, inspired by Mulberry trees
This humble heritage is part of the appeal of the Mulberry brand, which is British to its core.
In 1973, Roger and his mother Joan opened their first factory in Somerset, an area already famous for its leather production. The earliest styles of accessories to come from the brand were their leather poacher bags.
Mulberry's womenswear line was launched in 1979. For decades, the brand remained one of the UK's best-kept fashion secrets.
The tide turned in 2000 when Scott Henshall became Creative Director, bringing with him a rebranding campaign and making the actress Anna Friel the face of Mulberry.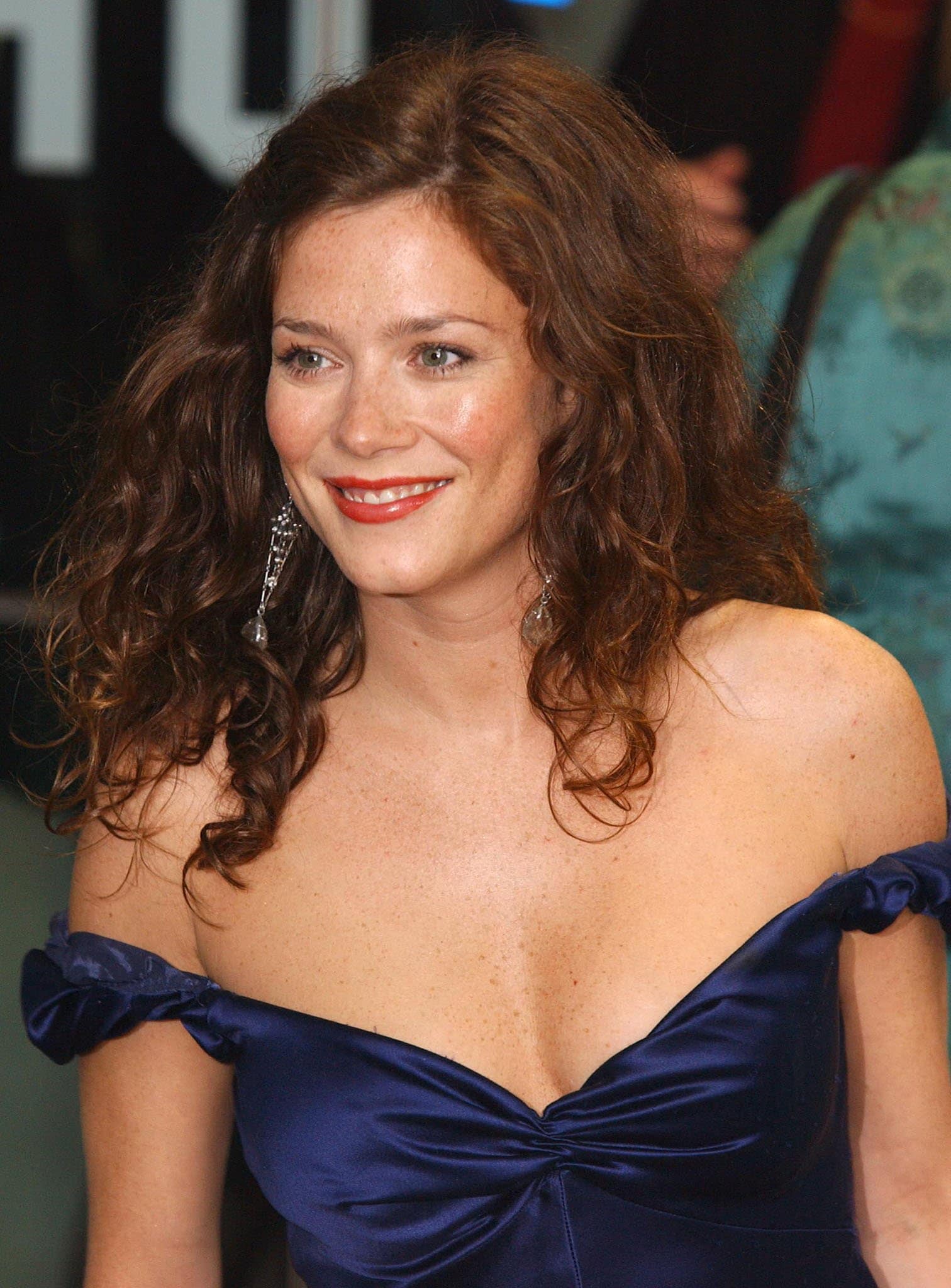 Anna Friel, pictured in 2004, became the face of Mulberry in 2000
Other celebrity ambassadors followed in close succession, including Victoria Beckham and the Queen's granddaughter, Zara Tindall. Although Scott's time at Mulberry was short-lived, departing in 2001, he set the brand up for its future success.
Mulberry broke into the mainstream with the help of its Creative Director, Emma Hill, who took over the role in 2007. Under her guidance, Mulberry created its first 'it' bag, the Bayswater.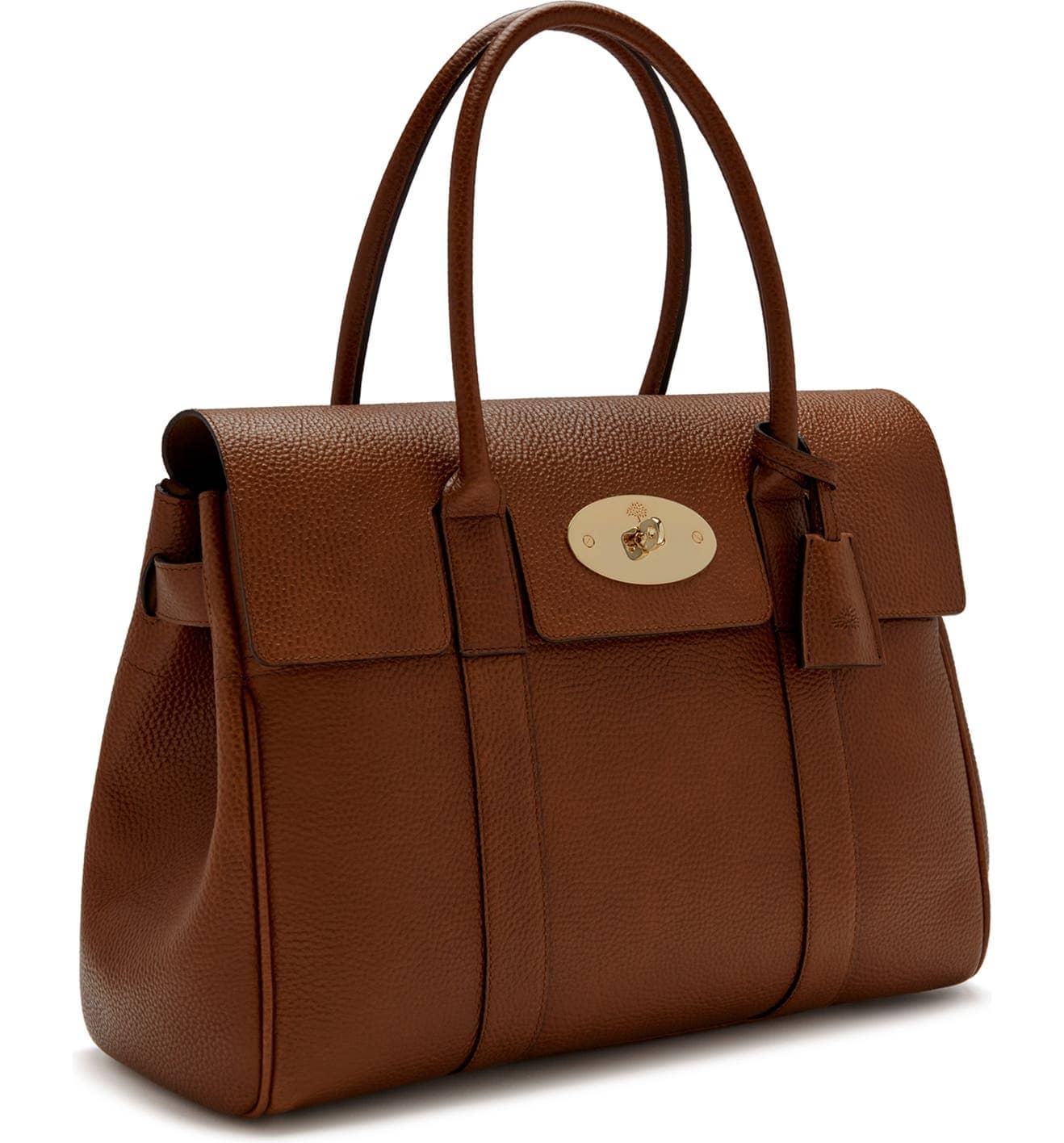 Mulberry's Bayswater bag is considered a classic "it" bag
She also oversaw the collaborations with Cara Delevingne, Alexa Chung, and Lana Del Rey. Emma Hill departed the brand in 2015, being succeeded by Johnny Coca, who had been responsible for the revival of Celine.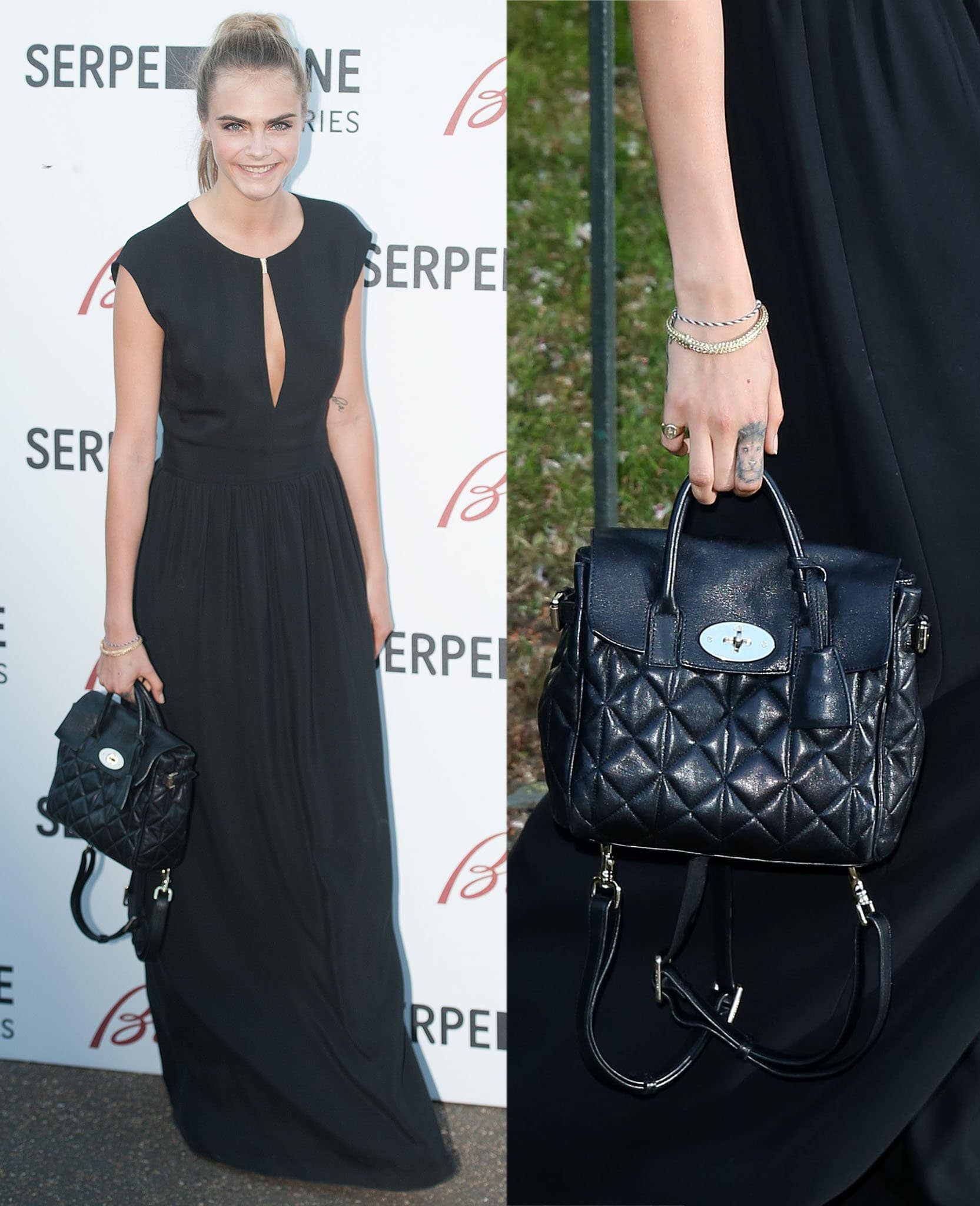 Cara Delevingne carries a quilted black nappa bag from her 2014 collaboration with Mulberry at the Serpentine Gallery summer party in 2013
Mulberry is synonymous with the idea of classic English heritage. When you hear their name, the first thing you will probably think of is their handbags. Although they have an extensive collection of small leather goods and ready-to-wear, their handbags are the brand's best-sellers.
Although Mulberry is a luxury fashion brand, it doesn't command the same price tag as the likes of Louis Vuitton, Chanel, or Prada.
The brand is also available at more mainstream department stores like Selfridges, Nordstrom, John Lewis, and House of Fraser, putting Mulberry on the same platform as mid-level contemporary brands like Aspinal of London.
Throughout its development as a brand, Mulberry has stayed true to the idea of creating pieces that are made to last, embodying the idea of timeless British elegance. No designer handbag collection is complete without a Mulberry bag.
Where Are Mulberry Bags Made?
In recent years, most of Mulberry's bags were being produced in its two factories in Somerset, where the brand launched in 1971. Following the impact of the global pandemic, Mulberry has chosen to end production at one of the two locations.
The Rookery will remain their head office and repair center, but manufacturing is being streamlined into one factory to become more cost-effective.
Although Mulberry has been slowly moving their production abroad, the brand has said it's still committed to making 50% of its products in the UK.
Mulberry is also consulting reducing its workforce by 25%, creating some doubt about the feasibility of maintaining their 50% production ambition.
Usually, when you see 'Made in China' or 'Made in Turkey' inside a bag, it's a red flag that the bag is a counterfeit. While it's still something to question, it's not usual to spot inside a Mulberry bag.
Other common locations that you'll find include Italy and Spain, as the brand continues to outsource its production to cut down costs.
Whatever factory it comes from, it takes around 30 pairs of hands to make your Mulberry bag, meaning there shouldn't be a stitch out of place.
How Do You Know if a Mulberry bag is real?
As Mulberry bags are made using leather instead of canvas, the authentication process can be a little more time-consuming. You have to consider things like the weight and texture of the leather, along with its scent, which you don't be able to detect with an online listing.
At the same time, counterfeiters struggle to recreate such high-quality pieces of leather. They are getting smarter and increasingly creating 'super fakes' that mirror the genuine bag almost perfectly.
Here are a few things to look out for when you think a Mulberry bag could be fake:
1. Check the leather type
Most Mulberry bags are made using thick grained calf-skin leather, which is durable and structured. The lining differs between bags, but the leather type primarily stays the same.
A screenshot from YouTuber Chicprofessor comparing a real Mulberry Bayswater bag (left) from a fake one (right)
If you can see the bag in person and it doesn't feel sturdy, it's an instant red flag.
2. Stitching
Unlike genuine products, counterfeit bags are mass-produced as part of a production line. There isn't the same level of craftsmanship, which means certain aspects of the design get overlooked.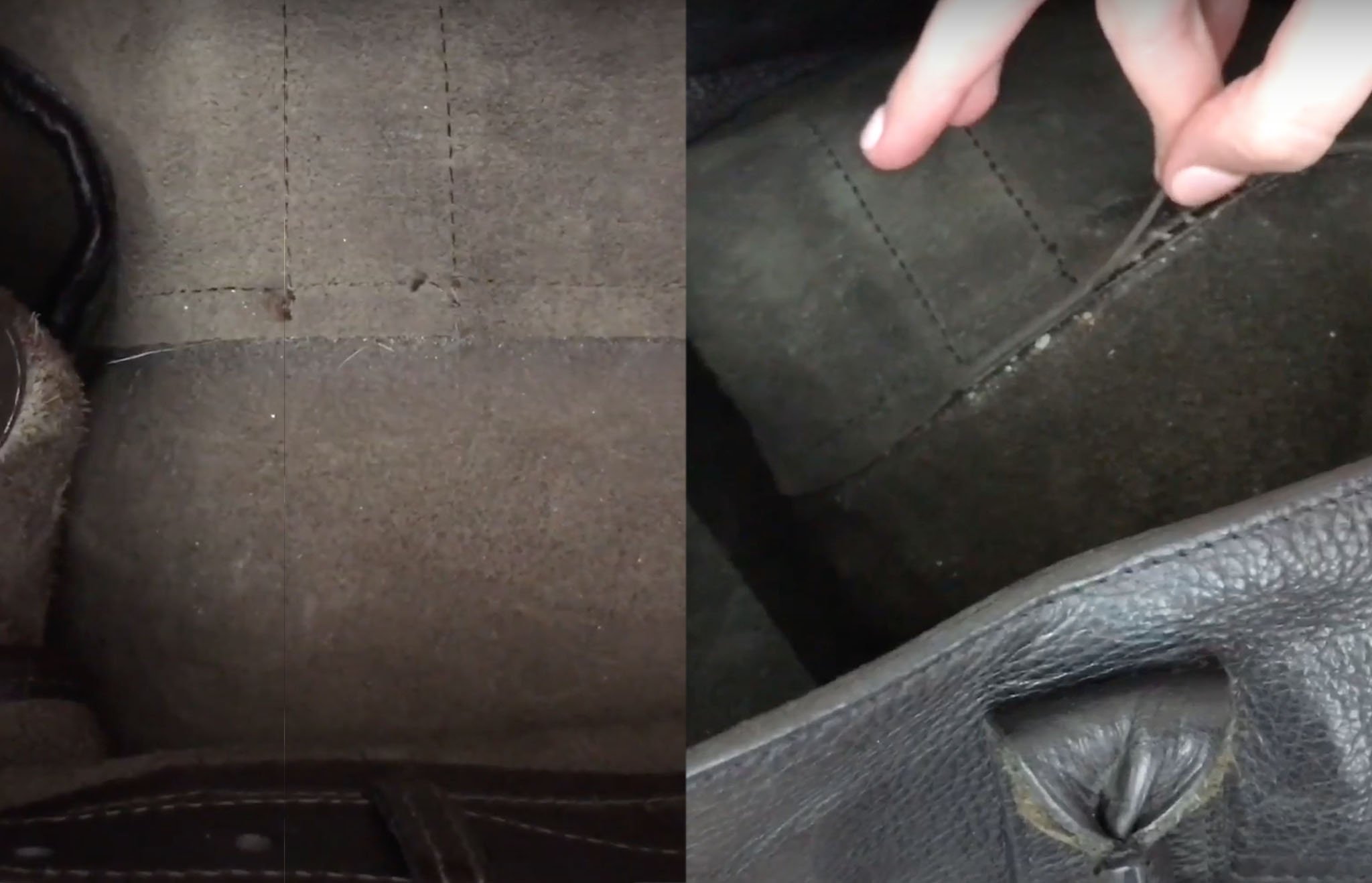 Stitchings on the real Mulberry bag (left) are straight and solid compared to a fake bag (right)
The stitching is usually a dead giveaway of the quality of the bag. Each stitch should be the same size and straight, with no uneven edging. The handles and sides of the handles should all be smooth with neat edges.
3. Hardware
Mulberry usually stamp on their signature to buckles and their hardware. The stamp should always be even, thick, and straight. You want to compare the font on your bag to the brand's signature.
You'll often find counterfeit bags which have a slight slant to their stamping and thinner letters.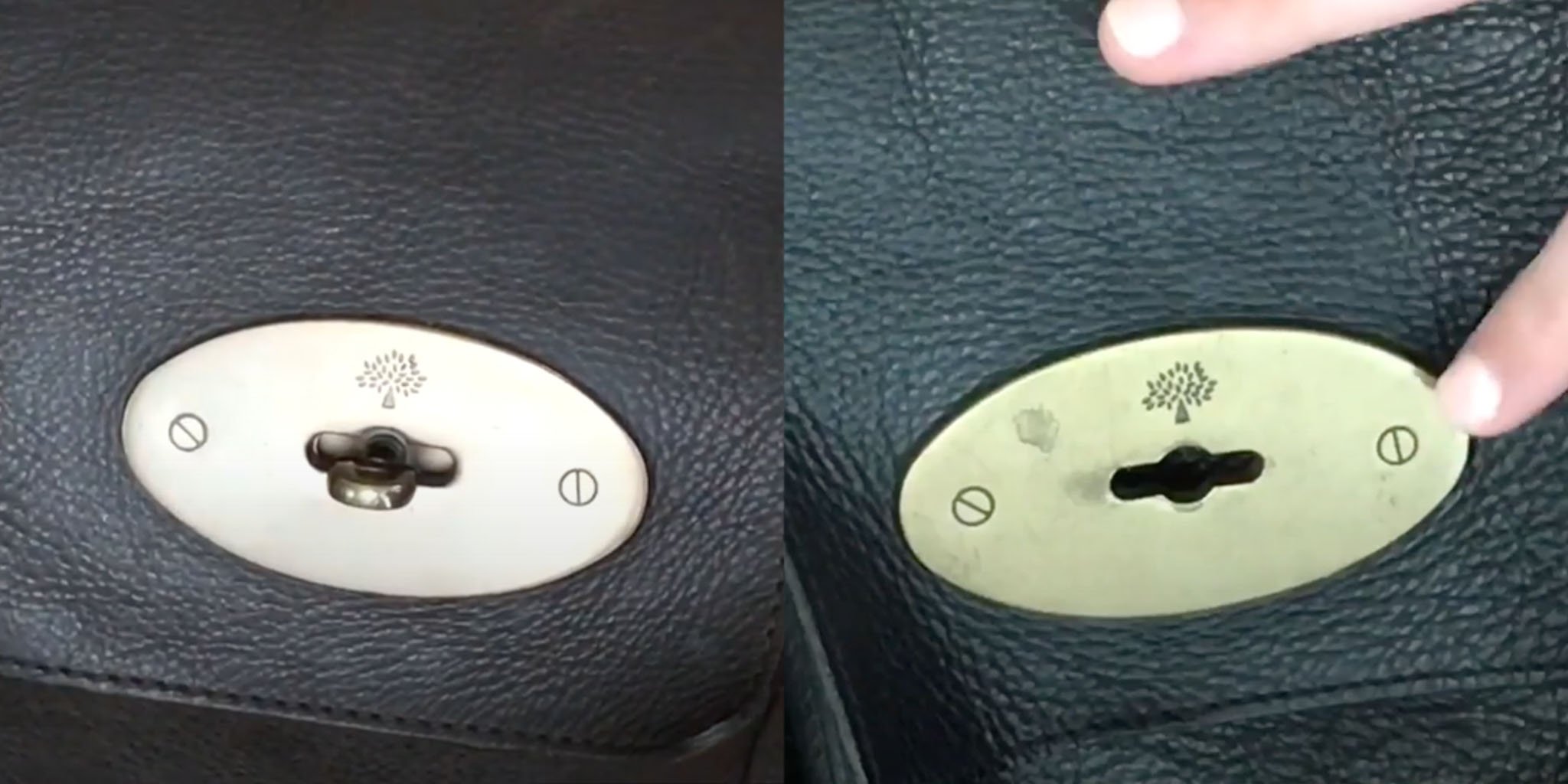 The original Mulberry bag (left) has faded gold-tone hardware, while the fake one has yellow gold-tone hardware (right)
Along with the name, you'll find the Mulberry tree stamped onto smaller pieces of hardware. You want to make sure the tree logo is consistent throughout your bag and that it is straight and even.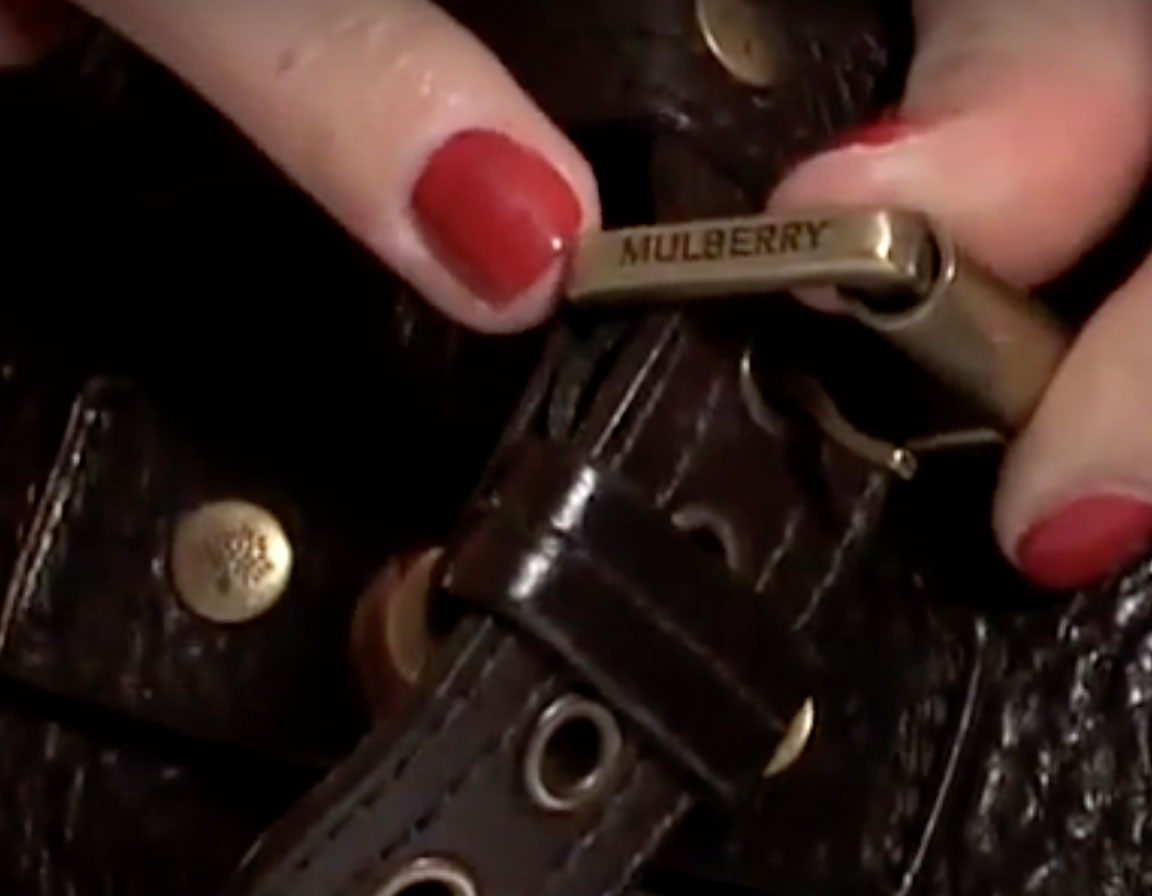 Authentic Mulberry bags should have the Mulberry name and tree logo engraved on the small hardware as shown in the screenshot from Pose YouTube channel
If your Mulberry bag has a zipper, it'll usually be made by Mulberry themselves or from the brand RiRi. Underneath your zip, you should see the 'RiRi' logo or the Mulberry tree.
4. Heat Stamping
The heat stamping on Mulberry bags will vary from model to model. You'll typically find either the Mulberry name or the tree logo.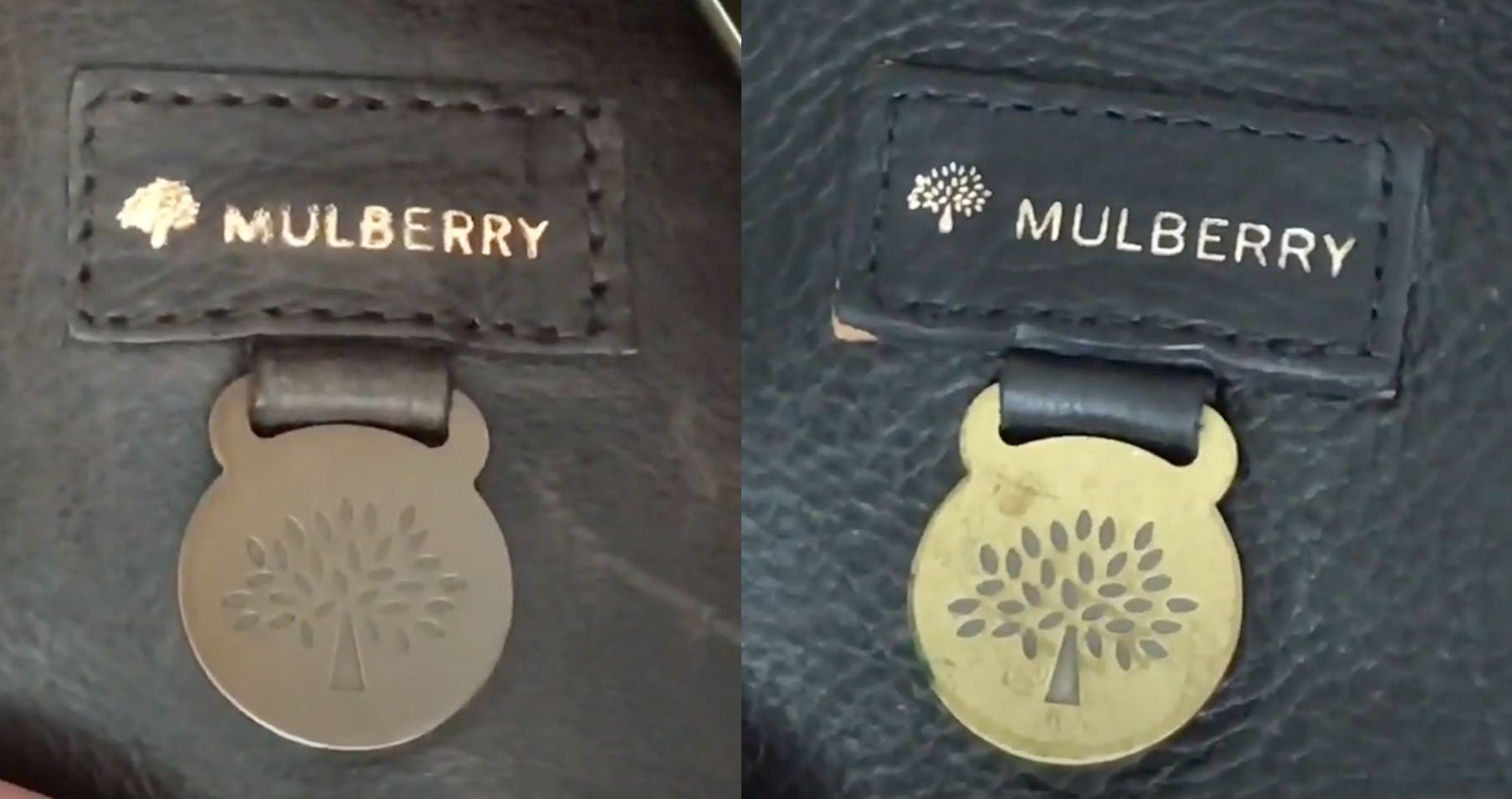 Done in the label's signature Sans Serif font, the Mulberry heat stamp on the real Mulberry handbag (left) is thicker compared to the fake one (right) as seen on Chicprofessor's YouTube channel
If you see the brand's name, the font will always be in Sans Serif. If you see any other font, it's an instant red flag about the authenticity of the bag.
5. Serial Number
If your Mulberry bag has a metal disc, you should find a serial number stamped on it. Older versions of the bags, particularly the Bayswater, may not feature this serial number, but it's worth checking.
Mulberry bags made for outlet stores sometimes do not have a serial number to go with them.
Like anything, the serial number can also be faked. Several common ones feature on counterfeit bags. These numbers include 2254571, 026904, 565321, and 262541.
Chicprofessor shows the serial number difference between the real (left) and fake (right) Mulberry bags
Although the bag may have a serial number on it, this doesn't instantly make it authentic. You can be confident about the authenticity of the serial number if the font and heat stamping both appear genuine.
The serial number should also be lightly etched onto the disc with a laser, instead of being deeply engraved.
Where You Should Shop for Pre-Loved Mulberry Bags
Mulberry handbags, particularly in recent years, haven't maintained their value the same as other designer brands have. You might find that you can save yourself hundreds of dollars by buying your Mulberry bag pre-loved instead of buying from the brand directly.
It's also worth noting that Mulberry holds sales throughout the year, so if you can hold off your purchase for a few months, you might be able to pick up a bargain from Mulberry's website or one of their stores.
If you decide to go down the pre-loved route, there are a few online retailers that you can visit.
While eBay is a popular choice, it's also notorious for counterfeit bags. If you go down this route, make sure to pay using PayPal to get buyer protection and be able to open a case if the bag turns out to be a counterfeit.
One marketplace that gives you a little more protection is Vestiaire Collective. They offer an authentication service for an additional fee, and they'll highlight expert sellers who have they have deemed as selling genuine items.
This process makes it easier to streamline your search and find an authentic bag. Another website worth checking is Fashionphile, which is similar to Vestiaire Collective and offers a mixture of recent and vintage Mulberry handbags.
As some of Mulberry's iconic bags like the Bayswater are officially becoming vintage, it's worth checking in your local vintage stores to see if they have a Mulberry bag in stock.
Mulberry is a British institution and a hallmark of British fashion around the world. If you want an understated handbag that will stay in your collection for years to come, Mulberry is the perfect choice to look at. Just make sure that you don't get fooled by a counterfeit listing!
Credit: Lia Toby / Daniel Deme / Will Alexander / WENN