During separate interviews with talk show host Ellen DeGeneres, Keanu Reeves and Sandra Bullock revealed why they never started dating despite their undeniable on-screen chemistry in the 1994 American action thriller film Speed.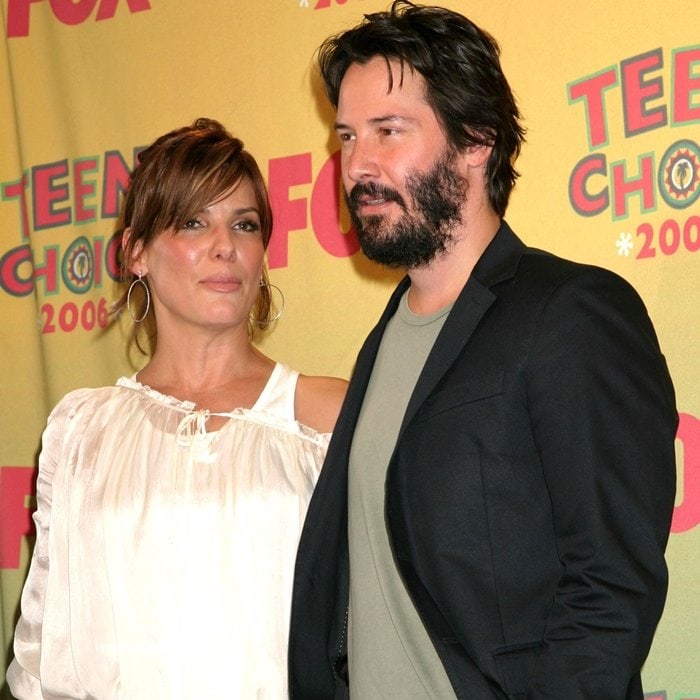 Keanu Reeves had a crush on Speed castmate Sandra Bullock — and the feeling was mutual
Apparently, they had crushes on each other while filming the box office hit in Los Angeles. However, neither of them knew the other had a crush. It makes us wonder what would have happened if they had started dating!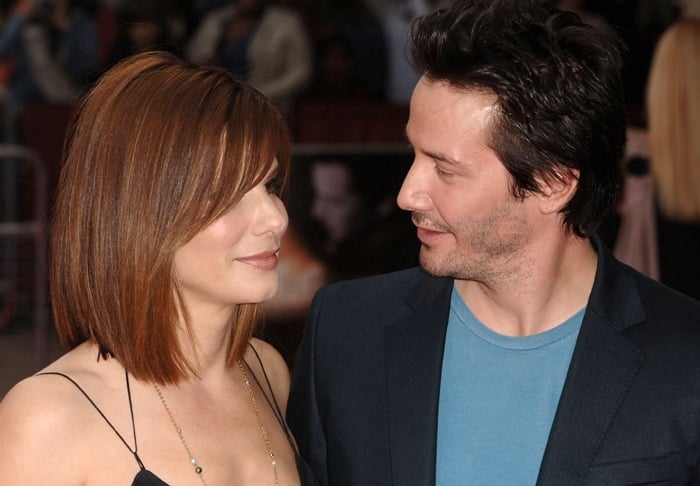 American actress Sandra Bullock and American actor Keanu Reeves arrive at the UK premiere of The Lake House, Vue Cinema, Leicester Square, London, on June 19, 2006
During Keanu's appearance on The Ellen DeGeneres Show in May 2019, Ellen jokingly told Keanu that Sandra Bullock's role as Annie Porter in the 1994 American action thriller film Speed was originally written with Ellen in mind.
She proceeded to show him a clip of what the action movie could have looked like if they starred together.
Sandra Bullock and Keanu Reeves during the 78th Annual Academy Awards held on March 5, 2006, at the Kodak Theatre in Hollywood, Los Angeles
In a December 2018 interview with Bullock, Ellen asked her how it was to work alongside Reeves.
I think about how sweet Keanu Reeves was and how handsome he was. It was hard. It really was hard for me to really be serious. He would look at me and I'd [start giggling]… I never dated him. There's just something about me that I guess he didn't like… I think we were friends for that long because we didn't [have a sexual relationship].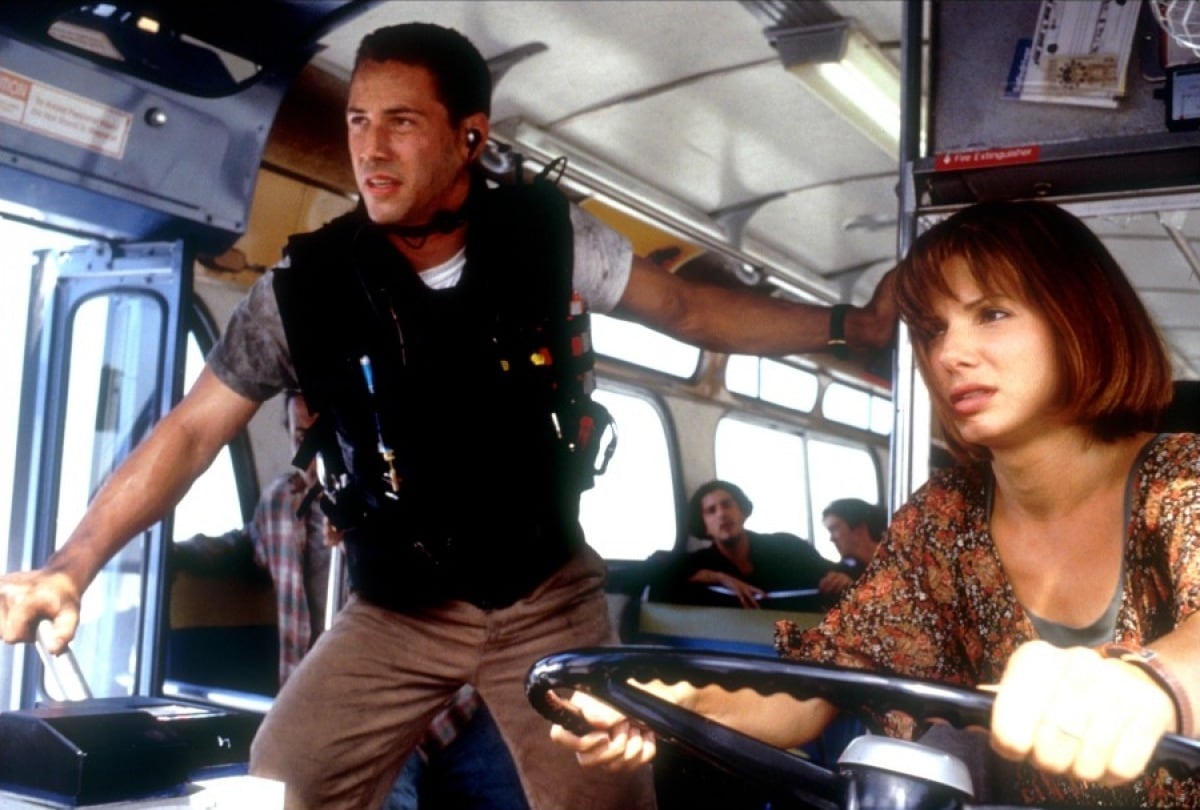 Keanu Reeves as Officer Jack Traven and Sandra Bullock as Annie Porter in the 1994 American action thriller film Speed (Credit: 20th Century Fox)
Reeves told Ellen he had no idea Bullock had feelings for him. "She obviously didn't know I had a crush on her either," Reeves insisted. "I can't believe you both had crushes on each other and were so scared," said a disappointed DeGeneres.
"We were working!" said the actor when explaining why the two never started a romantic relationship.
DeGeneres commented on the authenticity of their chemistry, and Reeves agreed. "So that chemistry was real because you all really did have feelings like that," stated DeGeneres. Reeves nodded his head in agreement. "It was nice to go to work," he said. "She's such a wonderful person, a wonderful actress."
In October 2013, Sandra Bullock was on fire. Her style streak started with the L.A.M.B. "Payton" sandals she wore to the UK premiere of "The Heat."
From there, she impressively snowballed her shoe game to include (among others) Louboutin spiked-toe pumps, Zanotti safety-pinned ankle strappy sandals, and Charlotte Olympia peep-toes.
Sandra Bullock arrives at Warwick Square after leaving the "Gravity" film screening in London, England, on October 9, 2013
However, what did we find most head-turning? After sporting designer-shoe-on-designer-shoe, the actress revealed her toes in booties from the makers of blinged-out clubwear: Bebe.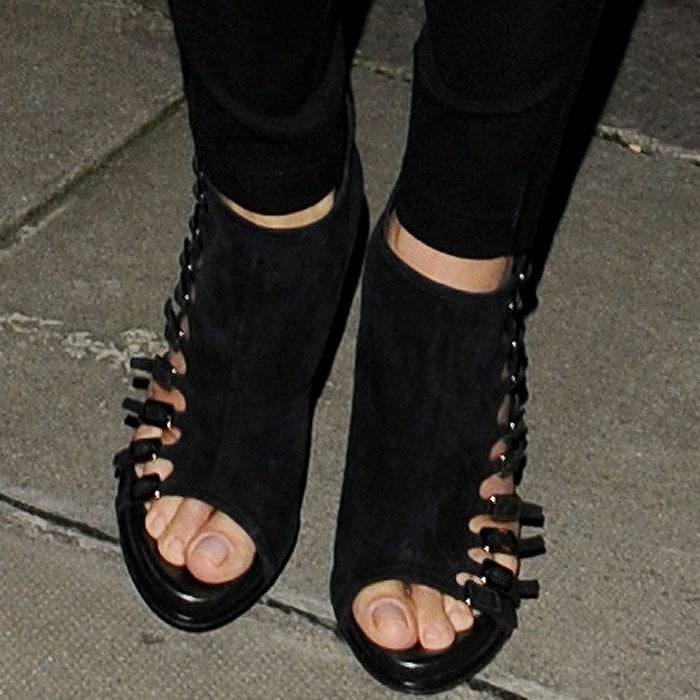 Sandra Bullock shows off her toes in black suede booties from Bebe
Sandra has managed to make these booties just as hot, expensive, and covet-worthy as any pair of Choos or Loubs. We're impressed.
Sandra Bullock nailed the menswear-as-womenswear look with these Bebe "Taffy" booties that you can find on Amazon. They are from a few years ago, but we instantly recognized them.
Black Bebe Taffy Strappy Booties, $109.95
Credit: WENN / Daniel Deme / Nikki Nelson