While Tom Hanks couldn't make it, "I Really Like You" singer Carly Rae Jepsen joined her "Grease: Live" co-stars — including Vanessa Hudgens, Keke Palmer, Julianne Hough, and Kether Donohue — at the 42nd Annual People's Choice Awards at the Microsoft Theatre in Los Angeles.
Carly Rae Jepsen debuts jet-black hair at the 2016 People's Choice Awards at Microsoft Theater on January 6, 2016, in Los Angeles, California
Considered one of the best music videos of 2015, part of the video for "I Really Like You" was filmed on February 16, 2015, in front of the Mondrian Hotel in Manhattan, New York City.
Carly Rae Jepsen, who was 29-years-old at the time, was joined by a troupe of well-dressed dancers and a number of surprise guests.
Why was Tom Hanks in Carly Rae Jepsen's video?
Tom Hanks, who stars alongside Justin Bieber, lip-syncs the song while traveling to the video set. He can also be seen dancing in the streets of Manhattan's NoMad neighborhood with the singer.
Although they had met briefly at her manager Scooter Braun's wedding, Carly Rae Jepsen did not really know Tom Hanks before the shoot. However, luckily record executive Scooter Braun is a close friend of Tom Hanks.
Tom Hanks stars in the music video for Carly Rae Jepsen's song "I Really Like You"
When Scooter Braun introduced director Peter Glanz's idea for the "I Really Like You" video over dinner, Tom Hanks suggested himself for a role.
"He was telling him how I had this vision for like a male lead, that I wanted to have this guy sing the song rather than me, and I thought it would be really comedic and funny, especially if it was someone totally unexpected," Jepson told ABC News about the dinner.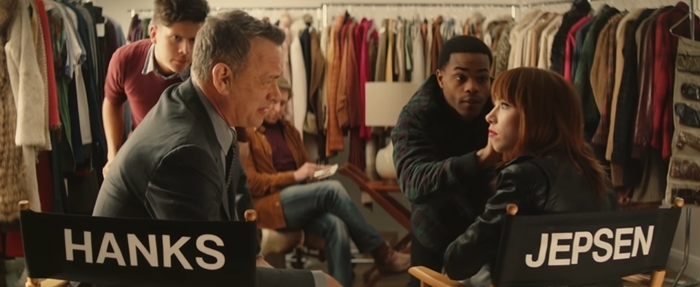 Tom Hanks meets Carly Rae Jepsen in the music video for I Really Like You
"And Tom was like, 'Well, why don't you guys ever ask me?'
"So I got a call from Scooter three days before Christmas, like, 'What about Tom Hanks?' I'm like, 'Are you kidding me? That's Christmas come early! So, yes, please!'" the Canadian singer added.
Justin Bieber, who helped make "Call Me Maybe" famous after hearing it on the radio in Canada, also makes an appearance in the video along with Rudy Mancuso and Andrew B. Bachelor (a.k.a. King Bach).
At the People's Choice Awards, the girls looked fierce in their black and silver ensembles as they took to the stage to present the award for Favorite Album to Meghan Trainor.
The Pink Ladies of "Grease: Live" wear matching black-and-silver ensembles at the People's Choice Awards
Carly, who plays the role of Francesca "Frenchy" Facciano in the musical special, flashed some flesh in a vampy black leather minidress.
She showed off her back, legs, and a glimpse of cleavage in the frock, which featured a keyhole cutout and a halter neck.
Carly Rae Jepsen shows off her shoulders and cleavage in a vampy black leather dress
The then 30-year-old singer styled the frock with black accessories, including earrings, a dark clutch, and showed off her feet in embellished pumps.
Carly Rae Jepsen smiles and waves in a gothic vampy look on the red carpet of the People's Choice Awards
She played up the gothic vibe by wearing her short jet black hair down with bangs. Her chosen hairstyle framed her face, which featured heavy eye makeup and neutral-colored lipstick.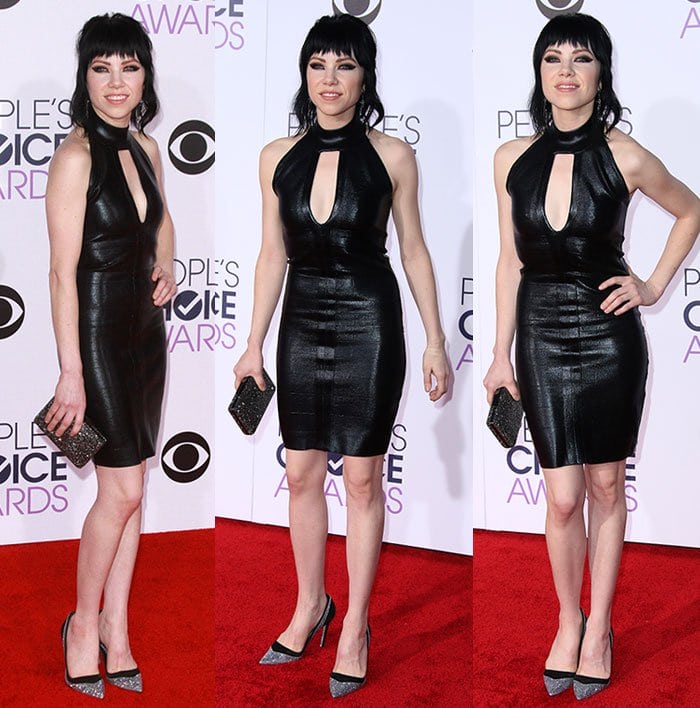 Carly Rae Jepsen adds some sparkle to her gothic ensemble with a clutch and heels
Carly added a dose of sparkle to her ensemble with a pair of crystal-embellished pumps by Rene Caovilla.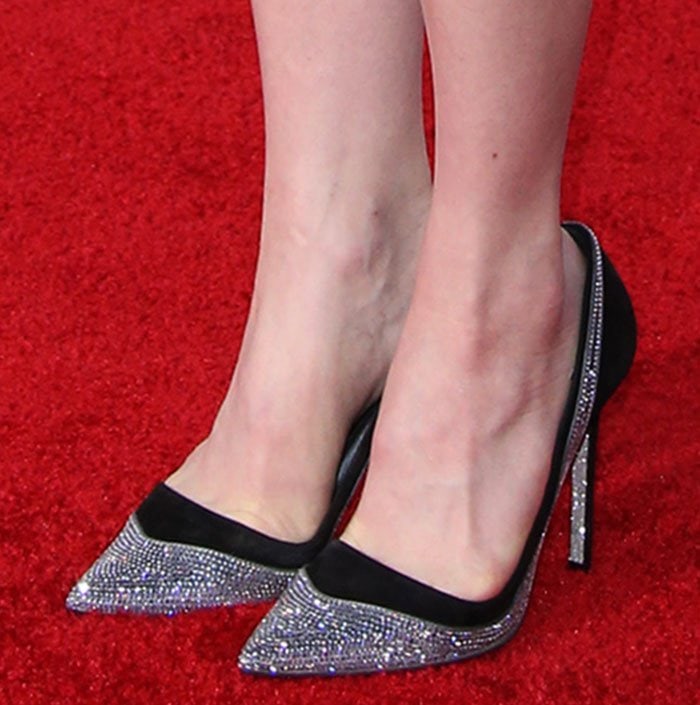 Carly Rae Jepsen's feet in Rene Caovilla pumps
These suede pumps feature pointed toes and about 4.5-inch heels.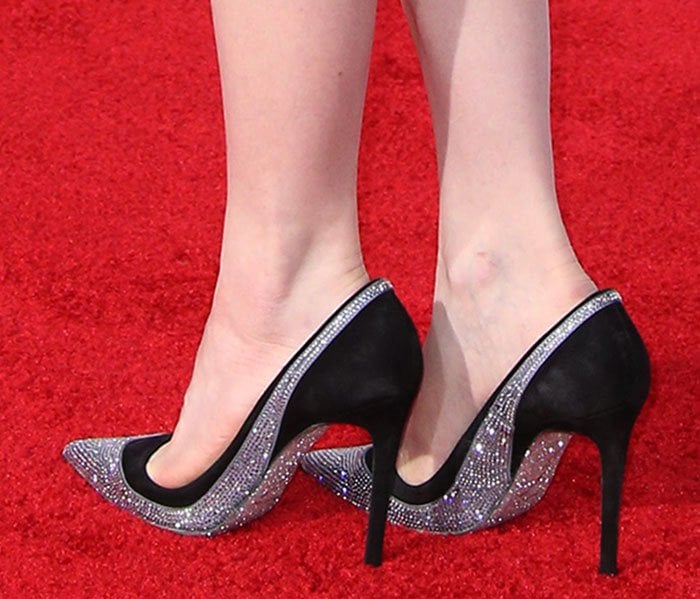 Carly Rae Jepsen's feet in Rene Caovilla pumps
These Rene Caovilla pumps are available in two versions and in limited sizes at Saks Fifth Avenue and Farfetch.
Rene Caovilla Crystal Pumps, $1,066 – $1,140
Credit: FayesVision / Brian To / Adriana M. Barraza / WENN