American actor and producer, Tom Cruise, is best known for being one of the highest-paying actors in the world.
Starring in classic films such as Mission: Impossible, Top Gun, and Rain Man, this actor has undoubtedly gained a multitude of attention from around the globe.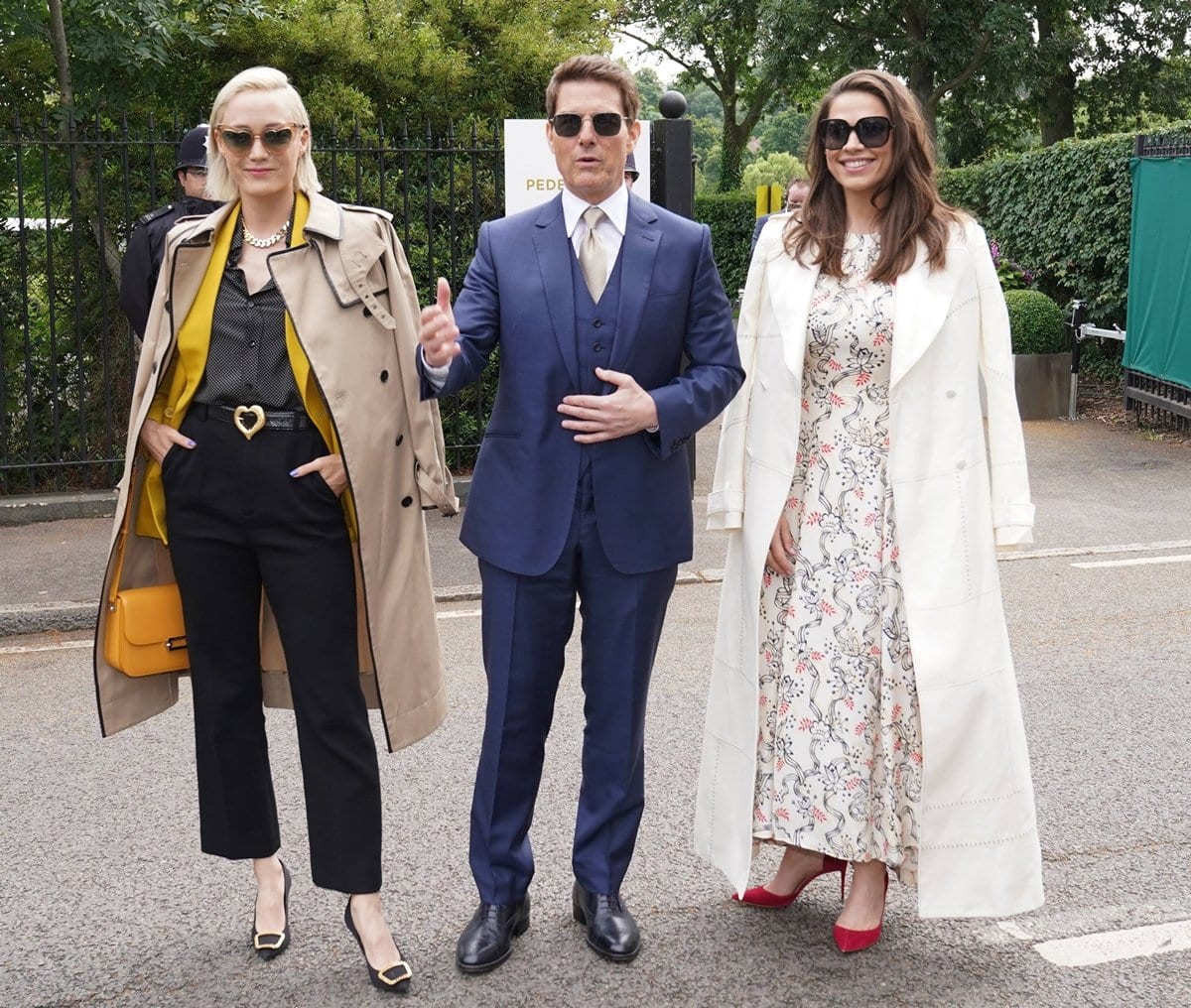 Pom Klementieff (L), Tom Cruise (C), and his then-girlfriend Hayley Atwell attend day 12 of the Wimbledon Tennis Championships at the All England Lawn Tennis and Croquet Club on July 10, 2021, in London, England (Credit: MEGA / WENN)
Whilst Cruise has stood proud with his vast array of awards and recognition including nominations for three Academy Awards, a British Academy Film Award, and three Golden Globe Awards, this well-known Hollywood star has still magnetized attention focusing on his apparent lack of height.
There has been much discussion over how tall Tom Cruise actually is. So, to find out more about this topic and delve into this intriguing discussion, read on!
Tom Cruise Facts
| What is Tom Cruise's net worth? | He is an American actor and producer with a net worth of $600 million. |
| --- | --- |
| Full Name: | Thomas Cruise Mapother IV |
| Born: | July 3, 1962, in Syracuse, New York |
| Kids: | Suri Cruise, Connor Cruise, and Isabella Jane Cruise |
| What disease does Tom Cruise have? | Tom Cruise was diagnosed with the learning disorder dyslexia at age 7. |
| Feet/Shoe Size: | 9 (US) |
| How tall is Tom Cruise? | 5′ 7″ (170 cm) |
| Nationality: | American |
| Is Tom Cruise a billionaire? | No, he's not yet a billionaire. |
How Tall Is Tom Cruise?
This famous actor is commonly listed as being 5'7", even though earlier in the 1980s, he was regularly said to be 5'8" and 5'9".
In fact, Cruise himself claimed to be 5'9" and 147 pounds in 1988. He was often described by many people to be very average in height and width, whilst his piercing blue eyes and devilish grin helped set him apart from others in the film industry instead.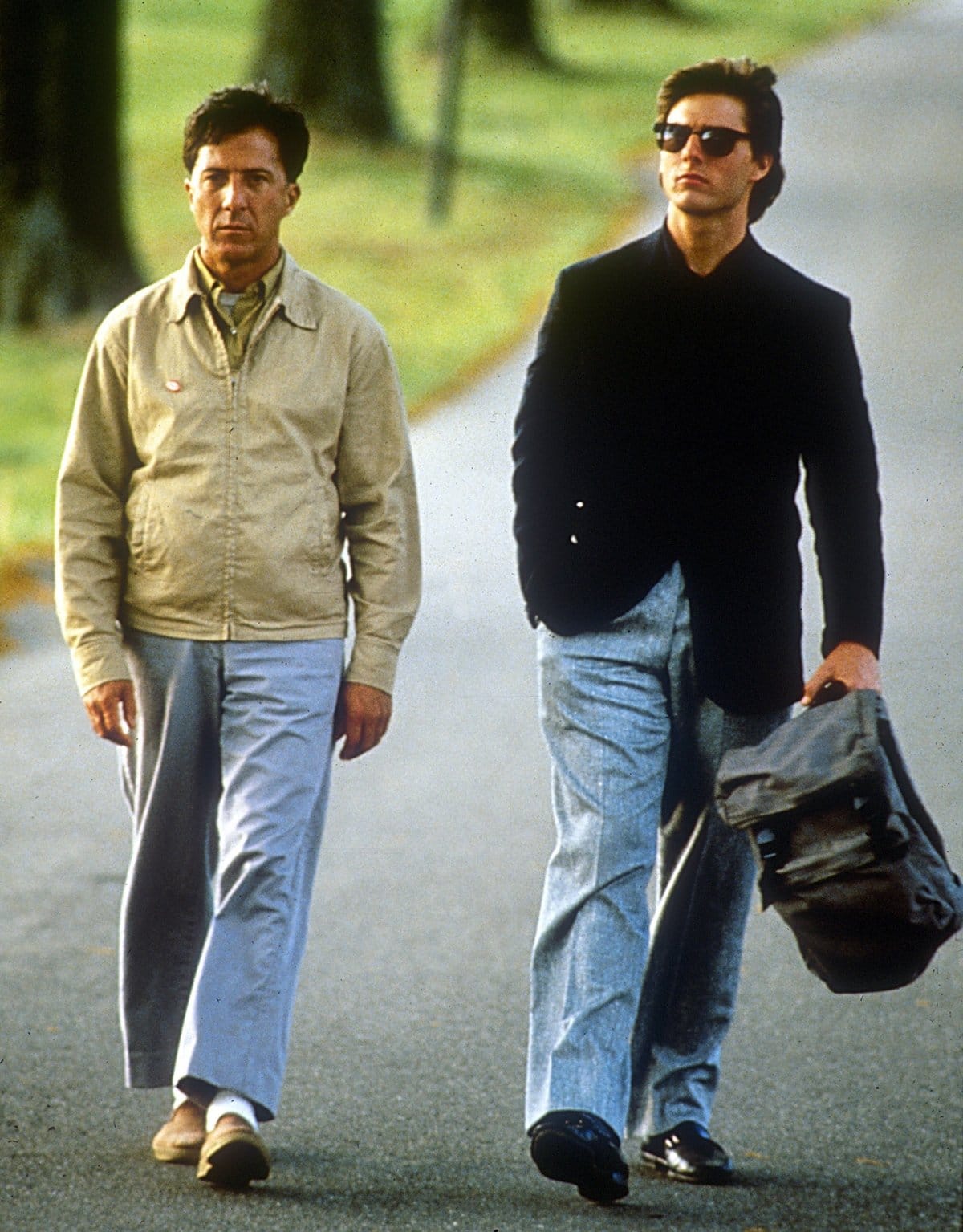 Dustin Hoffman was 51 years old and Tom Cruise was 26 years old when the 1988 American road drama film Rain Man was released in the United States on December 16, 1988 (Credit: United Artists)
However, being sighted next to other actors, actresses, and romantic partners has helped uncover the extent of how short this actor really is in this industry.
Despite this, Cruise hasn't allowed this factor to emasculate him, tackling his career head-on in a variety of captivating and memorable roles.
The Average Height
With the average male height standing at around 5'9", many often point out the difference in Cruise's height to others around him, especially when he is surrounded by over 6-foot-tall bodyguards who appear to dwarf him.
Even when not wearing high heels, 5′ 9″ tall actress Cameron Diaz towers over 5′ 7″ tall actor Tom Cruise (Credit: WENN)
Whilst being shorter than the average male, this physicality hasn't held Cruise back in his career, where he has stolen the show across decades of filmmaking.
Cruise has shown that he can work with a wide range of people, even if there is a much taller actress.
Tom Cruise and His Partners
With many women standing taller than the average height, Tom Cruise's ex-wife, American-born Australian actress Nicole Kidman, is just one of these women.
Within the film industry herself, Kidman wore incredibly flat shoes whilst filming Days of Thunder, yet the heights between herself and Cruise was still very distinguishable.
"They had me in really flat shoes, but you could still see I was taller than him. I'd prefer to be smaller, but I don't mind. I like the fact that he's one of the most famous actors in the world and can work with anybody – but he doesn't mind working with an actress who's taller," Kidman said about filming the 1990 American sports action drama film.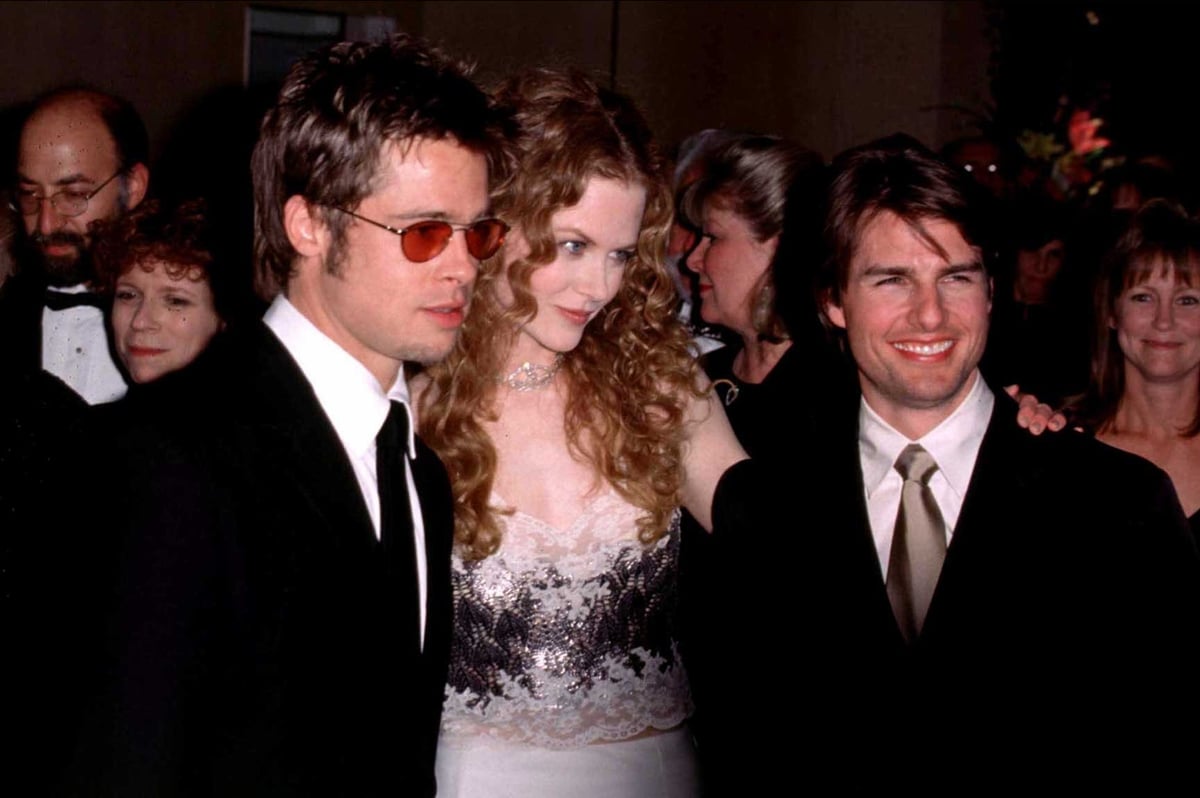 Brad Pitt and Nicole Kidman make Tom Cruise look short (Credit: WENN)
Kidman soon joked after the couple's divorce that she could wear high heels again without the height drawing too much attention.
With Cruise's other ex-wife, Katie Holmes also standing taller than her husband at 5'9", it's obvious that Cruise has had a history of getting used to his less than average height.
With this in mind, Cruise's first official partner was Mimi Rogers, standing 2 inches taller than him at 5'9". Famous American singer Cher also took Cruise's fancy, displaying this actor's love of both taller and older women.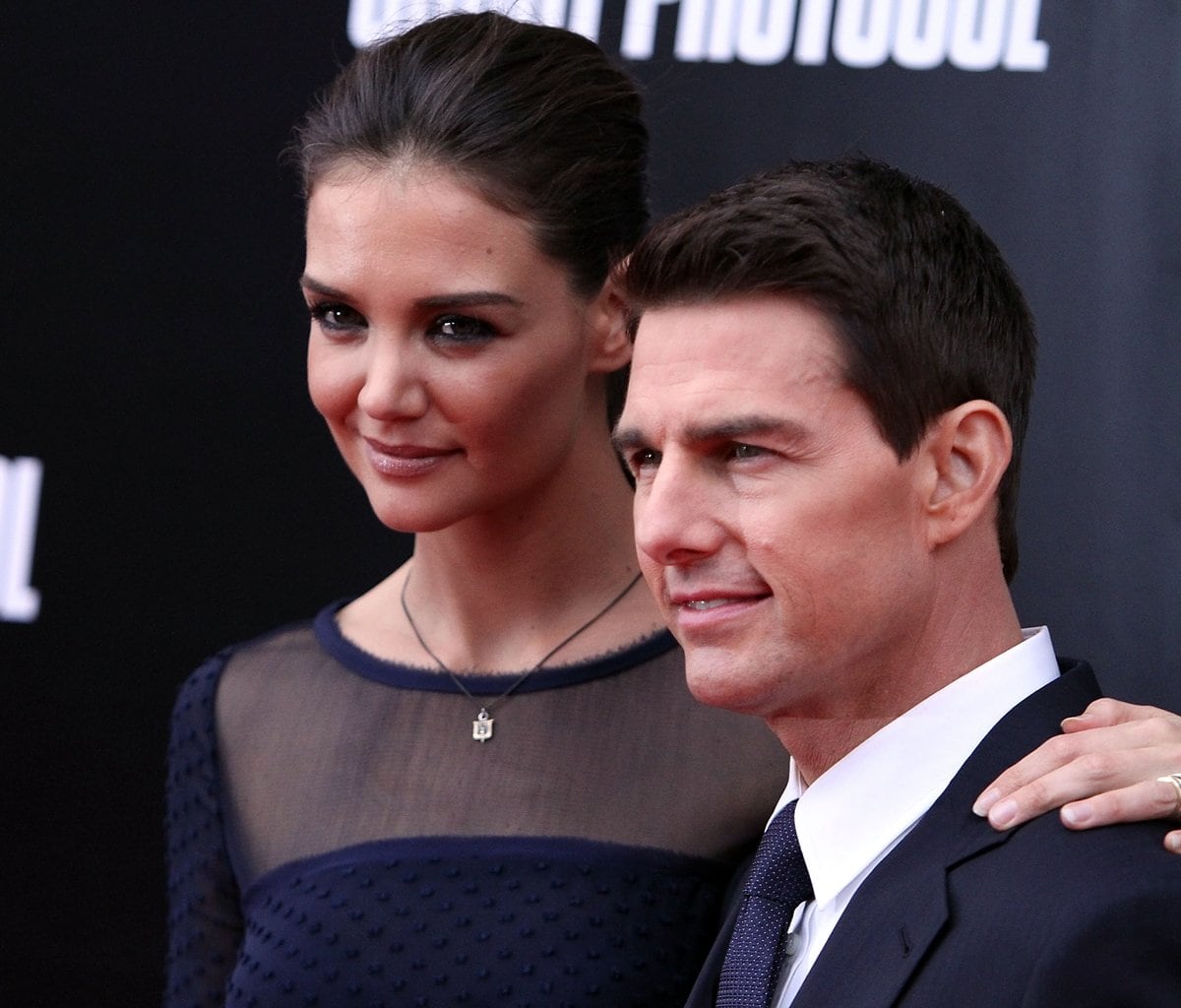 Comedians loved poking fun at the height difference between 5'7″ Tom Cruise and his 5'9″ wife Katie Holmes (Credit: Andres Otero / WENN)
Therefore, whilst many factors stand in the way of modern relationships, it appears that Cruise puts love first when it comes to coupling up.
Tom Cruise and Brad Pitt
There has been much speculation that Cruise has invested in shoe lifts or elevated boots to look taller whilst beside Brad Pitt in Interview with the Vampire.
During filming, Cruise did indeed stand on platforms when standing next to Pitt in certain scenes. The production team was always trying to think up innovative solutions to reduce the height difference between Cruise at 5'7" and Pitt at 5'11".
Since Brad Pitt is much taller than Tom Cruise, the Interview with the Vampire production team had Tom Cruise stand on specially-constructed platforms and Brad Pitt stand in a ditch to balance out the height discrepancy (Credit: Warner Bros.)
Therefore, they cleverly dug ditches for Pitt to stand in whilst acting in scenes opposite to Cruise.
Whilst considering the improvisations and techniques that the team had to carry out to reduce the noticeable height differences between the two actors, it's impressive that the film turned out so well to stand the test of time.
Conclusion
Therefore, whilst there has been much discussion about one of the biggest celebrities in Hollywood's less than average height, Tom Cruise doesn't allow his fellow co-workers and partners to diminish his overall performance and success.
As one of the most successful stars to be present with Golden Globe awards, Cruise's willingness to readily work beside tall actors and actresses has helped him carve a fortune in his acting career.
Tom Cruise is 5′ 7″ (170 cm) tall and is considered quite short by Hollywood standards (Credit: KIKA / WENN)
With heads constantly turning in Cruise's direction, his radiating confidence and flashing smile have helped him draw attention for the right reasons.
Accompanied by her parents, husband Tom Cruise, and daughter Suri, on December 18, 2011, Katie Holmes celebrated her 33rd birthday at the upscale restaurant Buddakan in New York City.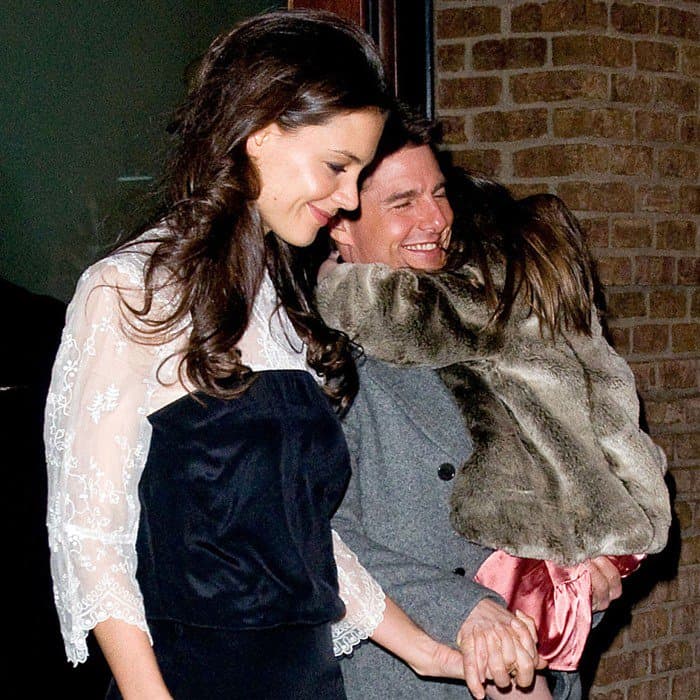 Katie Holmes was joined by her husband Tom Cruise in a sheer blouse paired with a black strapless jumpsuit (Credit: Ivan Nikolov / WENN)
Wearing an Aladdin-Esque black jumpsuit with white lace sleeves, Katie Holmes seemingly wanted to match the restaurant's modern Asian theme that night:
Katie Holmes and Tom Cruise leaving their Manhattan hotel with daughter Suri to celebrate Katie's 33rd birthday at the Buddakan Restaurant in New York City on December 18, 2011 (Credit: Ivan Nikolov / WENN)
She finished off her look with a pair of Rodarte for Opening Ceremony t-strap heels. They didn't really go with her outfit but thankfully, at least, went with its black and white theme.
Katie Holmes wearing Rodarte for Opening Ceremony t-strap heels
These pumps with those harem pants look really jarring. But on their own and cropped as in the picture above, you can see that these t-strap pumps are actually quite stylish.
T-straps always have that retro vibe to them but when made in black and white and finished off with a cap toe, they really go a few eras back.
Black and white t-straps would look really interesting as part of an office wardrobe and when worn with pencil skirts or tailored suits. They'd also look great paired with floral a-line dresses or one of those 40s-style dresses from the Miu Miu Fall 2011 collection.
With the stiletto heel and the pointy toe, these Manolo Blahnik t-strap pumps have a sexier vibe to them. But the perforations and the black and white colors keep things retro. There's also a very subtle wingtip design right at the toe: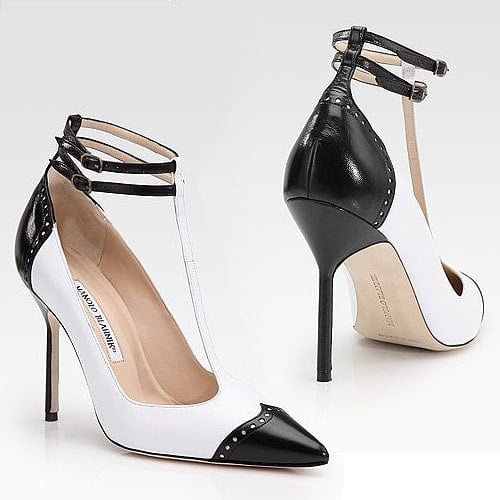 Manolo Blahnik Leather T-Strap Spectator Pumps, $785.00
For something a bit more vintage, we love this design from Marc Jacobs.
Marc Jacobs Fetish T-Strap Heels, $895.00
For under $100 options that are still great-looking, check out these picks from Kelsi Dagger and Funtasma:
Kelsi Dagger 'Tildia' Suede T-Strap Bow Pumps, $130.00
Funtasma by Pleaser 'Mafia' T-Strap Pumps, $52.99
How would you wear a pair of retro t-strap pumps?