Hayley Atwell and the star-studded cast of Mission: Impossible – Dead Reckoning Part One concluded their global press tour with a dazzling red carpet appearance in New York City on Monday.
Throughout the tour, the 41-year-old actress has captivated audiences with her stunning fashion choices, gracing the cities of Rome, London, Seoul, Abu Dhabi, and Sydney with her jaw-dropping looks.
Continuing her style reign, Hayley Atwell set the fashion bar high at the New York City premiere of her latest film.
Stepping onto the red carpet at Rose Theater at Lincoln Center, she effortlessly accentuated her star quality in an exquisite creation from Alberta Ferretti's Resort 2024 collection.
Hayley Atwell making a stunning entrance in an Alberta Ferretti Resort 2024 silver gown at the Mission: Impossible – Dead Reckoning Part One premiere held at Jazz at Lincoln Center in New York City on July 10, 2023 (Credit: Darla Khazei / INSTARimages)
Expertly styled by Rose Forde, Hayley turned heads in a mesmerizing silver lamé sleeveless gown, embodying a goddess-like allure.
The shimmering dress, adorned with intricately beaded mesh shoulder straps and a flattering flowing silhouette, beautifully showcased the Black Mirror star's graceful presence.
She chose to forgo a delicate necklace, allowing the cowl neckline of her attire to take center stage.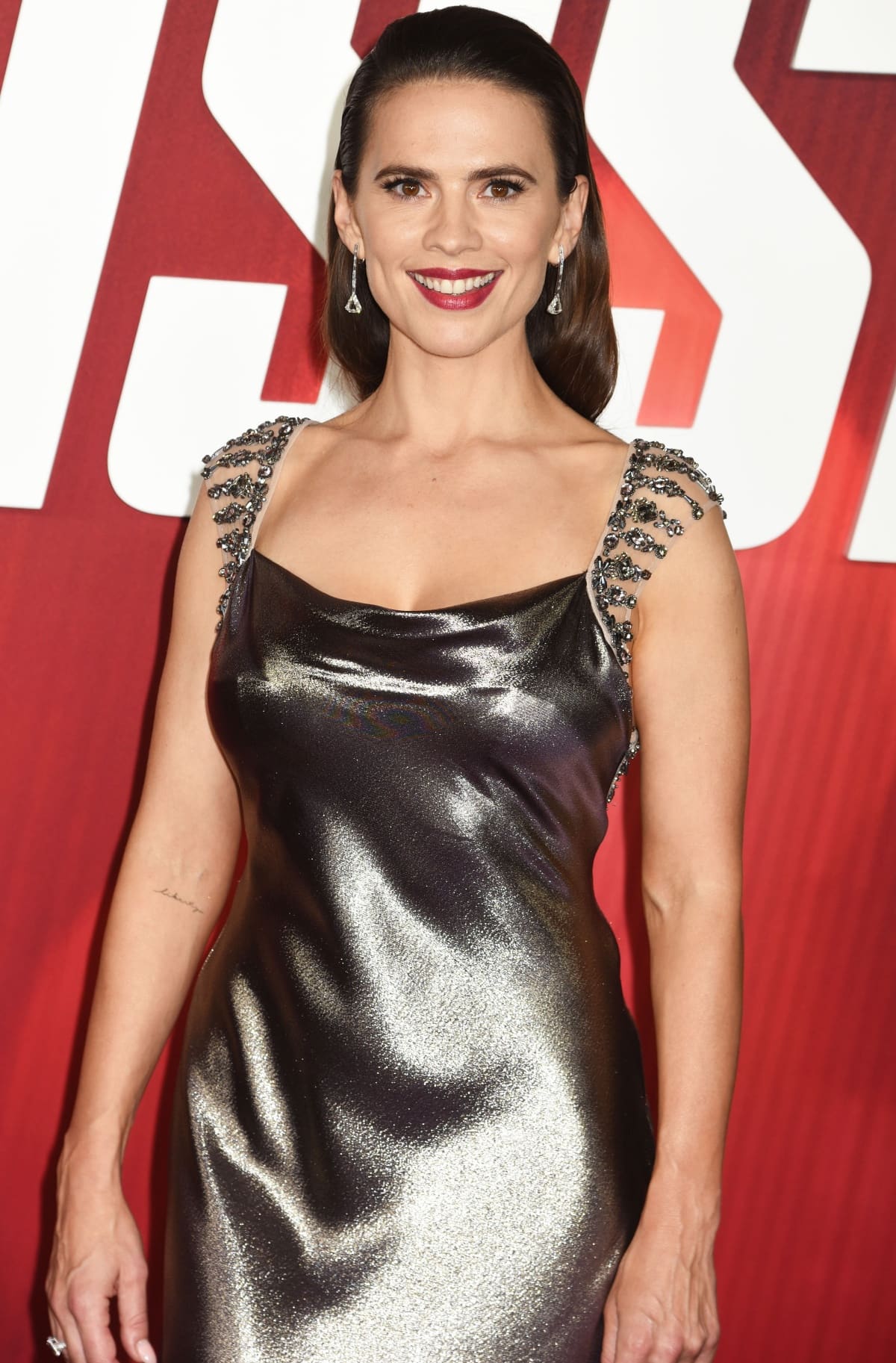 Hayley Atwell accessorized with Chopard jewels, leaving out a necklace to keep the focus on the beaded mesh shoulder straps of her stunning dress (Credit: Darla Khazei / INSTARimages)
Hayley accessorized with sparkling Chopard jewels, including silver drop earrings and rings from the renowned luxury brand's Haute Joaillerie Collection, to add a touch of glamour.
With her long flowing locks cascading down her back, the Marvel's Agent Carter actress exuded elegance and poise, captivating the cameras on the red carpet.
Though her footwear remained concealed by the floor-sweeping dress, it's safe to assume that she slipped into a pair of silver-heeled sandals, perfectly complementing her ethereal outfit.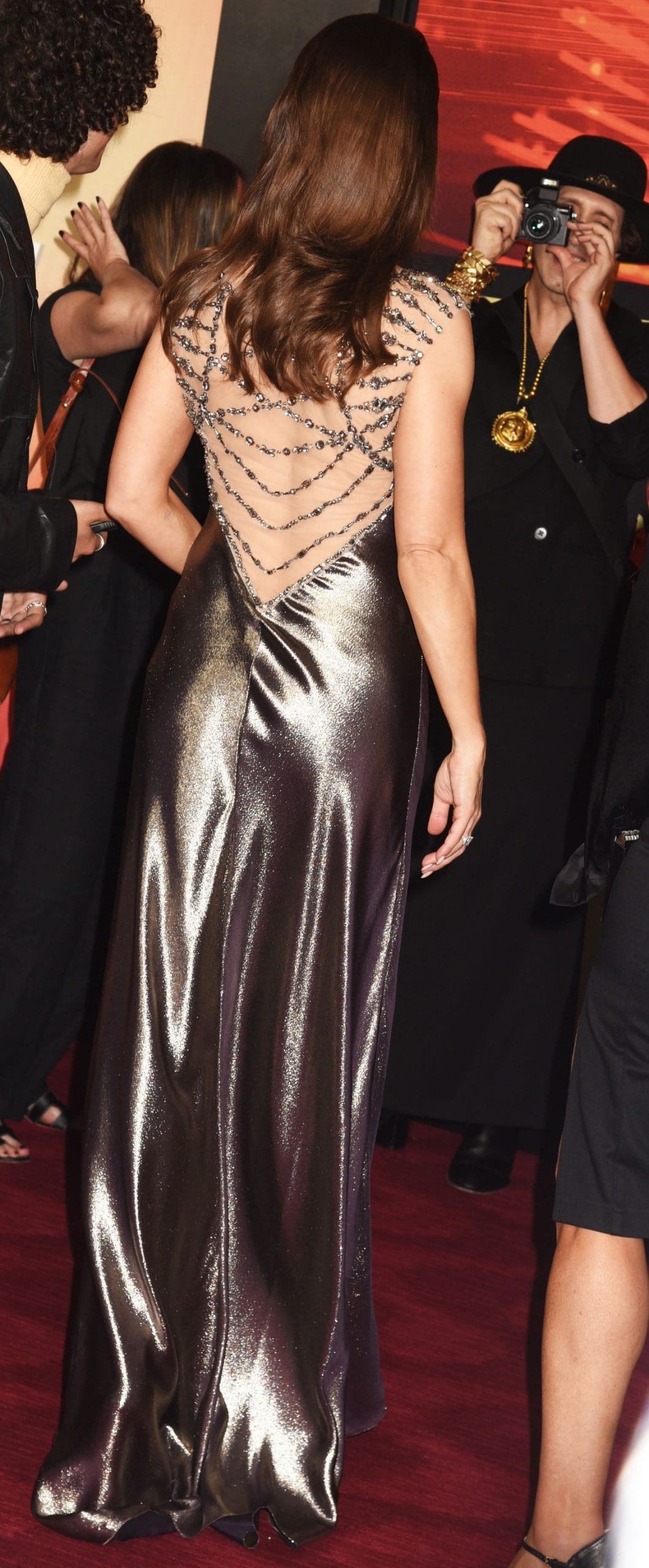 The back of Hayley Atwell's Alberta Ferretti gown was another striking feature, with intricately beaded straps adding to the sultry allure of her look (Credit: Darla Khazei / INSTARimages)
Amidst the premiere festivities, Hayley Atwell candidly addressed the challenging aspects of filming the movie, particularly a thrilling stunt involving a "train carriage" sequence with co-star Tom Cruise.
During an interview with Entertainment Tonight, the British-American star recounted the exhaustion she experienced during the adrenaline-filled shoot.
Hayley shared, "It goes from horizontal to vertical in six seconds, so we'd have to sprint on an incline and reach the bar before we were dangling over a ravine … I got adrenal fatigue at one point, and I just kind of looked like a zombie."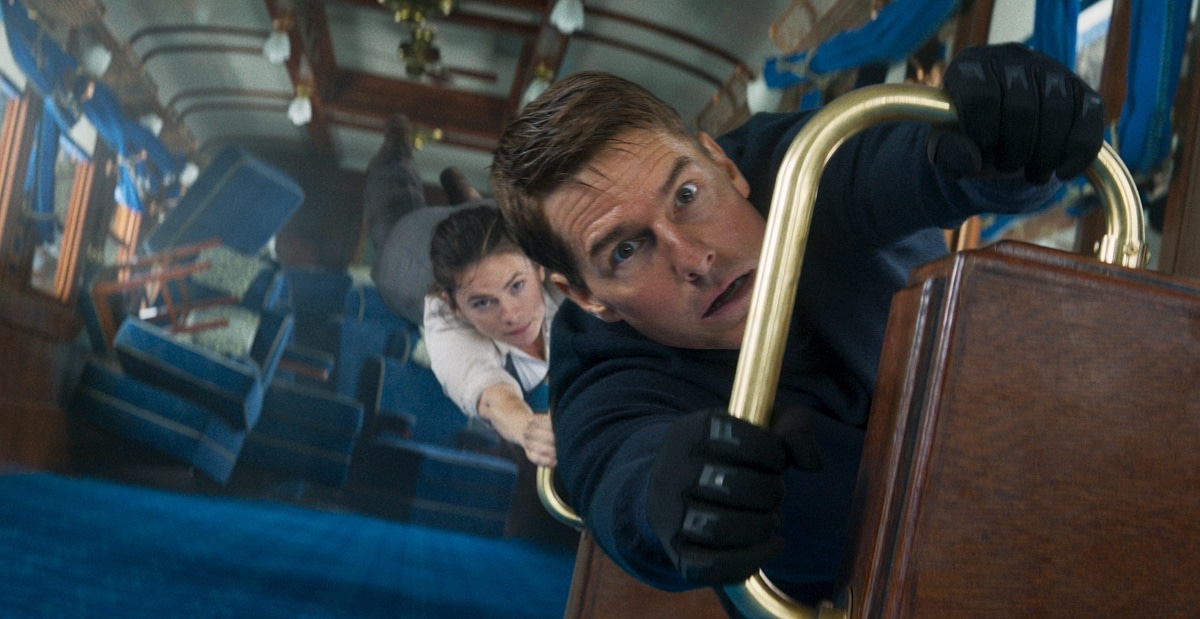 Tom Cruise as Ethan Hunt and Hayley Atwell as Grace in the 2023 spy action film Mission: Impossible – Dead Reckoning Part One (Credit: Paramount Pictures)
Still, she praised the Days of Thunder star's support and kindness, recalling, "Tom was like, 'Are you OK?' and I was like, 'I don't even know, Tom, what's going on with me. I don't know.' And he said, 'I know what you need. You need some chocolate.'"
Hayley continued, "And I was like, 'Yes I do.' And he whipped out some chocolate and gave it to me and made me feel amazing, and then we were able to do it a couple more times."
Hayley Atwell Dismisses Tom Cruise Dating Rumors
In Mission: Impossible 7, Hayley Atwell portrays the role of Grace, a master thief and a possible romantic interest for IMF agent Ethan Hunt, played by Tom Cruise.
However, despite rumors about a potential relationship between her and the rich Hollywood actor, Hayley clarified that their on-screen chemistry should not be misconstrued as real-life romance.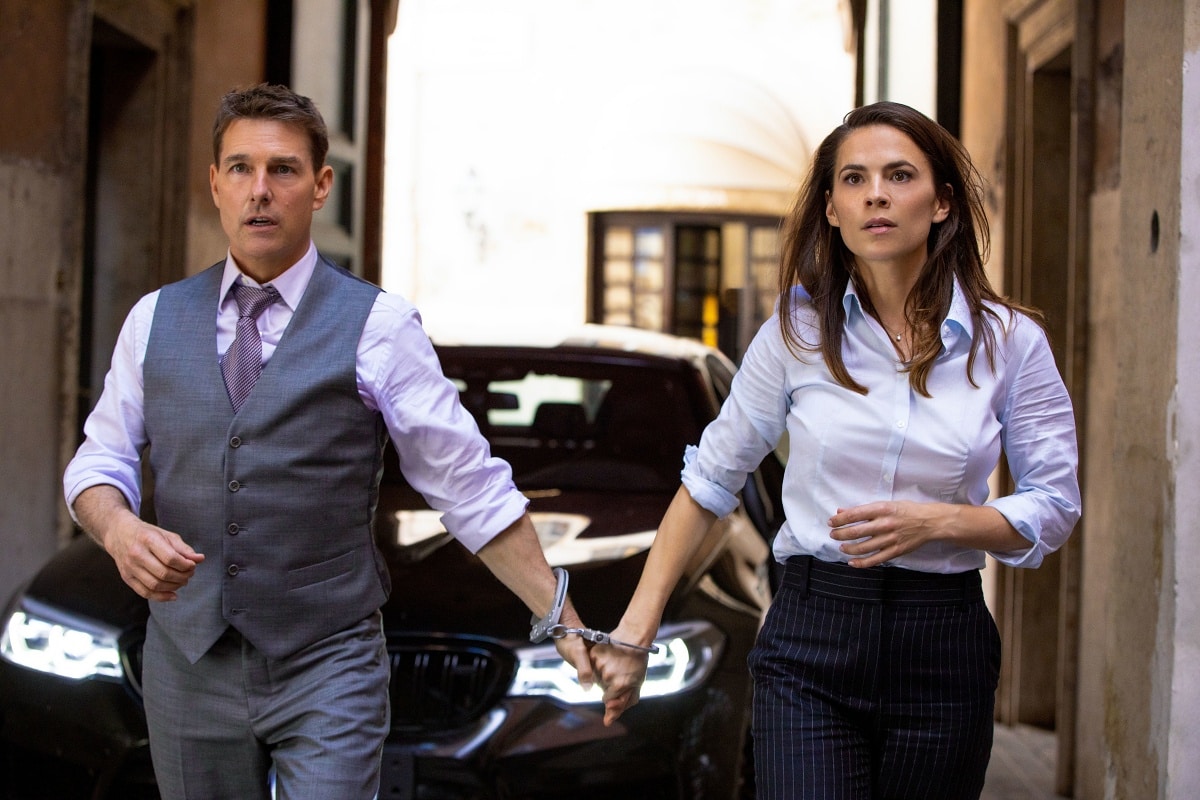 Hayley Atwell dismissed rumors about a potential relationship between her and her co-star Tom Cruise (Credit: Paramount Pictures)
In a recent interview with The Independent, she dismissed such speculation, stating, "I would be like, 'Ooh, there's some weird rumors, and it feels base, it feels a little dirty, it feels grubby, it's not what I'm about. Why are things being assumed or projected onto me about my relationship with my work colleague and boss? It's upsetting."
Hayley added that the rumors and baseless speculations impact people in her "personal life, who are subject to being on the receiving end of that. It becomes invasive."
She revealed that she sought advice from Nicole Kidman's ex-husband, whom he viewed as an "uncle figure" alongside director Chris McQuarrie.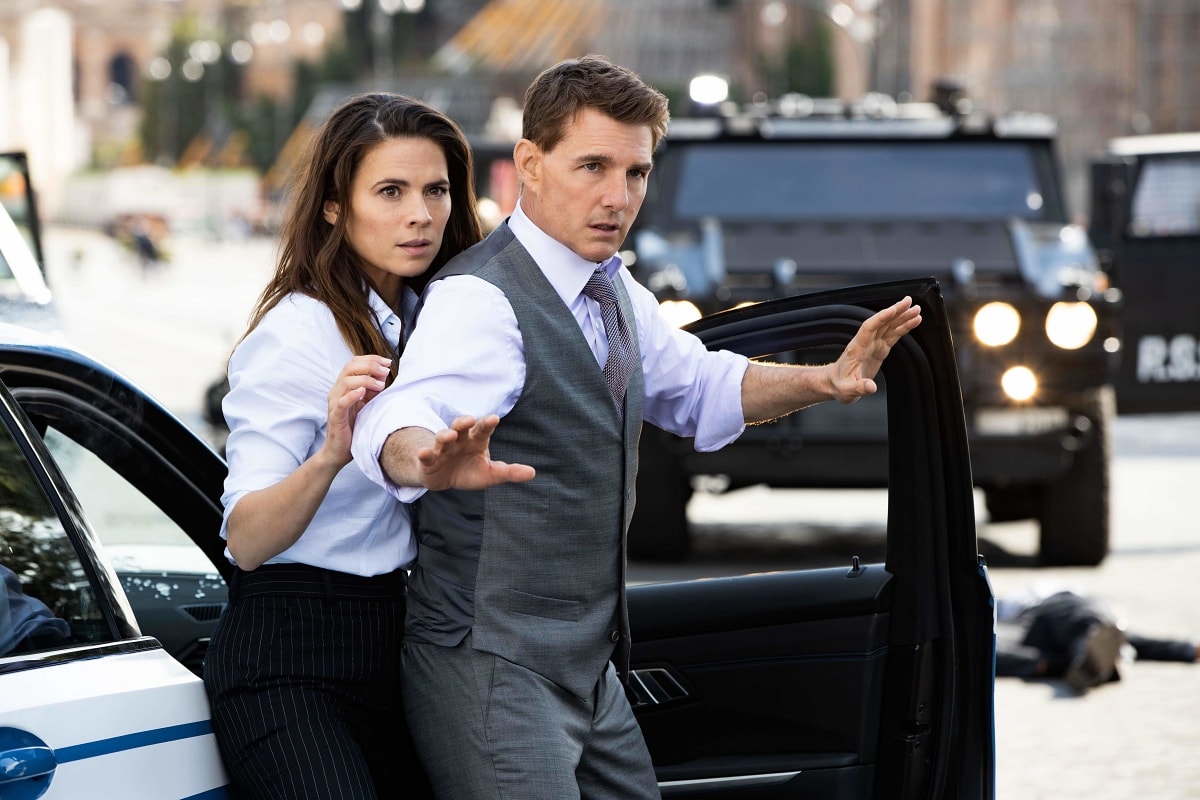 Hayley Atwell admitted that she went to Tom Cruise for advice regarding baseless speculations about her personal life (Credit: Paramount Pictures)
Hayley stated, "When I've talked to him about it, he'd be like, 'You know exactly who you are. You know what you're about. And that is the only thing that matters. It doesn't matter what people think of you, if you are in integrity with yourself, if you know what your value system is."
While Tom Cruise's relationship status is unknown, Hayley Atwell recently got engaged to Ned Wolfgang Kelly, as announced by the songwriter-composer on Instagram during a romantic Venice getaway. The couple prefers to keep their relationship private, rarely making public appearances together.
View this post on Instagram
In a heartfelt caption accompanying a photo of Hayley displaying her diamond engagement ring, Ned expressed his happiness, writing, "Lucky me. Arrived in Venice at 10am. Around midday the love of my life and I got engaged in the kitchen of this strange apartment full of porcelain ducks, with a bloke outside the window murdering "My Way" on the accordion. A perfect start to the rest of our lives together. I'd never had any interest in getting married… until I met this extraordinary woman. Happy as a clam."