Renowned for her ethereal and elegantly feminine designs, Italian designer Alberta Ferretti has long been a revered name in the fashion industry.
Born in Cattolica, Italy, Ferretti was immersed in fashion from a young age, a path primarily influenced by her mother's profession as a dressmaker. This early exposure to tailoring and design ignited Ferretti's passion, culminating in opening her first boutique, Jolly, at 18.
Ferretti has distinguished herself in high fashion through her brand's commitment to luxurious fabrics and impeccable tailoring. Her designs, often characterized by their understated elegance and a subtle yet undeniable charm, have become a staple on the red carpets and in the wardrobes of discerning fashion enthusiasts worldwide.
Italian fashion designer Alberta Ferretti (R) and Brazilian model Isabeli Fontana at the 74th Venice Film Festival in 2017 (Credit: WENN)
The launch of Ferretti Jeans Philosophy in 1989 marked a significant expansion of her design portfolio, later renamed Philosophy di Alberta Ferretti in 1994.
Further solidifying her influence in the industry, Ferretti co-founded the Aeffe fashion group in 1991. This group enhanced her eponymous label and nurtured other luxury brands, including Philosophy di Lorenzo Serafini and Moschino.
Alberta Ferretti's work resonates with a timeless quality, often weaving classic silhouettes with contemporary trends. Her collections are a testament to her deep understanding of female form and aesthetics, often portraying a romantic and dreamy essence balanced with a modern edge.
You can find Alberta Ferretti boutiques and retail stores selling her clothing and shoes all over the world (Credit: Robert Way / Shutterstock)
Ferretti continues to inspire with her artistic vision as a doyenne of the fashion world, leaving an indelible mark on the industry. Her creations, celebrated for their refined grace, have firmly established her as a paragon of modern femininity and sartorial craftsmanship.
She is famed for her beautiful goddess-inspired flats, sandals, pumps, and shoes for women. Below are some of our favorite shoes from the Italian fashion designer and entrepreneur:
Top Picks: Alberta Ferretti's Exquisite Footwear Collection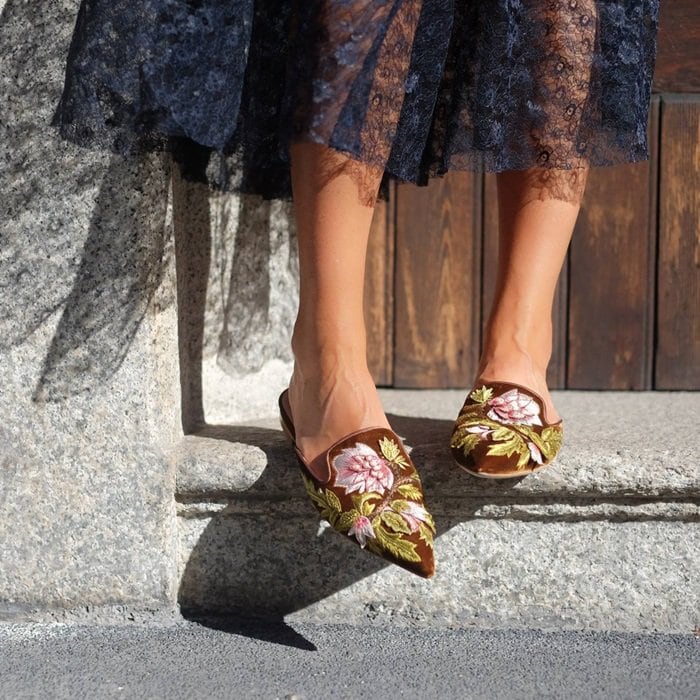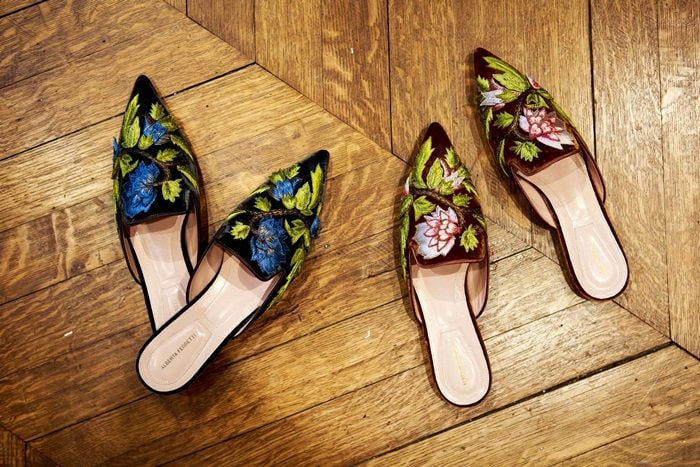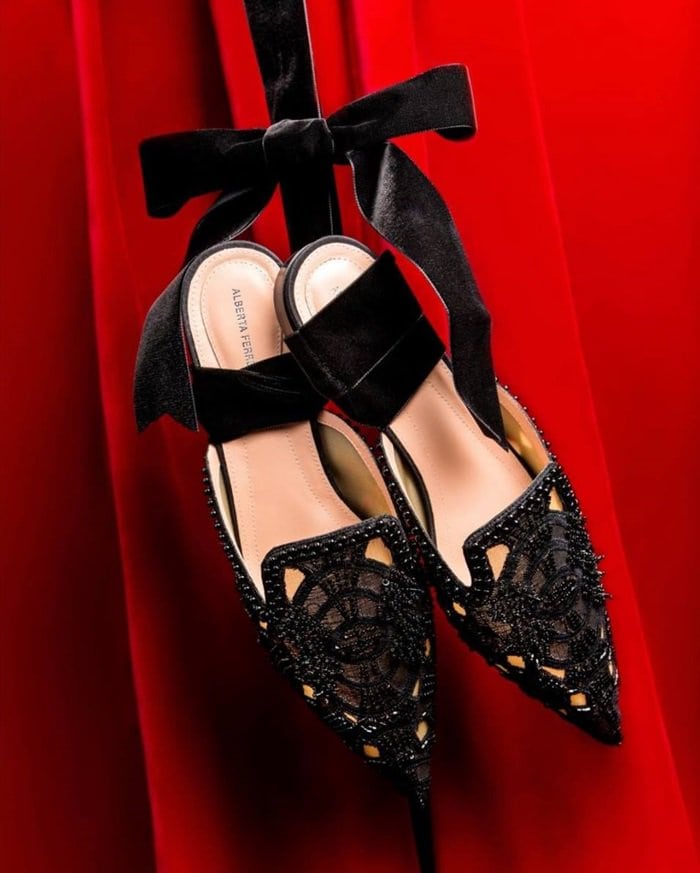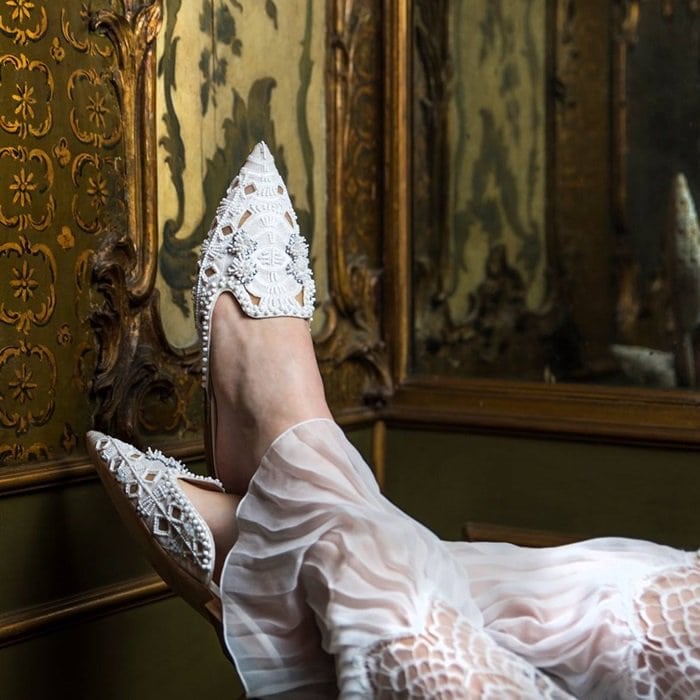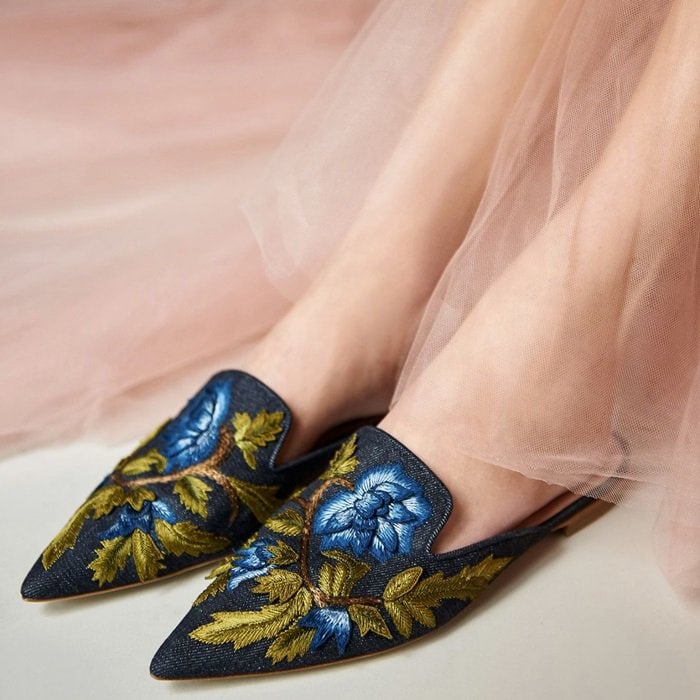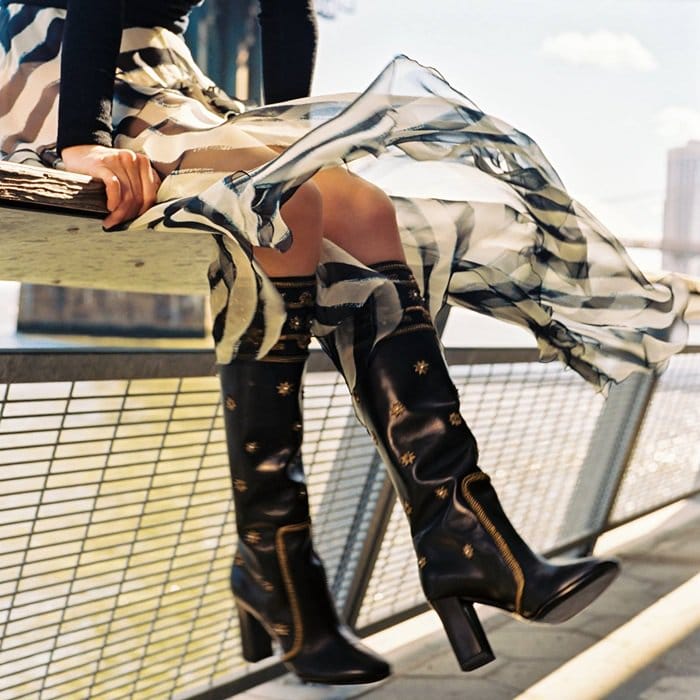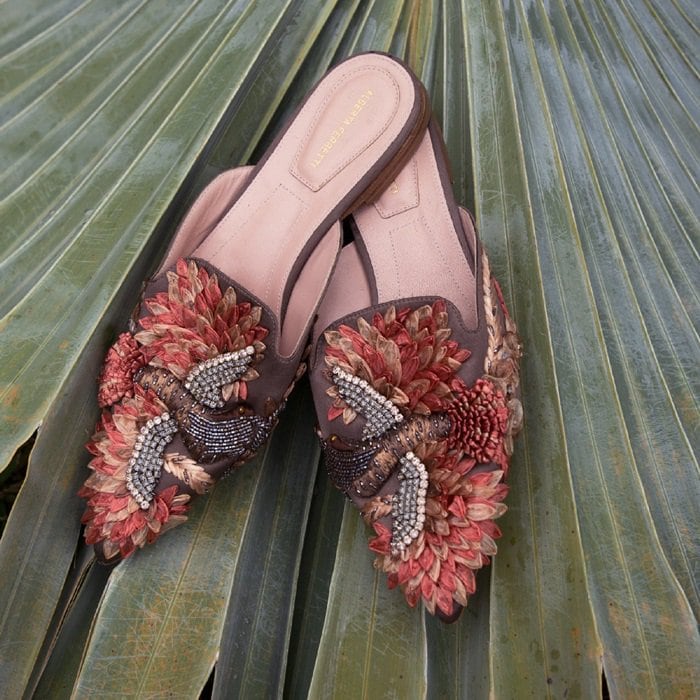 Alberta Ferretti Spring/Summer 2018: An Exquisite Backstage Glimpse with Top Models
We always see the polished runway looks, but we rarely see what happens behind the scenes. Lucky for everyone, in September 2017 we got a peek at a little bit of Alberta Ferretti's beautiful backstage chaos.
Ferretti's model roster is pretty star-studded, so fortunately for us, the photos are nothing short of breathtaking.
We spotted big runway names such as Gigi Hadid, Bella Hadid, Alessandra Ambrosio, Karlie Kloss, and many more as they busied themselves for the Alberta Ferretti Spring/Summer 2018 show in Milan, Italy.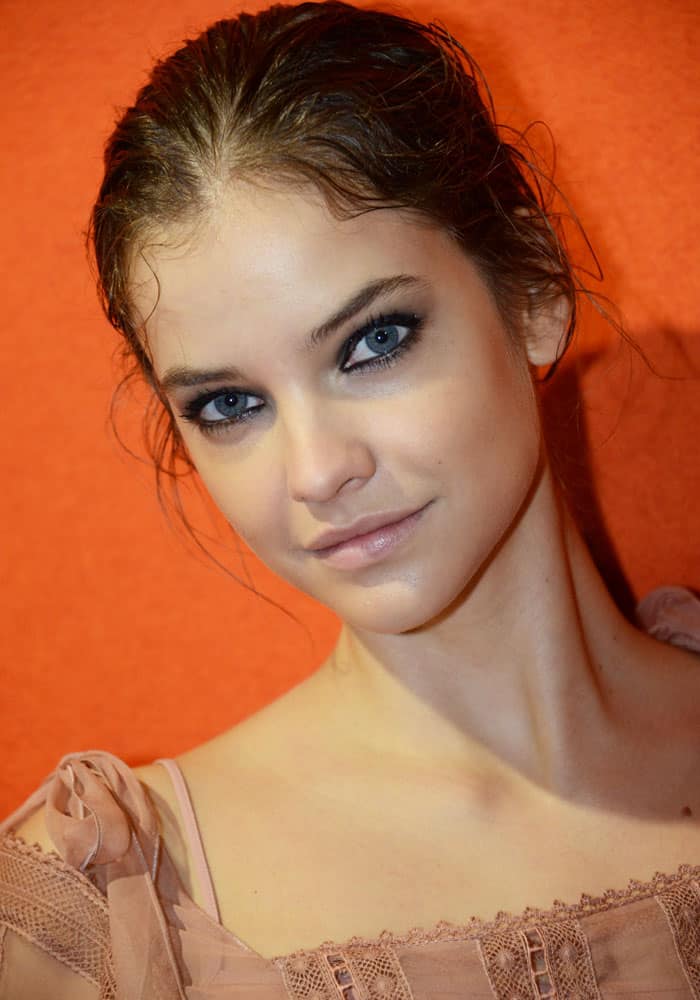 Barbara Palvin's enigmatic gaze captivates behind the scenes (Credit: Star Press / WENN)
Gigi Hadid joins in on the backstage fun at the Alberta Ferretti show (Credit: Star Press / WENN)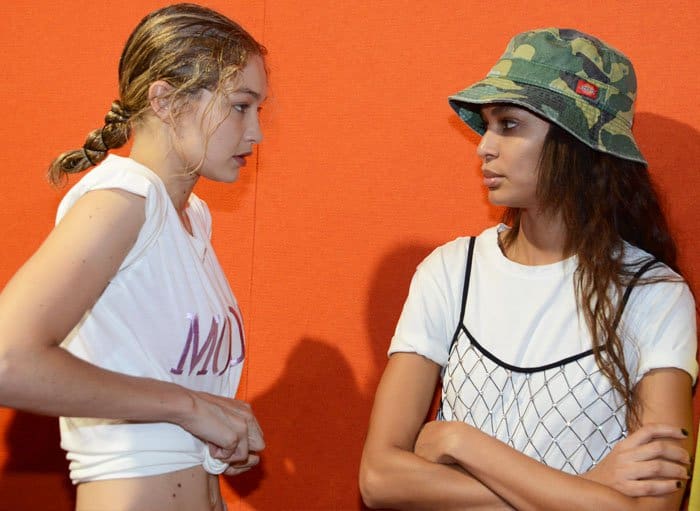 Gigi Hadid and Joan Smalls engage in a serious chat while on standby (Credit: Star Press / WENN)
Hailey Clauson and Shanina Shaik pose for a selfie (Credit: Star Press / WENN)
Barbara Palvin reveals metallic fabric as the trend for Spring/Summer 2018 (Credit: Star Press / WENN)
In a time when volume and ruffles are all the rage, designer Alberta Ferretti calls for simplicity.
"I don't want too many things," the designer said backstage. "I felt this was an important moment to look back at the past and to think about what I want for the present."
Aptly, the call for change comes from a designer who advocated embellishments on her designs.
Naughty-cal: Gigi gets mischievous in a navy blue suit and studded sandals (Credit: Star Press / WENN)
Bella Hadid shows off her perfectly bronzed cheekbones and smoky eyes (Credit: Star Press / WENN)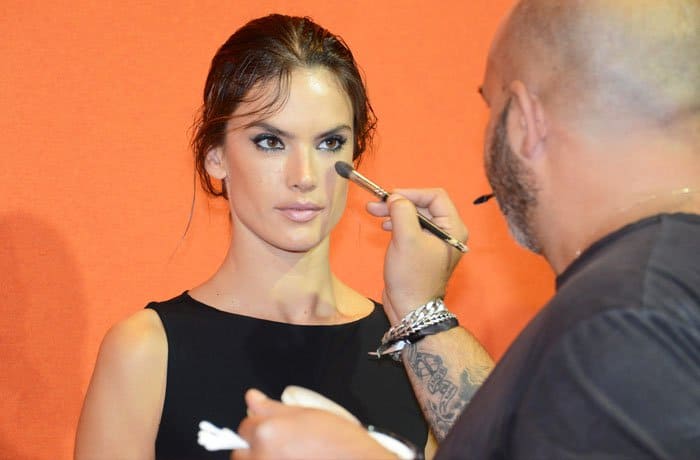 Veteran Alessandra Ambrosio adds to the star-studded model roster (Credit: Star Press / WENN)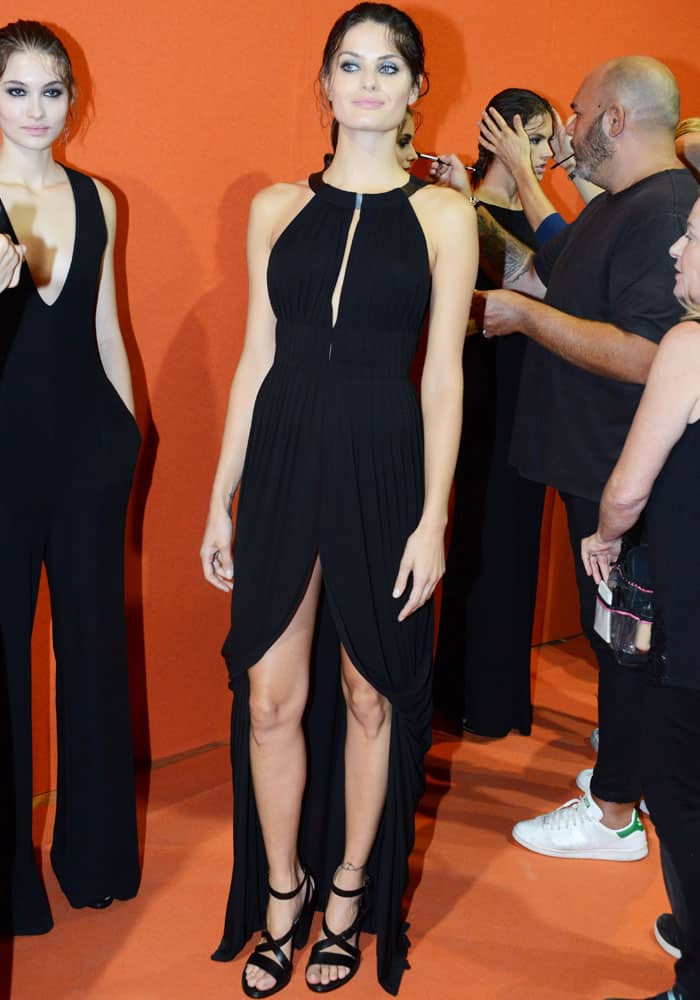 Isabeli Fontana leads the way for the evening wear (Credit: Star Press / WENN)
Isabeli sports a windblown updo and dramatic lashes (Credit: Star Press / WENN)
The show opened with straightforward black maillots — a far cry from Ferretti's love for all things flowy and chiffon.
However, the designer's call for change did not fully manifest since we still saw some confused pieces. The pleated lamé pants and knotted tops didn't feel reinforcing to the entire collection.
At one point, Bella Hadid even showed up in a green dress, which we could only shake our heads at.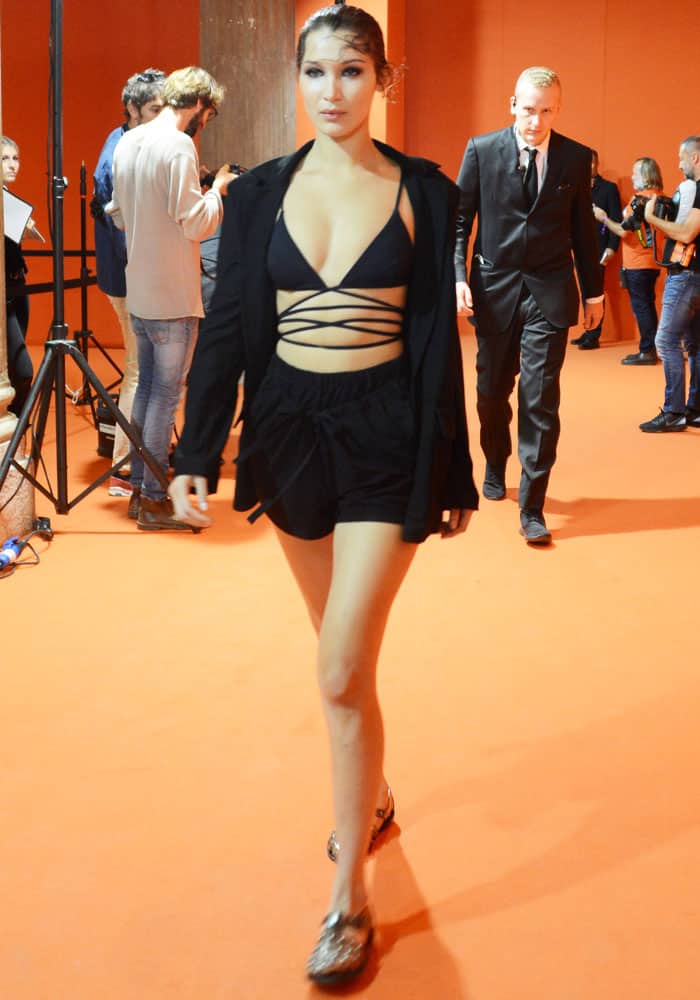 Bella wears a strappy bikini top with loose shorts, a soft blazer and studded sandals (Credit: Star Press / WENN)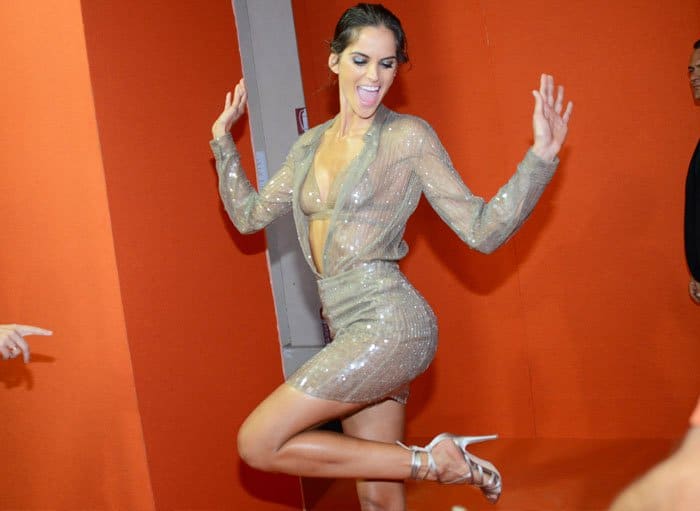 Izabel Goulart has a bit of fun with the cameras in her swimsuit-turned-nightwear ensemble (Credit: Star Press / WENN)
Karlie Kloss flashes the peace sign in a metallic slip dress and long blazer (Credit: Star Press / WENN)
Hailey Baldwin sports a plaid mini dress and metallic strappy sandals (Credit: Star Press / WENN)
Karlie stays still as the Alberta Ferretti stylists work their magic (Credit: Star Press / WENN)
Nonetheless, it was still a collection full of marketable ready-to-wear pieces. It was not quite the change we wanted to see, but it was not entirely bad.
The best part is that the show produced awesome backstage photos of our favorite models.
As for the shoes, we're not huge fans of the glitter pastel sandals, but the studded jelly flats are to die for. We especially love their contrast against the black, clean-cut suits.
Bella shows off an adorable shocked expression while catching up with model pals (Credit: Star Press / WENN)
Gigi sits patiently on the makeup chair while artists create the Alberta Ferretti look (Credit: Star Press / WENN)
Hailey pulls an Audrey Hepburn for the cameras (Credit: Star Press / WENN)
Bella gets styled before walking out onto the runway (Credit: Star Press / WENN)
Other models who walked in the show are Joan Smalls, Hailey Clauson, Vittoria Ceretti, Barbara Palvin, Martha Hunt, and Hailey Baldwin.
Kendall Jenner was surprisingly not included in the Alberta Ferretti roster but did surface at the Bottega Veneta show.
Joan dons a one-piece suit and a cardigan (Credit: Star Press / WENN)
Gigi and Vittoria Ceretti sport the beautiful metallic fabric pieces from the Spring/Summer 2018 line (Credit: Star Press / WENN)
Gigi exits the show in an all-gray ensemble (Credit: Star Press / WENN)