Adriana Lima may not be anywhere close to retirement, but it's undeniable that the brunette beauty has left quite a mark on the modeling industry. As one of the most iconic Victoria's Secret Angels in history, it's safe to say that Adriana has achieved quite a lot during her career.
Or so we thought. Just when it seemed like Adriana was about to slow down, she threw us a curveball.
Adriana was spotted outside the AOL Building to promote her latest show, "American Beauty Star."
Move over, Heidi Klum and Tyra Banks. Adriana is hot on your trails.
Adriana Lima at the AOL Building in New York on September 21, 2017.
The model seemed to be doing an Instagram live update before going into the AOL Building.
Adriana keeps things simple with a pair of Schutz "Farrah" patent pumps.
The model went for classy over sexy with a ruffled white top by Johanna Ortiz. The top had cape-like ruffles at the shoulder which was echoed by asymmetrical ruffles at the waist.
Adriana contrasted the softness of the top with a pair of glitter-lined pants from Zhivago.
The 36-year-old finished her look with a classic pair of Schutz "Farrah" pumps in patent leather.
Adriana looked angelic in a ruffled top by Johanna Ortiz.
The model wore her top with a pair of Zhivago pants.
Adriana will not only be hosting "American Beauty Star," but will also be serving as the executive producer and creative brains powering the show.
Along with the rest of the judges and staff, Adriana sifted through hundreds of thousands of makeup artists and hairstylists to put on the show.
Adriana also talked about her experience with various beauty brands and artists throughout her career.
Shop Adriana's Schutz "Farrah" pumps in various colors at Amazon.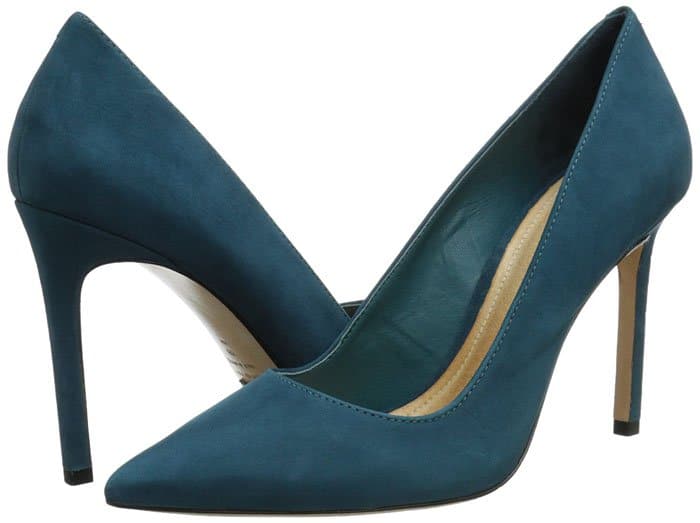 Schutz "Farrah" Pumps, $82.18 – $155
Credit: WENN