The biggest dramatic movie ever based on NASCAR, the American sports action drama film Days of Thunder was a financial success when it was released in 1990.
Nicole Kidman and Tom Cruise started dating after meeting on the set of Days of Thunder
Starring Tom Cruise, Nicole Kidman, Robert Duvall, Randy Quaid, Cary Elwes, Caroline Williams, and Michael Rooker, Kidman and Cruise started dating after meeting on the set. They married on December 24, 1990, and divorced in 2001.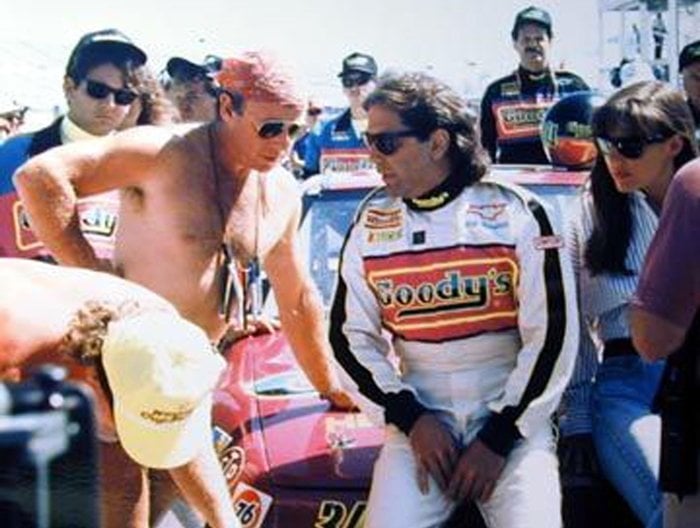 Director Tony Scott and producer Don Simpson on the set of Days of Thunder (1990)
Principal photography took place in early 1990 when Nicole Kidman was 22-years-old and her co-star Tom Cruise was 27-years-old. The movie was filmed in and around Charlotte and Daytona Beach.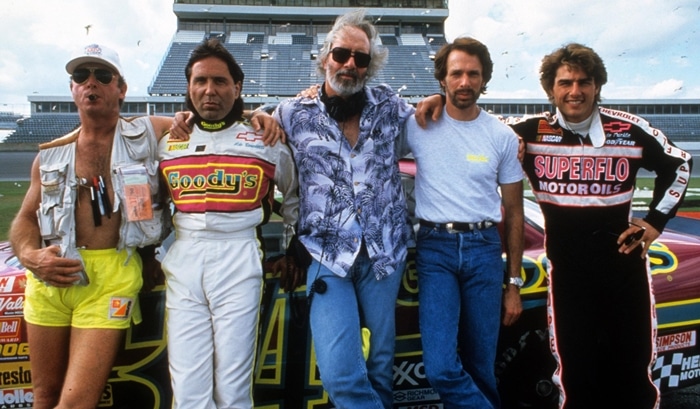 Director Tony Scott, Don Simpson, Robert Towne, Jerry Bruckheimer, and Tom Cruise on the set of Days of Thunder (1990)
The film was released on June 27, 1990. Born on June 20, 1967, in Honolulu, Hawaii, Nicole Kidman turned 23 on June 20, 1990. Tom Cruise was born on July 3, 1962, in Syracuse, New York, and turned 28 on July 3, 1990.
Nicole Kidman was 22 when filming Days of Thunder as neurosurgeon Dr. Claire Lewicki
"I just remember being amazed that I was in America, and suddenly I had this role in this huge Tom Cruise movie," Kidman said about starring in Days of Thunder during a 2014 Role Recall interview.
"I went and worked in a hospital for a couple of days," she added about her role as neurosurgeon Dr. Claire Lewicki, who falls in love with Tom Cruise's character Cole Trickle. "I'm a researcher. I'm a geek."
After Days of Thunder, Kidman and Cruise also starred together in the 1992 American epic Western romantic adventure drama film Far and Away and Stanley Kubrick's 1999 erotic mystery psychological drama film Eyes Wide Shut.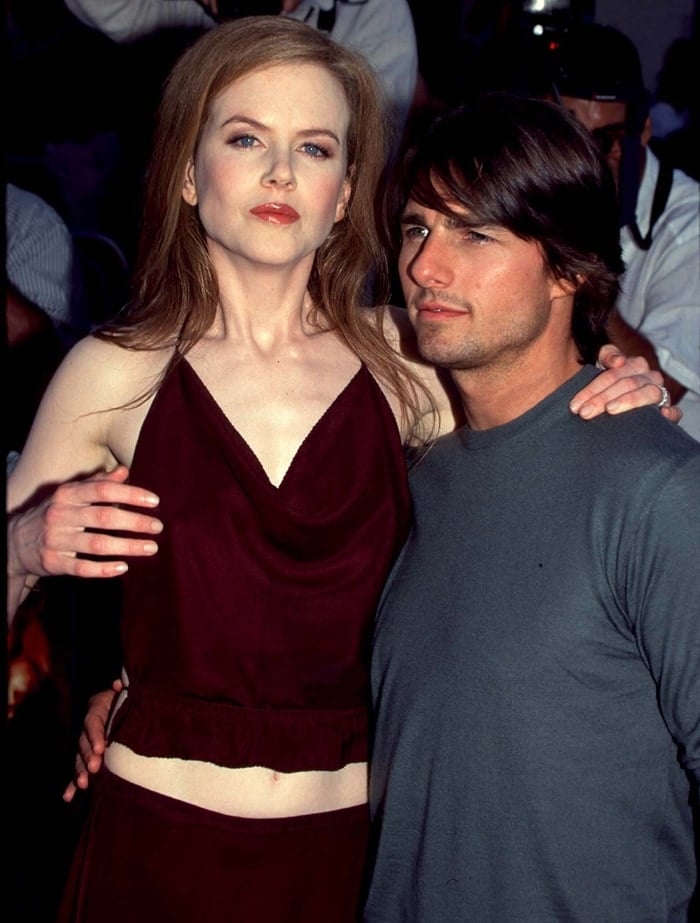 Actor Tom Cruise with his wife Nicole Kidman at the Los Angeles premiere of their film 'Eyes Wide Shut' on July 13, 1999
In January 2016, Nicole Kidman showed a lot of skin as she hit the blue carpet at the 2016 UNICEF Ball held at the Beverly Wilshire Four Seasons Hotel in Beverly Hills.
Nicole Kidman wears her hair back at the Sixth Biennial UNICEF Ball Honoring David Beckham and C. L. Max Nikias presented by Louis Vuitton at Regent Beverly Wilshire Hotel on January 12, 2016, in Beverly Hills, California
The then 48-year-old actress surprised in a plunging and heavily embellished Louis Vuitton gown that featured a thigh-high slit.
Nicole Kidman wears a plunging sequined Louis Vuitton gown on the red carpet
For good measure, Nicole styled the sequined number with a pair of custom-made glittering strappy sandals from the same French fashion house.
Nicole Kidman accessorizes with a vintage necklace
She finished her ensemble with a statement vintage necklace that drew even more attention to her cleavage.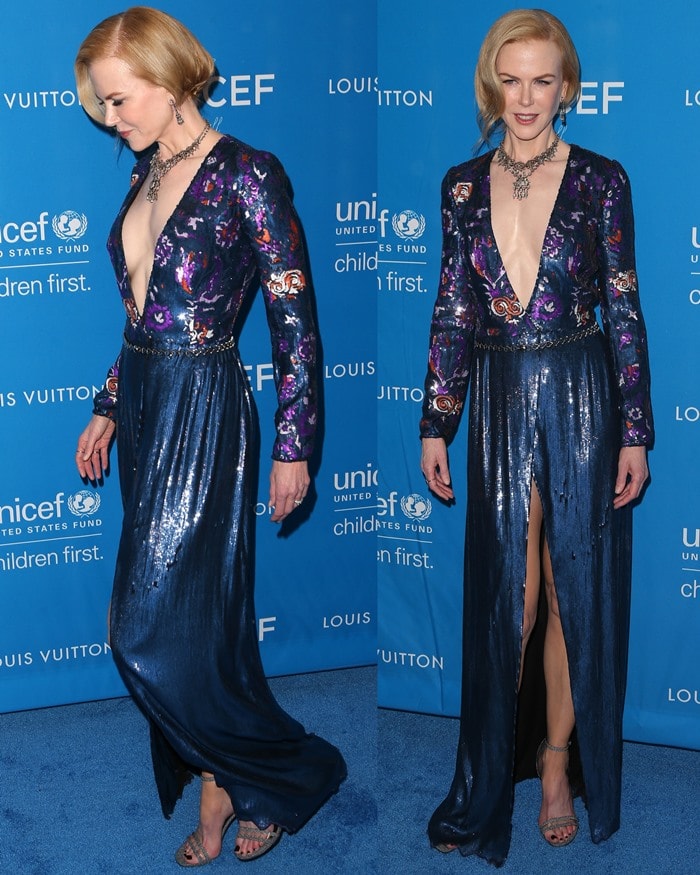 Nicole Kidman wears a Louis Vuitton dress and Louis Vuitton heels on the carpet of the UNICEF Ball
Nicole was joined by Jennifer Connelly, Paul Bettany, Camilla Belle, Michelle Rodriguez, Angie Harmon, and Alyssa Milano.
Nicole Kidman's feet in strappy Louis Vuitton heels
Since its debut six years ago, the UNICEF gala has raised over $7 million for UNICEF by bringing together more than 700 philanthropists, celebrities, and community leaders.
Nicole Kidman displays her pretty toes on the blue carpet
Do you think Nicole was appropriately dressed for the occasion?
Credit: WENN / Charlie Steffens / FayesVision